Sex Work Sucks. So Does Sex. So Does Work.
A blowjob's a real job and real jobs suck.
by Laura
14 February 2022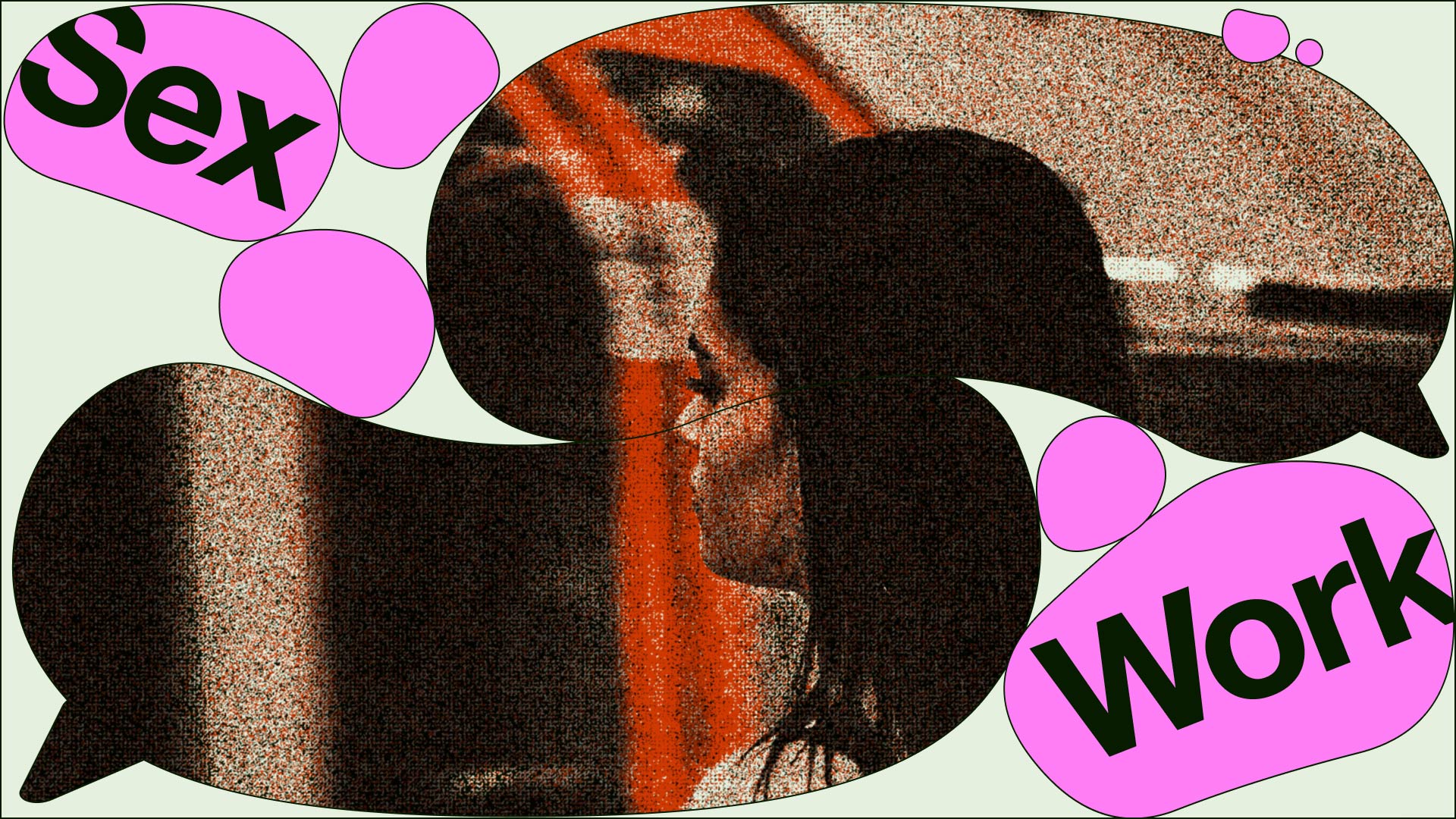 (Pietro Garrone / Novara Media)
When Laura* started full-service sex work nine years ago, she assumed she'd continue having the sex she was already having, but for money. She was wrong: there was a lot more admin than she'd bargained for, for one thing. But in a way, she was right: paid sex, like unpaid sex, is often hard work, particularly for women having sex with men. She tells Rivkah Brown why sex work is work, and not in any particularly empowering way – just in the regular, drudgerous way.
My earliest memory of sex work was growing up in an area where there were street workers and my parents explaining to me who they were and what they were doing. My parents were second-wave feminists and would have talked about sex work as an exploitation of women perpetrated by men under patriarchy, something that women needed to fight to end as a collective. I agreed with that – in fact, I was actually less liberal than they were. Like, they were saying that sex work was bad, but that we shouldn't criminalise it. I remember arguing that we should.
The thing that changed my mind was that I started having sex. I had always had a fascination with sex, the mechanics of it, how bodies behaved. I didn't have sex until university but when I did, I found out that it wasn't mysterious, it was often fumbly and unenjoyable, and not in ways that I imagined – like, degrading or embarrassing – just because both people involved were young and awkward and didn't know how to communicate what they would like.
You scratch my back, I scratch yours.
​​It was around this time that I came into contact with the kink world. It was the first time I'd come across people who, unlike my friends, spoke completely openly and frankly about the specific fumbles of bad sex. The stories we swapped made sex the opposite of mysterious: it became mundane.
I would have been helping people out with their kinks in a favour-esque way: going home with them, finding out that they were into something you didn't hate but also didn't turn you on, and out of camaraderie and attraction, doing that thing. Often you'd hope they would return the favour, but given the nature of casual sex for women, they often wouldn't.
Pay me, then.
I was dating someone non-monogamously at the time who said, "You know that there are people that do this for money?" And I can remember thinking, "Yeah, but I still wouldn't do that." Even though my views of sex had changed, I'd have said no. But I was having a hard time at my ordinary work.
I had had a period of really bad mental health in university that triggered episodes of being unable to function. I would work a job for a certain amount of time, get super unwell and suddenly walk out without saying anything. I got worried that this cycle would continue, that I didn't have a stable future. I wasn't in peril, I just imagined that my life would be a bit rubbish forever. The thing that made me properly consider sex work was that imagined future.
I presumed sex work would be like having the sex that I was having for free, but for money. It wasn't.
Doing my homework.
When I started properly thinking about starting sex work, I was working almost full-time. I spent a good few months reading a sex work forum every single day on the train to and from work. I was lucky not to have the same sense of urgency that so many other people I know starting sex work had – I had the space and time to do a tonne of reading.
I learned how to set boundaries; how to tell a man something that would disappoint him in the most pleasant way possible, not just for profit but for safety. I learned about timewasters, and that an enormous part of the job was working out who actually does want to give you money in exchange for a sexual service. I learned about the huge, crushing, angry feeling of realising you had just answered 20 emails and weren't going to get a booking out of any of them.
Eventually I set up a profile on the main directory in the UK for full-service sex work. I had researched other forms of sex work, but I thought if I'm going to be involved in something with this much stigma, I'm going to do the thing that earns the most money per hour.
So I took a few selfies and wrote a blurb that I spent an incredibly long over. I had already been introduced to the "whorearchy", the idea that people who do more bookings in a more professional way are often looked down upon by the clients of people who do fewer bookings with the pretence that it's because they love the sex. So I wrote in my bio that I wanted to only see people that I imagined I could have chemistry with, that I was doing it for fun.
A tiny flat in Turnpike Lane.
I was flooded with messages as soon as I set the profile live. I could've had a lot of bookings, but instead I spent a long time doing all of the safety protocols that I'd been taught to verify one client. Even with all that pretence and marketing, it was one of the least glamorous bookings I've ever had, an experience not dissimilar from nearly every sex worker I know: an out-call to a tiny flat in Turnpike Lane, sneaking past housemates to someone's bedroom. I don't think there was wine, but if there was, it was warm.
I imagined that the main thing I would need for sex work would be sexual skills. I soon found out that the labour would be primarily social and emotional; that I would leave feeling exhausted, more than from long shifts of physical work.
Clients expected me to be completely delighted even though they were there because they had problems they were not solving. They would go to a sex worker instead of a therapist or divorce counsellor, to talk about problems with their job or shame around their fetishes, and they would need constant reassurance about all of those things in the happiest manner possible.
Sex work is work.
The more I do sex work, the more I see its similarities with other jobs. The idea that sex work is uniquely exploitative because of its patriarchal foundation, for example – I've experienced the exact same thing in other work, like someone pressuring me to do work I didn't want to. The main thing that is unique to sex work for me is how other people treat you.
People's reactions when I tell them about my work are different to any conversation I've had. I've never experienced so many people bringing their preconceived notions, repeating stigma to your face, asking questions they never would of someone else. No matter how positively they might react, they would speak as though they saw sex work as suffering. There's such an established notion of sex work that they almost interact with that rather than with you, even when they knew you really well.
There just isn't a way to communicate the boringness of your job. I wish my friends would ask if I wanted to have a big moan after a booking, and wouldn't ask whether I wanted to stop sex work afterwards. I wish I got to have the kind of "I had a bad day at work" conversation that literally everyone else does, that I could be seen as just a worker.
The only reason I carried on doing sex was because I met incredible people. People who knew what it was to collectively lower shame, to not be embarrassed about bodies, who were open about the necessity of money. I've never met people so supportive of each other; the sense of camaraderie after doing a booking together is like a really incredible thing. It's the best support network I've ever come across.
I am lucky to have found people that have accepted my choice to do sex work as a conscious choice, as a person with agency. But then it's nice to be asked questions that acknowledge that you can have some lack of agency, too: we all experience crap because of the fact that you can't live without a job under capitalism. That removes some of your agency and there's nothing you can do about it. So it's nice to have solidarity in that fact.
*Not her real name.