OnlyFans' Ban – and Its Suspension – Shows That Banks Have a Chokehold on Sex Work
It isn't just the law that sex workers have to worry about.
29 August 2021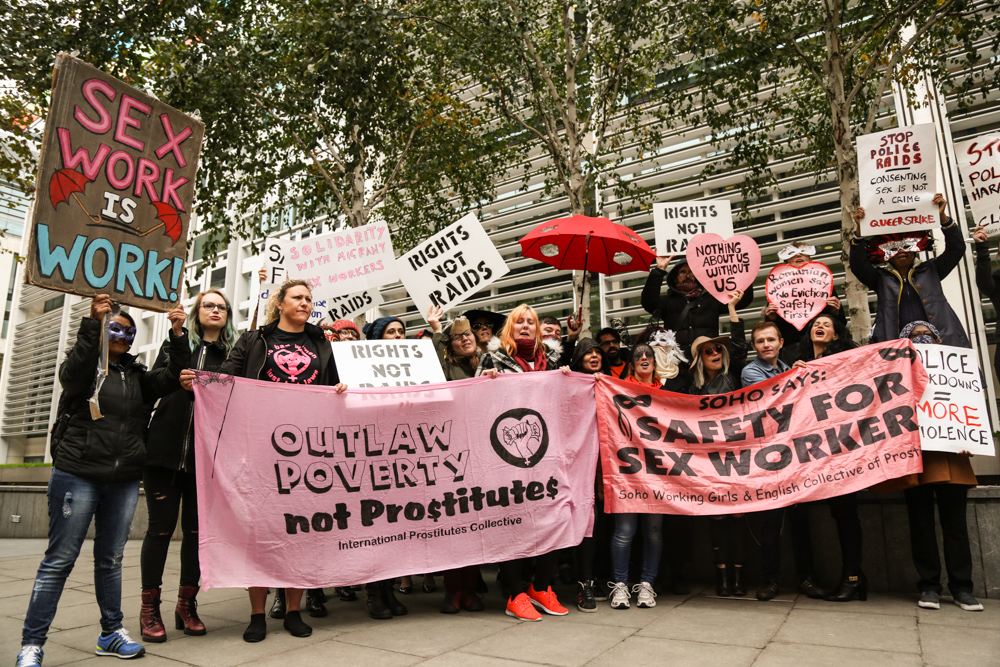 (Juno Mac/ Flickr)
Last Friday, content subscription service OnlyFans announced that it would be banning sexually explicit content and, by extension, its creators. The decision came as a devastating blow after 18 months of financial precarity for sex workers. But just five days later, following enormous media interest and user backlash, OnlyFans announced that the ban would be suspended.
Thank you to everyone for making your voices heard.

We have secured assurances necessary to support our diverse creator community and have suspended the planned October 1 policy change.

OnlyFans stands for inclusion and we will continue to provide a home for all creators.

— OnlyFans (@OnlyFans) August 25, 2021
This back-and-forth debacle illuminates the adult industry's fraught relationship with the financial sector, whose sweeping measures obstruct legal workers from accessing their services. With efforts to fight discrimination crippled by partial criminalisation, sex workers are all too frequently at the mercy of external powerbrokers.
The pandemic saw OnlyFans' numbers soar. 
Before its current financial woes, OnlyFans experienced a meteoric rise during the pandemic. With creators wanting to make money without the risk of meeting in person, their numbers swelled by 40% during March 2020 alone. That same year, users also grew more than tenfold to generate more than $2bn in sales for the site.
That said, it was far from a massive money-spinner for everyone. While celebrities' enormous earnings grabbed headlines, creator incomes averaged around $180 a month. However, especially in the context of the pandemic, it allowed many to eke out a living.
"I started posting on OnlyFans in April last year because of lockdown," Alexa*, a London-based sex worker, tells Novara Media the day after the announcement.
"It was nowhere near what I earned before, honestly, it was maybe 10%. It wouldn't have been enough to support myself without my savings. But it did at least mean I still had some money coming in."
OnlyFans' initial announcement angered sex workers like Alexa, not only because it left her financial future uncertain, but because it's users like her who made the company a household name, and generate their enormous revenue, which is anticipated to double to $4bn this year, with OnlyFans retaining 20%.
Blame the banks. 
OnlyFans' ban on adult content was the culmination of many months of it trying to distance itself from its sex worker user base, while continuing to profit massively from their labour. 
Attempts to highlight less explicit content, such as offering cash prizes for emerging music artists, went alongside shutting down the accounts and seizing the earnings of content creators suspected of providing services in person. After reports of investors being turned off by explicit content, the ban sparked speculation that OnlyFans was redoubling efforts to attract them.
In explaining its decision to enforce the ban, the company told the Independent that it was done in order to "to comply with the requests of our banking partners and payout providers" – chiefly, Visa and Mastercard, with the additional options of Maestro and Discover. Doing this, OnlyFans' statement said, would ensure the platform's "long-term sustainability". 
The company's veiled comments were superseded by a more forthright interview with the Financial Times four days after the announcement. "The change in policy, we had no choice," said company founder and CEO Tim Stokely. "The short answer is banks." 
Stokely singled out three major institutions – the Bank of New York Mellon, MetroBank and JP Morgan Chase – that refused to facilitate transactions due to, what he dubbed, "reputational risk".
the founder of OnlyFans zeroing in on banks in this interview: https://t.co/HCMS22tB1u pic.twitter.com/frHfyoURcl

— Samantha Cole (@samleecole) August 24, 2021
Payment processors have a growing monopoly.
OnlyFans' ban on explicit content had been scheduled to start from 1 October, just two weeks before new MasterCard terms that require verification and full reviews of every adult video before it can be published. The company, along with Visa and Discover, has publicly distanced itself from adult content in the last year, cutting ties with PornHub following a New York Times article exposing its failure to review or delete clips featuring revenge porn and child abuse. 
Sex workers who relied on PornHub to monetise their content argue that their livelihoods have been compromised without solving the problem of exploitative content. In a video posted by her Twitter account, performer and campaigner Mary Moody argued: "It doesn't help anyone, it only creates victims…my income is just gone."
The only way we can make a difference is if they hear our stories.

I'm begging you to make your own video and share it.

Don't let @Visa @Mastercard & @Discover censor our voices!#VisaVictims #MasterCensors pic.twitter.com/AXizJffidx

— OF SALE🌈Mary Moody in VICE, NBC, & BBC ✨ (@missmarymoody) December 18, 2020
The payment processors, which have been effectively defunding PornHub, have a growing monopoly that has been accelerated by the pandemic, as many workers usually paid cash-in-hand are forced through their services. Even pre-2020, around 80% of the UK's retail sales were done by card. And during lockdown, ATM withdrawals dropped a further 60%. This decline of the use of cash gives payment processors new and unrivalled power to create an increasingly hostile financial landscape for sex workers. Other providers such as PayPal and Venmo regularly confiscate money and boot out users suspected of earning it in the adult industry.
That said, banks haven't been exempt from legislative pressure. The passing of the notorious FOSTA/SESTA anti-trafficking bills in the US senate in March 2018, has led to a crackdown on transactions and bank accounts linked to the adult industry. In response, financial institutions have been scrambling to ensure that they cannot be found liable for facilitating exploitation – and consequently indiscriminately targeting anything connected to the adult industry. Legal and consensual workers are overwhelmingly bearing the brunt of this sweeping approach, which is shutting them out of accessing vital financial services. While banks may have unprecedented power, they are not exerting it free of political influence.
UK laws mean financial discrimination is rife. 
FOSTA/SESTA's influence doesn't stop at the US border. In the UK, financial institutions' heavy-handed action against sex workers has been escalating, aided by partial criminalisation laws that persist despite decades of decriminalisation campaigns. Criminalising certain types or aspects of sex work, these laws are not only a headache to navigate – for workers and law enforcement alike – but provide the perfect environment for banks to discriminate with impunity. 
"We're essentially seen as too risky," says sex worker and activist Lydia Caradonna. "Banks can't assess us individually so they shut us out entirely." 
Facing uncertainty over their rights and limited access to necessary support and resources, sex workers also regularly choose not to challenge discrimination for fear of falling foul of the law themselves. When Rosie* had her Monzo business account suddenly closed in 2019 – one of many similar incidents – she decided not to do anything.
"I didn't want to draw attention to myself because I've worked in a flat here in London with another girl," she tells me. "It's technically illegal even if you're just doing it to be safer. I didn't want to make waves, it might have made my situation a lot worse."
While not a magic bullet against discrimination, decriminalisation campaigners argue that it would allow workers like Rosie a better chance of fighting it.
"Partial criminalisation means that most of us are doing something that we could get into trouble for," says Caradonna. "It's not the worker that's wrong, it's the law. We need decrim to fight for our rights."
Sex workers are fighting back.  
But not everyone is staying silent. Sex worker Charlotte Edwards began campaigning against financial discrimination after her denied bounce back loan application uncovered her bank's policy not to offer sex workers mortgages, loans and business accounts.
"Santander said it was because of policies on so-called sensitive sectors, like gambling or arms dealing," says Edwards. "But sex work shouldn't be included with those things."
Edwards approached the UVW Union, whose sex workers' sector began leading a unionising drive in the adult industry in 2019 and enjoyed their first victory at an employment tribunal in March 2020. As a case of financial rather than workplace-based discrimination, it was the first of its kind; there was no legal precedent to draw upon.
"I hope mine will provide one," says Edwards, who now has to wait for the outcome of a legal aid application to continue her fight. "And speaking out means more people like me will come forward."
"We know Charlotte's case isn't unique, and this could really pave the way for a lot of other collective action against banks," adds Caradonna.
"I wouldn't be eligible because of my occupation."

– campaign founder, Charlotte Edwards, interview broadcast on @BBCRadio4.

Please RT to support our campaign to end financial discrimination. #sexwork #discrimination #banking #finance #bouncebackloan #sexworkiswork #escort pic.twitter.com/vQuOfS0S4U

— SW Financial Rights UK (@swfinancerights) July 1, 2021
The role of the banks in suspending OnlyFans' ban – an involvement that was heavily hinted at by a company spokesperson – is not yet clear. But while the move has been tentatively welcomed, creator confidence in OnlyFans, along with the company's long-term stability has been shaken. 
"The sudden announcement and lack of care has convinced me – and many other sex workers – that OnlyFans can't be trusted," says Glasgow-based worker Alice. "I'm definitely moving my explicit content elsewhere."
Marin Scarlett is a writer and activist. She currently works for Umbrella Lane, a sex worker wellbeing project based in Scotland, and volunteers with the English Collective of Prostitutes.