Now Could Be Keir Starmer's Moment If Only He'd Back the Unions
Organised labour could be his greatest asset.
17 March 2022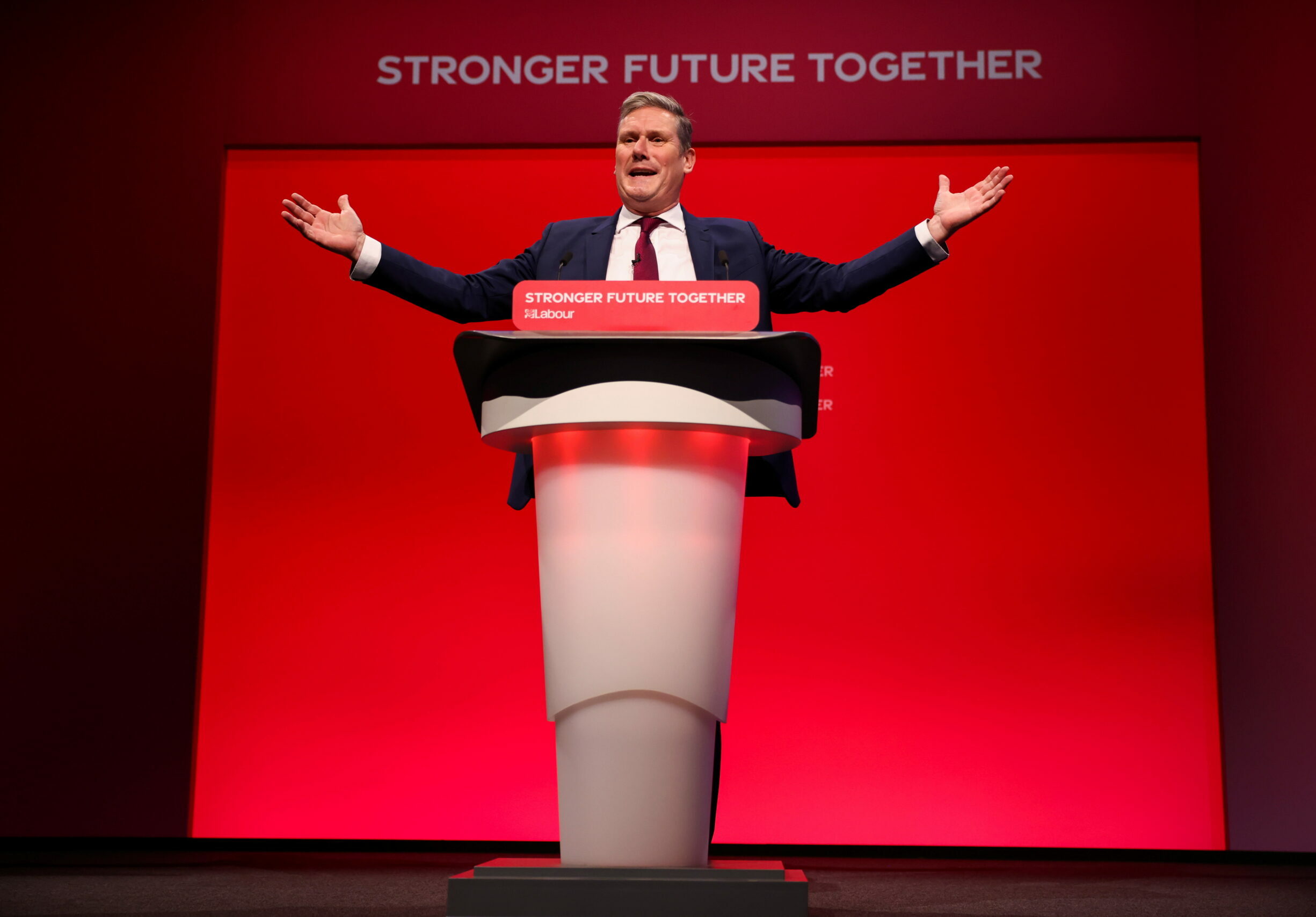 Keir Starmer at Labour party conference, September 2021. Henry Nicholls/Reuters
For the leader of the opposition, the toughest job in British politics should just have become much easier. Keir Starmer looms over the despatch box at a Conservative party funded by Russian robber-barons, a government failing to get a grip on a cost of living crisis, and a prime minister who oversaw a Bullingdon Club revival while ordering the rest of us to stay at home.
Yet Labour is slipping in the polls: a nine-point lead at the height of 'partygate' is down to four, while half of the electorate thinks Starmer is doing badly. What's more, the upcoming local elections may not deliver an expected boost for Labour, as these council seats were last contested at the height of Corbyn's popularity when the party secured an 8% swing.
While Starmer's party battles decline, the wider labour movement is gaining ground. Trade union membership has risen four years in a row. A wave of strike ballots are returning support, energised by record-high job vacancies. The leaderships of Unite the Union and the GMB have taken a syndicalist turn, arguing that parliament should no longer be their main battlegrounds. In the words of Unite's general secretary: "We cannot have the political tail wagging Unite's industrial dog any longer." This means two of Britain's largest trade unions are now shifting funding away from Westminster to shop floors in a renewed bid to wrestle gains from employers and build union power from the ground up.
But rather than piggyback on this progress, Labour's top team has spurned it. Starmer has dismissed Unite's general secretary, shrugged as unions disaffiliate from the party, and scoffed at a dispute between a Labour council and its refuse collection drivers.
How to explain the growing rift between organised labour and its party? To be sure, in part by the fact that much of the leadership's political strategy is dictated by the question "what would Tony do?" A break with the unions was a key plank of New Labour ideology, and Starmer now appears to believe it an essential step on his path to government – or at least the surest route to achieving what he so badly wants: the support of business.
But neither New Labour nor Starmer's binary analysis withstands historical scrutiny. Moderate social democratic leaders have often relied on the power of organised labour to bring business to the table of a new social compromise. President Biden brought social movements into his coalition for economic renewal alongside moderates and business representatives. In the middle of the last century, Labour drew on the wartime strength of union organisation to govern, constructing a post-war consensus around labour rights, low unemployment, an active, redistributive state and greater regulation of commerce. This also proved a successful economic model.
Perhaps the most effective progressive political leader at mediating the interests of business and organised labour was Franklin Roosevelt. The American president took early steps to nurture trade unionism in the 1930s through his National Labor Relations Act. This strengthened his hand when delivering the New Deal, a programme of economic and social reform that brought rights and prosperity to tens of millions of workers and a sustained period of demand-led economic expansion. Starmer has now promised to revive this settlement with his own "new deal for working people".
But though Labour borrows the name of Roosevelt's programme for its current policy platform they disavow the political strategy that delivered it. By underscoring their dismal relationship with the unions, Starmer's team reveal their inability to deliver their own New Deal, a programme that would require trust and compromise with both business and workers.
This contradiction between Labour's public pronouncements of support for working people and their efforts to break their union ties is unsustainable. There are big political choices to be made over the coming months with significant consequences for workers, such as our economic response to inflation and who pays for the rising cost of living. It will not be credible for Starmer both to claim he is protecting struggling families and to pursue running battles with trade unions in the press.
After all, Sir Keir explicitly aspires to this figure of a moderate social reformer, arguing that a "good economy is an essential partner of a good society". He seeks to deliver "security, prosperity and respect". This position is not too different from Unite's general secretary, who argues "we want companies to do well so that our members can share in the benefits." Unions' frustrations with Labour's leader, and their renewed emphasis on building economic over political leverage, are less directed to Starmer's policies than to his actions.
Instead of playing on the fractures between the labour movement and its parliamentary wing, Starmer should see workers' resurgence as a necessary foundation on which to build the new consensus for which he has publicly called. A strong working relationship with organised labour could lend itself to the "safe pair of hands" image Starmer has long cultivated, helping him to chart an even-handed course through the coming crises that offers workers stronger terms and protections while delivering a green stimulus for business.
The Labour party could benefit from proof that its leader is an effective broker of divergent interests, regaining members, votes and some of the financial support that the unions are now spending elsewhere. With stronger links to labour, business would have to recognise that Starmer sits at the negotiating table with real economic sway.
If Starmer is to navigate the tricky terrain before him, not to mention have any hope of seeing the inside of Number 10, he must end this stand-off and work with, not against, his greatest asset: organised labour.
Tom Peters was a political advisor to the Labour party between 2016 and 2020.