How Long Can Faith in 'Market Solutions' Survive?
The Tories have brought an umbrella to a hurricane.
24 March 2022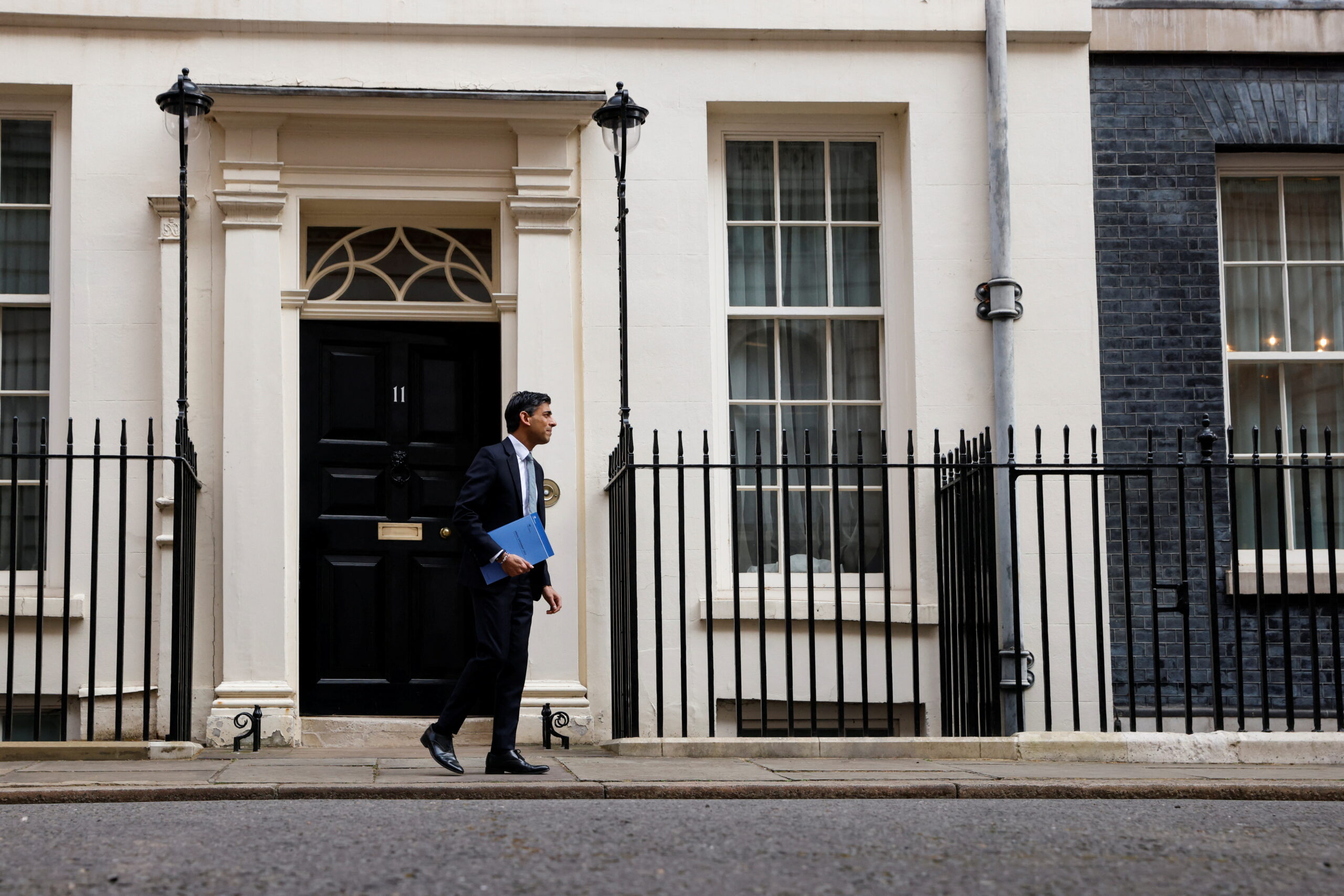 Chancellor Rishi Sunak leaves Downing Street on the day of the spring statement, London, March 2022. John Sibley/Reuters
Like an umbrella in a hurricane. That's the best way to describe the measures outlined by the chancellor Rishi Sunak in yesterday's spring statement – the second most important date in his calendar after the autumn budget.
First, the broader picture. The Office for Budget Responsibility (OBR) is now forecasting 3.8% growth for this year, 1.8% for 2023 and 2.1% for 2024. Famously optimistic, and frequently erring towards whatever bolsters the government of the day, it is perhaps wiser to heed the predictions of the Centre for Economics and Business Research (CEBR). In its report on the impact of the war in Ukraine, published a fortnight ago, it forecast UK growth of 1.9% this year and 0% for 2023. Indeed, the possibility of a recession at some point in the next year, if still unlikely, is perhaps one reason why Sunak held back yesterday – leaving budgetary firepower in the tank as events continue to unfold.
On disposable incomes, the OBR is more pessimistic. It expects the biggest fall in living standards in a single year since records began in 1956. Inflation outstripping minimal rises in earnings means a 'real' fall of 2.2% per person over the next year, equivalent to around £552. As a result, living standards won't return to pre-pandemic levels until 2025. It's important to say, however, that 2019 – before the pandemic – hardly represented sunlit uplands, with real wages broadly where they'd been since the financial crash of 2007. In other words, we are no longer speculating about two lost decades when it comes to living standards – the government's own models are now pricing them in.
Despite such a chilling prospect, it's perfectly possible that the OBR's predictions are, once again, optimistic. A fortnight ago the CEBR predicted that disposable incomes could fall by 4.8% this year and 1.4% in 2023. That would see the average British household losing around £2,553 of purchasing power in 2022 – more than £1,000 for the average person.
Driving all of this is inflation, which at 6.2% in the year to February is the highest it's been for 30 years. This is partly due to Covid-19, with the Bank of England predicting inflation of 7% before the war in Ukraine even began. But it's now increasingly the result of spiralling global costs for energy, wheat and other commodities, all set to remain high as long as the conflict persists. Brent crude, the global benchmark for oil prices, hit a near 14-year high of $139 a barrel earlier this month. Wheat, meanwhile – for which Russia and Ukraine account for approximately 30% of global supply – recently hit an all-time high – leading industry experts to predict food inflation of 10% in the UK this year. In this context, the OBR's forecast of inflation peaking at 8.7% may in fact be rather optimistic (again). It's important to say, however, that the principal factor driving this – Russia's invasion of Ukraine – is of course a changing situation. The war could drag on for years, or equally, a peace settlement before the summer is not implausible.
The worst case scenario would probably include a swift end to exports of Russian energy to Europe – not unthinkable given Moscow is now demanding its European customers pay for oil and gas in roubles, a move which would strengthen Vladimir Putin and give Russia hard currency to meet its debt obligations. Germany's Chancellor Olaf Scholz has warned that any immediate ban of Russian energy would trigger a recession in Europe, which would likely mean something similar here in the UK. Were that to happen, it's possible that the consequences of such harsh sanctions would do more damage to Europe than Russia.
Despite clear differences between the two Westminster parties in how to deal with all this (Labour, unlike the Tories, would introduce a windfall tax on energy profits and cut VAT on bills), neither is ideologically equipped to engage with the scale of what is coming. Last year Labour could barely muster the political enthusiasm to say NHS staff merited a pay rise of more than 2.1%. When it comes to energy prices, the idea of public ownership, which has underpinned relative price stability in France (where bills will only go up by 4%) is not taken seriously. For Sunak and Starmer, even uttering the word 'nationalisation' is at odds with adult politics.
Both men are boardroom politicians in a world set to be as volatile as the early 1970s. Their thinking already feels like the common sense of yesterday, with events set to outstrip established orthodoxies. Indeed, it is likely that the next 12 months will shape the political common sense for years to come – not only in defence, where a consensus is emerging to at least end cuts to military expenditure, but in the role of the state, and the limits of deference to market fundamentalism.
Conditions are therefore ripe to argue for an economics of social democracy in the 21st century. If that fails to materialise, expect a re-emergence of the rightwing populism which underpinned the rise of the BNP and EDL after 2008. While the Tories have brought an umbrella to a hurricane, Labour's response, so far, is just to bring wellies too. The faith both parties hold in market solutions is unlikely to survive unaltered.
Aaron Bastani is a Novara Media contributing editor and co-founder.