Caterpillar to Ship In Back-Office Scabs to Crush Factory Strike
Scab package holiday, anyone?
8 April 2022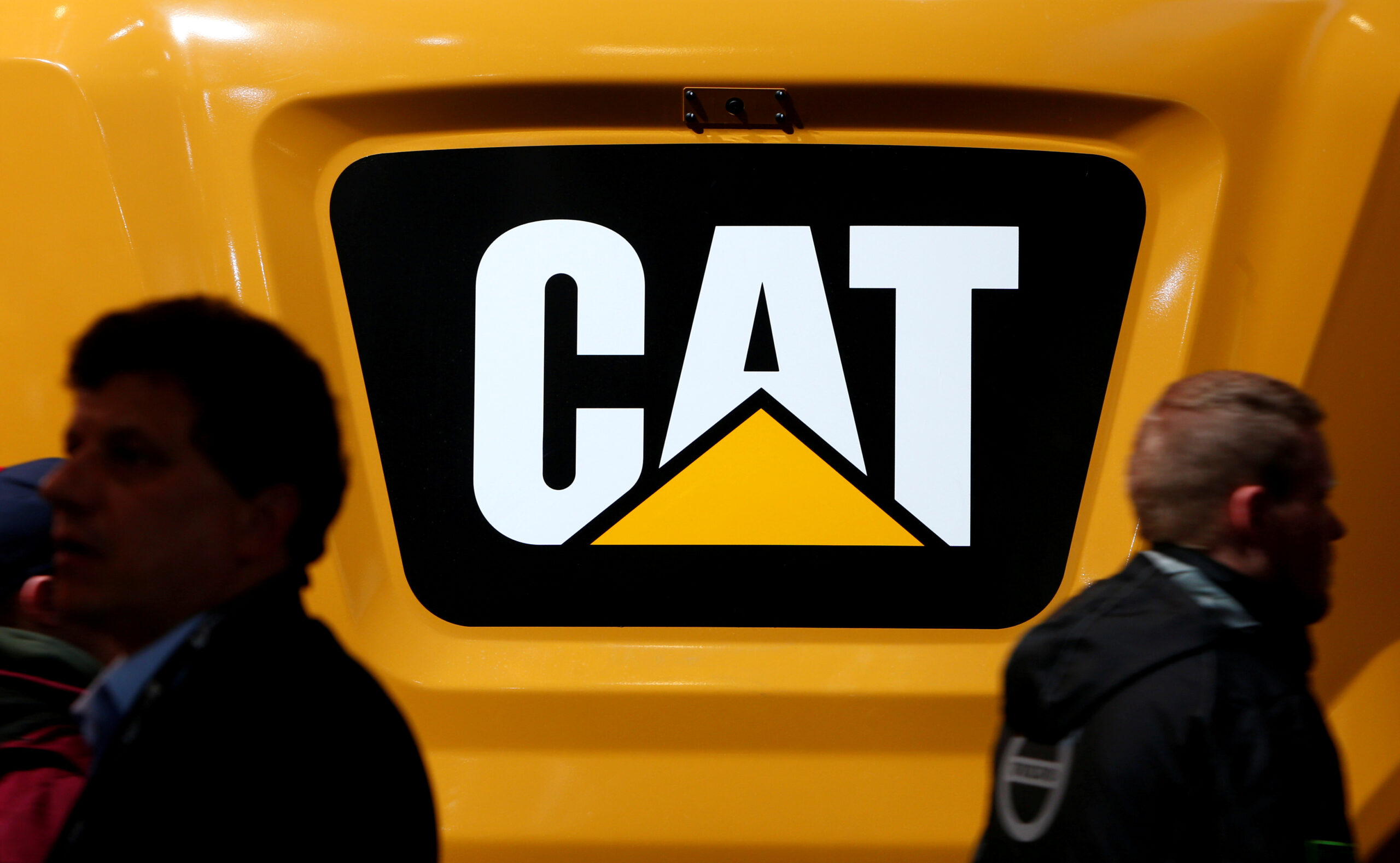 Caterpillar is attempting to ship in back-office staff to its Northern Ireland factories during next week's strike. Michaela Rehle/Reuters
Multinational construction and mining equipment manufacturer Caterpillar is offering extra pay and benefits to management staff to go to the company's Northern Ireland factories while workers there are on strike, Novara Media can reveal.
The company, which saw revenues of $51bn last year, has been in a labour dispute with workers at two of its four Northern Ireland factories, in Larne and Springvale, for several months. Represented by Unite the Union, workers are demanding better pay and conditions as well as an end to compulsory overtime. After workers overwhelmingly rejected the latest pay offer from management, they balloted strike action on Monday 4 April. That same day, Unite notified Caterpillar of 17 days' worth of industrial action, starting this coming Monday 11 April and ending in mid-May. By the following day, the company was already mobilising against the strike.
On Tuesday, Caterpillar sent an email to administrative and management staff across its UK locations. In it, the company stated that while it "remains committed to achieving an agreement via the collective bargaining process … [we] believe that industrial action can and should be avoided in the best interests of all parties", and that "we are now moving to contingency planning."
The email invited staff to aid in this "contingency planning":
"We are therefore asking for volunteers from our salaried and management teams across UK facilities to perform the roles of production employees at the Springvale facility. Caterpillar's long-standing commitment to our customers and our business requires that we are prepared to continue operations at our facilities in the face of any business interruption, including industrial action. Your leader has additional details and information on the incentives and arrangements that we are putting in place for individuals who can volunteer."
Novara Media understands the "incentives" being offered to "volunteers" include £12 hourly bonus pay, flights and full-board hotel accommodation while in Northern Ireland. The "arrangements" the company is putting in place, meanwhile, include security to escort staff to and from the factory, as well as plans to return them to the UK mainland each weekend. Novara Media understands that the initial period of deployment is four weeks, though this could be extended depending on industrial action. 
Caterpillar acknowledged Novara Media's request for a comment, but did not supply one by the time of publication.
Office workers who accept Caterpillar's offer will be sent to the two Northern Ireland factories as temporary workers, performing many of the same tasks usually undertaken by striking staff, including assembly line work, heavy lifting and forklift driving. Many will be unqualified for these roles, though Novara Media understands that Caterpillar will offer training. 
Nevertheless, Caterpillar could find itself in a situation similar to that encountered by John Deere, Caterpillar's major US rival, last year. After workers downed tools at John Deere sites across the US midwest, the firm also attempted to fill its factories with office workers; some had to buy their own steel-capped boots. Within hours of the strike beginning, an ambulance was called to Deere's Waterloo site after an administrator crashed a tractor; another worker suffered multiple severe injuries when their arm was pulled into a piece of machinery.
The strike action – which slashed John Deere's output by between 15% and 20% across Q4 2021 and Q1 of 2022 – ended after 35 days when the company offered workers substantial pay rises, signing bonuses, improved healthcare and pension terms. 
Caterpillar is no stranger to dirty tricks. In 2003, student activist Rachel Corrie was crushed to death by a Caterpillar bulldozer driven by the Israeli military while protesting against the destruction of Palestinian homes. In response to a lawsuit, Caterpillar hired an intelligence firm to spy on the Corrie family.
Caterpillar's UK operations have been the site of industrial action in the past, most notably when Scottish workers occupied their Tannochside factory for 103 days in 1987. This action forced Caterpillar to scrap its plans to make its workforce immediately redundant. More recently, 780 workers at a Caterpillar factory in Illinois struck for three and a half months in 2012 when, despite making record profits, the business wanted to freeze workers' pay, reduce healthcare benefits and offer lower rates of pay to new workers. Ultimately, the company won.
This time, they may not be so lucky: a spokesperson from Unite told Novara Media that despite this attempt at interference by Caterpillar management, the union remains confident its action will bring the factory to a standstill.
Steven Methven is a researcher for Novara Media's live YouTube show Novara Live.