'I'll Have to Leave Edinburgh': Sex Workers' Fears After the City Bans Strip Clubs
'The council wasn't going to listen.'
18 May 2022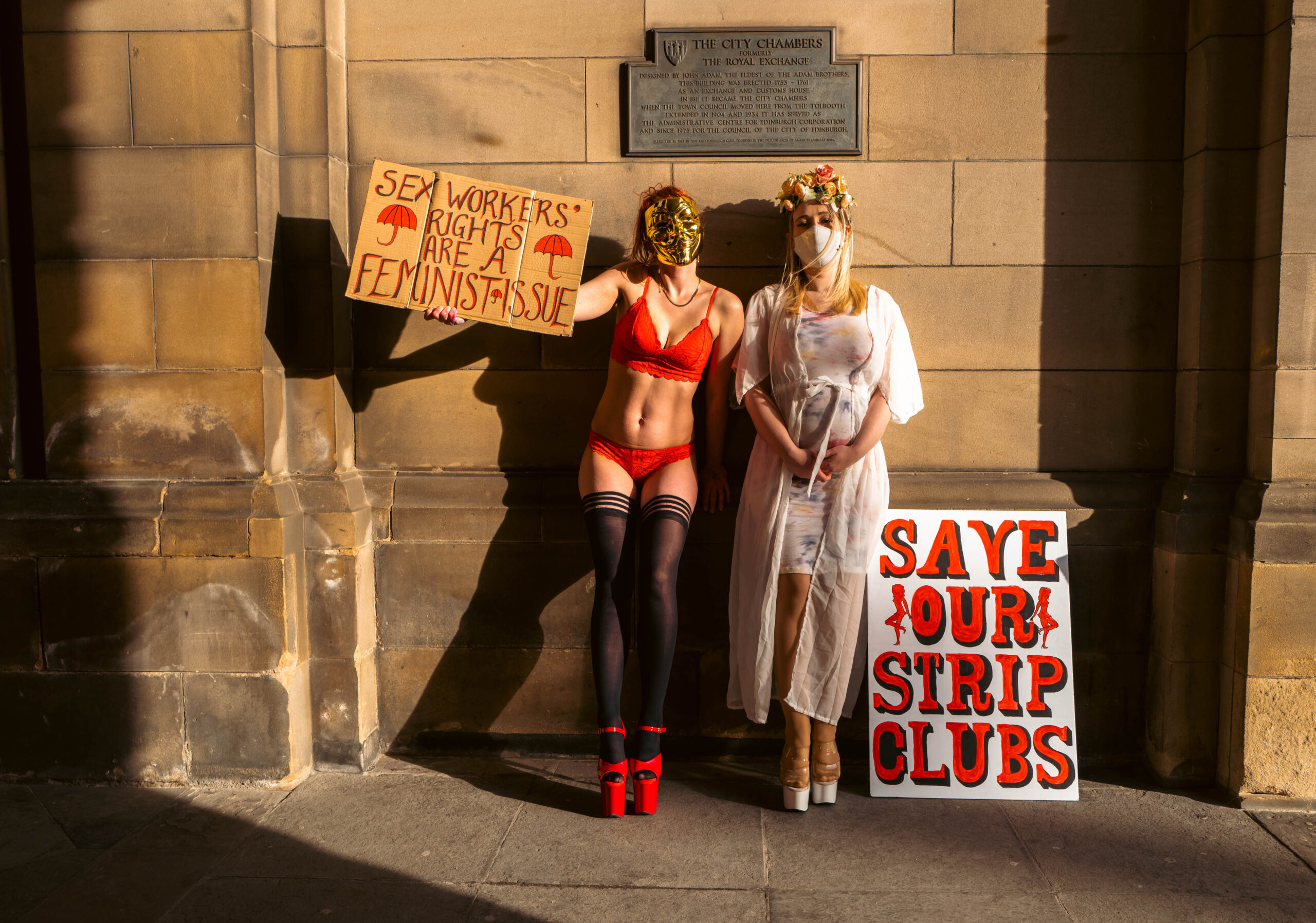 Strippers protest against Edinburgh city council's 'nil-cap' policy, January 2022. Photo: Mina Karenina
There is an intersection in Edinburgh where three roads meet, forming the city's 'pubic triangle'. A small stretch lit by the bright neon signs on the venues' blacked-out windows, the area is home to the capital's strip clubs – Burke and Hare, Baby Dolls and the Western Bar. Now, however, as Edinburgh city council becomes the first council in Scotland to outlaw strip clubs, the future of the venues – and the women who work in them – is in peril. 
The decision, made by councillors on 31 March, marks the end of a lengthy process that began in October 2019. Carried through by five Conservative and Labour councillors and backed by Nicola Sturgeon, the vote followed two poorly-advertised public consultations, neither of which revealed majority support for a ban, with the second consultation gathering only 87 responses. 
Vivi, a dancer at Baby Dolls who has stripped for 22 years and is a member of the United Sex Workers trade union, says the council has spoken for them, but not to them. "I can speak for myself", she says. "Every woman who works in this industry can speak for herself."
A 'nil-cap' policy.
The council's implementation of a 'nil-cap' policy on sexual entertainment venues (SEVs) follows a change in licensing law that has increased local authorities' power to regulate strip clubs. Under the Licensing Act 2003, strip clubs fell under the same licensing category as bars and cafés, rather than sex shops and sex cinemas. After opposition from women's organisations like Object and the Fawcett Society, which argued that "buying a lap dance is not the same as buying a cappuccino," former home secretary Jacqui Smith introduced the Policing and Crime Act 2009 which reclassified strip clubs as SEVs in England and Wales. In April 2019, Scotland introduced a similar discretionary licensing framework. 
This new SEV legislation requires a club to reapply for a new licence each year, and widens the scope of objections councils can make to applications for new licences. Crucially, it grants councils the power to ­determine the number of strip clubs they deem 'appropriate' in their locality. If a council considers no strip clubs to be appropriate – a nil-cap policy – they can refuse to grant SEV licences, banning regulated stripping within a particular area. 
Councils across the country are increasingly setting nil-caps, with eight councils and nine London boroughs thought to have banned strip clubs. Bristol council's licensing committee has put a proposed nil-cap policy to a 12-week public consultation, and the only lap dancing club in the Inverness area may be shut down. 
Traitors and victims.
In both Bristol and Edinburgh, the main advocate for a nil-cap is Not Buying It, an anti-strip club pressure group. Lead by long Dr Sasha Rakoff, the group was responsible (along with the Women's Equality Party) for a series of stings in London, Manchester and Sheffield in 2019, where men (some ex-police) were hired to pose as customers and secretly film women as they worked, aiming to catch dancers breaking licensing rules. Not Buying It then circulated the footage – an act dancers liken to revenge porn – in an effort to get councils to revoke clubs' licences. For dancers, Rakoff's presence at March's regulatory committee hearing in Edinburgh was inflammatory and distressing. 
Speaking alongside Rakoff was Heather Thompson from the Women's Support Project, which campaigns against "commercial sexual exploitation," and Michael Conroy from Men At Work, which claims to support "women's sex-based rights" and offers training to young men and boys.
Despite the fact that licensing decisions must legally be evidence-based and that "objections should not be based on moral grounds or value", what passed for evidence at the hearing consisted of unsubstantiated and emotive statements. Thompson claimed SEVs "create the conditions which allow attitudes and beliefs that lead to domestic abuse, rape and murder to flourish," while Rakoff stated that under regulation, "sexual contact, harassment and assault are absolutely standard […] rape and gang rape, mass fraud, drink spiking, GBH, stabbings, murder, prostitution, pimps, outside and in. This is the strip industry." 
There is, however, no empirical evidence to suggest SEVs cause or correlate with sexual violence. Danielle Worden, a legal caseworker for United Voices of the World who spoke at the hearing, said: "No evidence was brought forward. You could tell that no matter what was said, the council wasn't going to listen."
For all the hearings' supposed preoccupation with misogyny, the language of those campaigning against strip clubs during the testimony was highly degrading. Conroy suggested the male council members could open their own SEV to "see how empowering it is to dance around in our trunks". Thompson likens strip clubs to the broken windows metaphor, claiming their presence "gives all men permission to sexually objectify women".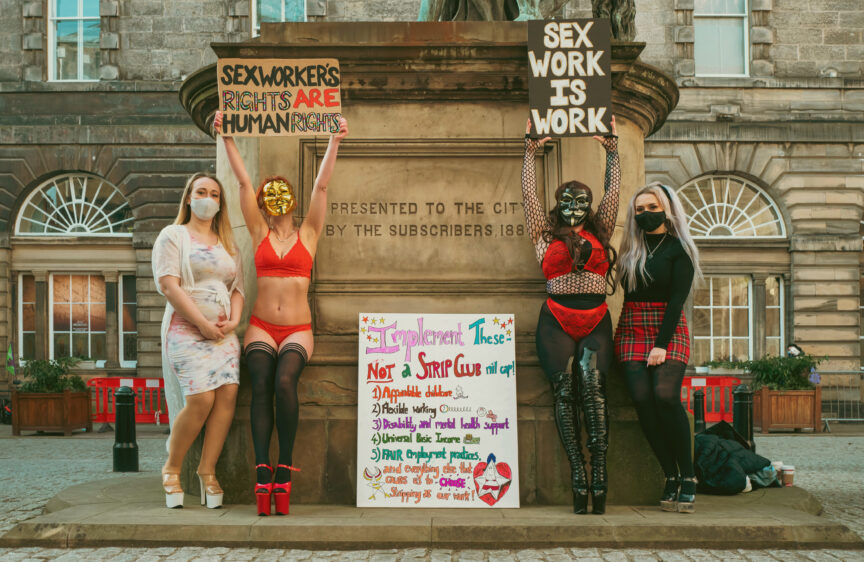 What's more, these testimonies were replete with suggestions that strippers can't think or speak for themselves. Rakoff said strippers are "often coerced and always in denial," claiming without citation that research shows strippers exhibit "dissociation, high loyalties to the industry, and intense condemnation of anyone who speaks out". Commenting on strippers who had given testimony during the hearing, Conroy said: "Some of the voices here are clearly of the educated middle classes," showing how strippers' voices are often ignored when they fail to conform to pre-existing narratives of sex workers as victims.
As such, at the hearing, strippers were caricatured both as traitors whose decision to strip constrained the freedom of 'other' women and as victims in need of saving. The dancers think these mischaracterisations stem from a refusal to engage with the dancers as people. "[Not Buying It] don't come and speak to us directly as human beings", Vivi recalls. "Instead, they keep this distance, with a snobby 'I'm better than you' attitude."
Although anti-strip club protestors claim to be concerned about strippers' working conditions, sex workers don't believe this is the case. "In any other industry, if a worker was being exploited, you would give them more rights", says Audrey, a United Sex Workers member. "But just because it's sex work, the answer suddenly isn't 'let's give workers more rights' but 'let's shut down the industry'." 
'How the fuck are you going to take care of us?'
So what is the council proposing the dancers do now? Labour councillor Mandy Watts has made the vague promise of a newly-funded role to "help people in the adult entertainment industry […] to do something more interesting and useful instead." But as Vivi points out: "You [the council] can't even take care of people […] who aren't lap dancers. How the fuck are you going to take care of us?" 
This preoccupation with finding dancers more 'useful' work also fails to understand why women strip in the first place: it's flexible, doesn't require prior qualifications or training, and is well-paid. "The reason a lot of dancers do this job is because it suits our lifestyle," Alexis says. What's more, finding work in a job market that's exclusionary towards sex workers is difficult. Audrey explains that it requires dancers to either "out themselves as strippers, or claim an extended employment gap. It's lose-lose." 
Realistically, strippers will be left with two options. First, work elsewhere, either commuting long hours late at night to unfamiliar cities or relocating. "I'll have to leave Edinburgh", Alexis says, "and either leave my mum, or uproot her life and bring her with me to England." For dancers who are students, who provide childcare, or have caring responsibilities, this is impractical. 
Second, some strippers may choose to work illegally. Contrary to Rakoff's claim that "the only way to regulate the industry is by not having it," closing the clubs won't eliminate demand for stripping, but will instead drive it underground and make it more dangerous. While strip clubs have CCTV, security, regulations around touching and give dancers the opportunity to organise around workplace rights, nightclubs, hotels, and Airbnbs are unregulated, with no guaranteed protections.
Crucially, the threat of club closure will now make it near impossible for strippers to point out issues that arise in clubs – for example, a difficult customer or inattentive manager – because in speaking out, their legitimate grievances risk being co-opted as evidence in support of criminalisation. In short, the decision will "stop dancers from being able to change their own working conditions", Audrey explains.
But United Sex Workers intends to challenge the council's decision in a judicial review, on the grounds that it violates the Equality Act 2010 by disproportionately impacting women. "If the council is truly concerned about women's safety, it should listen to the dancers", Audrey notes. "Because dancers will be able to tell you what we need for our own safety."
Polly Smythe is Novara Media's labour movement correspondent.