We Saved 14,000 People From Drowning in the Mediterranean—And Italy Wants to Imprison Us for It
Apparently, rescuing refugees makes us criminals.
23 May 2022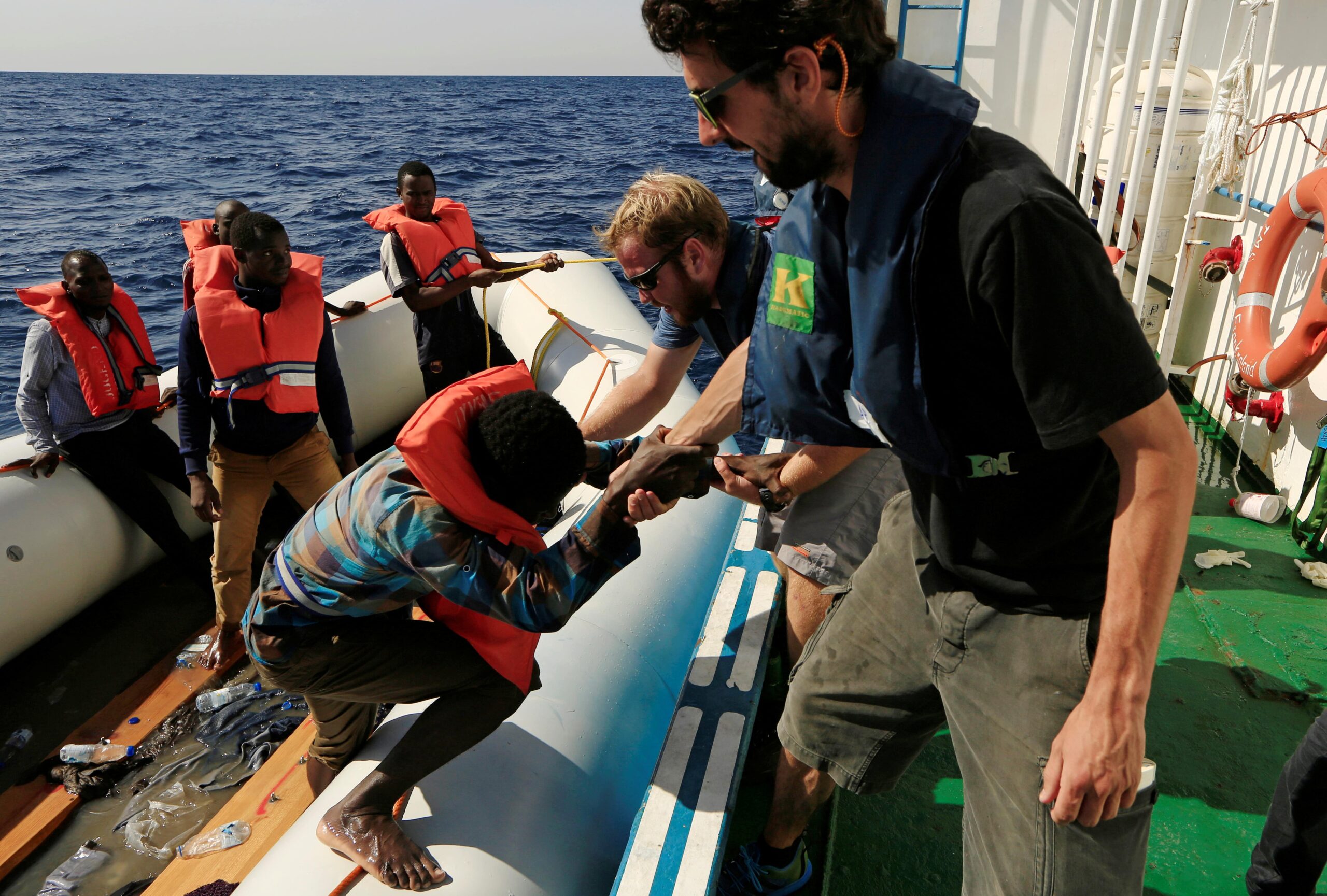 Four remaining crew members of the Iuventa are facing months of hearings for 'aiding and abetting illegal migration'. Zohra Bensemra/Reuters
On Saturday 21 May in the seaside spot of Trapani, Sicily, four of us – crew members from the search-and-rescue ship Iuventa – will face an Italian prosecutor. The charge? Running rescue missions that potentially saved over 14,000 people from drowning in the central Mediterranean. 
It should never have fallen to volunteers to be leading humanitarian rescue operations in a heavily policed sea patrolled by the coastguards and navies of some of the world's most powerful nations. But initially there was a cooperative and productive relationship with the Italian coastguard and the Maritime Rescue Coordination Centre. They had to acknowledge us as a significant part of the necessary rescue efforts, and would routinely send us to distress calls. 
Little did we know that from 2016, the institutions we worked with were spying on us. One night in August 2017, we'd just completed a rescue mission. Three coastguard boats, blue sirens flashing, came to escort us into Lampedusa port in southern Italy. Upon entering the port, the blue lights revealed a mass of waiting people – journalists and police. The entire Iuventa crew was later arrested. Our ship was seized and impounded. We have waited five years for our trial date and may have to wait far longer for the result.
The duty to save human life is at the heart of any value system, and of international humanitarian law. Yet rescuers and refugees alike are being criminalised, not just in our case but the world over. In the recent case of the Paros three in Greece, refugees who steered their boat attempting to reach safety were convicted of "facilitation of unauthorised entry", with prison sentences of up to 187 years attached. Fortunately last week, the Samos two – a similar case of refugees facing legal cruelty after their ordeal at sea – were acquitted. 
In the UK, volunteers of the Royal National Lifeboat Institution (RNLI) has come under sustained attacks from politicians and columnists for insisting that their duty to save lives extends to refugees in the Channel. Volunteers who leave out food and water in the Arizona desert are similarly dragged through the US courts. Since 2015, in Europe alone, some 250 people have been put on trial for solidarity with people on the move. 
Understanding why people are facing jail for rescue work means understanding that our freedom, along with the rule of law and basic decency, is being treated as collateral damage in a long war against people on the move. In our globalised world, states, aided by corporations (many of whom are responsible for people fleeing in the first place through arms sales, neocolonial plunder and climate degradation), are diverting ever more resources into a network of weapons, walls and surveillance. This does not prevent people from moving – nothing can block the basic human urge to seek safety. But it does ensure journeys are fraught with misery, and that our own political culture becomes more miserable in the process. Whilst we face climate breakdown and a cost of living crisis, the EU plans to give its border agency, Frontex, a €6bn budget increase, none of which seems likely to be channelled into search and rescue. While Frontex claims to uphold the rule of law, there's mounting evidence of their complicity in what are known as what are known as "pushbacks" – the various practices of forcing refugees onto dangerous rafts and leaving them adrift, or violently driving them across borders, or deporting them to countries where they are routinely abused, tortured, or even sold into slavery. In 2020 and 2021, around 2,000 people drowned in the Mediterranean in pushback incidents alone. 
Imagine if all the resources being poured into escalating border violence were instead going into providing safe routes  – as Europe has proven itself capable of facilitating following Russia's invasion of Ukraine. Supporting refugees works. A great deal of political and legal effort goes into falsely claiming otherwise, or claiming that public opinion is universally against such support. Last month, Italian local mayor Domenico Lucano appealed against a 13-year jail sentence for "aiding unauthorised migration" after settling hundreds of refugees and helping to revive a declining Italian town in the process. 
It is not just the four of us who are on trial this month, but the principle of solidarity. On one side are the companies and governments who profit from never-ending border violence; the political forces that scapegoat migrants to divert attention from misery at home; the people that stand by as our shores are turned into a mass grave. On the other side are those of us – the great majority, we believe – who want to live in a world where human flourishing comes first.
Turning the sea into a battleground makes all of us less safe. We are grateful for all the support and solidarity we have received from ordinary people, human rights defenders and progressive politicians and organisations like Amnesty. We call on others to join us in opposing the criminalisation of human movement and of solidarity with it. We do not know what the outcome of this trial will be. But we do know that we regret nothing, and we would do it all again – because no one deserves to be left alone at sea.
The Iuventa Crew are crew members from the search-and-rescue ship Iuventa.