Helping White Refugees Gets You £350. Helping Black or Brown Ones Gets You Prison Time
Solidarity is being criminalised.
27 May 2022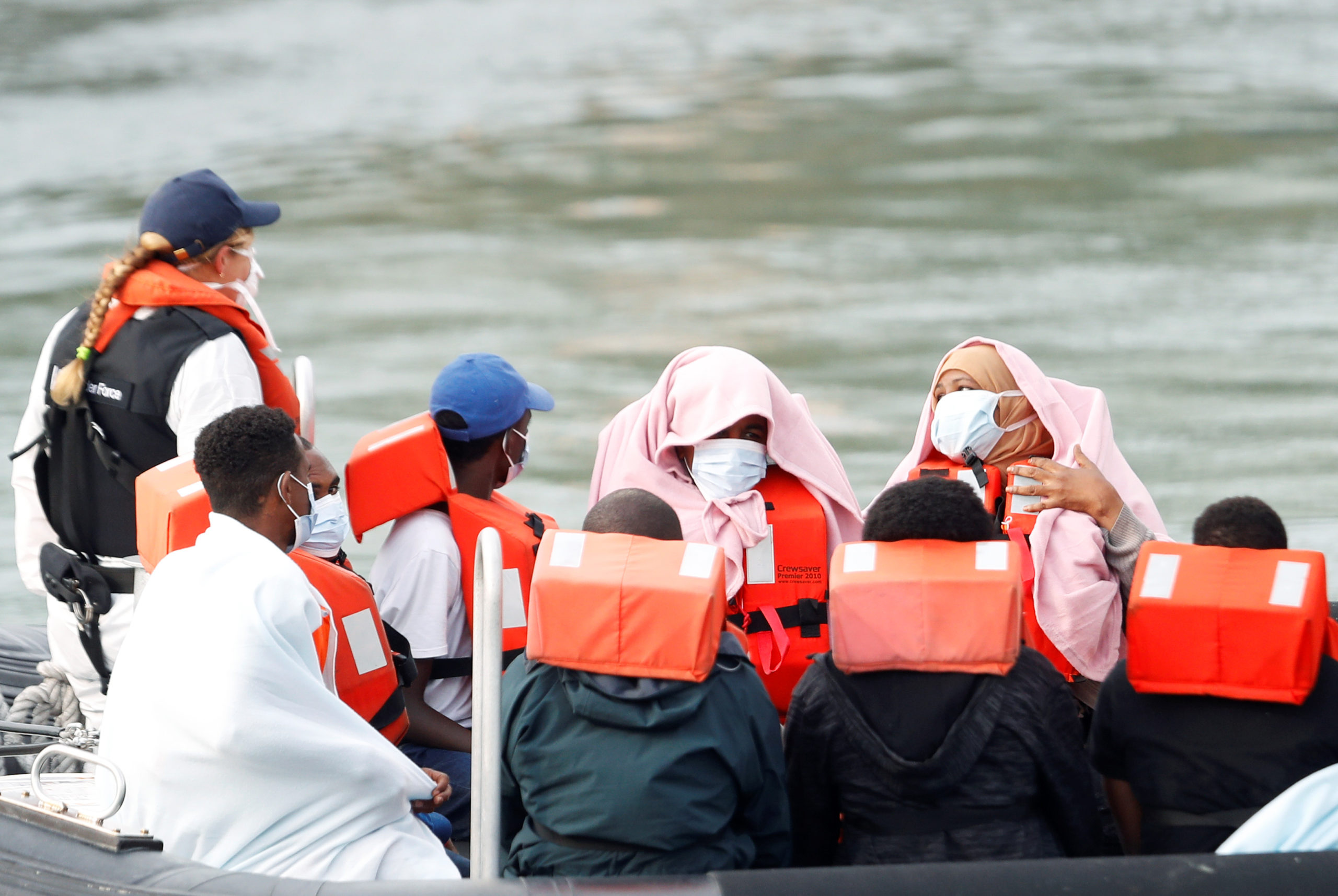 Humanitarians are finding themselves criminalised for helping refugees – if they're not white. Peter Nicholls/Reuters
This week the crew of the rescue ship Iuventa, who are on trial in Italy for saving 14,000 refugees from drowning in the Mediterranean, told their story to Novara Media. It's a horrifying tale, but not a new one.
The Iuventa trial comes one year after Italy detained Carola Rackete, the captain of Sea Watch 3, for disembarking 40 asylum seekers at an Italian port where officials refused to accept them (the prosecution later dropped charges). Three years earlier, Seán Binder, Sarah Mardini and Nassos Karakitsos, volunteers with a search and rescue mission in Greece, were placed in pre-trial detention in Greece for over 100 days on charges of espionage, people smuggling, forming a criminal organisation and money laundering, allegations condemned by the UN. 
These high-profile cases are the tip of the iceberg. Across Europe, ordinary citizens engaged in everyday acts of compassion – Italian aid workers who bought train tickets for migrants travelling through Rome, a German pastor who turned his church into a shelter, a Danish author who gave a Syrian family a lift – are being criminalised on a daily basis. 
False allegations.
The criminalisation of refugee solidarity has tracked the fortification of border regimes in so-called fortress Europe. When the EU's honeymoon with Syrian refugees ended abruptly in late 2015, with European countries shutting their land borders and official resettlement schemes drying up, humanitarian groups and volunteers began to fill in the gaps to rescue those refugees attempting passage via the only means left – which were much deadlier. 
As the EU policy shifted from sharing the caseload of refugees amongst all member states, to preventing the entry of asylum seekers at all, the criminalisation of solidarity exploded. To stop migrants from crossing at all, policy was designed to make their passage as deadly as possible – and humanitarians were the main obstacle in doing so. 
At first, the criminalisation of solidarity was shrouded in concern for refugees' welfare, on the basis that search and rescue missions were a "pull factor" – despite evidence that has proven otherwise. Without search and rescue missions, the same number of refugees cross the Mediterranean – but nine times more of them die doing so.
Nonetheless, the "pull factor" myth grew wings and turned into the rhetoric that, in the words of Italy's former deputy prime minister Matteo Salvini, humanitarians were "colluding with smugglers" – or worse, that they were themselves the smugglers, as Salvini began to term rescue ships. 
The legal basis for the prosecution of volunteers and humanitarians comes from the 2002 EU Facilitation Directive. It defines the "crime of facilitation or entry and transit" as "assist[ing] a person who is not a national of a [EU] member state to enter[…] in breach of the laws of the state" – a vague definition which doesn't require material gain for an act to be defined as smuggling, contrary to UN protocols and guidance.  
Yet once criminalisation of solidarity cases go on trial, courts constantly affirm that solidarity is a protected right. In response, European states have more recently drawn upon obscure health and security regulations or bureaucratic procedures to limit the operations of humanitarian NGOs for farcical reasons, such as having too many lifejackets on board.
Other governments have passed laws specifically designed to criminalise refugees, such as the 2020 Greek 'fake news' law which made discourse "capable of causing concern or fear to the public, or undermining public confidence in[…] the country's defence capacity" a crime. This very law was weaponised against Josoor, an NGO based in Turkey, for its work in documenting pushbacks from Greece to Turkey. 
I spoke to Natalie Gruber, Josoor's co-founder last week. In September 2020, Natalie woke to headlines that the Greek authorities had mounted a case against workers from four NGOs, including her own, for forming a criminal organisation, espionage, violating state secrets and facilitating illegal entry – charges that carry a maximum sentence of 35 years. 
To date, Natalie has never been contacted by prosecutors – a common tactic of the Greek authorities' criminalisation of solidarity. Knowing that the evidence is insufficient, the prosecution leaks the file to the press without ever taking the case to trial, leaving the accused humanitarians in agonising limbo, and the organisation unable to clear its name in court.  
Natalie believes the allegations against herself and the 32 other humanitarians on her file made many leave the sector. She stayed, but not without struggles: "It really messed with my mind. I read every message I was writing at least ten times for fear I was being monitored."
Although the vast majority of cases are bereft of evidence and contravene international law, the EU's strategy is remarkably effective: an allegation, without proof or even a trial, is enough to disrupt or even tank an organisation's work.
Such allegations have a chilling effect on NGO operations. Those with pending cases may stop monitoring pushbacks, engaging in search and rescue missions, or are distracted by upcoming trials which prevent them pulling in funding. This feeds a vicious cycle: with fewer humanitarians on the border, the human rights violations of various states are subject to ever-decreasing scrutiny. Discourse that frames migrants as intrinsically criminal, and volunteers as their abetters, has afforded few opportunities to fight back against this Kafkaesque game. 
On the political level, such allegations serve to conflate migration and humanitarianism with criminality – a misnomer in international law, which recognises that refugees may cross a border irregularly to lodge an asylum claim, and which allows humanitarian access and services to anyone, even in areas of active conflict. 
When I asked Sascha Girke, Head of Mission for the Iuventa last week how he felt ahead of the Iuventa's trial, the way the EU has cast aspersions on the legality of refugees, humanitarianism, and solidarity is what he comes back to. "The most intense feeling is rage," he says. "Whilst we're on the dock, those who send refugees back to Libyan detention centres, or imprison them in Greek camps, they roam free. The EU [itself] should be on trial."
Mask off.
In recent months, the response to the refugee crisis in Ukraine has conclusively proven humanitarians working in Europe have been saying for decades: the continent's border regime is built along racial lines. As volunteers shuttling 'white' Ukrainians across the border into Poland were met with praise, activists just a few miles north were detained for helping a Middle Eastern family who had been sleeping in sub-zero temperatures in forests on the Poland-Belarus border for over three months. For households hosting Ukrainians in the UK, there were even monthly payments of £350 offered as a financial incentive. Meanwhile, other asylum seekers are given just £40.85 a week to live on by the same government. The contrast could not be starker.
Now that millions of Ukrainians have crossed European borders safely with the help of volunteer humanitarians across the block, we have an opportunity – and clear argument – for reform. Would EU constituents be happy with a Facilitation Directive that could criminalise millions of citizens across the EU for helping Ukrainians? And would the same citizens – now aware of the fact that anyone can be displaced, even Europeans racialised as white – be content with a border regime that criminalises seeking refuge, in flagrant violation of international law? 
In 2018, the European Parliament adopted a resolution to stop criminalising humanitarian aid – but the Commission fell short of reforming the Facilitation Directive. This would be the first step. 
The second would be to ensure that humanitarian response does not form in silos – organisations supporting Ukrainians must also seek out migrants and asylum seekers wrongfully criminalised across Europe, in line with the humanitarian imperative to alleviate human suffering, wherever it is found. Were the UN or most prominent NGOs to do so, this would send a powerful signal to EU states that criminalise the grassroots NGOs and volunteers. 
The third would be to reshape the discourse on legality. Crossing a border to lodge an asylum claim, or assisting an asylum seeker doing so is not illegal under international law. The EU Facilitation Directive and the newer laws such as the 'Fake News' law passed to criminalise humanitarians, are not compatible with international standards. If we want to talk about legality, we need to start there. 
Tiara Sahar Ataii has worked in humanitarian response for the UN and major NGOs in 11 countries.