Israel is Losing the Misinformation War
The state is losing the battle to mislead.
29 June 2022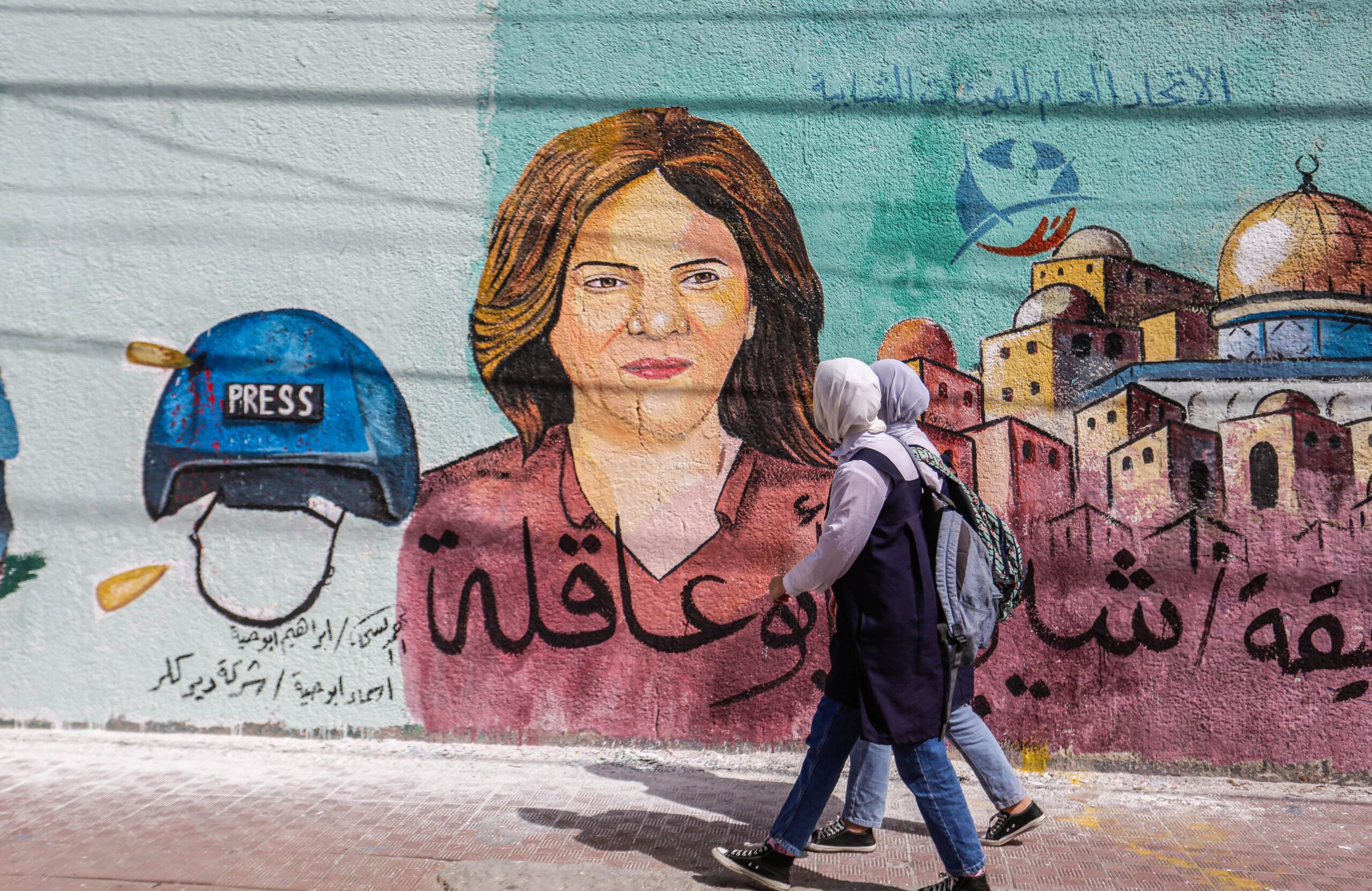 Following the killing of journalist Shireen Abu Akleh, the Israeli state attempted to deflect responsibility for her shooting. Mahmoud Issa/Reuters
The murder of veteran Palestinian journalist Shireen Abu Akleh in May confirmed two elements of Israel's ongoing occupation of Palestine.
Firstly, Israel's apartheid has no ethical limits. Abu Akleh, an Al Jazeera correspondent with nearly three decades of experience in the field, was wearing a helmet and flak jacket clearly marking her as press when an Israeli bullet picked her out. Her funeral was chilling to watch: Israeli forces ripped Palestinian flags and assaulted mourners with batons, almost causing Abu Akleh's coffin to fall to the ground.
The second observation that could be made following Abu Akleh's killing is that Israel is losing the misinformation war. 
Quickfire misinfo.
Immediately following reports of the journalist's shooting, Israel's ministry of foreign affairs released a video blaming "Palestinian terrorists, firing indiscriminately" for her death. A statement from Israeli prime minister Naftali Bennett circulated approximately an hour later, echoing the video. Western mainstream media such as the New York Times and the Guardian hedged their bets, attributing Abu Akleh's death to "clashes" between "Israeli military forces and Palestinian gunmen". 
Briefly, it seemed like the customary framing of Israel's aggression as a justified reaction to Palestinian terrorism would dominate media cycles once more. Except this time, it didn't.
Israel's claims were swiftly challenged. A field researcher from B'Tselem – a human rights organisation based in Jerusalem and founded by a group of Israeli doctors, lawyers and academics in 1989 – pulled together visual evidence in the aftermath of Abu Akleh's death. They filmed two locations: the place where the armed Palestinians accused by Israel of Abu Akleh's killing were firing, and the place where Abu Akleh was killed.  
They compared the GPS coordinates of locations and aerial photographs of the sites, showing that the Israeli government's narrative could not be true. Further evidence has since corroborated what numerous Palestinian eyewitnesses, including Abu Akleh's colleague Ali Sammoudi, had said all along: that the murder of Abu Akleh was the result of a targeted attack by Israeli forces. 
The watchers. 
B'Tselem documents human rights violations in the occupied territories. It has registered fatalities and Israeli state and settler violence, like house demolitions in East Jerusalem and the West Bank, in its database since 2000.  
The organisation is aware that the occupation extends to the information realm. "Israel often tries to manipulate the record," a B'Tselem spokesperson told Novara Media, "but we're always prepared.
"[We] thoroughly investigate and publish information, testimonies, footage, position papers and reports exposing the mechanisms that the Israeli apartheid regime imposes on the Palestinians. […] [W]e seek to provide indisputable facts." 
B'Tselem is not alone in its efforts. In the past two decades, a crop of new organisations have sprung up, using data and open-source intelligence to combat Israel's disinformation war. Forensic Architecture (FA), founded in 2010 by British-Israeli architect Eyal Weizman, is an independent research agency based at Goldsmiths, University of London. The group confronts state and corporate violence by undertaking spatial research – the "process of extracting or creating new information about a set of geographic features to perform routine examination, assessment, evaluation and analysis".
"At Forensic Architecture, we feel a sense of urgency to establish the truth where occupying states repress information," says FA's lead Israel-Palestine researcher, Tal*. "We assess where the holes are in the narratives and use satellite images and original footage to produce 3D models that are accessible. These visual tools become vital for human rights organisations and activists on the ground." 
One of FA's most significant projects in occupied Palestine to date was its 2019 investigation into the shooting the previous year of 21-year-old paramedic Razan Al-Najjar, while Al-Najjar was helping a wounded protester. After Al-Najjar's killing, the Israeli military tried to seize narrative control by releasing a video showing Al-Najjar throwing what appeared to be a gas canister and portraying her as an aggressor.
FA's investigation punctured this strategy. Using photogrammetry – a 3D coordinate measuring technique – they reconstructed the protest site and the precise location of the gunshot victims as a means to derive the trajectory of the bullet, and trace its cone of fire back to its origin. They concluded that not only was Al-Najjar's uniform visible from the sniper's location, it was also clear she was posing no apparent threat. 
A similar investigation was launched following the death of Shireen Abu Akleh. FA released a 3D digital representation model as an operating device, which provided an unambiguous picture of what took place. They pinpointed the locations where Abu Akleh was reporting, where she was murdered, where her colleague was assaulted and – later – the route of the funeral and the violence of Israel's forces. As of yet, there's been no oficial response from the Israeli state to FA's findings but the Israel Defense Forces are launching their own 'inquiry' into Abu Akleh's killing, using satellite imagery and mapping tools.
Ironically, tools developed by states like Israel– which is famed for its technological literacy – to control and police  are becoming an asset for the those seeking to shed light on state brutality. "Forensics was developed as a state tools," said FA founder Eyal Weizman in a recent interview. "We [FA] socialize the production of evidence, we make it a collective social practice that involves the communities that are experiencing state violence continuously."
The tide of opinion. 
Another organisation documenting the reality of the Israeli occupation is Airwars. Founded in 2014, the not-for-profit transparency watchdog monitors and catalogues all violence affecting civilian communities in conflict-affected nations, including Palestine. It primarily relies upon open-source information as well as local researchers to track, assess, archive and investigate where civilians have been harmed. 
The organisation worked closely with the Guardian for an investigation into al-Jalaa Tower – the 11-storey building in Gaza City containing a mixture of homes and offices, including those of Al Jazeera and the Associated Press – that was destroyed by Israeli airstrikes in May 2021, based on claims it was being used by Hamas. 
Together Airwars and journalists recreated, minute by minute, the hour between the Israeli military's warning call to evacuate the building to the moment they reduced it to rubble. 
State suppression.
Confronting Israel's misinformation war is not without consequences. "We have been relentlessly delegitimised by sections of Israel's media and political class," B'Tselem's spokesperson told Novara Media. "We get labelled as traitors or enemies of the state."
In 2018, when the B'Tselem director-general Hagai El-Ad, addressed the United Nations Security Council, he was branded a 'wretched collaborator' by then Israeli ambassador to the UN, Danny Danon. Days earlier, then Israeli prime minister Benjamin Netanyahu had labelled B'Tselem a "disgrace". 
When B'Tselem published a 2021 report in 2021 denoting Israel's occupation of Palestine as an "apartheid regime", critics called it "blood libel". Yet In February 2022, Amnesty International – one of most prominent human rights organisations in the world – concurred with B'Tselem's conclusions, labelling Israel and not just the occupied territories, an apartheid state. 
"This comes with the job," says the B'Tselem spokesperson, of the attacks. "But apartheid won't dismantle itself." 
For Palestinians, Israel's exploitation of the truth is not a new phenomenon. Inès Abdel Razak is advocacy director for the Palestine Institute for Public Diplomacy (PIPD), an independent Palestinian organisation. She draws parallels between Shireen Abu Akleh's murder and that of Muhammad Al-Durrah, a 12-year-old shot and killed by Israeli forces in 2000 whilst being shielded by his father.
Despite video footage showing heavy gunfire from Israeli forces directed towards a cowering Al-Durrah and his father, an Israeli inquiry claimed the footage was fabricated. It was, says Abdel Razak, a tragic example of Israel's disinformation instruments working overtime, and it worked.
"Even today some questions linger in western consciousness about the possibility of the footage being manufactured," she adds. 
Abdel Razak believes the proliferation of the anti-misinformation researchers, aided by social media, is having a clear impact. "We are decisively broadcasting the Palestinian perspective and helping regain ownership of our narrative and amplifying our lived experiences," she says. "Social media is now influencing the media narration instead of vice versa. There is a long way to go, but there is progress nonetheless."
Em Hilton is an activist and organiser with the Center for Jewish Non-Violence who works on the ground in Palestine and Israel. She senses a positive shift, not only regarding solidarity with Palestine across the world, but also a push to document Israel's human rights violations despite the state's sustained assault on human rights organisations.
"Those living within Israel and combating the state genuinely fear for their personal safety at times," she says. 
"But it has not hampered the growing mobilisation efforts for the Palestinians, especially [among] leftwing Israeli society and international Jews […] 
"[I]nstead,[state repression has] fostered a renewed commitment and motivation to reshape the perceptions of the occupation and end the apartheid regime."
There appears to be some optimism in the quest for Palestinian liberation. As Tal from Forensic Architecture concludes: "The technological realm will be a vital device for present and future resistance. Together with the ever-deepening community spirit, it is a two-pronged attack that will hold Israel to account and keep the literal and metaphorical Palestinian flag flying." 
*Names have been changed.
Hamza Ali Shah is a British Palestinian political researcher and writer based in London.