Manchester Police Probably Broke the Law With 'Racist' Carnival Bans
Authorities may have been issuing 'unlawful' bans for up to 16 years.
4 August 2022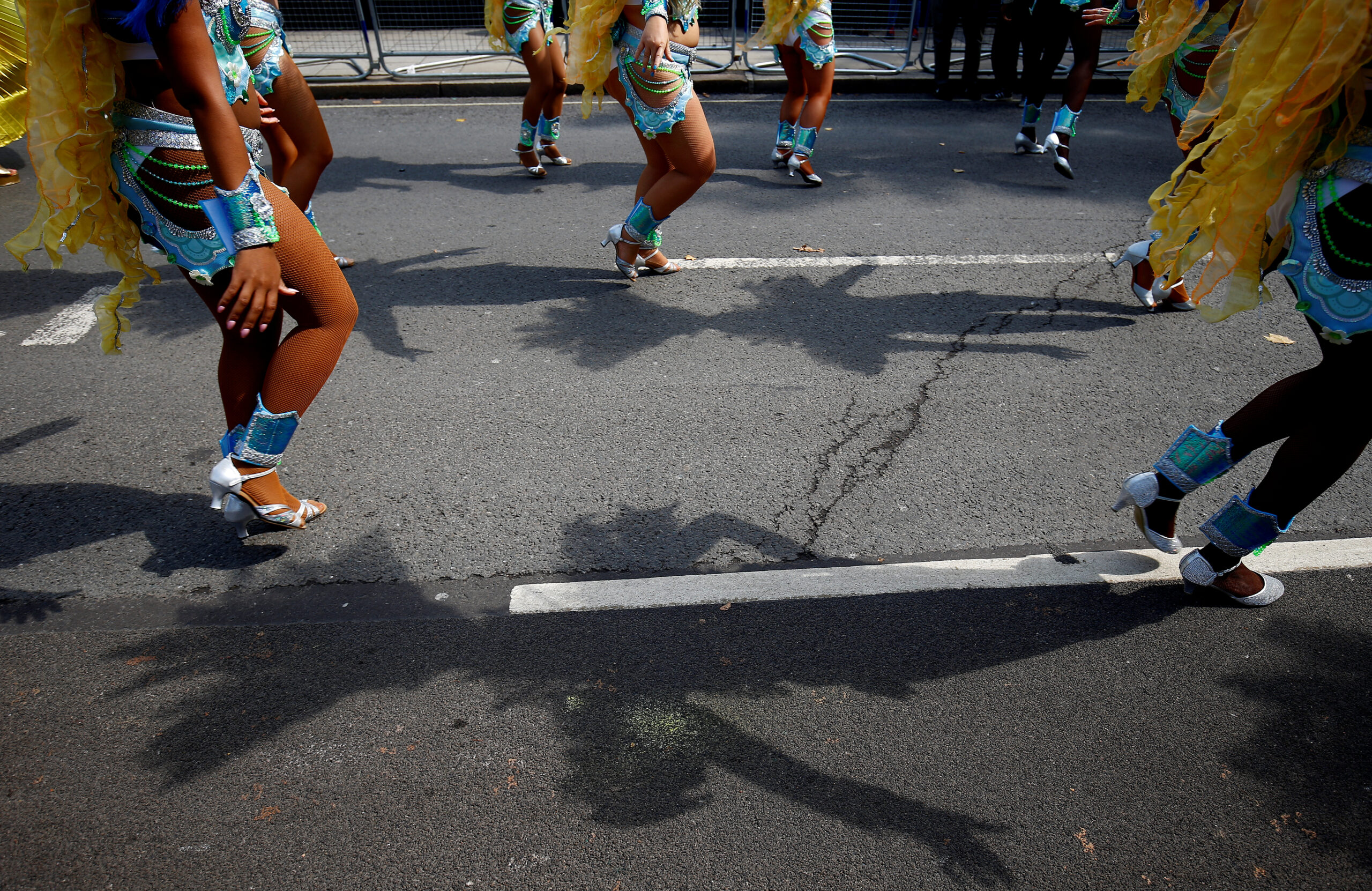 Greater Manchester Police issued letters to an estimated 50 individuals regarding a 'ban' on attending Manchester Carnival 2022. Henry Nicholls/Reuters
Vague and 'unlawful' bans. 
Lawyers at human rights organisations Liberty and Justice told Novara Media it is very likely that the policy violates discrimination law. Lawyers suspect GMP has identified gang members in a "racist" and "unsubstantiated" manner. They also warn that the Black-led event is being policed disproportionately compared to similar white events. 
The letters came to light after Roxy Legane, a member of the Northern Police Monitoring Project, was contacted by the parent of a 16-year-old Black recipient. The parent alleged that the officer delivering the missive told them around "50" other people would be receiving one. 
Campaigners believe other recipients will predominantly be young people of colour. GMP denied this in an initial statement sent to Novara Media, credited to chief superintendent Rob Cousen. 
"Caribbean carnival is a licensed event and is therefore subject to conditions of entry, agreed by all relevant parties, to prevent and reduce crime, harm, and anti-social behaviour," Cousen said.
"Since 2006, letters which outline these conditions have been sent to individuals about whom we have intelligence to suggest may threaten the safety of the event. The recipients are wide ranging in terms of age, gender and ethnic background and are considered on a case-by-case basis". 
However, the bans, and their provision in the licence conditions of Manchester carnival, are now under scrutiny by human rights lawyers. 
Manchester city council issues the licence to enable carnival to take place every year. As part of their duties under the Licensing Act, the council has an obligation to promote the prevention of crime and disorder and public safety. This entitles it to place conditions on the licence, such as banning certain people from attending. 
However, both GMP and Manchester city council have to comply with the Equality Act when exercising these functions. 
"We at Liberty think that [GMP and Manchester city council] haven't complied with the Equality Act," Adamou says. "Firstly, they're targeting a Black-led event in a way we don't think they do with predominantly white events, for instance Parklife festival in Manchester, which is attended by 80,000 across two days. 
"Secondly, the reason why they've told these individuals they're not allowed to go to carnival is potentially based on unreliable and unsubstantiated evidence, I suspect from GMP's gangs database, based on hearsay, who you're friends with, where you live etc – things that in and of themselves do not indicate criminality or risk. They're going to be heavily fuelled by racist stereotypes". 
Both GMP and Manchester city council may also have breached the public sector equality duty under the Equality Act, says Adamou, which requires all public authorities to have "due regard" to the need to eliminate racism and discrimination and promote equality of opportunity. 
Lawyer Tyrone Steele, of Justice, also believes the policy could violate further anti-discrimination laws, particularly with carnival bans predicated on individuals being "perceived by others to be associated to a street gang". 
"'Street gang' is an undefined, racist term," he says. "You've got a scenario where kids have been given this letter, saying 'you can't come to the event because […] you're perceived to be associated with a gang'. 
"What licence does that give to organisers to determine who fits that criteria? It's clearly young Black people who are going to get caught in by that. 
"Section six of the Human Rights Act makes it unlawful for any public authority to act in a way incompatible with the EHRC [European Convention on Human Rights]. There's a number of Human Rights Act or ECHR-related rights that would apply in this scenario." 
The letters likely don't comply with articles eight, 11 or 14 of the ECHR, which outline the right to a private life, freedom of assembly, and prohibits discrimination, says Steele. 
In addition, the police code of ethics forbids officers from unlawful discrimination and requires them to uphold human rights and equality law. 
"It's clear the policy set out would not comply with any of these requirements and is potentially falling foul of the law," Steele adds. "They've been issuing letters since 2006, which is 16 years of unlawful action, theoretically". 
Justice have reached out to both GMP and Manchester city council to clarify the legal basis on which they've issued the letters, but are yet to receive a response. 
Similar concerns are also being raised about potential discrimination arising from enforcement of entry policies. The city council-approved 2022 licence conditions for Manchester carnival, seen by Novara Media, set out details of how entry policies are enforced, via private security contractors, who are responsible for refusing entry "on the advice and assistance of GMP". 
The licence conditions also set out that people identified to carnival's event management team by GMP as being "of bad character, by way of association to other persons or by convictions at court" will not be allowed to remain at the event. 
"It's a very, very broad discretion," says Adamou. "What is it going to be based on, apart from the behaviour of individuals on the day, or racial stereotypes? We know how gangs databases work. We know how the police view young Black people and young Black men and boys in particular. 
"It's going to capture so many people in terms of who you think might be in the gang. I'd argue that's a breach of the Equality Act as well."
A 'moral panic'. 
Legane says that while local rights groups are aware Manchester carnival is a "highly policed event", the emergence of the ban letters illustrates greater pre-policing of the occasion – and the increasing prevalence of a gangs "moral panic" in the city, focused on Black communities.
"It's a really significant part of building public fear," she says of the letters. "It's putting forward, before it [GMP] has any evidence, that there's a huge issue of gangs in our communities. The public becomes on edge, which later legitimises the policing [GMP] goes on to do which – as we see in court – is really weak". 
Legane cites 2016 research which found Black and minority ethnic people convicted under joint enterprise charges (where groups of people can be convicted of a crime if they are thought to have had foresight of it, regardless of involvement or guilt) were "unfairly identified" by GMP as gang members at a much higher rate than white individuals, despite 77% of those convicted on serious youth violence charges being white.
"You look at the proportion of [ethnic minority] people in the gangs database vs those responsible for serious youth violence and it doesn't match up," she says. "But letters like this contribute to the idea that Black communities are where gangs and potential violence sits."
Carnival organisers and the central independent advisory group – drawn from the local community – are also "complicit" with "racist policing", says Legane. 
"[Carnival] has such a rich cultural history," she continues. "It's becoming a council spectacle that opens the doors for police and other agencies to be a part of organising. That does lead to harm. 
"I want to know who's part of those groups. There is a pretence that this is for the community and that the community wants the approach [put forward by the letters]. Who is that? There's lots of us who really oppose it.
"We don't reject the fact that violence exists and is a problem within our communities. We just really question the scale [of violence claimed], and approaches to that problem". 
In addition to confirming that GMP is now reviewing the legality of the letters, Manchester city council issued the following statement:
"The council is committed to working with its partners to ensure the Caribbean carnival can be a safe and happy celebration of the significant role the Caribbean community has had in the history of Manchester. As a result, Greater Manchester Police and partner agencies have taken targeted steps to ensure this ambition can be realised.
This course of action is not new and has taken place since 2006 to ensure a safe carnival celebration for all. This year's carnival, celebrating its 50th anniversary, should be a time to celebrate, and the council is certain that this year's outing will live up to such an important legacy."
Novara Media has reached out to GMP for further comment.
Moya Lothian-McLean is a contributing editor at Novara Media.