Israel Gave Terrorism As the Reason for Its Latest Assault on Gaza. It's Never Needed a Reason
They call it 'mowing the lawn'.
18 August 2022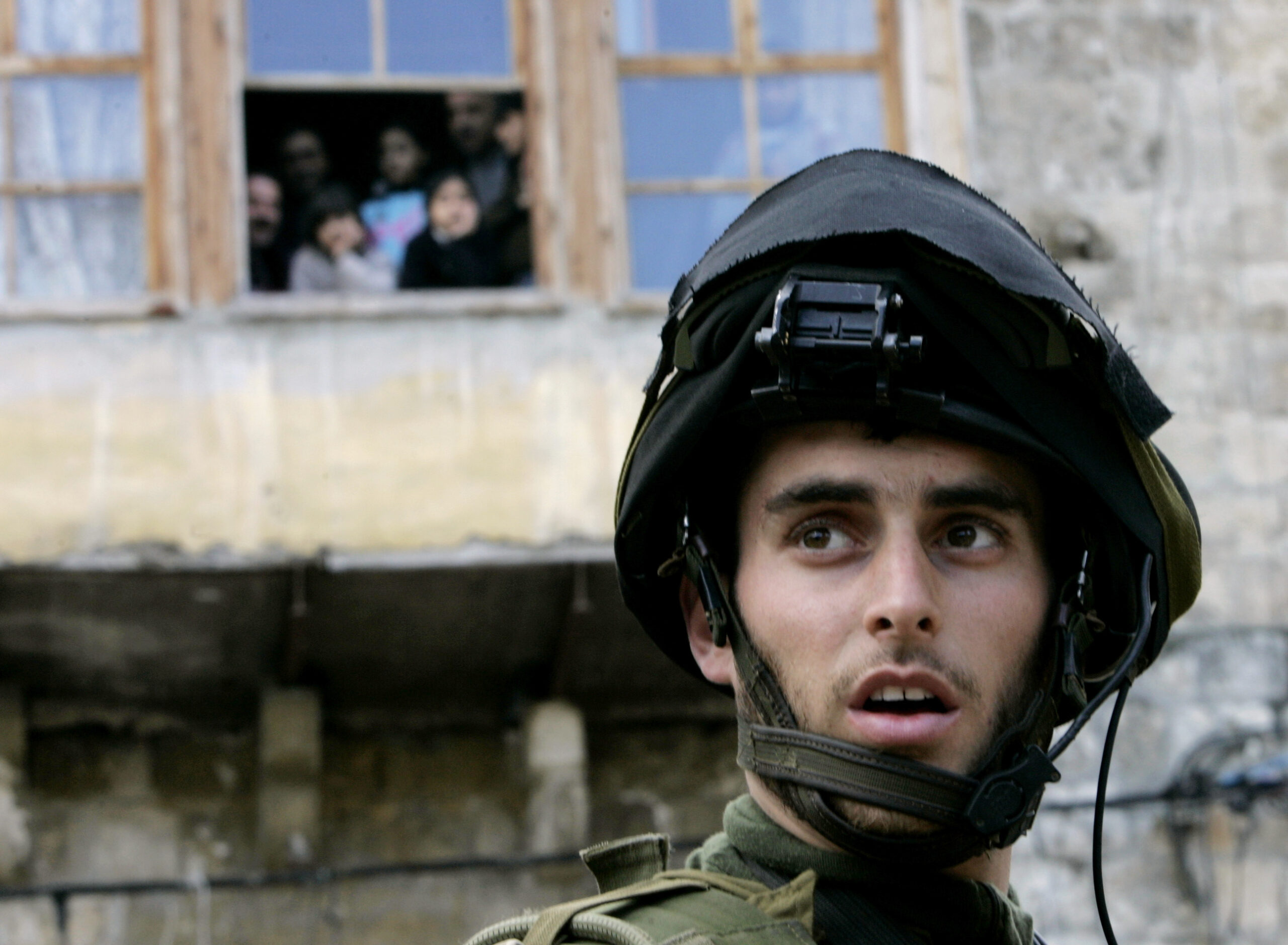 An Israeli soldier during a military operation in the West Bank city of Nablus, January 2008. Eliana Aponte/Reuters
For Palestinians in the Gaza Strip, August started in familiar fashion: with Israeli rockets falling from the skies. The three-day Operation Breaking Dawn killed 49 Palestinians, 17 of them children. More than 360 were wounded. This time, the rationale Israel concocted was a terrorist threat.
Just days before Israeli forces struck, in a raid on the Jenin refugee camp north of the occupied West Bank, Israel arrested Bassam al-Saadi, a senior figure in the Palestinian Islamic Jihad (PIJ), a small group in Gaza that favours armed resistance in response to Israeli apartheid.
Expecting a reaction that did not materialise following al-Saadi's arrest, Israel launched Breaking Dawn. Backed up by a targeted YouTube ad campaign, Israel's political and military leaders claimed the operation commenced because the PIJ had refused to abandon its plans to attack the Israeli border and that these were pre-emptive strikes against PIJ rockets. Two PIJ commanders were among the 49 killed by Israel's precision weaponry.
Still, the self-defence line worked a charm in soliciting the usual chorus of support from the western powers: the Biden administration and Britain's most likely next prime minister Liz Truss both offered robotic renditions about Israel's right to defend itself, while US Senate foreign relations committee chairman Bob Menendez condemned the "Iranian-backed terrorists committed to annihilating the State of Israel". Yet anyone familiar with Israeli tactics will know that the latest onslaught is best understood within the context not of fighting terrorism, but of "mowing the lawn".
In 2013, two Israeli academics Efraim Inbar and Eitan Shamir used a research paper to outline Israel's approach of creating an intractable conflict. They said that within this strategy, Israel in the 21st century cannot aim for a decisive victory or ending the conflict when it comes to war, like the conventional manner it fought its early wars. Instead, it uses its military superiority to "wear down the enemy through constant, relentless pressure". The use of force is intended not to attain political objectives (shutting down a terrorist threat, for example) but rather to "debilitate the capabilities of the enemy" thereby preventing them from ever rising up – like weeds that need to be cut back every so often.
In this metaphor, Palestinians are the weeds. Understanding this makes it less surprising that Israel treats Palestinian lives as disposable: earlier this month +972 magazine, run by Israeli and Arab journalists, reported that the IDF sees a certain number of "non-combatant" deaths – meaning families and children – as acceptable during military operations. In the last few days, Israeli military officials have admitted to killing five Palestinian children on the final day of Operation Breaking Dawn; they had originally blamed PIJ rockets. As it could with its murder of Palestinian journalist Shireen Abu Akleh, Israel can bank on the international community looking the other way.
In Gaza, this combination of a free hand and a clear power imbalance has proven devastating. As the residents of the densely populated enclave detail, each round of Israeli aggression comes when the population has not yet recovered from the last. Reports show Gaza's water system took a pounding from Operation Breaking Dawn, while at least one hospital sustained damage and 18 housing units were destroyed. This will only compound the $16.7bn of humanitarian and economic damage that the 15-year siege has done.
Hamas, the de-facto rulers in Gaza, sat out the latest attack, as they are still reeling from May 2021 and are wary of losing the small economic measures Israel has offered. These include 14,000 work permits Israel has issued, indispensable for a region where at least 50% of the population is unemployed. For Israel, then, Operation Breaking Dawn was mission accomplished, the latest round of violence producing no change to the status quo.
For now, Israel can turn its attention elsewhere, be it to land theft in Masafer Yatta or the unrelenting expansion of illegal Israeli settlements in the occupied West Bank.
Intricately entwined into the latest Gaza plan of action was some cynical electioneering, too. With the Israeli elections looming, the current prime minister Yair Lapid, the former TV host and author, was going into the election with no defence credentials, a major drawback in the eyes of the electorate. In the immediate aftermath of the bombardment, several polls showed Mr Lapid's approval ratings increasing and his Yesh Atid party garnering support.
Since its foundation, Israel's modus operandi towards the Palestinians has been systematic violence and colonial domination. Operation Breaking Dawn is merely the latest chapter. Whether to contain a trumped-up terrorist threat, to inflame the Israeli electorate or simply because the Israeli military feels like it, the question of why Israel undertook Operation Breaking Dawn is an open one. The question of whether it will kill more Palestinians is not.
Hamza Ali Shah is British Palestinian political researcher and writer based in London.