Port Workers in Felixstowe Are Striking at the Heart of the UK's Supply Chains
The port handles almost half of Britain's container trade, and it's been shut down.
23 August 2022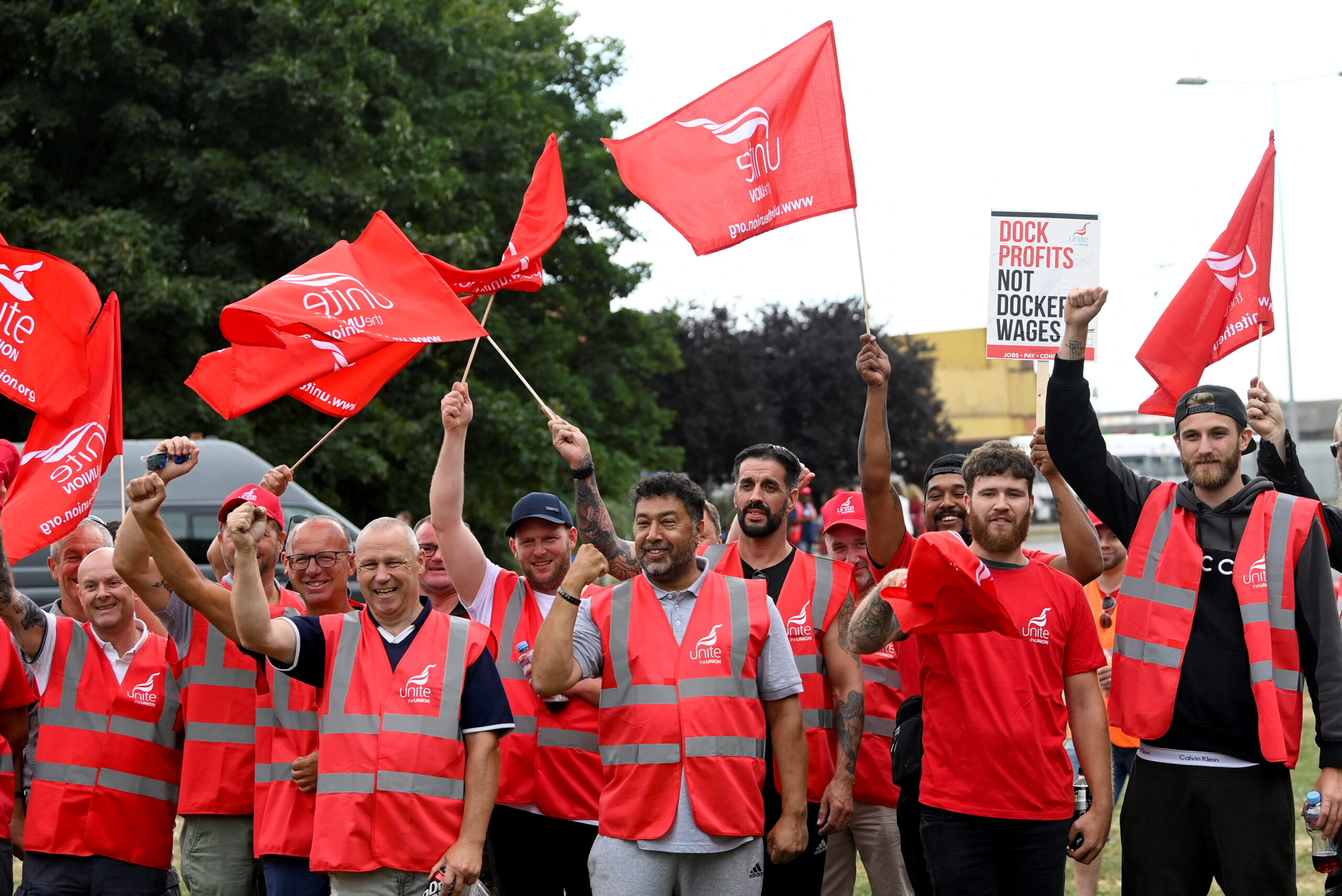 Workers on strike at Felixstowe. REUTERS/Toby Melville
On Monday, the port of Felixstowe was so quiet that every unit of cargo being loaded onto the world's largest container ship the Evergreen's Ever Alot – seemingly the only ship being serviced – could be heard. From the stony beach of Landguard Point, at the mouth of the river Orwell, only one crane could be seen moving at the port.
1,900 Unite members began an eight-day strike at the port on Sunday. For the first time since 1989, the flow of goods through the UK's biggest container port, which handles more than four million containers every year, has been halted.
With its strategic proximity to both shipping lanes and the major ports of Northern Europe, striking crane drivers, machine operators and stevedores – workers who load and unload ships – could disrupt more than $800 million in trade.
Like so much industrial action happening at the moment, the dispute is about pay. After a sub-inflation pay-rise in 2021, the Felixstowe Dock and Railway Company, the company that runs the port, offered a 7% raise this year plus a £500 bonus, as inflation climbs into double-digits. In late July, 92% of Unite members at the port voted for industrial action on an 81% turnout.
Jennice Blake, who works as a tug driver and boardman – ensuring that workers get to their workplaces – said, "I don't get paid what the media and big bosses make out. We work crap conditions and antisocial hours. I work overtime. And I come back with around £1,600 a month."
"Even to come here to the picket today, I had to put money on a credit card."
"The profit money isn't going to the people who are grafting day in and day out. It's going to shareholders overseas."
Ports spokesman Paul Davey has tried to claim that the strike is part of Unite's "national agenda" to cause disruption. "I know many of them [workers] feel they're being used as pawns in this game," he said.
Davey claimed that the average pay for workers at Felixstowe was £43,000 – a claim that the striking workers find laughable.
This average includes management grade, office staff and supervisors, according to Unite's regional organiser Miles Hubbard. "A typical port operative would earn around £25,000. We've got people here using food banks and suffering financially," he said.
Lucky Singh, a stevedore and Unite branch equality and diversity officer who has worked at the port for 20 years said, "People have had enough of corporate greed. Companies are making ridiculous amounts of money and it's not filtering down to people doing the work."
Unite found that the Felixstowe Dock and Railway Company and the Hong Kong registered holding company CK Hutchison Holdings Ltd had paid out almost £200 million in dividends in three years. In 2020, the company made pre-tax profits of £61 million, while paying out £99 million in dividends.
Unite has called out the "crocodile tears" of the company which claims that it cannot afford to give workers a pay rise.
In a statement, the Port of Felixstowe said it was "disappointed" that Unite had not "come to the table for constructive discussions." It said that "there will be no winners from this unnecessary industrial action.
With discussions for the 2023 pay rise due to open in January, shop steward Gary Joy said, "it's all about face."
"The employer thinks, 'If I let this lot win now, in three month's time they'll be wanting more at the next pay deal. How do we get out of this without losing face?'" he said.
While the Suffolk strike is about workers fighting against a real-terms pay cut, their action forms part of a broader international picture.
The 1980s saw the adoption of the "just-in-time" model of logistics. This meant that instead of goods being warehoused in anticipation of them being ordered, suppliers delivered products only upon order. By trimming down stockpiles and workers, ports sought to create more profit. This reorganisation created enormous "logistical clusters" – districts where warehouses, transport, and workers are concentrated. While this means companies can employ fewer workers and extract greater profits, it also means a relatively small group of workers can close down an entire supply chain.
Recent years have seen supply chain issues caused by Brexit, Covid-19, climate, and now Russia's invasion of Ukraine, but disruption caused by industrial action has been rare – until now.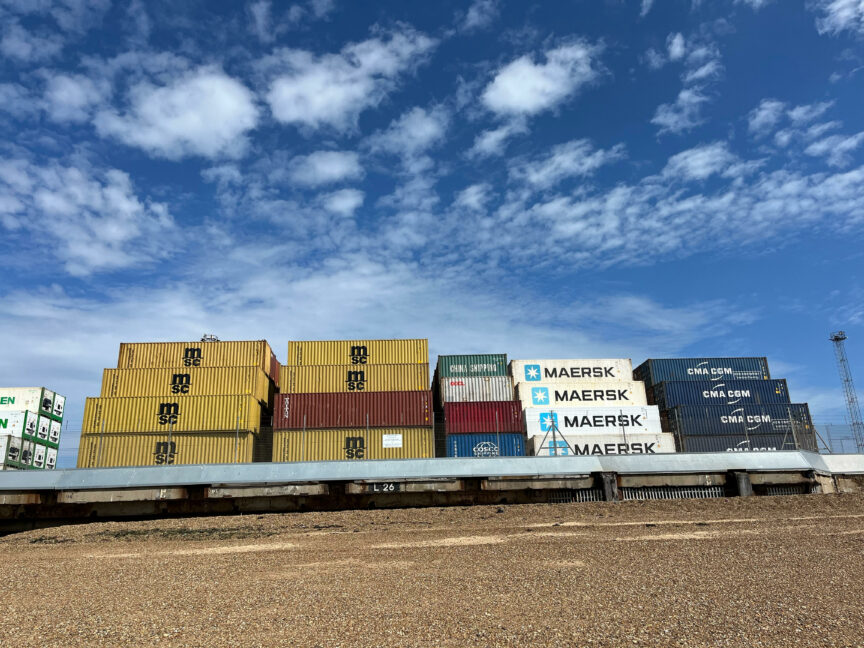 In recent months, logistics has become a global flashpoint. In Germany, 12,000 dockworkers in Bremen, Hamburg, and Lower Saxony represented by trade union Ver.di went on their third round of strike action in July over inadequate wage increases. In South Korea, unionised truckers held a week-long strike over soaring fuel prices, demanding pay guarantees for their work. The country's ports also came to a halt and Prime Minister, Han Duck-soo warned of "irrevocable" damage to the economy. In America, the expiration of a labour contract for 22,000 West Coast dockworkers has left the door open for strike action.
Logistics strikes could also spread in the UK. Earlier this month, over 500 Unite port operatives at the port of Liverpool also voted to take industrial action, with strike dates yet to be announced. The north west dock plays a crucial role in trans-Atlantic trade, and could be further impacted as port maintenance engineers are currently being balloted for industrial action.
The Felixstowe strike is already having an impact.
The world's second-largest container shipping group, Maersk, has diverted two Felixstowe-bound ships to different northern European ports, with a third switching to Dubai Port World London Gateway. A further 11 vessels could be similarly impacted by the strikes. DP World, which operates the UK's second largest container port of Southampton, told Bloomberg it was "currently delivering record volumes," meaning it would struggle to absorb additional Felixstowe cargo. According to experts, the disruption caused by the strike could still be felt this Christmas.
The port looms large over Felixstowe. Joy likens the port to "a coal mine in the old days." That the town is built on the success of the port has helped secure locals' solidarity, a scale of support evidenced by the huge number of cars blasting their horns as they passed. One car circled the picket three times, while the driver put his head out of the window and shouted, "more money."
Watching a cyclist do laps of the picket line clutching a Unite flag, Hubbard said: "The action has held very well. There's a real sense of determination to see this through."
Shop steward Dale Battley, who has worked at the port for 21 years said, "All the propaganda the employer puts out just makes my job easier. Before, there were some people on the fence. Now they think, 'I can't trust these people.'"
"They're giving millions to shareholders. We want a share of that. We're not being greedy at all. There's a guy in my office using a food bank."
Polly Smythe is Novara Media's labour movement correspondent.