Voters Already Hate Liz Truss
It's only downhill from here.
30 August 2022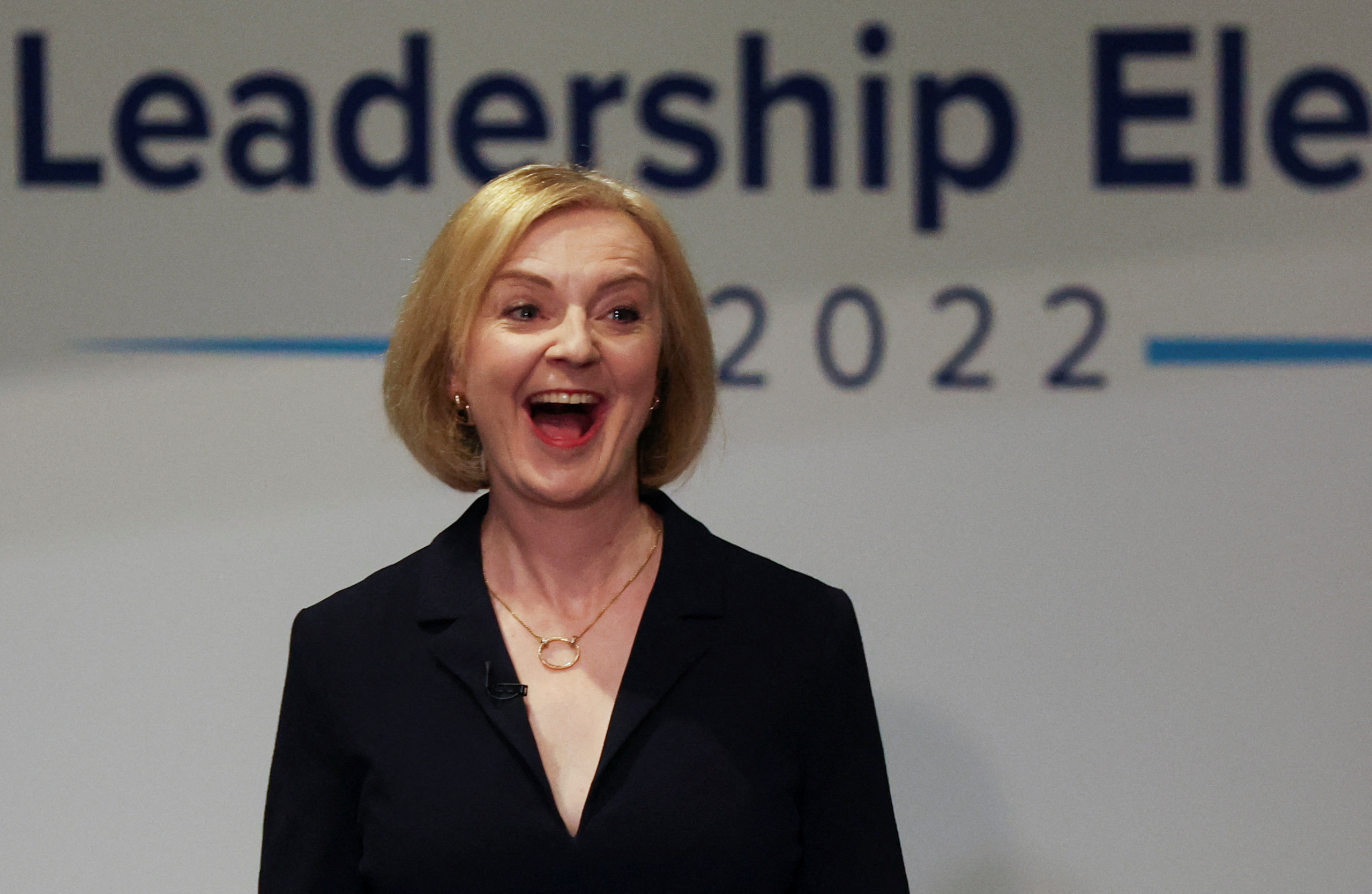 Truss is on course to win the Tory leadership by a landslide. Phil Noble/Reuters
When Liz Truss made the final two in the Tory leadership race, many laughed. It's not hard to see why: until recently, Truss was most famous for talking about cheese and becoming a meme. In mid-July, YouGov data suggested that just 19% of voters felt favourably towards her. She seemed like a joke.
Yet the joke has stopped being funny. The eccentric rightwinger is now on course to win the Tory leadership. Not only that, but she's surged in popularity, and is polling neck-and-neck with Labour leader Keir Starmer. Left-leaning observers might feel a sense of déjà vu – Boris Johnson, too, once seemed like a joke. Then he won by a landslide.
Yet Truss looks set to ascend to Downing Street in a very different context. Johnson's many controversies and failures have wrecked the Tories' reputation on key issues, and PM Liz Truss would face multiple crises. She may get a temporary polling bump upon entering Downing Street, but data suggests a fifth term in office for the Tories will remain out of reach.
In July, an average of polls suggested Starmer led Johnson by 13 percentage points. Despite being widely viewed as the Johnson continuity candidate, Truss has now narrowed that gap to a single point.
We can expect a bigger poll bounce when she likely becomes prime minister – and that's what Labour reportedly expects too. The 'new PM bounce' has occurred with the last three PMs who ascended to the office without a general election: Brown (2007), May (2016) and Johnson (2019). The first two began their terms in office with incredibly strong approval ratings, with May enjoying 'best PM' leads of up to 30pts.
Not everything is looking good for Truss, however. Only a few polls have asked the public what they think about her, but the data we have isn't positive. According to YouGov, her net favourability rating is -32 – a figure that compares poorly to Starmer's -18 net rating. Both leaders are unpopular, but Truss is more so.
Her own personal popularity isn't the only challenge she'll face: her party's reputation on key issues has declined substantially due to a combination of Johnson's controversies and general government failures.
On the issue of economic competence – a key metric that the Tories have consistently led on since 2010 – the Conservatives' lead over Labour has been slashed from 21pts in December 2019 to a tie in August 2022. Indeed, on a wide variety of other issues – unemployment, taxation, housing, keeping prices down, jobs and tackling poverty – the public rate Labour higher than the Tories.
When it comes to the cost of living crisis (the issue that two-thirds of voters think should be the PM's top priority), just 18% think the Tories are best placed to deal with it. What's more, less than 50% of those who backed the party in 2019 think the Tories are best able to deal with the crisis – a figure that should worry the new PM.
There may be an opening for a fresh face to turn these numbers around, in part because most voters respond to these poll questions by picking "neither" or "don't know". The ratings for the opposition aren't exactly stellar, either, with less than 30% picking Labour to best handle the cost of living crisis.
But winning over those undecided voters will require a leader who actively improves their material conditions, and everything we know about Truss suggests she's unlikely to do that. She has consistently ruled out intervening in the energy market to keep bills from skyrocketing, and has instead prioritised tax cuts (in line with Thatcherite ideology). Analysis by Carbon Brief suggests these tax cuts will barely make a dent in voters' declining living standards, even as the opposition has called for energy prices to be frozen.
At the same time, Truss has said very little about the other key crises facing the nation, like the crumbling NHS and lack of affordable housing. Instead, she's called for single-sex toilets in schools, claimed the civil service has a "woke" culture, and promised to put "personal freedom and responsibility at the heart of everything we do".
These Thatcherite buzzwords may win over the Conservative membership, but with inflation at a 40-year high and 9 in 10 NHS dental practices not accepting new patients, her priorities are far removed from the lives of undecided voters who are open to hearing from a new PM.
In short, Liz Truss's growth in the polls may be nothing more than a temporary fad, driven by public interest in a relatively unknown new leader. In the immediate term, it's likely both Truss and her party will see a bounce in polling if she becomes PM – given her predecessor, expectations for her are very low and she's likely to exceed them easily.
But as voters see more of her in power, this polling probably will last. Her party's reputation is poor, her personal popularity is low, and when she fights the next general election her party will be seeking a virtually unprecedented fifth term in office. Truss would do well to call a snap election as soon as she's secure in Downing Street – because in terms of popularity, it's only downhill from there.
Ell Folan is the founder of Stats for Lefties and a columnist for Novara Media.