We Need an Eviction Ban
We had one in lockdown. Why not now?
7 September 2022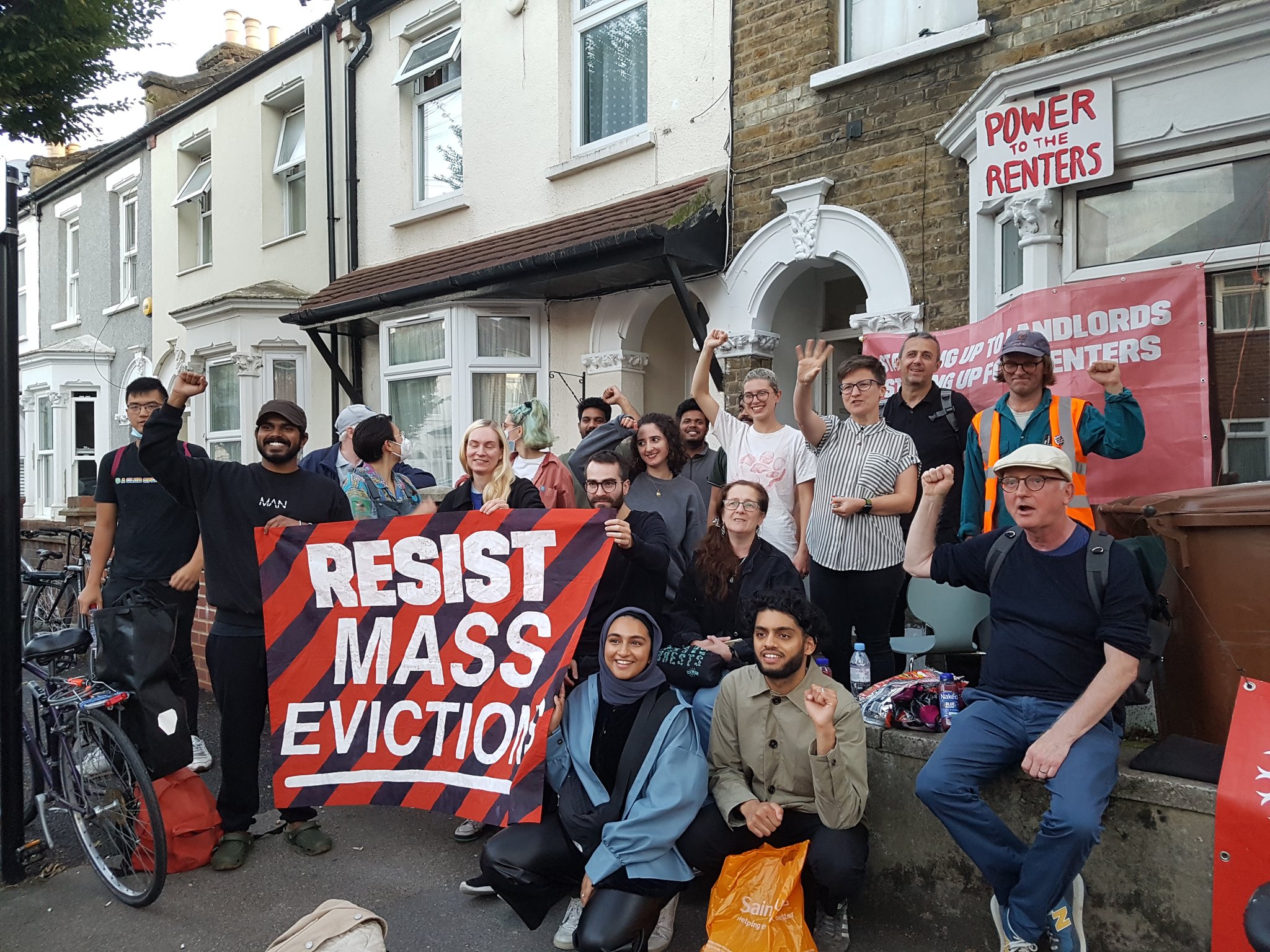 Members of the London Renters Union resist an eviction, September 2021. Photo: London Renters Union
When the first coronavirus lockdown was announced in March 2020, there was no question that an eviction ban would follow it – and so it did, four days later. Even cold-blooded Tory ministers realised that to allow evictions at the height of the pandemic was both unethical and unsafe: not only could bailiffs and displaced tenants spread the virus, but it was also accepted that those at the sharp end of the covid crash might struggle to make rent. "No renter," said the government in a press release, "will be forced out of their home during this difficult time."
Well, times for renters are a lot more difficult now.
Hell on earth.
Last month, video footage of a round-the-block queue for a single property viewing in Dublin went viral – which is strange, really, because the news would've shocked precisely zero renters on either side of the border.
Thanks to an overheated housing market and a landlord parliament intent on keeping it that way, renting in the UK has long been an extreme sport – but in recent months, it has become a living hell.
Rents are the highest they've been in 13 years, as landlords shelter from the cost of living crisis in their tenants' wallets. Renters in the UK now pay an average of £1,143 per month just to put an unheated roof over their heads – in London, it's around double that – as landlords openly boast about rinsing us.
Renters who do manage to find somewhere within their budget will have to face off an average of 28 competitors, some desperate enough to offer hundreds over the asking price and stump up months of advance rent.
Rat-infested, mould-ridden properties get snapped up in minutes, normalising slums: one in eight homes in England seriously threatens its inhabitants' health and safety, costing the NHS £340m a year. One in five private renters suffers physical or mental illness from their cold, damp and mouldy housing, of which there'll be a lot more very soon: 23% of British adults plan to keep their radiators off this winter.
Once settled in their new homes, renters terrified of being thrust back into the housing market become easy pickings for predatory landlords: one-third have had their rent increased during the past six months alone. Many have reluctantly accepted financial hardship: four in 10 of those under 30 currently live in rent poverty, defined as spending over 30% of your income on rent.
Those who can't take the hit have nowhere to go: in just the past year, the number of homes for rent in London has plummeted by 40%; on 1 August, there were a total of 716 properties available to rent in the entirety of Ireland.
Those with nowhere to go wait for the bailiffs.
An eviction tsunami.
We are in the midst of the eviction "tsunami" housing campaigners warned would accompany the end of lockdown eviction bans: 4,900 repossessions took place in England and Wales between April and June 2022, more than three times the same period in 2021 (the eviction ban was lifted on 31 May 2021).
These numbers are only going to rise: in October last year, 950,000 people were already in rent arrears. Being in two or more months' rent arrears is currently grounds for eviction in England and Wales. Even if, as LSE estimates, landlords only serve notice on around 15% of those in arrears, only 75% of notices lead to eviction orders and around half of orders are actually carried out, even before the cost of living crisis we were looking at 53,000 evictions.
We're walking off a cliff-edge – but without any coronavirus safety net.
Gone are the days of furlough, self-employment grants and universal credit uplift. Now, wages are falling at their fastest rate for over 20 years while inflation rises to its highest rate in 40. Meanwhile, the Tories have frozen housing benefit despite inflation being predicted to top 18% next year.
A number of measures have been floated to tackle the cost of living crisis – most notably, Liz Truss's much-touted energy bills freeze. Renters' groups and the new Enough is Enough campaign are demanding a parallel freeze in rent. The problem with both proposals is that prices are already too damn high; freezing them at current levels will do nothing to help the millions who've been struggling to pay for months and years. What we need is an immediate eviction ban.
As ever, Scotland is ahead of the curve: yesterday, Nicola Sturgeon announced that no evictions would take place in the country this winter, and that rents for private and social renters would be frozen ("rents are already too high," responded the Scottish renters' union Living Rent). If history is any indication, we can expect Sturgeon's counterparts in Westminster to take absolutely no notice.
The right hand giveth.
The Tories know it's too easy for landlords to evict renters. That's why Theresa May of all people committed to ending what she described as "unfair" section 21 or no-fault evictions, a commitment the government remade in its recent renter reform white paper. Yet the same paper, published in June, just as the cost of living crisis was beginning to bite, pledged to help landlords repossess properties to move in relatives or sell up, and evict tenants who fall into rent debt even if they subsequently repay it. With a housing bubble fit to burst and millions on the verge of rent debt, this is a recipe for disaster – more specifically, for mass homelessness.
Announcing the first lockdown eviction ban, the government asked landlords to "show compassion" to tenants and to attempt "to understand the financial position they are in". While many landlords politely rejected the guidance and continued being bastards anyway, Covid-19 was an unusual time. A moment when the Tories' Grinch-like hearts fluttered into life and collective care seemed faintly possible. Now, we're back to business-as-usual. While once ministers were asking landlords to take pity on their tenants, now it's ministerial landlords directing their tenants to food banks as they hike rents by a grand a year.
We are in a crisis that, for renters, is arguably worse than the last, and yet this time, we're expected to fend for ourselves. Renters who are evicted right now face a Darwinian struggle just to find a safe and secure place to live. Only fundamental changes to our housing system – building more housing, mostly – will get us out of this mess for good. But right now, we need to keep people in their homes.
Rivkah Brown is a commissioning editor and reporter at Novara Media.