Police Compensate Protester Who Held 'Priti Fascist' Sign
Don't make me tap the sign.
4 October 2022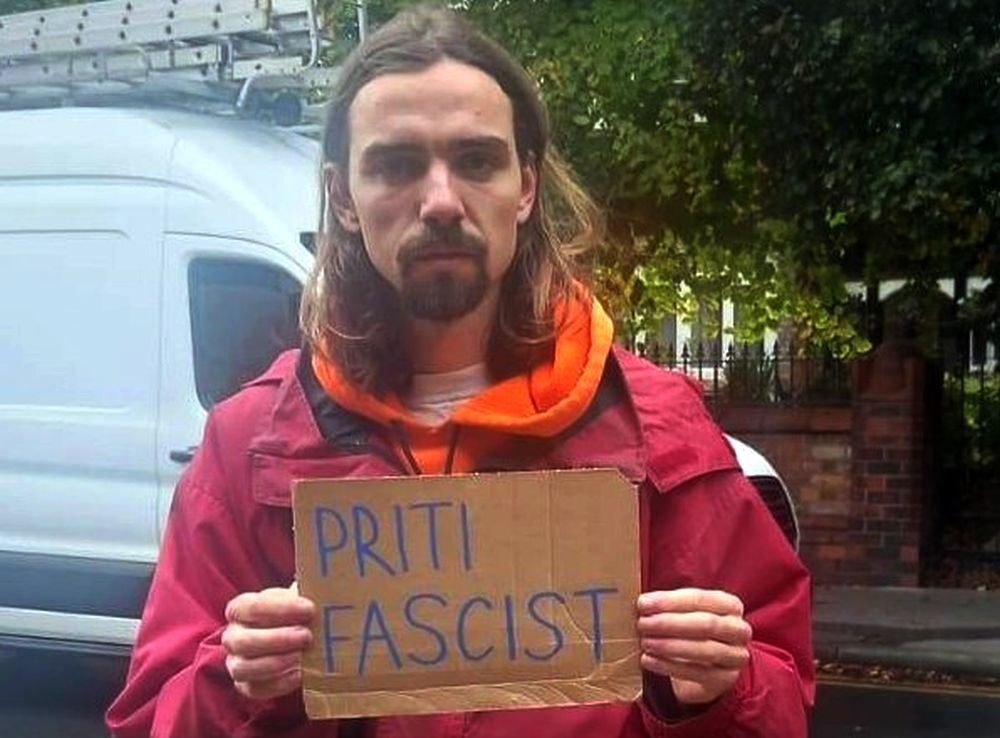 Liam Geary Baulch. Photo: Netpol on Twitter
Police have coughed up compensation to an activist who was arrested for a "breach of the peace" while holding a sign protesting police powers at the Conservative party conference last year.
Liam Geary Baulch was standing 30 metres outside the conference venue in Manchester on 6 October last year, when three police officers asked him to move to a "designated protest area".
Geary Baulch and his partner, who was also present but not taking part in the protest, asked why, and the officers failed to provide a satisfactory legal explanation.
Geary Baulch then removed a sign saying "Priti Fascist", from his bag, in reference to then home secretary Priti Patel. That day at conference, Patel announced that police would be given more powers to stop people from 'causing disruption' at protests.
He was subsequently "dearrested" but how on earth does @gmpolice justify this fundamental denial of rights to freedom of expression and assembly? #PritiFascist pic.twitter.com/TTu5sWou7e

— Netpol (@netpol) October 5, 2021
Shortly after removing the sign from his bag, Geary Baulch was pushed against a wall, handcuffed behind his back, and arrested for "breach of the peace". Footage shows Geary Baulch being put into a police van.
At the time, Geary Baulch said, "Within 30 seconds of holding this sign outside the Conservative party conference it was confiscated by Manchester police for 'offensive language'.
"When I asked to have my property back, I was arrested for breach of the peace."
Geary Baulch was driven to a nearby tram stop before being released.
Geary Baulch instructed ITN Solicitors to write to Greater Manchester Police (GMP) to challenge the lawfulness of his arrest. GMP have now agreed to compensate Liam and pay his legal costs in an out of court settlement.
Geary Baulch said, "Recent weeks have seen police harass and arrest peaceful protestors, including over simply holding a placard. Some simply held blank signs which was enough to be harassed by police if not arrested. With Priti Patel's policing bill now in force, we must challenge the policing of protest to ensure the police don't simply arrest people for expressing views and then drop their case. This still amounts to an abuse of our right to freedom of expression, and that must be defended.
"I was there in the first place to show opposition to the policing bill. With that bill now in effect, it is even more crucial to challenge the policing of protest and ensure police do not over-step, and where they do, ensure there are consequences."
Kevin Blowe from Netpol, which campaigns against violent and excessive policing, said: "Nothing better illustrates why giving the police even more aggressive anti-protest powers – the issue Liam was highlighting – has always been such a bad idea. The government's draconian Public Order Bill will, if it becomes law, simply make matters worse. There has never been a more important time to defend the right to dissent".
Lochlinn Parker of ITN Solicitors which acted for Geary Baulch said: "We are pleased to have been able to negotiate a positive outcome for Liam, whose arrest prevented him from exercising his right to protest."
The Conservative party conference is being in Birmingham this year and protests have gathered to oppose it as anger at the government spreads.
Times Radio journalist Dom Hauschild claimed that Michael Fabricant MP had been assaulted by protesters. He tweeted: "Just witnessed Conservative MP Michael Fabricant assaulted by protesters outside Tory conference. He was pushed quite violently (didn't get this on video) and protestors screamed in his face. Really dark."
But Fabricant denied this, tweeting: "Social media is suggesting I was "attacked" as I tried to get into #CPC2022. I was not.  I was directed wrongly right into the middle of the protest. I think the protesters thought I was deliberately provoking them. But no one touched me. Just shouted abuse. They were just loud!"
GMP have been approached for comment.
Simon Childs is a commissioning editor and reporter for Novara Media.