Delivery Riders Are Striking All Over the Place
So would you if you were paid £3.70 an hour.
12 October 2022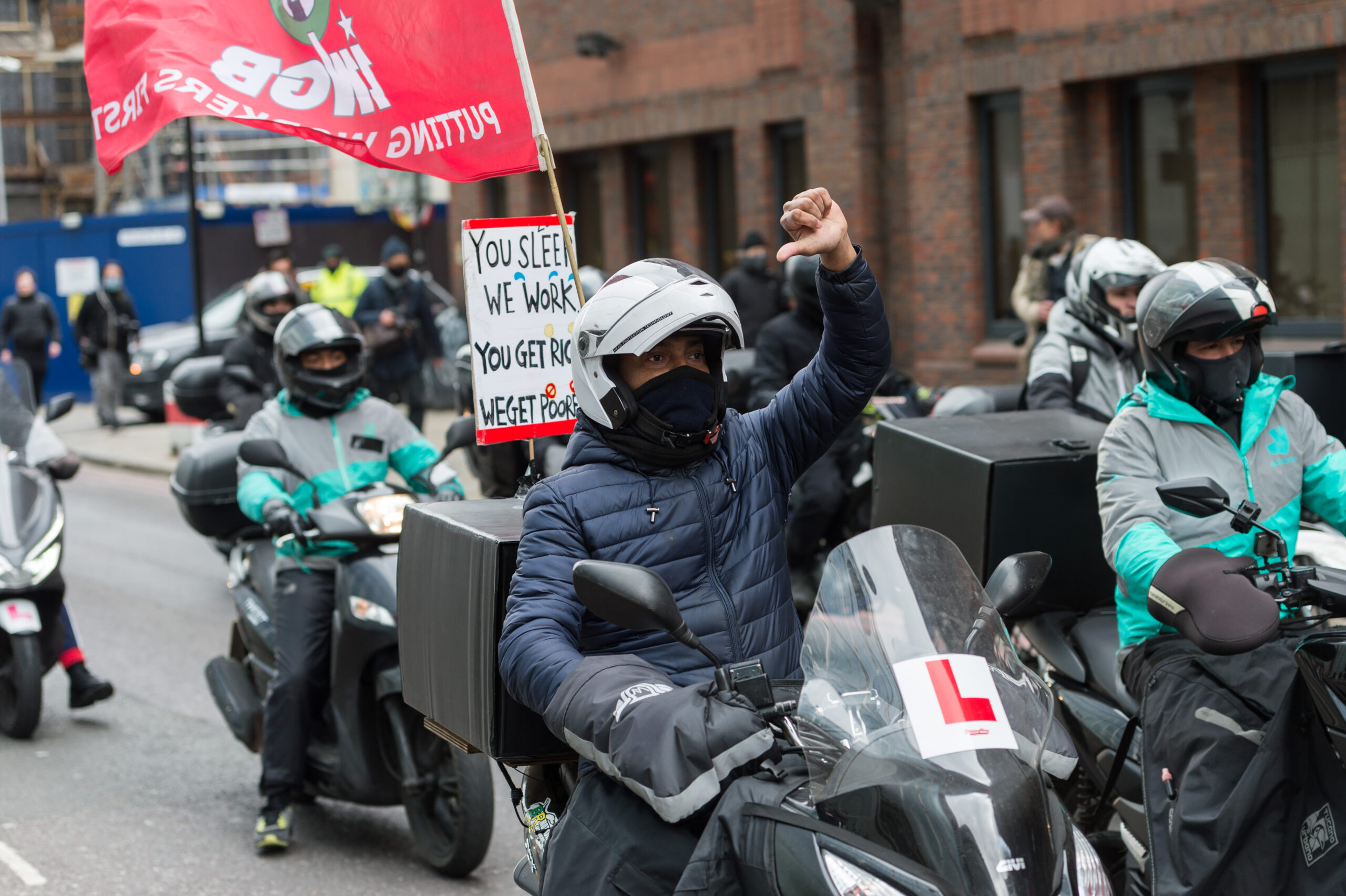 Deliveroo couriers ride through the City of London during a strike, April 2021. Photo: WIktor Szymanowicz/NurPhoto
In Luton, Welwyn Garden City, Hatfield, Harlow, Slough and Basingstoke, riders are citing plummeting pay, escalating fuel prices, and long hours as their reasons for striking against the gig economy platforms.
"Just Eat, Uber Eats, Deliveroo and Amazon Flex, all 1,000% rely on drivers. But they don't want us to get together and have a union," said Muhammed, who gave only his first name for fear of repercussions. Muhammed has worked as a courier for nine years in the north west of England and is now organising a courier strike in Preston, Leyland, Chorley, Blackburn, Burnley and Nelson for later this year.
Couriers in Preston held one day of strike action against Just Eat on 23 September. M Nadeem, who has worked as a courier since 2018, told Blog Preston: "We only manage to do maximum two jobs in one hour. We need an increase in the [pay] rates not a decrease."
On Saturday couriers in Basingstoke held one day of strike action, telling the Basingstoke Gazette they wanted better rates of pay, payment for mileage driven, parking time tolerance, parking allowance and better treatment from restaurant staff.
One rider, who wished to remain anonymous for fear of reprisal told the Gazette: "All prices go up like petrol, food etc, but they put the prices down. For example for 6.5 miles with two food deliveries in different areas Just Eat was paying £6.50."
Also on Saturday, up to 200 couriers in Slough took strike action against Uber Eats. Rider Zack Khan, who has worked as a courier since 2020, told the Slough Observer: "It's not just the pay, it's the support we get as well. They [Uber Eats] literally don't care about their drivers. They just fob them off and give generic replies that are literally computer-generated copy-and-paste replies."
In Luton, over 100 couriers held a one-day strike action on 23 September. Speaking to Luton Today, one rider said: "Before, we used to make around 15 to 20 deliveries a day, but now that they are employing more drivers it's gone down to around five or six a day."
Riders are paid per delivery, but not for time spent waiting for an order. Because platforms do not pay riders while they wait, they face virtually no costs for allowing an unlimited number of couriers to join. With no incentive for platforms to regulate the number of couriers joining, riders face desperate competition for orders. The capacity required to meet peak demand for food deliveries on a Friday night is much larger than that needed on a Monday morning, leaving couriers struggling for orders during quiet hours.
On the day Muhammed spoke to Novara Media, he'd been working for one and a half hours, and made £9.49 for two deliveries, hardly covering the cost of his insurance and fuel. The BBC has reported on a Luton courier who worked for seven and a half hours and made £27.95. This works out as an hourly rate of around £3.70, far below the national minimum wage of £9.50.
In July, the Guardian reported that an in-app GPS system administered by Stuart Delivery, which is subcontracted by Just Eat – although not in the areas where riders are currently striking – frequently misdirects riders, forcing them to travel additional miles without extra compensation.
Saf Patel has worked as a courier since 2020 and organises riders in Lancaster and Morecambe. "When we message live support for extra pay, or extra drive time, to reflect the mistake, they're useless," he told Novara Media. "They're not humans, it's all just copy-and-pasted answers for the questions that we ask."
Couriers have long protested the system of termination used by gig economy platforms, whereby accounts can be "terminated" or "deactivated" without explanation. Patel explained that the appeals process is done through automated emails: "No one ever answers our question of why a lot of innocent people's accounts have been deactivated."
Muhammed said: "Before Covid, they were nothing. Drivers worked hard and put our life at risk during lockdown and made Just Eat what it is now."
The Independent Workers' of Great Britain (IWGB) union, which organises couriers, have been contacting groups of striking riders to offer their support.
Dom Sztyber, chair of the courier's branch of the IWGB, said: "The growing number of courier strikes across the country are showing how working people are standing up against regressive pay cuts and disrespect. Bosses pumped out patronising 'hero messages' during the lockdowns when business was booming for them."
"Now when riders are asking for basic help to cover spiralling costs and feed themselves and their families the bosses have predictably gone missing. Their silence and inaction will only help these strikes to spread."
"The one positive here is how riders are recognising that collective action is the only way to improve anything. It's our role as a union to build the network, nationally and globally, which unites us and channels actions like these into something even bigger and stronger."
At this year's Labour party conference, Deliveroo held a fringe event on how to deliver a "progressive gig economy". No riders spoke. "We would have loved the opportunity to just get our voices heard," said Patel.
For now, these pockets of struggle across the country are finding expression in day-long strikes. As grievances continue to mount, Muhammed said it is the couriers who "build these companies".
"If we stopped delivering food, these companies wouldn't exist. No manager is coming out of the office to deliver orders."
Asked for comment, an Uber Eats spokesperson said: "We offer a flexible way for couriers to earn by using the app when and where they choose. We know that the vast majority of couriers are satisfied with their experience on the app, however we regularly engage with couriers to look at how we can improve their experience."
A Just Eat spokesperson said: "We take any concerns raised by couriers on our network seriously. We provide a highly competitive base rate to self-employed couriers and also offer regular incentives to help them maximise their earnings. We continue to review our pay structure regularly and welcome any feedback from couriers."
A Deliveroo spokesperson said: "Deliveroo is proud to offer flexible work to more than 90,000 self-employed riders across the UK. Deliveroo guarantees that all riders earn the national living wage plus costs while working, and the vast majority earn significantly more than that. We will engage with and listen to any issues raised by riders in relation to how they work with the platform."
Polly Smythe is Novara Media's labour movement correspondent.