The Tory Death Spiral Awards
"I don't give a fuck. I'm out. This is a total joke."
20 October 2022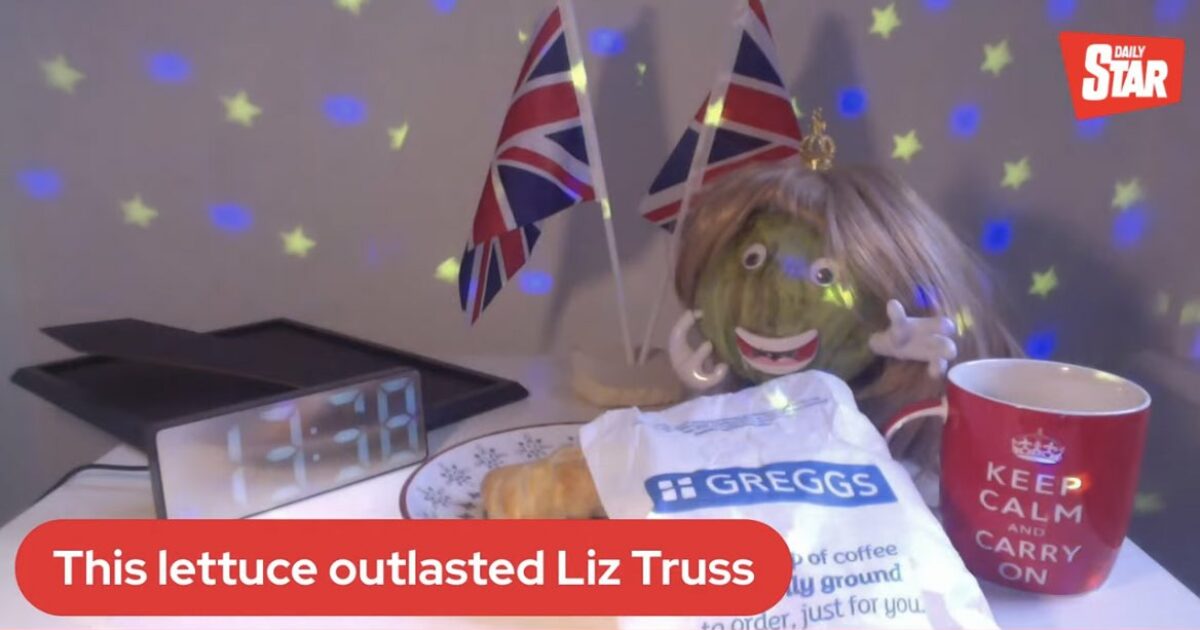 The Daily Star lettuce has outlasted Liz Truss. Photo: Daily Star
Liz Truss has resigned after a chaotic 45 days as prime minister, in which time she managed to tank both the economy and her party's electoral support. Standing outside 10 Downing Street on Thursday, she said: "I recognise that given the situation, I cannot deliver the mandate on which I was elected by the Conservative party."
The final straw came after a Wednesday evening when a vote on banning fracking led to carnage in parliament, with Tories confused over whether they were being whipped to vote against the Labour motion or not. There were reports of bullying and MPs being physically manhandled to get them to vote with the government.
As journalists ran out of superlatives to describe the meltdown, it became apparent that the jig was finally up for Truss.
Tory MPs are now gearing up for a lightning-quick leadership contest to give us a new prime minister in just ten days. But with the political and media class stricken with exhaustion and riddled with brain worms, who is having a bad war, and who is having an even worse one? We present to you: The Tory Death Spiral Awards.
Bravest Prediction
"It feels like the game is up and all is lost. Or is it? Despite the headlines, the odds are still weighted in favour of Truss."
Christopher Hope, Telegraph associate political editor, offered his searing analysis on the morning of 20 October, hours before Truss resigned.
Blue on Blue: Best Tory Anger
Conservative MP Charles Walker seems broken by tonight's events – tells @BBCNews he is livid with colleagues pic.twitter.com/H5ns9iWV3T

— Dan Johnson (@DanJohnsonNews) October 19, 2022
"I hope all those people that put Liz Truss in Number 10 – I hope it was worth it. I hope it was worth it for the ministerial red box, I hope it was worth it to sit round the cabinet table […] I've had enough of talentless people putting their tick in the right box, not because it's in the national interest, but because it's in their own personal interest to achieve a ministerial position."
Charles Walker, Conservative MP on his party colleagues.
"I am fucking furious and I don't give a fuck anymore."
Deputy chief whip Craig Whittaker appears to announce his resignation, before un-resigning, reported by the Spectator.
"I don't give a fuck. I'm out. This is a total joke."
A Tory MP tells rightwing pundit Isabel Oakeshott how he feels about an impending telling off from the whips.
"If she was a cat you'd put her down".
"If it was cancer you wouldn't wait to cut it out, you'd treat it straight away."
Tory MPs talking to ITV political editor Paul Brand about Truss.
Best Journalism
Did the presenter just call Steve Baker a cunt after the interview?! I don't think they expected that to be heard on the live feed. 😂😂 pic.twitter.com/sfEHeo1GHa

— Mark 🌹 (@TheCentreLefty) October 19, 2022
Channel 4 News presenter Krishnan Guru-Murthy calls Steve Baker MP a "cunt" in comments he thought would be off-air.
Galaxy Brain Award
She shouldn't have u-turned on the 45p rate.

That's when it fell apart.

— Tom Harwood (@tomhfh) October 19, 2022
GB News political correspondent Tom Harwood on where Truss went wrong.
Most Forgiving Punditry
"I keep thinking: why did we get rid of Boris? He wasn't doing brilliantly, I know. He was particularly slack on the culture war, which he failed to fight. But were his crimes so great?"
Brendan O'Neill – The Spectator, 20 October
Best Denial
Allies of Therese Coffey are denying that she manhandled anyone.

— Ben Kentish (@BenKentish) October 19, 2022
Allies of the health secretary say her "I didn't mishandle anyone in the lobby t-shirt" is prompting a lot of questions already answered by the t-shirt.
Least Enthusiastic Defence of the Government 
Steve Baker to @TimesRadio: "In the course of doing this media round, which I was asked to do by No10, I did speak with No10. And they invited me to say that the Prime Minister would like to be able to reappoint Suella in the new year."pic.twitter.com/YMVXP8a0ni

— Paul Waugh (@paulwaugh) October 19, 2022
Steve Baker delivers the news that Truss would have considered inviting departed home secretary Suella Braverman back, at pains to explain that he's saying this because he was told to say it.
Statesmanship Award
👀Extraordinary moment in the House of Commons💥@William_Wragg confirms he's sent a letter into Graham Brady – and that he HAS to vote with the government on this afternoon's fracking motion, against his wishes. So that he doesn't lose the whip. And so his letter still stands. pic.twitter.com/a4WmBeCcon

— Best for Britain (@BestForBritain) October 19, 2022
William Wragg MP says he will vote with the government to end the ban on fracking, which he strongly opposes, in order to retain the Tory whip, so that his letter demanding a new government stands.
Most Loyal Superfan
One person was elected by the British public with a manifesto and a mandate until January '25.
If Liz Truss is no longer PM there can be no coronation of previously failed candidates.

MPs must demand return of @BorisJohnson – if not it has to be leadership election or a GE.

— Nadine Dorries (@NadineDorries) October 20, 2022
Nadine Dorries still can't believe everyone was so mean to Johnson.
Most Selfless
"Boris Johnson is expected to stand in the contest to replace Liz Truss and believes it is a matter of 'national interest'." 
The Times reports the possible return of a man whose commitment to public service is simply irrepressible. 
Corbyn Derangement Syndrome Award
Liz Truss is the Tories' Jeremy Corbyn pic.twitter.com/RBS5faP3bg

— Joe Murphy (@JoeMurphyLondon) October 12, 2022
Former Evening Standard politics editor Joe Murphy explains that Truss is just like that awful Jeremy Corbyn.
Well That Aged Badly Award
You can sense the palpable despair of most of the broadsheet punditry as it dawns on them that Liz Truss is in all likelihood going to be Prime Minister and will probably go on to smash Keir Starmer in the general election.

— Media Guido (@MediaGuido) August 3, 2022
Rightwing blog Guido Fawkes predicts Truss will soar in the polls back in August.
On a Planet Far, Far Away…
It's worth remembering #Labour did not vote against the Mini-Budget and spoke in general support of it at the time. https://t.co/FUpfndc3BI

— Michael Fabricant 🇬🇧🇺🇦 (@Mike_Fabricant) October 19, 2022
…Meanwhile, Back in the Real World
Good morning to this woman and this woman only pic.twitter.com/aArMUzpEks

— beardy boy (@joshua_j123) October 19, 2022
Simon Childs is a commissioning editor and reporter for Novara Media.