Liz Truss Screwed Up When She Machine-Gunned Tory Voters
Fuck around and find out.
20 October 2022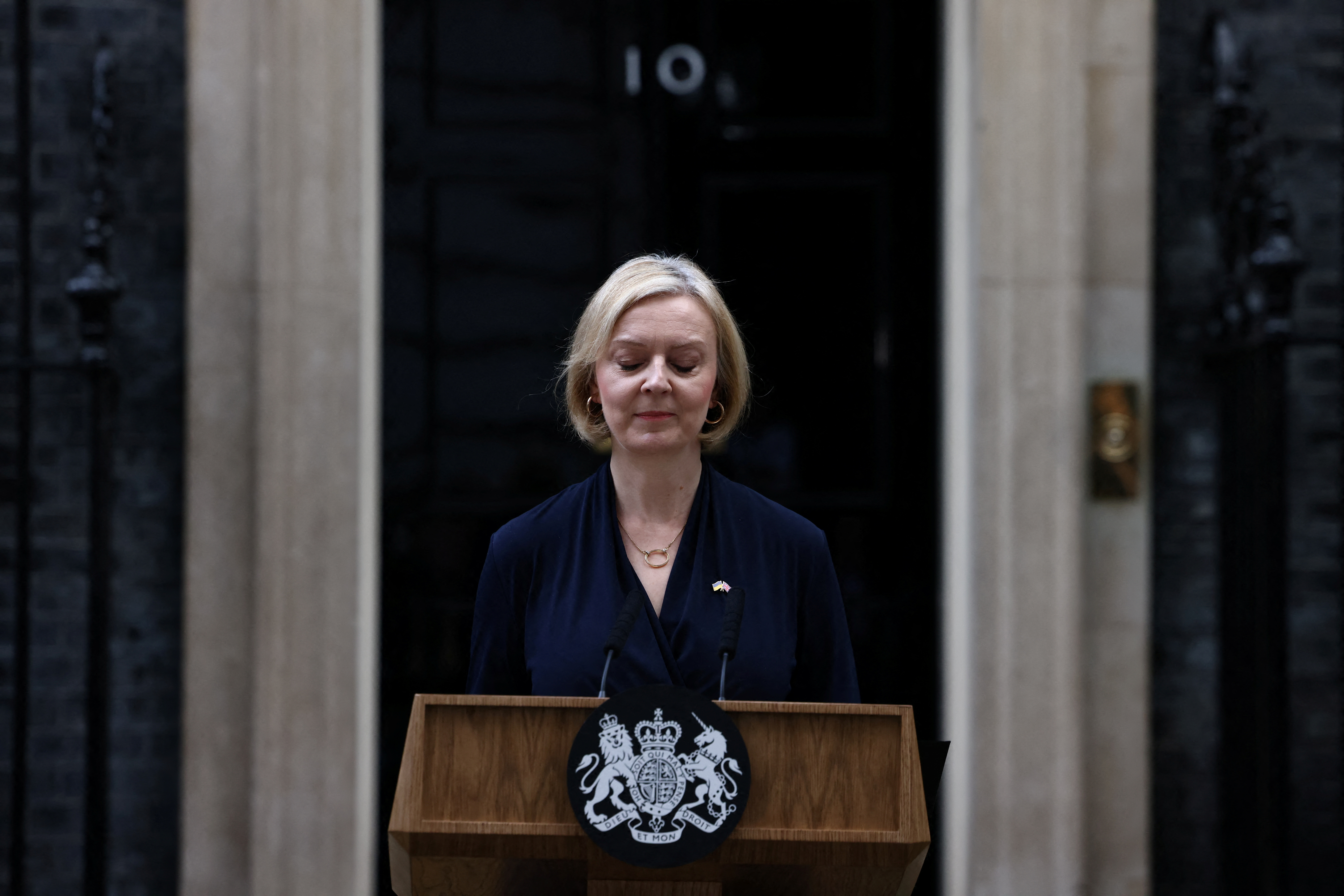 Liz Truss has resigned as prime minister. Toby Melville/Reuters
History will record it as the cabinet of no-talents: Kwasi Kwarteng, Suella Braverman, and a prime minister who turned out to be less than the sum of her parts. Although the Greek chorus of the Westminster lobby have lathered this week's spectacular collapse in governmental authority with the usual superlatives ("unprecedented", "unbelievable", "batshit"), it was wholly predictable. As in any tragedy, the principal actors were brought low by a fatal flaw: in this case they mistook the encouragement of rightwing papers, and the hubris of their own party membership, for political reality.
Indeed Liz Truss (a bear of very little brain, huffing the fumes of reheated Thatcherism) wasn't exactly elevated to power on the basis of any discernible ability as a politician. Like an Instagram babe posting selfies taken on fake private jets, Truss's curation of photoshoots in which she dressed up as the Iron Lady was enough to convince the Tory faithful that pushing through an economic programme of swingeing tax cuts could bring back North Sea oil and the halcyon days of the 1980s.
And why not? They got everything else they wanted. George Osborne's austerity programme delivered on their fanatical desire for a smaller state. Their flirtations with Ukip at the ballot box pressured David Cameron into calling a referendum on the EU; they bullied Theresa May out of a soft Brexit, and then out of office. Boris Johnson, a man who only wanted to lead a government because he lacked the hip mobility which would make auto-fellating possible, gave the Tory membership the hard Brexit and landslide majority of their most ecstatic dreams. 
Truss was merely the latest product of this overweening confidence. Propped up by soaring house prices and an obsequious press, the Tories never had to endure the kind of reckoning Labour faced after the 2008 financial crisis – they had the luxury of reinventing themselves while in office. Like some kind of monstrous hybrid of phoenix and suicide bomber, the Conservative party over the last 12 years have been able to rise, ever more powerful, from the ashes of its own self-inflicted calamities. Until now.
Its critical error wasn't making the country poorer: it was attacking its own voters. Everything that the Conservative party had achieved since 2010 was built on the electorally-beneficial spread of people who owned property across England, and the consolidation of tenants in politically-useless urban concentrations. 57% of 2019's Conservative voters owned their homes outright. Stagnant wages, rising household debt and the accessibility of secure housing for under-45s was of little matter so long as homeowners were rewarded with their assets going up in value, and pensioners enjoyed the benefits of the triple-lock. 
But Truss's mini-budget set off a chain reaction that imperilled the economic interests of the Tory-voting coalition. Her uncosted fiscal plans, which involved enormous sums of borrowing in order to pay for tax cuts, led to warnings that the Bank of England would have to increase its base rate. This led to a sudden hike of mortgage interest rates from historic lows to a 14-year high, which in turn threatened the upward trajectory of the housing market. Sales slowed down, and people looking to remortgage after their fixed-terms came to an end found themselves in trouble. A fall in property values wasn't likely to help young people onto the housing ladder either: a London two-bed might go from £650,000 to the comparative bargain of £600,000, but higher interest rates on mortgages meant only cash buyers could really take advantage. 
In short, the exact kind of people statistically more likely to cast their ballots for the Tories found their economic interests threatened by a Conservative economic package. These weren't unforeseen consequences either. During the summer leadership election, Truss's favourite economist Patrick Minford said that in order for her tax cuts to avoid worsening the inflationary crisis, interest rates would have to go up to 7%. Sure, over half of Conservative voters own their homes without having to pay a mortgage on it, but financially waterboarding the other half of your electoral bloc doesn't usually result in good poll ratings. What's more, the increases in interest rates threatened UK pension funds, and were it not for a last-minute bond buying spree by the Bank of England, many would have collapsed shortly after Kwarteng's announcement of further tax cuts to come.
Everything that has followed – Kwarteng's sacking, Jeremy Hunt's accession as PM in all but name, the hastily engineered exit of Suella Braverman and the meltdown of the government's whipping operation in Wednesday night's key fracking vote – has been the result of the Tory party trying to repair the damage caused by Truss machine-gunning her own voters. And even now, the prime minister's scalp is unlikely to staunch the wound. There is little appetite for Hunt's promised austerity measures, inflation has topped 10%, and there are few people who can look at April's projected doubling of energy bills without quailing. The Conservatives can't deliver either the economic growth they promised or the wealth redistribution that's needed. And for all their talk of fiscal responsibility, they've wasted the only thing that really matters in politics: an 80-seat majority.
Ash Sarkar is a contributing editor at Novara Media.