Labour's Cult of Factionalism Is Going Into Overdrive
Emma Dent Coad is the latest scalp.
21 October 2022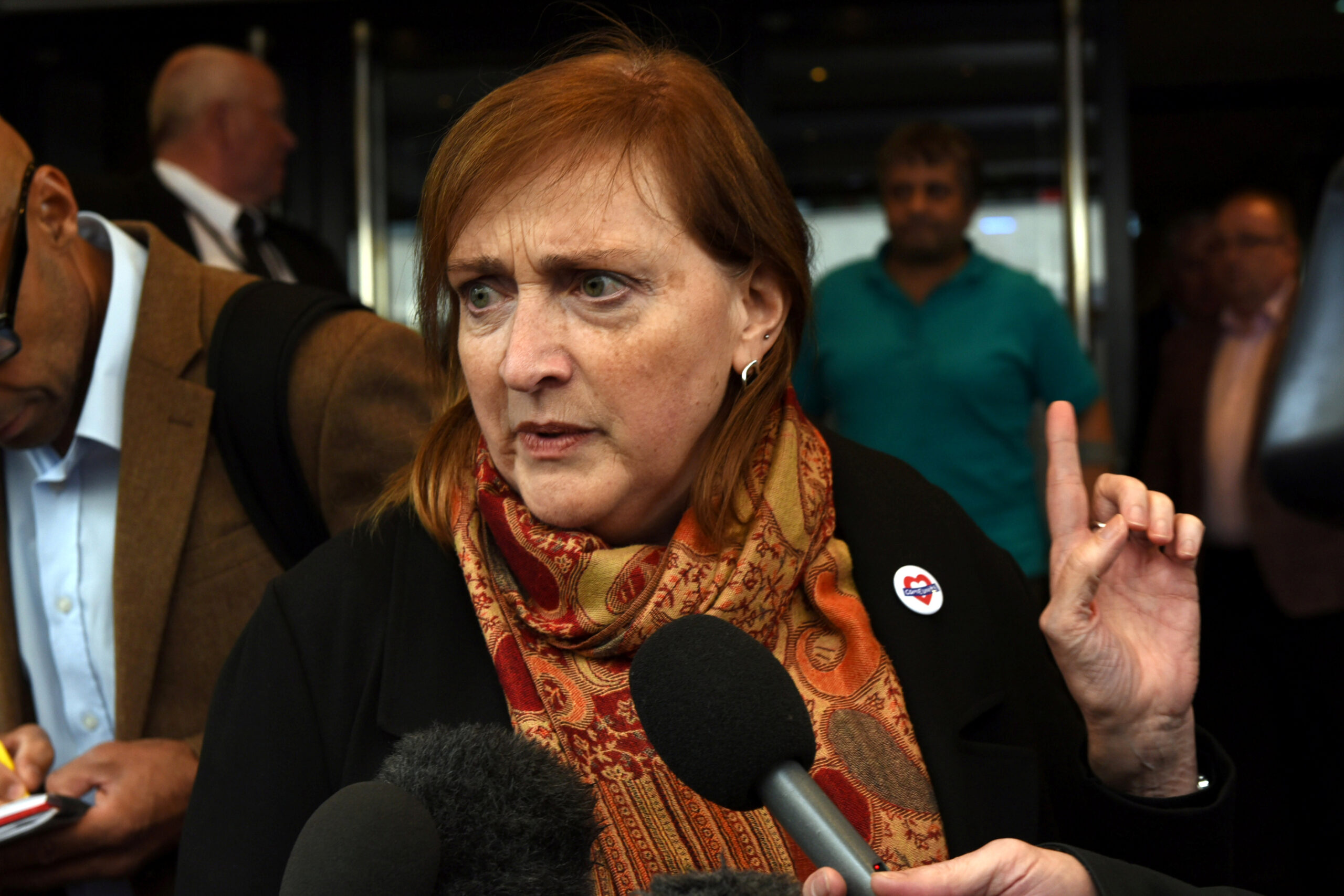 Emma Dent Coad is the only Labour politician ever to have won Kensington. Reuters/Mary Turner
The exclusion of Emma Dent Coad from the contest to be the Labour candidate in Kensington is an egregious and high-profile example of the factional manoeuvrings that are characterising the process of selecting Labour's next batch of prospective MPs.
Dent Coad is the only Labour politician ever to have won Kensington (in 2017). She is currently the leader of the Labour group on Kensington and Chelsea council. Her impeccable credentials meant she was considered the frontrunner in the upcoming selection. However, after being invited in for a due diligence interview, she was informed she was not eligible to stand.
Dent Coad is not alone – in recent months numerous senior Labour councillors have been blocked from standing as MPs in the next general election. These include Maurice Mcleod in Camberwell and Peckham; deputy leader of Wakefield council Jack Hemingway; Hastings deputy council leader Maya Evans; and the leader of Stroud council, Doina Cornell. All were on the left of the party.
One of Martin Forde KC's key recommendations, made just three months ago, was that Keir Starmer and his general secretary David Evans end the Labour party's "culture of factionalism". What the selection process has made clear is that neither has any intention of doing so.
The self-defeating nature of this tactic is quickly becoming apparent. In Stroud, three councillors left the party in solidarity with Cornell, establishing a group of "community independents". The remaining Labour councillors were told by the party they couldn't remain in an administration Labour wasn't leading, and so five more left and established "left independents" – meaning that a Green-independent coalition now runs the council. With several members having also left the party, what should have been a comfortable Labour gain come the next election looks increasingly uncertain.
Most embarrassingly of all, the party right didn't even get the candidate it wanted in Stroud: its preferred candidate, former MEP now lobbyist Clare Moody, was defeated comfortably by local GP Simon Opher, who protested Cornell's exclusion from the shortlist. Even after destroying a Labour-led council, alienating members and reducing the prospect of a Labour gain in 2024, the party right failed to install its preferred candidate.
Unsurprisingly, the party right's undemocratic blocking of candidates – a slap in the face to the ordinary members who elected them – has devastating consequences for party membership. In Wakefield, the entire local executive resigned when Hemingway was blocked; in Sedgefield, 13 members of the executive resigned when the local party chair, Paul Daly, was blocked from standing for MP. 
Furthermore, rigged candidates are likely to be weak candidates. In Hartlepool in 2021, Labour selected a longlist of one, handpicked by Starmer's then-political director and now baroness, Jenny Chapman. Paul Williams underwent no due diligence interview despite having asked on Twitter: "Do you have a favourite Tory MILF?"
This seems a pretty major liability, one the Tories are likely to exploit come 2024. Though apparently, asking which Tory woman you'd like to fuck is more acceptable than liking a tweet by Green MP Caroline Lucas – part of the reason Mcleod was supposedly blocked from standing in ultra-safe Camberwell and Peckham. Starmer welcomes Tory MPs like Christian Wakeford with open arms, but if a leftwing activist likes a tweet by a Green MP, they're beyond the pale.
Some leftwing candidates have been accused of making antisemitic remarks – but miraculously these accusations only bar them from standing as an MP, not continuing to represent the party as a local councillor. Such standards also don't seem to apply to sitting MPs like Barry Sheerman or Steve Reed. 
Three months post-Forde, Labour's rightwing faction continues to corrupt the party. The question is: what can be done? Many have concluded the answer is nothing, and have left the party in outrage or despair. But others, like myself, are staying. Many of the blocked candidates – including Evans, Mcleod and Dent Coad – were backed by Unite and other unions. What are they going to do about the party excluding its candidates, particularly given that in Jaunary the national executive committee (NEC) agreed "the inclusion on the longlist of any candidate nominated by a trade union"?
Frontbench Labour MPs Fleur Anderson and Flo Eshalomi (both former councillors) tweeted their concerns over the exclusion of Mcleod from the Camberwell and Peckham shortlist. But will they tweet and move on, or fight against these repeated injustices?
At the turn of the last century, the trade unionist Thomas Threlfall said of those advocating trade unionists work within the confines of the Liberal party: "It is only a waste of time to advise the working classes to attend and make the caucus what they want it to be; they have neither the time nor the inclination to compete with the wire-pullers who work it, and they have a decided objection to being made the puppets of anyone."
Many would conclude the situation today is comparable. But unions were never affiliates to the Liberals. Unions are on the Labour NEC; they still hold the party's purse strings as its largest donors, and still carry 50% of the vote at party conference to enact rule changes.
Unions are rightly focused on their industrial front right now, but as the trade unionists who founded the party over a century ago knew, you need a political vehicle to enact change. Now is no time for unions to be disengaging from Labour. They need to work with members and against the party's rightwing machine.
Andrew Fisher is a freelance writer and policy consultant. From 2016 to 2019 he was the Labour party's executive director of policy.