The Scottish Greens Want the Green Party to 'Do Better'
They've suspended ties with their English and Welsh counterpart.
24 October 2022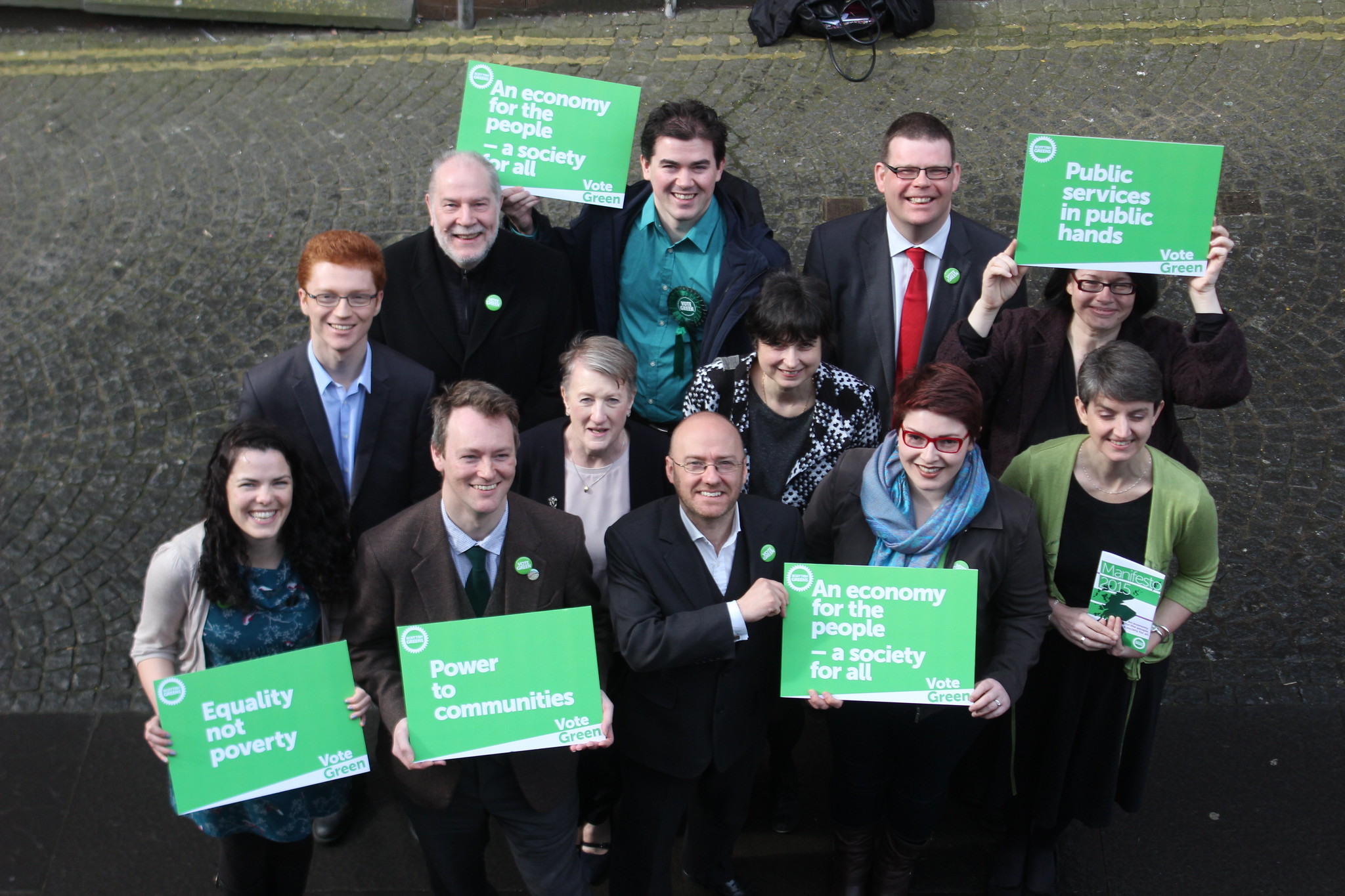 The Scottish Greens have voted in favour of a motion to suspend ties with the Green Party of England & Wales. Ric Lander/Flickr
Last weekend the Scottish Greens met for our first autumn conference since becoming a party of government. The power-sharing agreement with the SNP – which saw our two co-leaders taking up ministerial positions – makes us the first Greens in government anywhere in the UK.
On the conference agenda were plenty of topics to appeal to the self-described 'eco-socialist' membership base: a conversation between our party's co-leader Patrick Harvie (now also minister for tenants' rights) and campaign group Living Rent about the recently-passed bill to freeze rents across Scotland and the commitment to introducing comprehensive rent controls by the end of this parliamentary term; announcements that the party had secured a new funding package for nature restoration; and, unsurprisingly for a proudly member-led party, a wide array of policy and conference motions to vote on, ranging from committing the party to supporting Unite Hospitality's 'Get Me Home Safely' campaign, to reaffirming our commitment to an independent, green, Scotland.
Despite all this, it was the last motion to be debated that attracted the most attention. Before the conference even began, the focus has been on a debate over suspending a small section of the party's constitution which defines the relationship between the Scottish Greens and the other Green parties across the UK and Ireland. In the crosshairs of party activists: the party's relationship with the Green Party of England & Wales (GPEW) over what the motion described as "transphobic rhetoric and conduct" .
The Scottish Greens and the GPEW have had a close working relationship since both formed from the (amicable) break-up of the UK-wide Green Party in 1990. Even before devolution, the GPEW deferred to the Scottish Greens on Scottish issues. This solidarity was most evident during the 2014 referendum on Scottish independence: with the 'Yes' movement pitted against a hostile British establishment, huge sections of the GPEW membership turned out to campaign for a 'Green Yes'. As the largest democratic exercise in Scotland's history it was fertile ground for the bottom-up politics favoured by Greens; by the next election, the Scottish Greens' membership had grown to four times its previous size.
This membership growth was particularly significant, as Greens believe in grassroots activism and oppose centralising power in individuals. As such, our leaders (when we even agree to call them that) often have far fewer powers than their counterparts in other parties. In theory this enhances party democracy, but can also create new problems, as in a more decentralised leadership structure it can be difficult to hold any one individual to account for failures.
Nowhere is this more apparent than the GPEW's internal struggles over trans rights. Though on paper the Scottish Greens and GPEW have broadly similar commitments to protecting trans people, elements within the GPEW's leadership have repeatedly undermined these policies. The most glaring example has been the handling of the actions of GPEW's former deputy leader, Shahrar Ali.
Having lost his bid for re-election as deputy leader in 2018, Ali increasingly embraced the UK's growing anti-trans movement, making it a central plank of his 2020 leadership bid. Despite a thorough rejection from the membership – placing last – Ali doubled down: his output on social media increasingly shifted to focus on anti-trans campaigning with many of his posts contravening the GPEW's politics on trans inclusivity. His motion to the 2021 conference sought to limit trans people's access to private healthcare across not just England and Wales but – in an affront to the Scottish Greens – in Scotland too.
Despite these actions and numerous complaints from the party's membership, Ali was not sanctioned by the party, and was appointed as spokesperson for policing and domestic safety. This provoked further uproar, with the GPEW's youth wing condemning the decision, and Siân Berry stepping down as co-leader, stating: "There is now an inconsistency between the sincere promise to fight for trans rights and inclusion in my work and the message sent by the party's choice of frontbench representative". Though Ali was eventually removed from his spokesperson position, he remains a party member, and continues to put himself forward for leadership positions.
Ali is a symptom of a larger problem of the GPEW's inability to sanction leading figures, even when the party's membership, policies, and indeed, leaders themselves want to do so. Jenny Jones – one of two GPEW Lords – has also been accused of breaching the party's policies on trans inclusivity, and supported an unsuccessful motion on 'sex-based rights' (widely regarded as an anti-trans dogwhistle) at the 2021 GPEW conference. More recently Alison Teal, a Shahrar Ali ally, was selected as the party's candidate for Sheffield Central. In response many Sheffield party members, including local councillors, announced they would refuse to campaign for her.
The Scottish Greens ourselves have not been without similar issues. In the late 2000s, much-celebrated land reform activist Andy Wightman joined our ranks in what was seen as a major coup for the party, especially with his election to Holyrood in 2016. However, as 'gender critical' views began to dominate British politics, Wightman repeatedly clashed with the party over its steadfast commitment to trans rights. Facing a rift between an MSP and our activists and leadership, our party held strong to its commitments and Wightman left the party in 2020.
At their best, Green politics are grounded in cooperation and mutual respect; intolerance should be completely antithetical to us. Core to our appeal is the promise that Greens are different, whether that's due to our lack of large donors, or in the fact we're a truly responsive party democracy. The motion to break ties with our sister party was an acknowledgement that the GPEW is not the party it could and should be.
When it came time to vote, the conference passed the motion overwhelmingly. But it was not without a sense of regret. Guy Ingerson, who brought forward the motion, called it a "last resort", saying that the party had exhausted all other options. As fellow Greens, it is our hope that the GPEW at all levels takes this message to heart, not as a casting out, but a rebuke: Do better. Recommit to our shared ideals, and rejoin us as comrades.
Euan Yours is an activist with the Scottish Greens and writes under a pseudonym.
Emily Tolano is an activist with the Scottish Greens, and former International Officer for the Rainbow Greens, the party's LGBT wing.