A Property Expert Told a Landlord Conference to Get a Grip
'Landlords are having it okay, actually.'
7 November 2022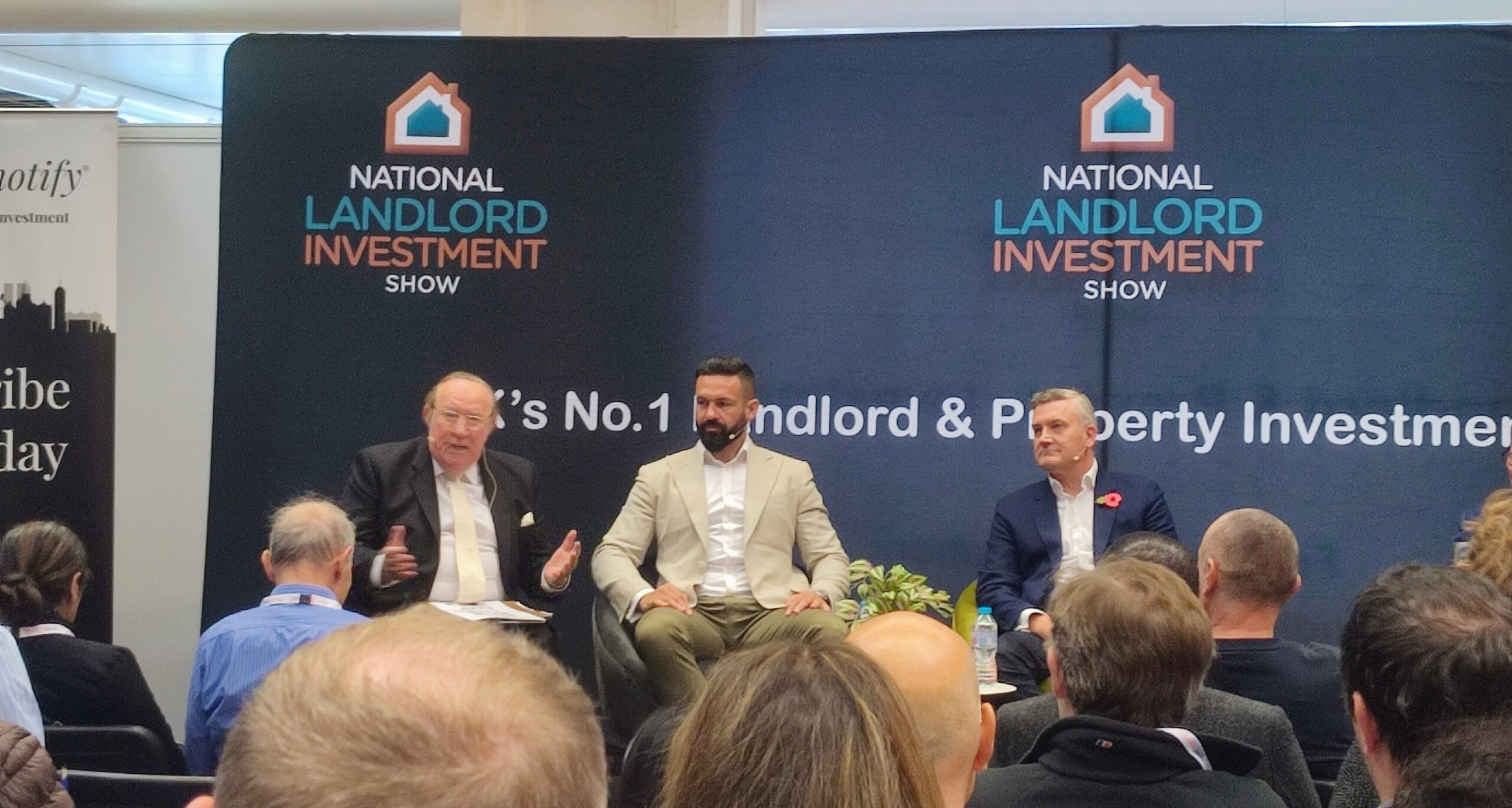 (Left to right) Journalist Andrew Neil, financier Paul Mahoney and property expert Russell Quirk participate in a panel at the National Landlord Investment Show in London, 2 November 2022. Photo: Rivkah Brown
A property expert has told an audience of landlords that they "are having it okay, actually," contradicting widespread complaints from the sector.
"I'm going to say something that won't be that popular in this room," said Russell Quirk, speaking on a panel at the National Landlord Investment Show in central London on Wednesday. "Generally, landlords enjoy a pretty good time."
The CEO of a property-specialist PR company, Quirk said that despite rising interest rates and the threat of government regulation, both capital appreciation and rental yields remained far higher in property than other assets – particularly given that many in the room bought property when it was still relatively cheap.
When in the Q&A a conference attendee complained of declining yields, Quirk advised him to put things into perspective: "Base your yield in real terms on what you paid for the property in 1998 or 2010. On balance, you're okay, and you should stick at it."
"You just called the whole room a bunch of whingers," remarked Quirk's fellow panellist Paul Mahoney, a buy-to-let financial advisor. A number of landlords who spoke to Novara Media similarly criticised Quirk's remarks.
Bye-bye, 0.25%.
This backlash reflects the nervousness of a sector that's enjoyed decades of cheap housing and even cheaper debt – but is beginning to see its fortunes turn, even if marginally. "We have had a good run, I'm not going to dismiss that," Marie Parris, a landlord and property management CEO, told Novara Media.
According to the property data company Bricks&Logic, rents across London have increased by around 12% in real terms over the past decade, while interest rates have rarely exceeded 1%.
With a decade of low rates coming to a precipitous end – on Thursday, the Bank of England raised the UK base rate to 3%, its biggest hike since 1989 – some landlords are panicking.
This, says Dan Wilson Craw, deputy director of the housing campaign group Generation Rent, is not unjustified. "Buy-to-let mortgages are typically interest-only, meaning that a doubling mortgage rate results in a landlord's monthly payments doubling," he says. "Heavily indebted landlords will be made unprofitable and could have to sell up."
Still, rising interest rates will not affect all landlords equally, says Wilson Craw: "Just 40% of private rented homes have a buy-to-let mortgage, so a minority [of landlords] will be in this position." In fact, as property investment company Alliance notes in a recent blog, higher mortgage costs may be good news for landlords who are cash buyers or looking to remortgage.
Staying put.
Much has been made of the "mass exodus" of private landlords from the sector. This is not entirely mythic: according to a survey of 443 letting agents conducted by Propertymark, a membership body for property agents, the number of rented properties halved between 2019 and 2022.
Yet this figure may not fully account for the recent boom in holiday lets: in the same three-year period, the number of homes listed on Airbnb increased by 56% on the English and Welsh coast, and by 15% in non-coastal areas. Property industry professionals who spoke to Novara Media suggested landlords are being drawn from long- to short-term letting by higher profit margins and lighter regulation, particularly around issues such as eviction.
Speaking at the conference, Quirk doubted that landlords would exit en masse. When he asked the audience who planned to sell up, only eight people raised their hands out of an audience of around 200.
Raising rents.
In a message to Novara Media, Quirk wrote that this relative immobility reflects the health of the market.
"In comparison to equities, forex [the foreign exchange market], [investment] funds etc, landlords enjoy a relatively decent time of it," Quirk said.
He pointed to three factors in this. The first is that "rents are higher, and therefore so are yields".
In a statement to Novara Media, a spokesperson for the National Residential Landlords Association said that "landlords are where possible trying to keep rents affordable and tenancies sustainable. By way of proof, over the past 12 months average private rents across London have increased by 2.8%, which is much less than inflation."
Data from the property website Rightmove contradicts the NRLA, however. London rents advertised on the site rose by 16.1% in the past 12 months; in cities like Manchester, Cardiff, Edinburgh and Birmingham, that figure is closer to 20%.
The second reason landlords, despite their complaints, are likely to stick with the sector is that "property investments are never short term rather they are assessed over many years, and therefore a short-term dilution of value growth is no big deal in the scheme of things."
The third is that "landlords enjoy yield (rent) AND capital appreciation and these together, ESPECIALLY when you consider the age of an investor's portfolio and their entry price."
'A horrible narrative.'
If conditions are relatively hospitable, why are landlords complaining they've been left out in the cold? The reason, says Quirk, is that there's no limit to the profits they, like all investors, expect: "Investor participants in all sectors will often lament the particular asset class that they are involved in and, clearly, we would all like our investments to be even more lucrative no matter how well they are doing."
For her part, Price says that the narrative of landlords as greedy "is something I really take umbrage with. Buy To Let, when it came out in the late 90s, was open to everybody aged 18 or over. Those who made a decision made a decision, and it was a fantastic product."
The idea that the housing crisis is driven by landlords' greed, says Parris, "is a horrible narrative. This is what causes the dysfunction between landlords and tenants, because [tenants] think it's us and them. I have to say, Shelter is very good at taking that narrative and running with it – and it needs to stop."
Rivkah Brown is a commissioning editor and reporter at Novara Media.