Disabled People Are Fighting Back Against 'Life or Death' Energy Prices
'We're against bullying.'
15 November 2022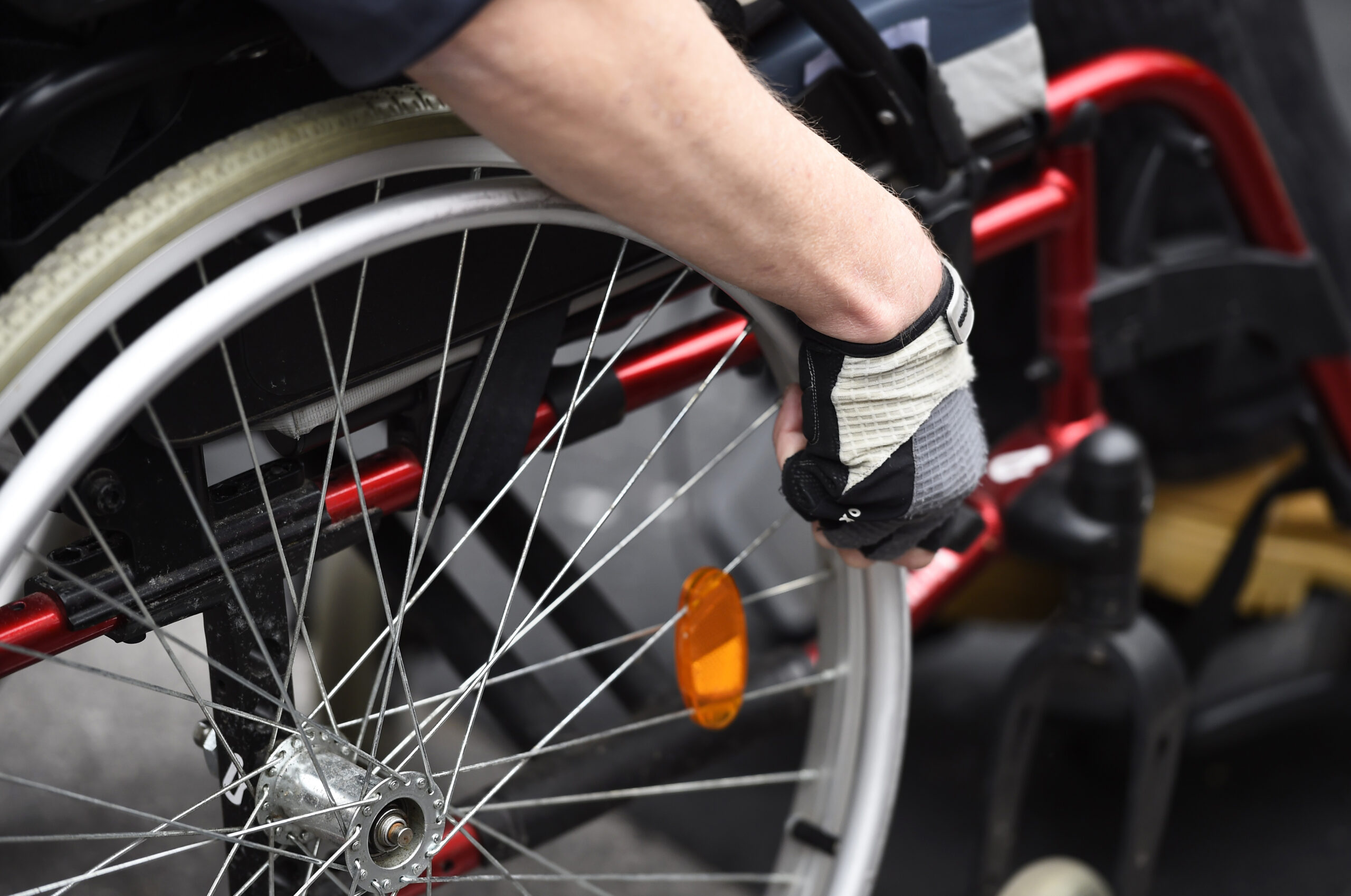 A man in a wheelchair takes part in a protest against cuts to state disability welfare payments. REUTERS/Dylan Martinez
"When people ask what I will do with the rising costs this winter, my answer is simple," says Richard*, a 59-year-old disabled man: "I will die".
Richard, a supporter of Disabled People Against Cuts (DPAC), was once "at the top of [his] profession in the NHS". Now he has multiple health conditions – including type two diabetes, long Covid and asthma – that require high domestic energy use to manage. He needs a ventilator to maintain a warm home, and to do a lot of laundry because of double incontinence. With rising energy prices, his already very difficult circumstances are set to worsen.
With energy bills almost double what they were last winter, disabled people – who often need to use more gas and electricity to stay alive and well, including to run equipment such as dialysis machines – warn that they are facing the worst living conditions in recent history. Whilst in the winter of 2019-2020 8,500 people died due to cold homes – this winter, DPAC activist Linda Burnip believes "that number could be a splash in the ocean".
The government has only intervened to freeze spiralling prices until April 2023 – having reneged on the initial time period of two years. This means that average energy bills are set to reach £4,300 by April 2023, compared with £1,277 in October 2021. In terms of additional support, the government has introduced a number of, one-off payments, with varying eligibility requirements – but disabled people bearing the brunt of soaring energy prices, along with insufficient benefits, say they don't scratch the surface of what's needed to safeguard their lives.
Meanwhile, the risk of power cuts is "really worrying" for disabled people, says Burnip, because "some people have to have electricity all the time for their equipment – without it their lives are literally put at risk". For example, electronic door systems not working could leave some disabled people "unable to get into their homes in the cold… at risk of hypothermia".
Disabled people face disproportionate levels of fuel poverty, which is "a life or death issue," says Claire Glasman, co-ordinator of the grassroots group WinVisible. In March 2022, research by disability charity Scope showed that disabled households in the poorest fifth percentile spend almost twice as much of their household budget on energy bills, are more than twice as likely to have a cold house, and three times more likely to be unable to afford food.
Recently, the largest survey of disabled people in the UK, by the Greater Manchester Disabled People's Panel, showed that a third of disabled people cannot afford to pay bills. 70% of those reported using heating and lighting less and over half reported eating less.
Rick Burgess from the Greater Manchester Coalition of Disabled People says that especially concerning in the survey was the majority of disabled people rely on their families for help, "because a family can be good and bad; families can be abusive, or they can be supportive. If you have to rely on [family], are they actually willing to give you your independence, to respect you as an adult and your choices?"
However, disabled people are mounting resistance to the energy crisis. "Disability groups are getting together to fight for our survival," says Glasman. Alongside other disability campaign groups, WinVisible have signed an open letter from the Disability Poverty Campaign Group – a new coalition led by the disabled people's organisations Disability Rights UK and Inclusion London – urging the government to increase disability benefits at least in line with inflation to prevent a "devastating humanitarian crisis".
Among other demands, the letter also calls for the reinstatement of the Warm Home Discount (WHD) for the 300,000 disabled benefit claimants whose entitlement to the rebate was removed after eligibility criteria changed, and an end to all arrears-related deductions. In the longer term, the letter calls for the entire benefits system to be reformed "to make the process easier, faster and far more supportive."
On Monday, the Disabled People's Organisations Forum – a coalition of 40 groups – launched Austerity Kills, a campaign and policy briefing "calling on the government to show responsibility and compassion to protect Disabled people's lives, dignity, inclusion and rights by ruling out further cuts to essential services and support and by committing additional targeted support to help Disabled people survive this cost of living crisis."
Burnip believes that trade unions have got to stop "talk[ing] more or less exclusively about it being a cost of living crisis for people in work" and "realise that it's not just people in work that are their members" (as well as union community branches, retirees and people not working because of long-term illness or disability can be union members). With this in mind, DPAC are supporting a national day of action on fuel poverty on 3 December demanding urgent financial support for those facing poverty this winter, home upgrades to improve energy efficiency, cheaper, greener energy, and an end to new oil and gas fields.
As for the mass non-payment campaign Don't Pay, WinVisible supports the initiative – but, Glasman says, it has to be up to individual disabled people to decide whether they're "in a position to [strike from energy bills] safely, as people with arrears are forced onto inaccessible pre-pay meters".
In Richard's case, unaffordable energy prices mean he has to limit the use of the ventilator that supports his breathing.
"This has already led to my having chest infections and breathlessness and has caused a deterioration in my health," he says.
With bills set to rise further, he says, "I may have to stop using my CPAP [ventilator] machine completely," which "will not only lead to morbidity but could prove fatal for me."
In order to save on energy bills further, Richard "remain[s] in bed as much as possible," which harms his mental and physical health. He "sit[s] in the dark", risking trips and falls; mainly eats salads, to minimise the cost of heating food and washing up; and only showers once every two weeks. "I am merely existing," he says. "This leads me to feel suicidal at times."
In the absence of government provision, mutual aid is a vital source of support for disabled people. WinVisible "work[s] on a basis of self-help, so women who are fighting for their own case or for their own rights can draw on our collective knowledge and tactics," says Glasman.
One person who mutual aid has helped is Ebere.
Ebere*, a wheelchair user with polio and mental distress, also says that extortionate energy bills have a severe impact on her mental and physical health. At her appointments with mental health professionals, she says, "I'm always talking about [energy bills], I'm scared about the future… sometimes I feel suicidal." Meanwhile, the energy companies are "stealing from the poor and getting themselves richer and richer," she says.
Because of her health conditions, Ebere, who is paralysed, requires a lot of electrical equipment in her home – including hoists, an electric wheelchair, eclectic blinds, an electric bed, and an electric recliner. In recent months, she has been unable to afford her electricity bill. Her energy company, which reported profits of over £1 billion in the last tax year, sent a staff member to her home to chase the payment, charged her for the visit, and passed on her details to a debt collection company.
The energy company "threatened me that they were coming to change me to a prepaid meter," she says. This scared her because her disabilities mean she would be unable to go to the shops to top up a prepayment card, which would also be more expensive. When she tried to explain on the phone to the energy company why she couldn't pay, she says the operator suggested she "switch off some of the stuff," referring to her essential medical equipment.
WinVisible supported Ebere to successfully resist the energy company installing a prepayment meter in her home, and have now written to the company complaining about their behaviour and asking them to write off her debt. "We're against bullying," says Glasman.
"I tried to fight for myself and found I was voiceless," says Ebere, but the support of other disabled women, she found "gave me that voice, so I used it… I knew I had people around me to help me fight this".
"Organising and networking is absolutely necessary" when the wider system is "pretty much designed to defeat [disabled] individuals," says Burgess. "When people work together that's when we start to get some change".
In response to a request for comment from Novara Media, a government spokesperson said: "We know disabled people face additional costs and this Government is listening and taking decisive action to protect the most vulnerable in our society."
Sophie K Rosa is a freelance journalist and the author of Radical Intimacy.