The Don't Pay Campaign Just Set a New Strike Date
Millions are expected to cancel their direct debits on 1 December.
26 October 2022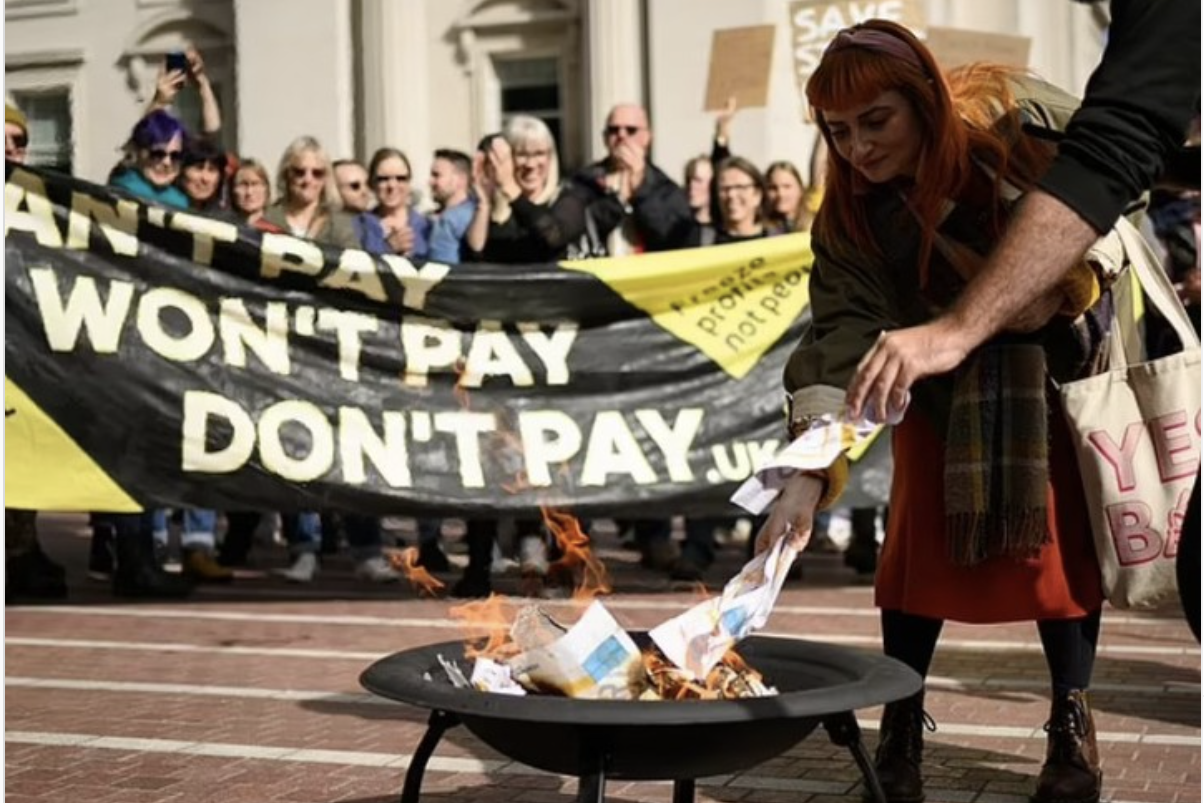 The average annual energy bill is expected to reach over £4,300 by April 2023. Photo: Don't Pay
The Don't Pay campaign has called an energy bills strike for 1 December.
The strike will go ahead unless new prime minister Rishi Sunak takes immediate action on surging gas and electricity prices, the campaign said.
Over 225,000 people across the UK have already pledged to cancel their direct debits, with millions more expected to default on unaffordable energy bills.
Don't Pay is calling for an immediate reversal of energy prices to the pre-April 2021 price cap level, an end to all enforcement of pre-payment metres and a social energy tariff to ensure everyone has access to electricity and no one goes cold this winter. 
Energy prices are currently almost double what they were last winter. And with the government having u-turned on the energy price guarantee it announced in September – which promised to cap energy price rises for the next two years – they are set to rise further, with the average annual bill reaching over £4,300 in April 2023. 
The latest Ofgem data shows that two million households were already behind on energy bills as of June 2022.
Citizens Advice has said that almost half a million people will be forced on to prepayment metres by energy companies. Meanwhile, record numbers are already unable to top-up their metres and are having to 'self-disconnect' and live without heating and electricity. 
Considering not only the volume of pledges, but also the number of people unable to afford their energy bills whether they have officially signed up or not, a Don't Pay spokesperson said they expect "millions" to participate in a 1 December strike, "in protest against extortionate prices and rampant energy company profiteering."
Conceived by a group of friends in the pub and launched in June, the Don't Pay campaign initially called for one million people to strike on 1 October, unless the government agreed to scrap the autumn energy price hike. By August, the campaign had already reached 100,000 pledges, and over 30,000 had signed up to be organisers. Broader polling predicted up to 1.7 million people were considering halting their payments. At this point, energy company E.ON told the government Don't Pay represented an "existential threat" to the energy sector.
Under pressure from E.ON, then-prime minister Liz Truss announced an 'energy price guarantee' that mitigated the worst effects of the price rise – but at an enormous cost to her government. Don't Pay didn't reach one million pledges by the October deadline and the strike didn't go ahead.
The decision to set a new strike date was made by the campaign's general assembly – a decision-making body consisting of representatives from regional groups – this week, following the Tories' u-turn on the energy price guarantee.
With energy companies projected to make £170 billion in excess profits over the next two years, Don't Pay organiser Megan in Glasgow said: "We've had enough of unelected politicians and profiteering energy companies failing to act in our interests, so we're fighting back. 1 December, we strike together." 
Steve from Don't Pay Liverpool said: "It's life or death now. Millions of us face an unprecedented crisis alone and powerless this winter – the only option left is to stand together and take back power for ourselves."
In a 1 December strike, Don't Pay is calling on people to "fight back against the profiteering fuelling both the cost of living crisis and the climate crisis and to strike for a transformed energy sector and better future."
A spokesperson said: "The last couple of weeks showed us that the government's so-called energy 'guarantee' is no guarantee at all. There's nothing stopping Rishi Sunak ripping up current support, which already doesn't go far enough. 
"We know that at least two million can't pay and we plan to link them up with the millions who won't pay for this government's mistakes and energy company profits. This urgent situation requires urgent action, so we're striking on 1 December."
Sophie K Rosa is a freelance journalist and the author of Radical Intimacy.