Don't Pay is Still Accelerating Towards an Energy Strike, Organisers Say
'Truss's price cap is a scam.'
16 September 2022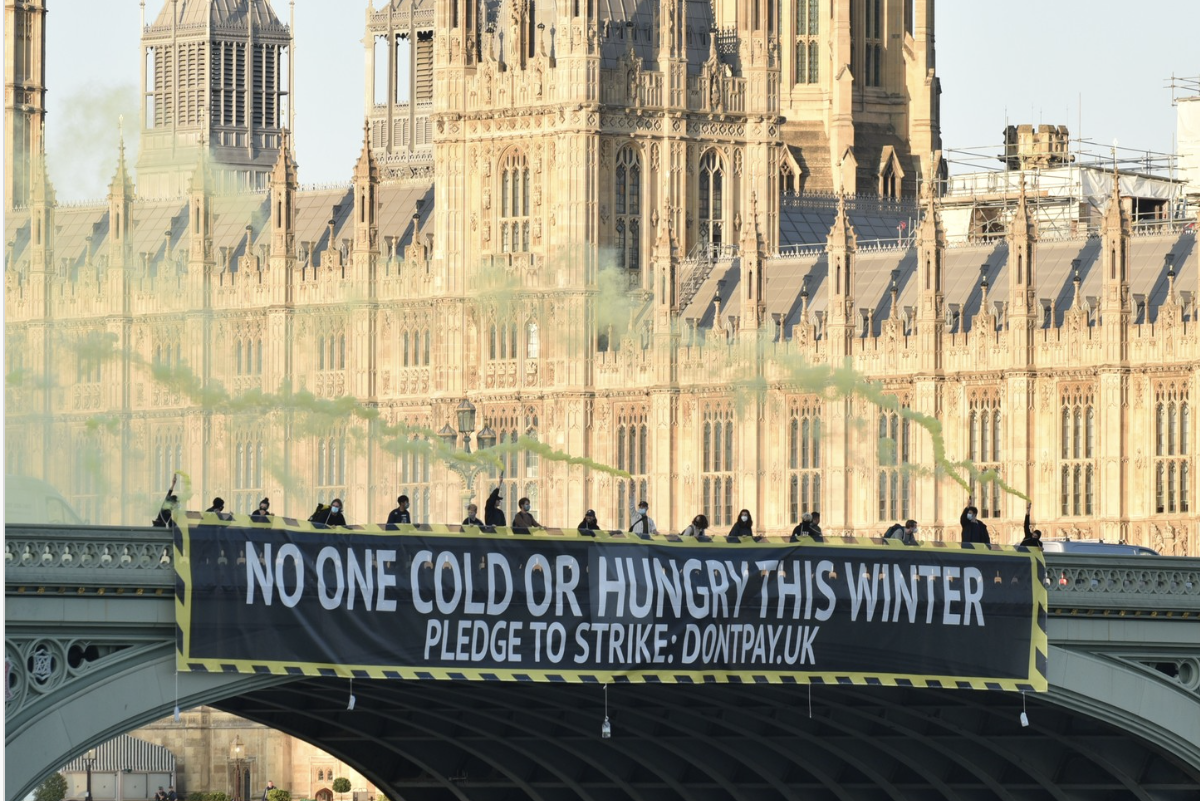 Many households will still see their energy prices double this winter. Photo: Don't Pay
Tom Shaw, an NHS worker from Bath, expects his energy bills to double this winter despite the price cap Liz Truss announced last week. The new policy makes little difference, he says: he still can't afford to pay.
The announcement hasn't made him any less angry, either. "Personally, I still think the amount of profit the energy companies are making is obscene […] bills don't need to be anywhere near the level they are now," he said. "I still plan to strike because it's pretty much one of the only non-violent ways I can make my voice count."
In Shaw's local community, the Don't Pay campaign is "still picking up momentum". Last weekend, there was a stall in the city centre, and new posters are appearing in windows every day. Far from placating people, Don't Pay organisers believe the government's false 'solution' to energy price rises has emboldened the strike; in the last week alone, over 50,000 new people have pledged to take part.
Whilst the government's announcement doesn't come close to meeting Don't Pay's demand to make energy bills affordable, it can still be considered an intermediate win for the campaign. "The plan is working," a spokesperson for the campaign told Novara Media. "The threat of our collective strength forced the government into rushing out the single biggest fiscal intervention in decades to limit the energy price hike and try to head off the threat of mass non-payment." Seeing that Don't Pay's organising has already forced the new prime minister's hand means "millions across the country will be empowered to keep going until we make sure no one goes cold or hungry this winter," they added.
Truss's cap is 'a scam'.
Truss claimed her "energy price guarantee" will support "this country through this winter and next." But in reality, the average household will still see a £600 increase in energy bills this October. Sure, that's better than the projected £1,500 rise some would have seen without the cap, but it's still "a scam", say Don't Pay.
The intervention – which will be funded by government borrowing, rather than a tax on energy companies' £170bn in excess profits  – means "we're paying the price for profits," the spokesperson said.
Lee Robertson, a support worker from Fife, Scotland, is one of almost 200,000 people (at the time of writing) who have pledged to strike when the campaign hits one million. To him, the government's announcement seems like an attempt "to normalise the obscene energy bill figures with slightly less obscene energy figures" as opposed to a meaningful intervention to make energy affordable. "The announcement makes Don't Pay even more significant," he explains.
'This crisis isn't going away.'
Across the country, 70,000 people have signed up to be organisers, helping to spread Don't Pay's message through 260 local groups. As energy bills and other living costs spiral, and a growing number of people struggle to afford essentials like central heating, these groups could "also play vital mutual aid and community defence roles," the campaign spokesperson said. For both those people who can't pay their energy bills and those who won't, local Don't Pay groups "are building the structures and capacity to resist the aggression of coercive debt collection methods employed by the energy companies."
Irrespective of whether it meets the one million pledge target necessary to strike, Don't Pay intends to keep up the fight until the government ensures energy is truly affordable for all. "The crisis isn't going away, it's a crisis of greed – it'll only end when we end the rampant profiteering driving up prices and inflation." 
For Robertson, the government's empty 'support' on energy bills underscores the need for an overhaul of the entire system: energy provision must be nationalised now, he says. "The industry does not regulate itself, the [neoliberal] ideology has not worked, and again the 'market' is being propped up with public money." Shaw agrees. "People don't want to accept being exploited anymore by profiteering energy companies who are posting record profits."
Sophie K Rosa is a freelance journalist and the author of Radical Intimacy.