Could the Rise of Women's Football Mean Greater Player Power?
It's not just Marcus Rashford making moves.
16 November 2022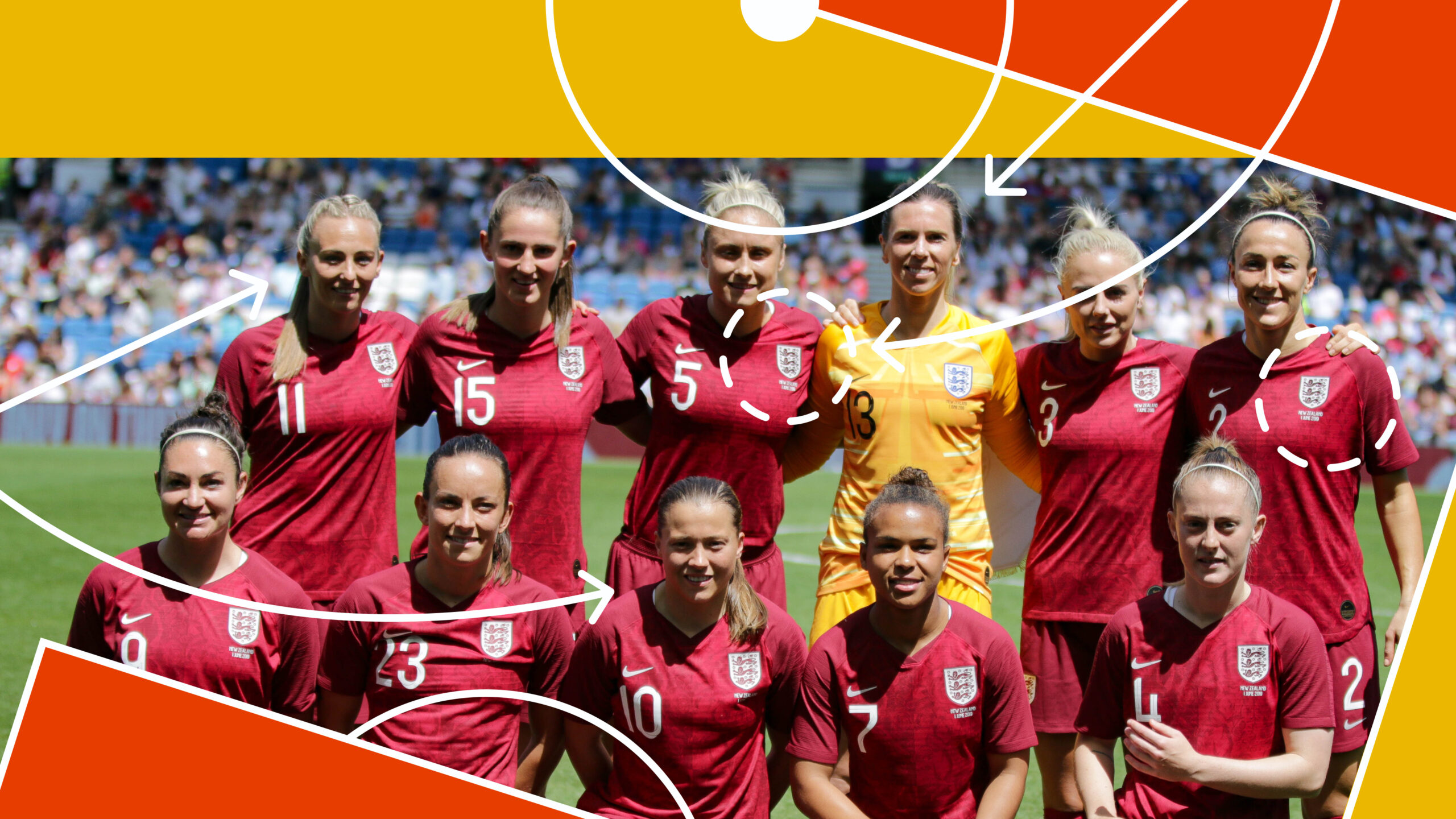 England's Lionesses. Photograph: James Boyes/Flickr. Design: Tom A-O/Novara Media
"It's not something I will be backing or promoting at all." – Beth Mead
"I will be supporting the men's team, but I won't be watching." – Lotte Wubben-Moy
"I look at it as a gay woman who would never choose to go on holiday to a country like Qatar where homosexuality is illegal." – Magda Eriksson
Ever since the announcement that the 2022 World Cup would be held in Qatar, professional footballers have faced a reckoning. How should they approach an international tournament built off the back of slave labour and the deaths of thousands of migrant workers in a country that discriminates against women and LGBT people and has an appalling human rights record?
Whilst some high-profile men's players have been happy to cosy up to Qatar in return for fat cheques, others such as former Finland international Tim Sparv and the Australian men's team have criticised the tournament. But in England, the loudest opposition has come from high-profile women's players like Beth Mead, who recently finished second in the Ballon D'Or, and Chelsea captain Magda Eriksson.
Historically – bar some recent notable exceptions – men's footballers have had remarkably little to say about the politics surrounding their livelihoods. Despite the amount of power they could exercise within the game, it's rare to hear them speak out about injustices, whether due to growing up within high-intensity academy systems or out of fear of losing their lucrative employment. Could the growing platform for women footballers help change that?
Platforms for players.
There are personal reasons why women footballers are speaking out against the Qatar World Cup. Both Mead and Eriksson are openly gay, and fact is that they along with a large proportion of players in the women's game wouldn't feel safe going to play football in Qatar.
But there are also wider reasons why their voices are the loudest. Following the success of England's women's team in the Euros this summer, there is now expanded media interest in women's football, and in these players in particular. Players are being offered platforms, and questioned on those platforms, in a way that is allowing them to speak about political and cultural events publicly and to a wide audience. Mead, for example, was speaking on BBC Radio 4's Woman's Hour when she made her comments. 
For Alex Culvin, senior coordinator for policy and strategic relations at FIFPRO, the professional football players' union (as well as a former professional footballer herself), women footballers' willingness to speak out comes from having been forced to fight for the right to even play. 
"For so long, women haven't been accepted in the space of professional football," she explains. "I think they feel more collectiveness with each other because of the ongoing fight they experience."
Culvin also believes England's women footballers have taken inspiration from other players around the world. Citing the United States Soccer Federation's historic collective bargaining agreement with the women's national team which achieved equal pay with the men's team, Culvin says that FIFPRO was inundated with requests from other countries as to how they could achieve the same with their federations.
"The thirst for knowledge among the women's playing community is huge because they know they have this real power. But they don't really know how to harness it."
"Once we think about how to collectively push that, we will see an explosion of power within the women's game, because to fight for a minority community is not something new to them. It's something that they do every day."
The Marcus Rashford effect.
Whilst women footballers have been most direct in their campaigns for labour rights and objecting to the Qatar World Cup, there's also a growing trend across football when it comes to players campaigning on social justice issues. Marcus Rashford's fight to guarantee free school meals for children across Britain is just one example.
"I think what is important for us [is] to recognise that football doesn't occur in a vacuum," says Culvin. "The players aren't exempt from recognising experiences and social issues that transcend football. Players have developed a strong sense of both collective and individual action, and how action has a translatable effect to cause change."
As players head to Qatar this week, it has never been more important for footballers of all genders to come together and put pressure on FIFA. Despite the frustration of top-level football having been captured by corrupt organisations, the player labour movement offers hope for the future of the sport.
This piece is part of Pro Revolution Soccer, a Novara Media series on football, the Qatar World Cup, and how we can change the game.
Jessy Parker Humphreys is a freelance journalist. They write about football for The Offside Rule.