Hungary's Far-Right Prime Minister Loves Football Almost As Much As He Loves Power
For Viktor Orbán, football is both a passion and a political tool.
30 November 2022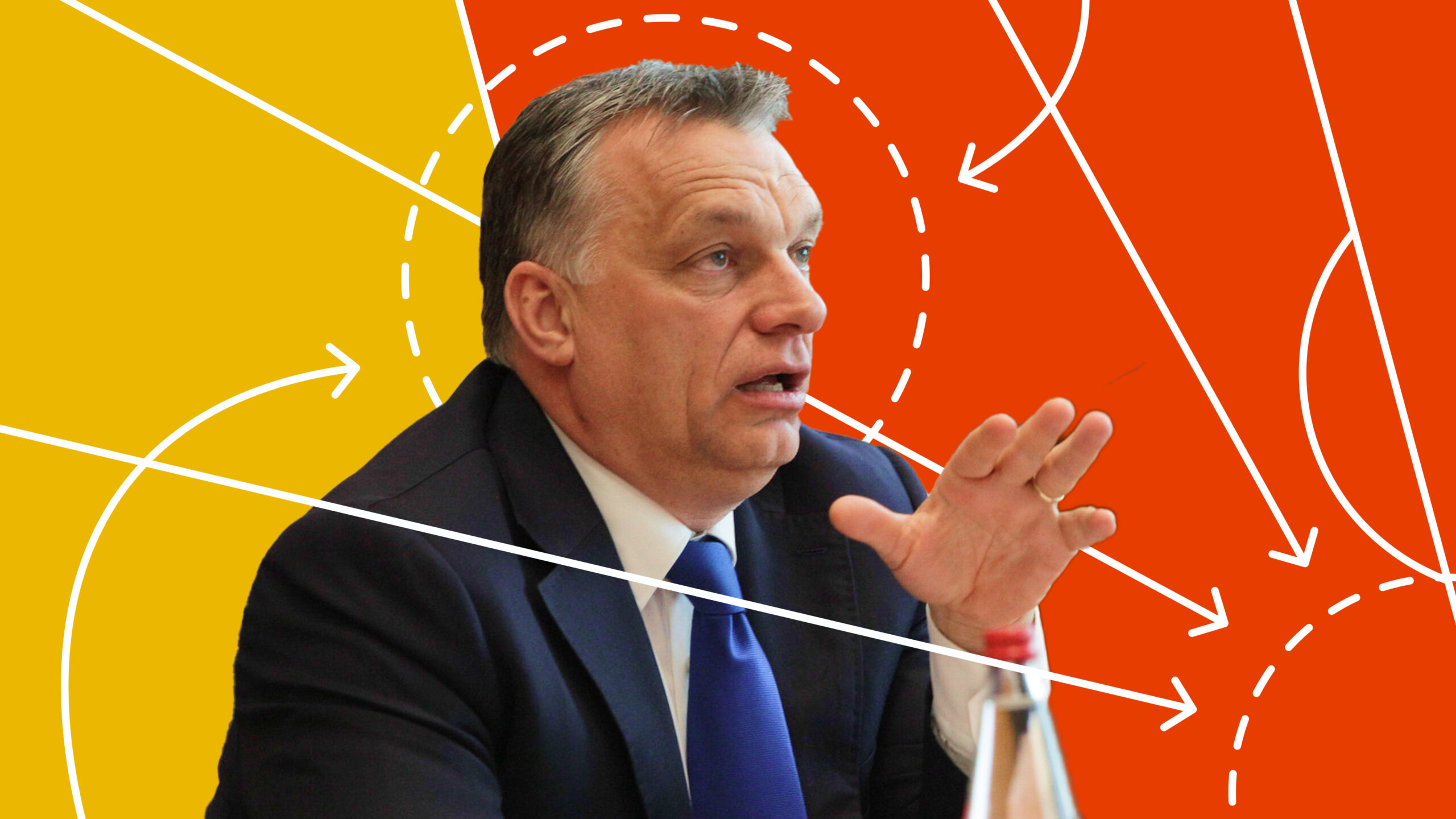 Viktor Orbán. Design: Tom A-O (Novara Media). Photograph: OECD (Flickr).
One football team absent from the World Cup in Qatar is Hungary, who failed to qualify having finished fourth in a group containing England and Poland. This will displease none more than Hungary's prime minister Viktor Orbán. For him, football is at once a passion and a political tool.
Orbán, a nationalist, populist leader who came to prominence as the Soviet Union disintegrated and who has shored up his support base by attacking refugees, LGBTQ+ rights, and appealing to nationalist sentiments, also happens to really love football.
As Pal Rényi, a Hungarian journalist at 444 and author of a book about Orbán and football called Győzelmi kénysze (A Must Win Game), told Novara Media, "For Orbán, football is a deeply emotional issue. He learned about football from his grandfather, who told him about the Puskas era and the Golden Team of the 1950s." Between 1950 and 1956, the "Mighty Magyars" lost only one game, the World Cup final in Bern against West Germany. They were rightly considered not just the best team in world football, but the most tactically innovative.
Rényi said this emotional connection has driven Orbán's ambition: "That's why he wanted to be a footballer, then a coach, then president of the National Association."
Orbán played football as a youngster and turned out for his hometown team, fourth division side FC Felcsút, even after he became Prime Minister in 1998.
Orbán never really made it as a footballer, but as a politician he has made serious attempts to change the Hungarian game.
In short, Orbán "wants to be immortalised as the man who resurrected Hungarian football", said Rényi.
This is driven by a genuine love, but one that is being harnessed for deeply cynical ends.
Since Orbán took power, he has undertaken a number of measures to improve football in Hungary, to control it, and to use it to solidify his own power base.
Orbán uses a scheme called TAO, a form of corporate tax relief, to channel billions of Forints into football clubs in Hungary. This EU Commission approved scheme allows the state to divert tax revenue towards sporting infrastructure. TAO was introduced in 2011, and then again in 2017.
The village of Felcsút now boasts Puskás Akadémia FC. Founded by Orbán, the club competes in Hungary's top tier and received the lion's share of TAO money. It plays in the Pancho Arena, one of the most opulent stadiums in world football. The club's chairman, Lőrinc Mészáros, is a mayor of the village and a close Orbán ally.
Currently, 11 of the 12 teams in the Nemzeti Bajnokság I, Hungary's top tier, are owned by Orbán loyalists and figures from Fidesz (Orbán's party), while the one remaining team, Újpest, are owned by the Belgian Duchâtelet family and are perennially in relegation trouble and on the verge of being sold.
"Hungarian football was so underfunded before the Orbán era that it was not really difficult for Fidesz to take over almost all the clubs in 12 years," Rényi said. "In this respect, football is just like most other sectors: the governing parties are aiming for total dominance and are pushing what they can under their own influence."
Buying clubs is not hard when the Hungarian FA, which signs off on such acquisitions, is keen to stay on the good side of the man funding football so handsomely. While on the surface these clubs are independent entities, they could all be seen as being part of the same state-sponsored footballing machine.
In addition, state-owned broadcaster MTVA seems to pay heavily over-the-odds for domestic Hungarian football at tax-payer expense. Last year MTVA was forced to reveal that it paid 6.85 billion HUF for the rights to three years of the Champions League, Europe's most prestigious club competition, compared to a whopping 9.835 billion HUF per season for NB I, Hungary's top division. According to an article in Magyar Hang, a cultural and political weekly in Hungary, "Broadcasting the Hungarian championship in a single season costs more than what it costs to broadcast top-level [Champions League] football for three years." By way of contrast, BT Sport paid £385 million for its Premier League matches for the 2019-2022 period but £1 billion for the Champions League rights, albeit for two years longer, until 2024.
Orbán's footballing agenda has recently included a targeted effort to fund football in the Hungarian diaspora in Slovenia and Romania. As Hungarian football expert Tom Mortimer told me, "Ethnic Hungarians in neighbouring countries can all vote in the Hungarian elections, so pumping loads of money into the local economy, community and local football clubs almost guarantees that all the locals will vote Fidesz."
As well as trying to drive change in Hungarian football, Orbán has been quick to capitalise on events. At the swearing in of the new government in May 2022, Orbán grabbed a selfie with Baláz Dzudzsák, who won 108 caps for Hungary and was a guest at the inauguration. He also paid a visit to Union Berlin's stadium in October to meet Andras Schäfer, another Hungarian international, and received a signed jersey. This roused the ire of Union's famously left-wing fans, and the club were forced to issue a statement to the effect that the Hungarian embassy had requested a visit to the player, not an official visit to the club.
Why is he doing all of this?
The first reason is that football carries immense weight as a lever of soft power. As David Goldblatt, renowned author of several histories of football including The Ball is Round, explained to me, "In the 21st century, football is the most popular and most global of popular cultural phenomena; nothing else comes close. If you are in the business of generating soft power, influencing opinions and attitudes, why would you go anywhere else?"
The second reason is that football and politics are intertwined in Orbán's nationalist message. Goldblatt managed to track Orbán down at Puskás Akadémia FC back in 2018 for the Guardian, and the latter made the links between football and nationalism explicit:
"Football," [Orbán] continued, "is a strange combination of being free and being a soldier. You have to be in the squad, but it's also creative. Because this is the dilemma of all modern societies: to be organised and to be free. On the pitch I can find it, in politics it's more difficult."

For Orbán, the connection between football, politics and national greatness was obvious. "Hungarians have a critical approach to all civilisations," he said, "and we think that modern society is very dangerous for the kids. Sport is good for the dangers of modern civilisations."
The idea that sport produces the soldier's mindset and averts such dangers is redolent of fascists in previous eras, especially Mussolini. In 1936, American sports writer John Tunis wrote that in Mussolini's Italy, "sport becomes just one branch of army training" and "it keeps the younger and naturally insurgent elements of the community from thinking too much about internal political conditions and lack of employment." Mussolini also installed fascist sympathizer Lando Ferretti as head of Italian football's governing body and ensured that the national team, managed by Vittorio Pozzo, gave fascist salutes before games.
Ironically, Orbán has tried to reduce overtly far-right displays among Hungarian football fans (with some, but not total success), even while stoking nationalism. The Carpathian Bridge, the black-shirted ultras group which supports Hungary's national team, drawn from Hungarian fan groups across the country, is part of this trade off. They are encouraged to avoid exhibitions of neo-Nazi symbols or slogans, but rather express government approved sentiments such as anti-LGBTQ+ or Black Lives Matter messages, for example. Orbán does not actively condemn them when they overstep, though, and encourages the still unpleasant, but less obvious, right-wing nationalist sentiment.
Hungarian football's improvement gives the country greater prominence on the world footballing stage and gives fans "a sense of belonging and a feeling of something to stand for and fight for," said Mortimer.
Using football to stoke patriotism, while improving the footballing product and infrastructure, binds fans to a relationship with Orbán that, with a subtle tweaking of the message, moves from being about making Hungarian football great again to making Hungary great again.
Recently, however this subtlety has been lacking: Orbán attended Hungary's friendly fixture against Greece this week and wore a scarf showing a map of the former "Greater Hungary", including parts of Ukraine, Slovakia, Romania, and Serbia. Hungarian irredentism has been implicit in some of the funding of football, but here, Orbán was being much, much clearer.
Footballing pride as a proxy for nationalist sentiment is being leveraged successfully to attract voters and create a sense of what a "pure" Hungary should look and feel like. And all the while, Hungary's improved reputation as a footballing country, however shaky the foundations, makes it easier for Orbán to launder his reputation on the world stage. No wonder this childhood football fanatic has leaned so heavily into football as a political tool. It's a dangerous precedent but, given the weakness of football's governing bodies and the consistent use of football elsewhere in similar ways, it's not one that is going away any time soon.
This piece is part of Pro Revolution Soccer, a Novara Media series on football, the Qatar World Cup, and how we can change the game.