People Want Action on Climate Change But Also Want Climate Protesters Locked Up
Riddle me this.
30 November 2022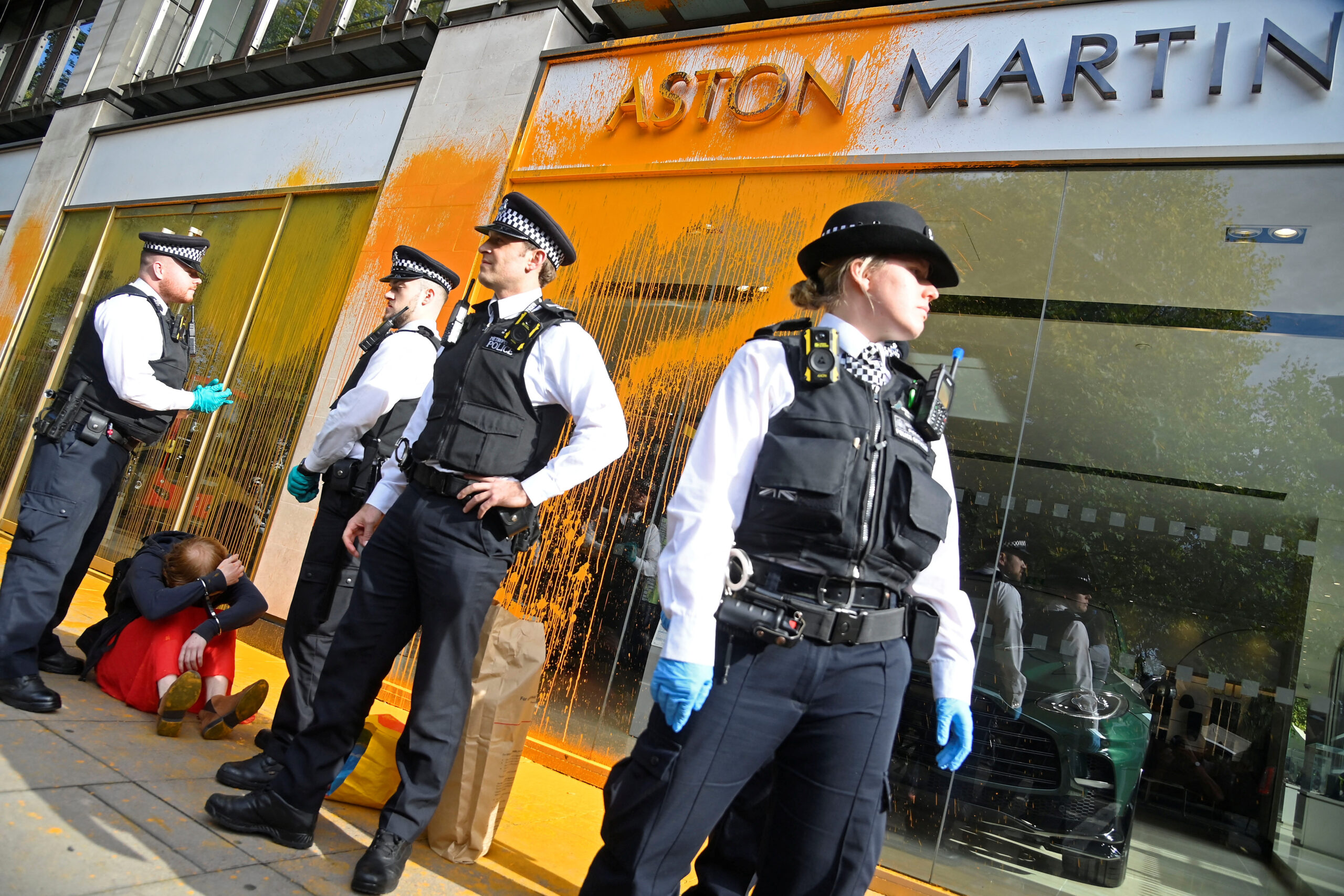 Police officers detain a Just Stop Oil activist after an action against a car showroom, London, October 2022. Toby Melville/Reuters
This week, Just Stop Oil began another fortnight of direct action on the climate emergency. The group's actions to date have provoked fury among the chattering classes, none more so than when their activists threw tomato soup over the glass covering of Van Gogh's 'Sunflowers'.
"Right," proclaimed LBC's Andrew Marr. "They've absolutely lost me. Forever." "Iconoclasts," cried The Critic magazine. Labour leader Keir Starmer, meanwhile, branded the protesters "arrogant". The thing is, the public largely agrees with the protesters.
According to polling conducted in September, two-thirds of British voters are worried about the climate, while 58% want more investment in clean energy. This is true even in the short term: when it comes to reducing the UK's dependence upon Russian oil, Brits favour renewables over new oil wells and fracking. 51% think the government isn't doing enough to reduce carbon emissions; six in 10 want to ban fossil fuel energy sources entirely. The public wants immediate and drastic climate action – but when activists actually take it, they demand a crackdown.
Just 21% of Britons support Just Stop Oil's tactics; 64% oppose them. This split is similar to the support for Insulate Britain's road blockades, which 18% of people supported and 72% opposed, despite the fact that seven in 10 voters want the government to impose strict rules for how energy-efficient homes are.
Britain's contradictory opposition to climate activism has, unsurprisingly, resulted in widespread public support for the Public Order bill. The bill, currently at committee stage in the House of Lords, proposes a wide variety of measures to curtail protests like those by Just Stop Oil and Insulate Britain. When polled by YouGov, a significant majority of voters support its key measures, including bans on locking yourself to buildings (58%) and obstructing transport works (66%) – both tactics popularised by climate activists – allowing preventative court orders against activists (60%) and extending stop and search powers (51%).
Like many issues in British politics, support for the bill is deeply stratified by age. Those aged 18-24 are least supportive of its key measures, with only 33-39% favouring each policy (except for banning road blockades, which 50% back). Those over-65s are most supportive, with 71%-81% backing each measure. When it comes to activists locking themselves to buildings, the difference in opinion is enormous – there is a 45-point gap between support amongst 18-24s and over-65s.
This age gap may point to one of the reasons for the public's cognitive dissonance over climate action: the power of the British media. Over-65s are far more likely to get their news from print and broadcast media, younger people from social media. The consequence may be that young people are more likely to have heard directly from Just Stop Oil protesters via their social media posts, whilst older voters are more influenced by the heavily right-leaning British media – the same that has labelled Just Stop Oil "disruptive eco-zealots" (the Daily Mail), an "eco-mob" (the Daily Express) and a "doomsday cult" (the Sun). These three tabloids alone have an estimated print readership of over 2 million.
Even among the liberal commentariat, it has become commonplace to hear that Just Stop Oil's aims are right but their means misguided. So what's the right way to mitigate climate breakdown?
A British public that wants climate action but hates climate activists reflects a widespread belief that our democratic system is fit for purpose and will eventually enact the will of the public. Yet we have seen time and time again that this does not happen. Voters want more clean energy, yet the government gives billions in tax breaks to fossil fuel companies; Brits overwhelmingly support a frequent flyer levy, yet the government is firmly against it. All the while, international summits like COP27 come and go without achieving any significant material change.
As the grown-ups sit around twiddling their thumbs as the world burns, it's unsurprising that young people are taking matters into their own hands. Yet they're being demonised for it by our right-wing press, driving mostly older voters to demand a crackdown. The only way disruptive protests like Just Stop Oil's will end is if our democracy becomes genuinely responsive. Because right now, the only people whose will it's enacting are Daily Mail columnists.
Ell Folan is the founder of Stats for Lefties and a columnist for Novara Media.