Trade Union General Secretary Accused of Taking Qatari Bribes to Ignore Human Rights Abuses
The ITUC claimed 6,000 dead construction workers were a 'myth'.
13 December 2022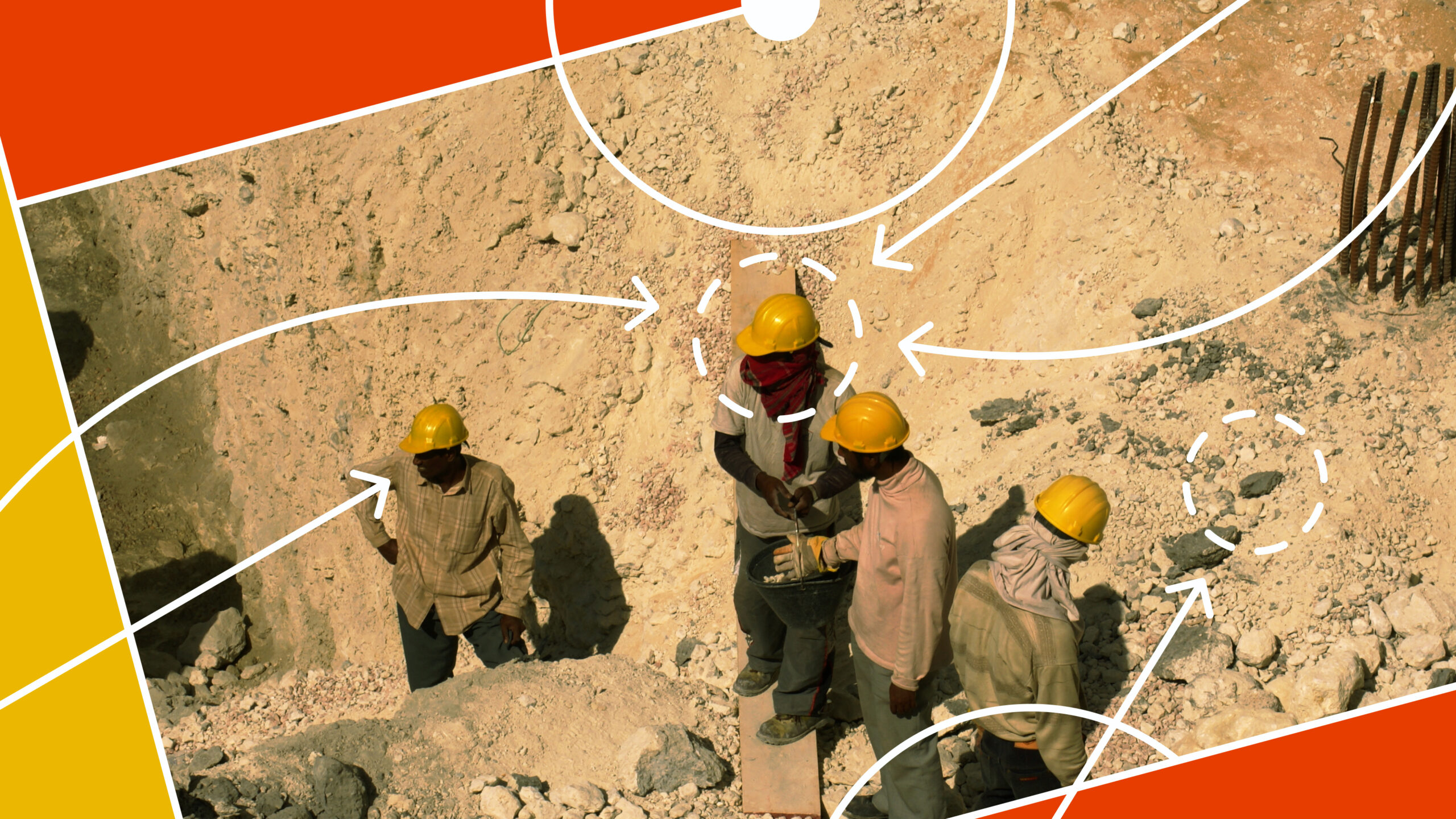 Labour rights abuses have blighted the Qatar world cup. Pietro Garrone/Novara Media
As migrant workers, journalists, human rights organisations and trade unions have painstakingly highlighted the persistence of labour rights abuses at Qatar's World Cup, one organisation has been a notable exception, instead enthusiastically praising the country: the International Trade Union Confederation (ITUC), a respected global umbrella body for trade unions. Now, it's been hit with a major corruption scandal.
On 9 December, the ITUC's newly elected general secretary Luca Visentini was among several arrested as part of a "major investigation" by Belgian prosecutors into "alleged offences of criminal organisation, corruption and money laundering."
Although Belgian prosecutors said only that they suspected a "Gulf country" of seeking to influence officials, Belgian newspaper Le Soir reported the country in question to be current World Cup host Qatar.
Also arrested were a vice president of the European parliament and Greek MEP Eva Kaili; Francesco Giorgi, an advisor in the European parliament and Kaili's partner; Kaili's father Alexandros; and former member of the European Parliament, Pier Antonio Panzeri. Computers, mobile phones and €600,000 in cash have also been seized. 
"It is suspected that third parties in political and/or strategic positions within the European parliament were paid large sums of money or offered substantial gifts to influence parliament's decisions," the office of Belgium's federal prosecutor said in a statement. 
In November, Visentini replaced longstanding ITUC general secretary Sharon Burrow. Before taking up his role at the ITUC, Visentini was general secretary of the European Trade Union Confederation (ETUC).
As general secretary of the ITUC – an organisation that calls itself "the global voice of working people" – Burrow said claims that more than 6,000 workers had died working on Qatar's World Cup construction sites over the past decade were "a myth".
In a video released by Qatar's ministry of labour, she said: "The people who attack Qatar for its labour laws from outside the country, we say, go and have a look. Workers can achieve justice in Qatar." 
Last month, human rights organisation FairSquare published an open letter expressing concern that the ITUC had "either exaggerated the effectiveness of legal reforms in Qatar or downplayed the seriousness or prevalence of ongoing human rights abuses."
Nicholas McGeehan, the organisation's director, said to Novara Media: "We relayed a series of concerns to the ITUC about its conduct in Qatar more than a month ago and received no response. Whatever the outcome of the legal processes in Belgium, the ITUC and ETUC should carry out their own investigations. This is a very serious matter and they owe it to the broader labour movement to unearth all the facts."
In Brussels, Kaili has been a staunch defender of Qatar. In a speech to the European parliament last month, she said: "Today, the World Cup in Qatar is proof, actually, of how sports diplomacy can achieve a historical transformation of a country with reforms that inspired the Arab world.
"They [Qatar] committed to a vision by choice and opened to the world. Still, some here are calling to discriminate [against] them. They bully them, and they accuse everyone that talks to them or engages of corruption."
On 24 November, the European parliament adopted a resolution on the human rights situation in Qatar, calling on Qatar and Fifa to ensure compensation to all victims of World Cup preparations.
Although the resolution was adopted with a broad majority, Kaili continued to argue that Qatar was a "frontrunner in labour rights."
Kaili's membership of the European parliamentary group socialists and democrats has been suspended with immediate effect. Any votes and talks relating to Qatar have been paused by the European parliament.
The ITUC did not respond to Novara Media's request for comment. An initial press release on its website said that the ITUC is "aware of media reports relating to allegations that concern identities associated with the European parliament."
On 13 December, the ITUC released a further statement explaining that the ITUC general council will hold a special meeting next week to address the allegations. "At no time have the authorities suggested that the ITUC is under investigation or suspicion. The ITUC recognises the seriousness of this issue, and remains committed to zero tolerance for any form of corruption.
"The ITUC's work on Qatar has, since the beginning, been entirely based on objective analysis and assessment of the facts, and any suggestion that any other entity, from Qatar or anywhere else, has influenced the ITUC's position is entirely false."
In the statement, Luca Visentini said: "I am pleased that the questioning has concluded and I was able to fully answer all the questions. Should any further allegations be made, I look forward to the opportunity to refute them, as I am innocent of any wrongdoing. Any form of corruption is completely unacceptable and I am absolutely committed to the fight against corruption. I also wish to reconfirm the position that I have taken publicly that further pressure must be put on Qatar for workers' and other human rights. The situation today is still not satisfactory, as I stated to the media at the end of my visit to Qatar."
In a statement on Twitter, Qatar's foreign ministry said it "categorically rejects any attempts to associate it with accusations of misconduct", and that "any association of the Qatari government with the reported claims is baseless and gravely misinformed."
Polly Smythe is Novara Media's labour movement correspondent.