Qatar Schmoozed These MPs. Now They're Silent on Human Rights
But one did speak up for the right to drink beer.
8 December 2022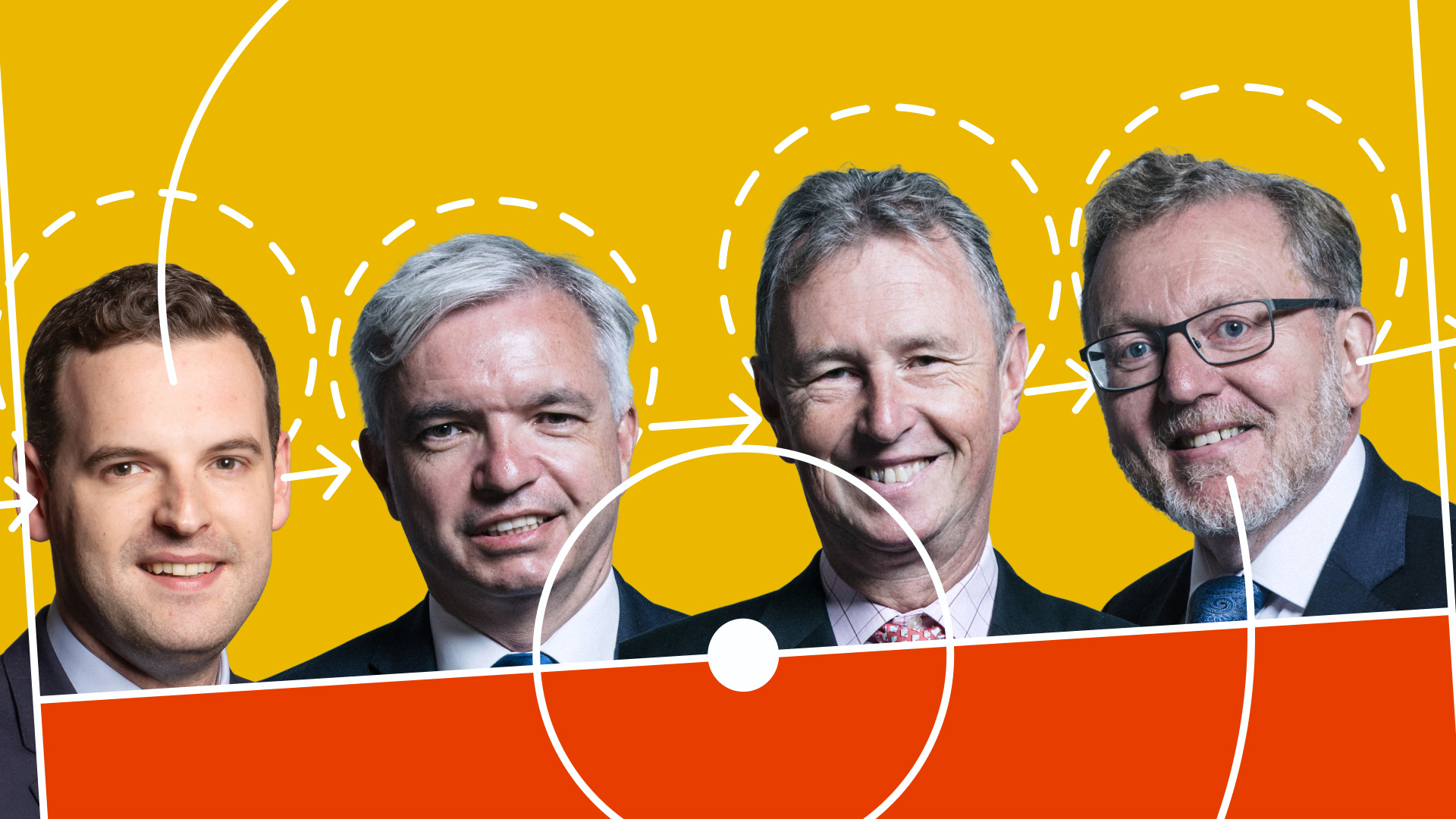 Mark Menzies, Nigel Evans and Paul Holmes David Mundell
As the World Cup approaches the quarter finals, political questions around the competition just won't go away. Even usually apolitical ex-player pundits are having their say as almost everyone discusses human rights questions.
Everyone, that is, except over 30 MPs who received tens of thousands of pounds in free trips and funding from Qatar who have refused to publicly speak out about human rights in the Gulf state.
Between September 2021 and October 2022, Qatar gave 34 MPs gifts, including free trips, meals and visits to sports clubs. Most of this has come through the All Party Parliamentary Group on Qatar, a group of MPs working "to foster good relations between the UK and Qatar".
The group has received £281,500 from the Qatari state since 2016 to fund its operations. None of the hundreds of other APPGs in parliament have received as much funding from a foreign government in that time. The vast majority don't come close.
Only two MPs who received gifts have since spoken out about the abuse of workers and LGBT+ people in the autocratic Gulf state.
In November, Labour MP Chris Bryant told The House magazine: "I wish I hadn't gone" on a paid trip to Qatar. "My fear is they're using the World Cup to wash their reputation and I don't think we should participate in that," he said.
Meanwhile, former Conservative minister Tobias Ellwood posted on Twitter that the UK should be "encouraging reform" in the country, but added that homosexuality was illegal when England hosted the World Cup in 1966.
The rest have stayed quiet.
In fact, many MPs came from Qatar with a much more positive view of its human rights record and some have even defended the Gulf state.
In May, David Mundell MP, the deputy chair of the Qatar APPG, told an interviewer from the state-run Qatar News Agency that media coverage of Qatar's record on workers' rights was largely "baseless". The closest he has come to criticising Qatar was to say in a recent parliamentary debate that it was "very important" to ensure that Wales and England fans in the country who wanted to drink a "pint of beer" would not "be deprived of it through cost alone".
Mundell, who was the first openly gay Conservative cabinet minister and is a patron of LGBT+ Conservatives group, the official LGBT+ wing of the Tory party, has thus far refused to publicly comment on the situation for LGBT+ people in Qatar.
Mark Menzies MP and Nigel Evans MP are also LGBT+ Conservatives patrons and APPG members. Paul Holmes MP is a LGBT+ Conservatives patron and went on a Qatari-government funded trip to the Gulf state in October 2021 worth nearly £8,000. Novara Media could find no evidence any of the four have made any public statements about the mistreatment of LGBT+ people in Qatar ahead of the World Cup. None replied to a direct request for comment on the situation.
While Mundell, Evans, Holmes and Menzies have been publicly silent on the issue, many other MPs who are LGBT+ Conservative patrons have made public statements about the situation. Sports minister Stuart Andrew, for example, attended the game between England and Wales wearing the "One Love" armband England players had been planning on wearing to protest Qatar's banning of homosexuality.
Mundell is far from the only MP to return from trips to Qatar with a rosy view of the human rights situation. Tory MP Jackie-Doyle Price told parliament in 2020, after a state-funded visit to the country, that the UK was being too "holier than thou" over the mistreatment of workers and LGBT+ people in Qatar. She has since returned to the country on another trip paid for by the Qatari government.
Former Tory Cabinet minister and Qatar APPG chair Alun Cairns told a Commons committee in October that the World Cup gave a chance for Qatar and the UK to "celebrate different cultures, recognise diversity and move understanding on all quarters in a positive direction".
Cairns paid tribute to the Qatari ambassador and said whenever issues had arisen he had been able to engage in a "positive spirit" with Qatari officials. He made no mention of the situation for LGBT+ rights in the country. Insider previously reported claims that he was sought out as chair of the group by the Qatari government, who pushed to have the APPG's leadership changed.
Amnesty International UK's Chief Executive Sacha Deshmukh said: "It would be deeply worrying if any MP accepting hospitality from a foreign government were to feel compromised when it came to raising human rights issues.
"As we've seen with the ongoing debate around the World Cup, the Qatari authorities have sought to downplay some of the very serious human rights issues in the country and it's entirely likely they saw these trips as a means to win over MPs.
"There is obviously an important place for parliamentary fact-finding trips, including as a means of raising human rights issues through private channels, but MPs receiving expenses from any government should ask themselves what might be expected of them in return.
"MPs' own constituents and the wider public will expect politicians to continue to raise important human rights issues without fear or favour, regardless of whether they've been the recipient of a paid trip to Doha or anywhere else."
Andrew Kersley is a journalist.