Are The Royals 'Anti-Racist' Now?
Take a wild guess.
1 December 2022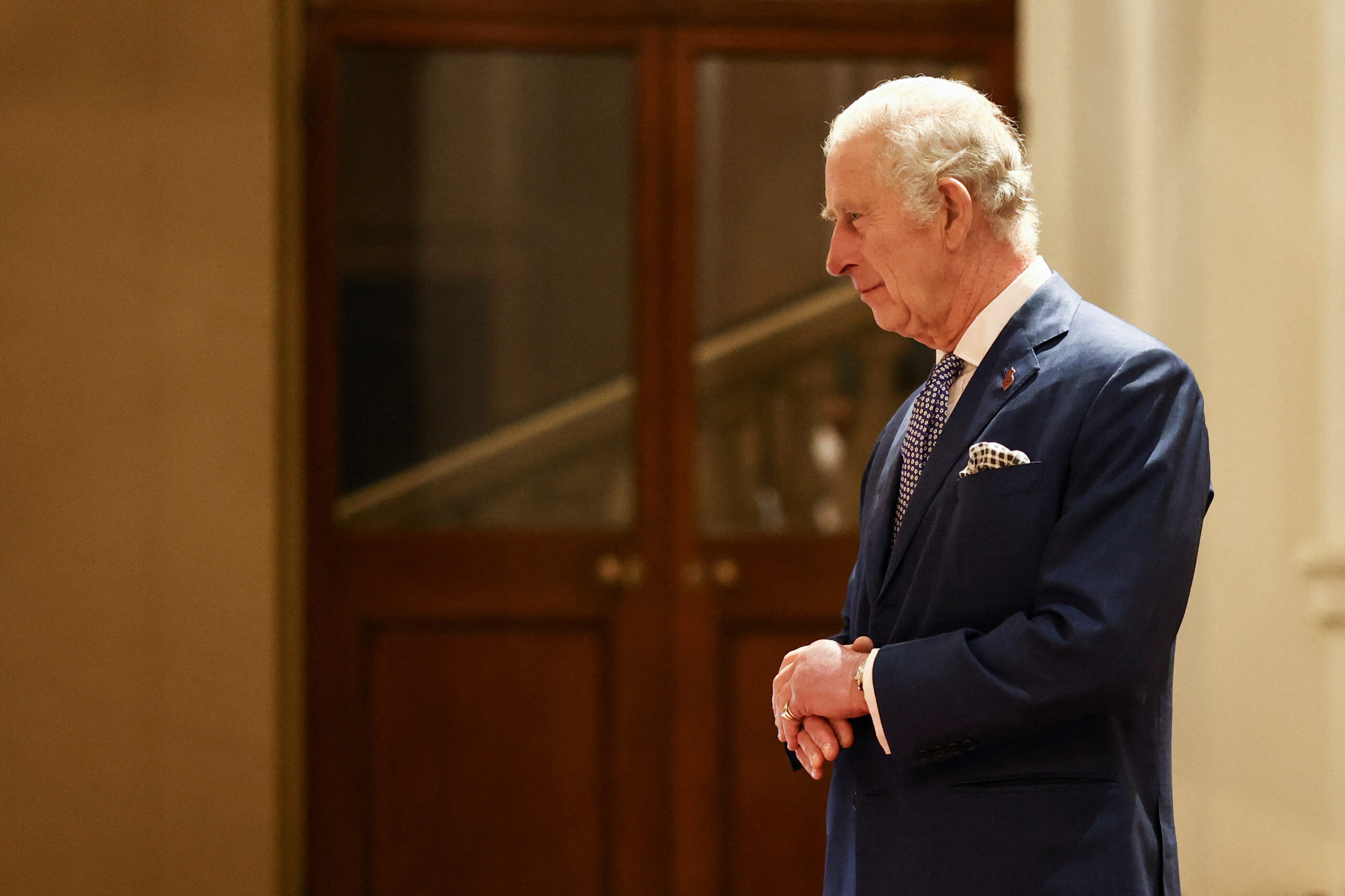 King Charles has historically been more supportive of multicultural Britain than other members of his family. Henry Nicholls/Reuters
There's been a regime change at the palace. If the extended period of national mourning in September didn't clue you in, yesterday's sacking – sorry, resignation – of a high-ranking member of the royal household might have done.
Lady Susan Hussey, 83, godmother to Prince William, stepped down from her role as lady of the household (whatever that means) after she made racist comments towards a Black domestic abuse campaigner attending a reception at Buckingham Palace. Ngozi Fulani, founder of the Hackney-based charity Sistah Space, was a guest at an event marking the annual 16 Days of Activism Against Gender Based Violence campaign when she encountered Hussey, later recounting the incident on Twitter. 
"Where are you from?", Hussey reportedly asked the 61-year-old. Unsatisfied with the answer Fulani provided – "Hackney [London]" – Hussey dug deeper. 
"No, what part of Africa are you from?", she demanded. 
Questioning continued in that vein for several minutes, alleged Fulani, with Hussey unable to accept that the woman in front of her was a British national by birth. Leader of the Women's Equality Party, Mandu Reid, witnessed the exchange and told the media it was like "an interrogation". 
After Fulani shared the story on social media, it was, unsurprisingly, picked up by news outlets. But instead of the usual closing of ranks amongst the royals when it comes to racist incidents, there were instead swift reprisals. By midnight, statements had been issued by both Buckingham and Kensington palaces condemning the incident, and Hussey – a former lady-in-waiting to the late Queen Elizabeth – had resigned from her post. Furthermore, the personalised pronouncement made on behalf of Prince William stepped into territory the royals rarely enter: it referred directly to racism. 
"I was really disappointed to hear about the guests' experience at Buckingham Palace last night," the statement read. "Obviously, I wasn't there, but racism has no place in our society. 
"The comments were unacceptable, and it is right that the individual has stepped aside with immediate effect."
Alongside an apology to Fulani, the King's household confirmed an investigation had been launched into the encounter, adding that "all members of the household are being reminded of the diversity and inclusivity policies which they are required to uphold at all times."
The royals, it seems, are attempting to begin a new chapter when it comes to their handling of racism. On a personal level, Charles has long been more attuned to minority communities than other members of his family – hardly a feat considering the standard set, but interesting nonetheless. The charity he founded in 1976, the Prince's Trust, found new focus in the 1980s after uprisings in Black communities across English cities. The Trust's official history namechecks "riots" in Brixton, Leeds, Birmingham and Liverpool as the motivation for the launch of its flagship Enterprise programme, which supports disadvantaged young people to start businesses.
Tina Brown's 2007 biography of Diana, Princess of Wales, also notes that Charles considered it his "personal duty" to "respond actively" to the 1981 Toxteth uprisings in particular. In the wake of similar uprisings in 2011, sparked by police misinformation following the shooting of Mark Duggan, Charles visited Hackney and announced that the Trust would be investing £2.5m into the futures of young people in affected communities. Last year, he guest edited Britain's only national Black newspaper, The Voice, for its 40th anniversary – a choice which caused understandable consternation, but was defended by the paper's editor as justified because of the "parallels between the issues which The Voice has campaigned on for four decades and the work the Prince of Wales has been involved in over the same period." 
When it comes to other minoritised groups, Charles has similarly shown more understanding than perhaps would be expected from a member of the royal institution. In 1993, he warned audiences that the level of "misunderstanding between the Islamic and western worlds remains dangerously high […]", and condemned western Islamophobia, including the "unthinking prejudice" of media headlines about "Sharia law". A year later, he caused a ruckus when he told David Dimbleby that he wanted to change his coronation oath to refer to him as "defender of faith" rather than "the faith" in an attempt to reflect the UK's multicultural nature (though he ended up sticking with the determining article in the end).
Only a few ever really know what's going on behind closed doors. But Charles' past record, combined with a desire to clear the reputational debris caused by revelations made by Prince Harry and Meghan Markle, suggests a marked change in the way the British monarchy plans to confront individual incidents of racism within its ranks. Unfortunately, that is all it will ever be capable of. The royal family, as Kehinde Andrews wrote earlier this year, "symbolise[s] the white supremacy that lay at the heart of Britain's imperial project". It is an institution built on tightly interwoven inequalities. The monarch, Andrews observed, "doesn't just symbolically represent the ills of society; they enforce them." 
Charles the person, and his heirs, might well consider themselves 'anti-racist'; they clearly wish to demonstrate a more proactive approach to tackling tangible examples of racism when they arise than the previous monarch. But it is at odds with their roles as the living embodiment of the monarchy, avatars of empire and systemic racism. They're treating a surface wound; meanwhile, the cancer proliferates as long as institutions like the royals endure.
Moya Lothian-McLean is a contributing editor at Novara Media.