Royal Mail is Using an App to Try and Break the Posties' Strike
An app for scabs, neat!
7 December 2022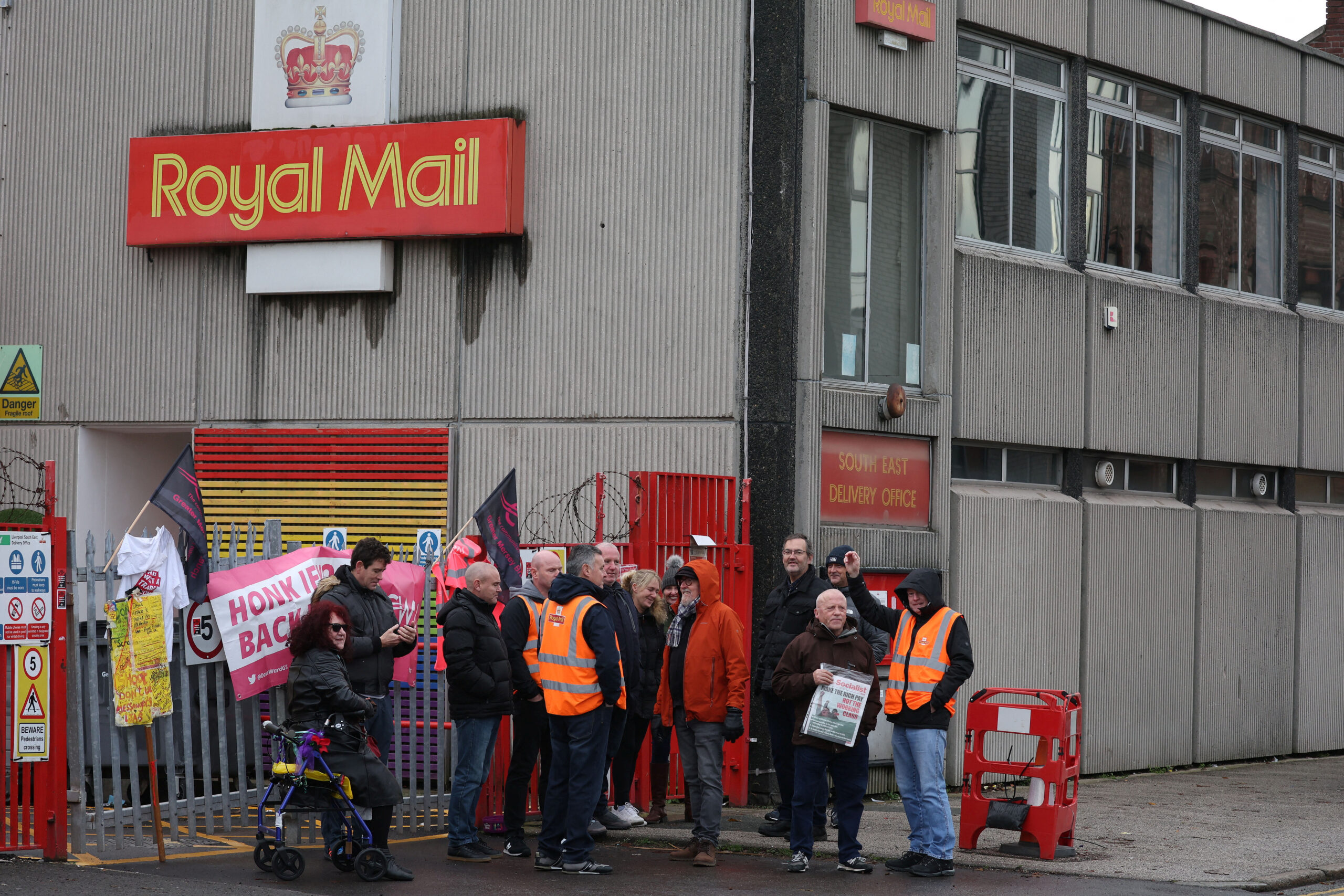 Postal workers stand on a picket line outside a sorting office in Liverpool. Phil Noble/Reuters
Royal Mail is using a gig economy delivery app which claims to put "riders first" to try and break the postal workers' strike.
Eight-hour shifts, to be completed in a Royal Mail vehicle, have been advertised on Ryde, a "last-mile" delivery business backed by venture capitalists. The in-app shift description on Ryde makes no mention of the fact that the available shifts are to break a strike by postal workers.
The shift details read: "You will complete deliveries using the Ryde app and Royal Mail vehicles, earning an hourly wage. Please make sure you bring a writing pen and have watched the Royal Mail van safety video before you arrive at your shift."
Members of the Communications Workers Union (CWU) took 48 hours of strike action on 24 and 25 November and 30 November and 1 December and will carry out a series of one day strikes on 9, 11, 14, 15 and 23 December and on Christmas Eve. They have rejected a 7% two-year pay offer that Royal Mail said was final.
Shifts advertised on Ryde vary in pay levels. Novara Media saw shifts advertised in London for £106.96, £125.68, and £132.64. Ryde claims to be a "riders first" business. Its website says: "For far too long big companies have taken advantage of gig workers. They've hidden their actual pay, penalised them unfairly, manipulated job routes and forgotten to support their people."
However Bryn Atkinson-Woodcock, a delivery driver who refused to cross a posties' picket line, warned that the gig economy employer is likely to lower the pay once the strike is over.
Atkinson-Woodcock said: "Right now, Royal Mail are paying Ryde drivers more money because workers are striking. They will not pay that amount for very long."
On 24 November, Atkinson-Woodcock, aged 32, signed up for four shifts with Royal Mail through Ryde, unaware that it was a strike date. However when he arrived for work, he came across a CWU picket line and decided that he could not do the shift. A video of him explaining his decision went viral on social media. "I've had to cancel the shifts. It's a lot of money that I was relying on, but I'll support any strike where workers are being victimised," he said in the video.
Listen to what this agency worker has to say about breaking Royal Mail @CWUnews picket lines 👇 pic.twitter.com/FPFWGP7Jh5

— Rohan Kon (@rohankon) November 24, 2022
Speaking to Novara Media, Atkinson-Woodcock said: "You can't put riders first and then ask them to cross a picket line with no warning. I cancelled my shifts straight away, because I would never cross a picket line."
His decision meant he took a financial hit. Having used the last of his fuel to reach the sorting office, he planned to use the money he earned to cover his rent. "When I pressed the button to cancel those shifts, I didn't know how I was going to pay my rent or bills," he said.
However, Atkinson-Woodcock was helped by a group of firefighters, who had a whip round for him at a pub quiz to help him cover some of his lost earnings.
Earlier this year, Atkinson-Woodcock was involved in industrial action against the on-demand delivery platform Stuart, in what became the UK's longest-running gig economy strike. The strike began when Stuart cut minimum delivery pay from £4.50 to £3.40.
Atkinson-Woodcock believes Royal Mail are following the model pioneered by companies like Deliveroo and UberEats, where drivers are attracted initially with high pay, before those pay levels are eroded once demand for shifts has been established.
"Within a year or two, £132.64 will drop to £50 a day. That's the way Royal Mail will be destroyed. And it will come to every sector if it's allowed to happen."
Previously, Royal Mail have congratulated themselves for their commitment to upholding a traditional employment model. In August, a Royal Mail spokesperson told City AM, "In a parcels industry increasingly dominated by 'gig economy' models, we are proud that Royal Mail is different. We have a 97 per cent permanent workforce."
In 2017, the then chief executive of Royal Mail Moya Greene criticised the "fictitious self-employment" used by delivery companies to evade taxation and slash their national insurance bill. "I want the government to look past this fiction," Greene said.
However, in July, Royal Mail said,"We must adapt old ways of working designed for letters to a world increasingly dominated by parcels, and we must act fast."
"We cannot cling to outdated working practices, ignoring technological advancements and pretending that Covid has not significantly changed what the public wants from Royal Mail."
Following a ruling from Grant Shapps, billionaire Czech investor Daniel Kretinsky is now free to increase his Royal Mail stake to more than 25 per cent. Kretinsky is expected to push for the end of Saturday letter deliveries.
It's a move that would require asking the government to approve changing postal laws to allow a five-day-a-week operation. While cutting down on the delivery of letters, Royal Mail also wants to move to a seven-day-a-week parcel operation.
Royal Mail's prioritisation of parcels is reflected in their decision to recruit drivers to deliver parcels only, while post has been "piling up" at sorting offices.
The General Secretary of CWU Dave Ward has warned against turning the postal service into a "gig economy-style parcel courier, reliant on casual labour."
He said: "Posties are people who take a great deal of pride in what they do – they're part of the communities they serve and look out for.
"They have the knowledge, care and commitment that can never be found in agency work, which is unstable and unpredictable by its very nature.
"Our members are fighting with all their might to stop Royal Mail becoming this sort of work, and they will not stop until the dignity and stability of their livelihoods is assured."
Alex Marshall, General Secretary of the Independent Workers' of Great Britain (IWGB) said:
"At the IWGB we've been organising in the gig economy for years. We're seeing first hand the exploitative models pioneered by the likes of Uber and Deliveroo creep into other sectors, business models which intend to strip workers of their rights, pay them as little as possible and minimise power in the workplace."
Novara Media approached Royal Mail and Ryde for comment, but got no reply.
Polly Smythe is Novara Media's labour movement correspondent.