Should Schools Tackle Andrew Tate Head On?
One student wrote 'MMAS' (make me a sandwich) on work for a female teacher.
10 February 2023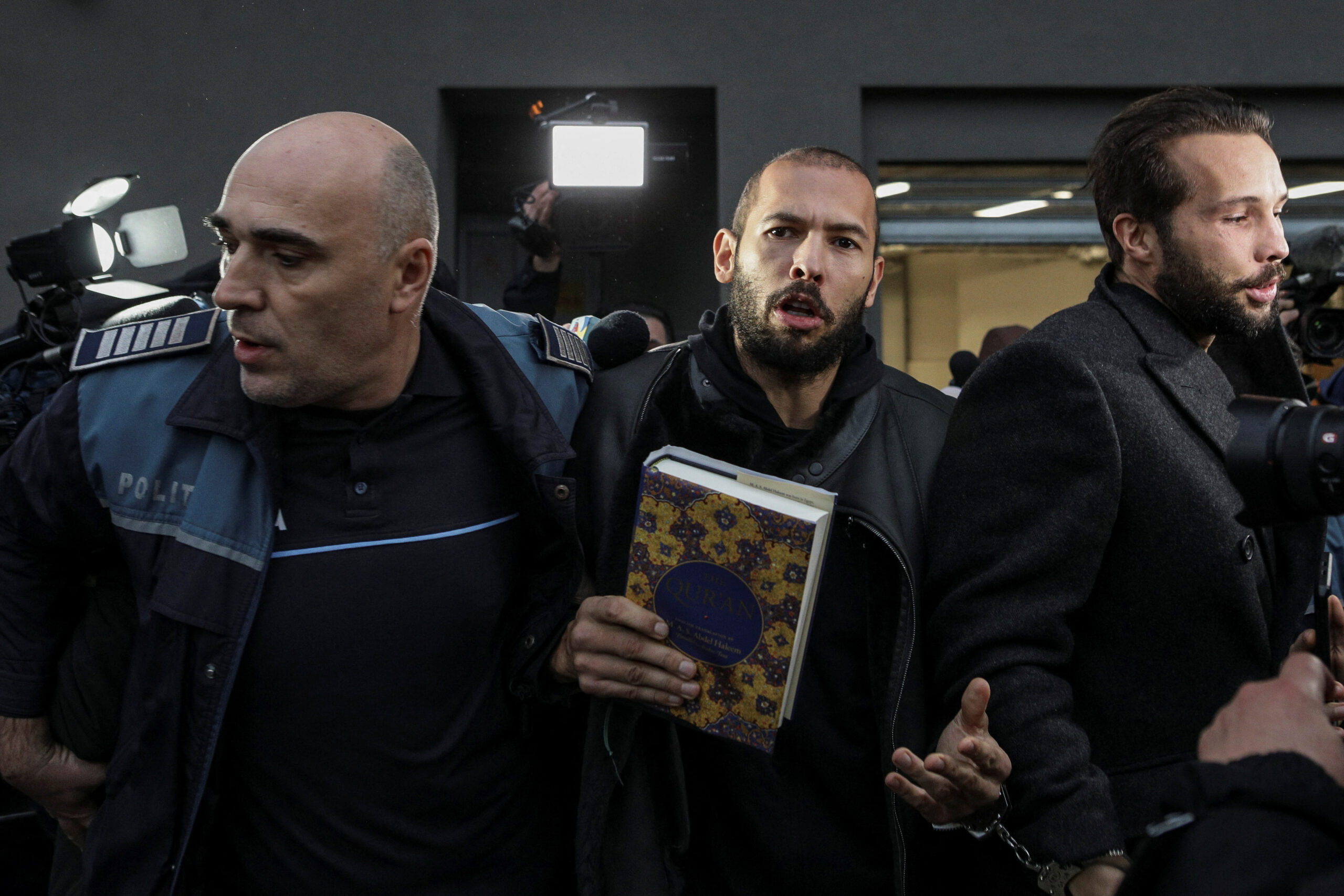 Andrew Tate following questioning by anti-organised crime prosecutors in Bucharest, January 2023. Sabin Cirstovean/Reuters
"I didn't actually know who Andrew Tate was until recently," says Clara*, a London secondary school assistant headteacher. But over the last few months, she's "kept hearing his name thrown around in banter". "In the same way boys might say 'your mum!', they started saying 'Andrew Tate'", she explains. "Like, 'hey miss, do you know who Andrew Tate is?' or 'I work for Andrew Tate'." 
At teacher John's* school in west London, too, "lots of the kids [have] been using [Tate's] buzz terms like 'top G', 'sigma mindset', and 'what colour is your Bugatti?'". One Tate-following student, he says, even wrote "MMAS" [make me a sandwich] at the bottom of his work for a female teacher.
Clara and John are among a growing number of teachers who are concerned about the influence of the former kickboxer, entrepreneur and social media personality Andrew Tate. The self-styled "king of toxic masculinity" is currently imprisoned in Romania on suspicion of rape and sex trafficking, allegations he denies. Although he's now banned from all major social media platforms because of his sexist content, his viral videos continue to circulate. On TikTok, videos of him have over 11 billion views.
Online, Tate performs a playboy persona – of fast cars and gymming, whilst boasting about abusive behaviour towards women. He's argued that women are men's property, that they belong in the home, and that rape survivors must "bear responsibility". He's also said he chooses to date 18 and 19-year-old women because he can "make an imprint" on them.  
Tate's influence on male students is "a big safeguarding issue" in schools, says Clara. For Jamal*, a secondary school teacher in south London, his impact has been particularly evident since last September, when many boys came back from the summer break "inexplicably rude, especially towards female members of staff" – which, while not necessarily a direct result of Tate's content, correlated with its virality. 
Tate's less explicitly offensive content can be what draws viewers in. Whilst 16-year-old James* told Novara Media he rejects Tate's "control over women", he says other elements of his content "are reasonable, like going to the gym and being healthy". But teachers who spoke to Novara Media say some male students are less critical of Tate, and sometimes outright defend him. Clara is "really, really worried" about vulnerable students who "are looking for someone that represents success to them […] getting radicalised". 
Some students "are completely enamoured by his lifestyle," she says, and while they might know that Tate's misogyny "isn't okay […] they're still able to turn a blind eye to it" – or else dismiss news of his alleged violence against women as "fake news". John has noticed a similar trend, saying a worrying contingent of male students "will find any excuse for the guy […] [saying that] everything's 'faked', everything's 'the matrix'." 
Taking Tate on.
Many schools have been attempting to tackle Tate's influence head on, whether in lessons, assemblies, in one-to-one conversations with students, or in correspondence with parents. 
Clara's school decided not to take a whole-school approach, which the leadership team thought would "be projecting the issue more into the spotlight", and has instead opted to "deal with [Tate's influence] on a case by case basis". When his name comes up, Clara tends to shut the conversation down and then talk privately to the student concerned, sometimes with the support of a male teaching assistant. 
"I don't know if this is the right thing to do, but I might start quoting some of the things that he's said […] and to be honest, they usually kind of back down," she says. "But they'll just go back to the things that are okay to say, like he has a nice car or he's really good at boxing or he's a good role model."  
13-year-old Ben* from Suffolk thinks Tate "is a terrible person and represents toxic masculinity". At the same time, he suggests teachers need to strike a balance between addressing his influence and not "fann[ing] the flames of his celebrity", or creating a climate in which Tate fans will get "even more attention or laughs for directly going against teachers". 
Owen*, a student from east London, also has mixed feelings. He says that while a school assembly "did go into some depth [about] why [Tate's] ideas are so dangerous," he thinks "small group discussions" could be more effective, as "closing down discussions can lead to people getting more defensive of their ideas."
As a teacher, Jamal shares Owen's concerns. He says that his school's "zero tolerance" approach to sexism has "pushed [misogynistic] conversations underground." This has meant that while students now know what not to say to avoid trouble, they "don't really know why".
A wider problem.
Tate's views don't exist in a vacuum, of course. Relationships and sexuality educator Justin Hancock believes it's important schools seeking to address Tate's influence acknowledge that he "isn't making young men think in a particular way," but instead represents one influence among many on an individual's views. 
This is something many students already understand. "Tate represents a very toxic and twisted version of masculinity" says 18-year-old Lucian, who goes to school in north London. The views Tate spreads, he says, are in many ways just "how the world kind of works in terms of interactions […] between men and women."
Hancock argues that teachers should therefore examine the ways we're all often implicated in supporting sexism – while not, of course, letting young men off the hook. More than just targeting 'Tate's influence', he says, educators should aim "to keep the class safe." 
One way of doing this could be to make "a group agreement", meaning "any discussion we have has to be had in good faith, where we really try to use language that is appropriate, and is not harmful." Importantly, within this, agreed-upon "kindness and care" must be extended "to everyone in the room, including young men."
More specifically, Lucian believes the main reason Tate is so influential is because boys and young men lack role models for positive masculinity – people who could provide "a healthy realistic view on life and how to better yourself". 
"They [young men] really need someone to look up to, and unfortunately, people like Andrew Tate and Jordan Peterson […] are the most outspoken," he says. Tate has become popular, he adds, because he exploits the fact that "a lot of young men are quite lonely and struggle with their mental health". 
In order to support those who are struggling – and in turn to minimise the influence of 'mentors' like Tate – teachers must build good relationships with students, argues Jamal. "You can't tell a kid, 'don't listen to person X because they don't really care about you, they're trying to sell you something, if they don't think that you care about them," he says.
But ultimately, what's possible in terms of resisting misogyny in schools rests on broader systems – both patriarchal and educational. "The biggest problems are teacher training, teachers themselves and the curriculum," says Jamal.
"The call from educators should be 'we need resources and training and support to do our jobs'," adds Hancock. With proper resourcing, he argues, educators' task "is to convince young men of the benefits of feminism for them", helping them understand "how the same forces which violently oppress the other are those which violently coerce [them] into masculinity."
*Names have been changed to protect anonymity.
Sophie K Rosa is a freelance journalist and the author of Radical Intimacy.