The Scandal-Hit Candidates Starmer's Labour Let Run for Parliament
From praising 'progressive' Saudi to telling 'racist' jokes.
17 February 2023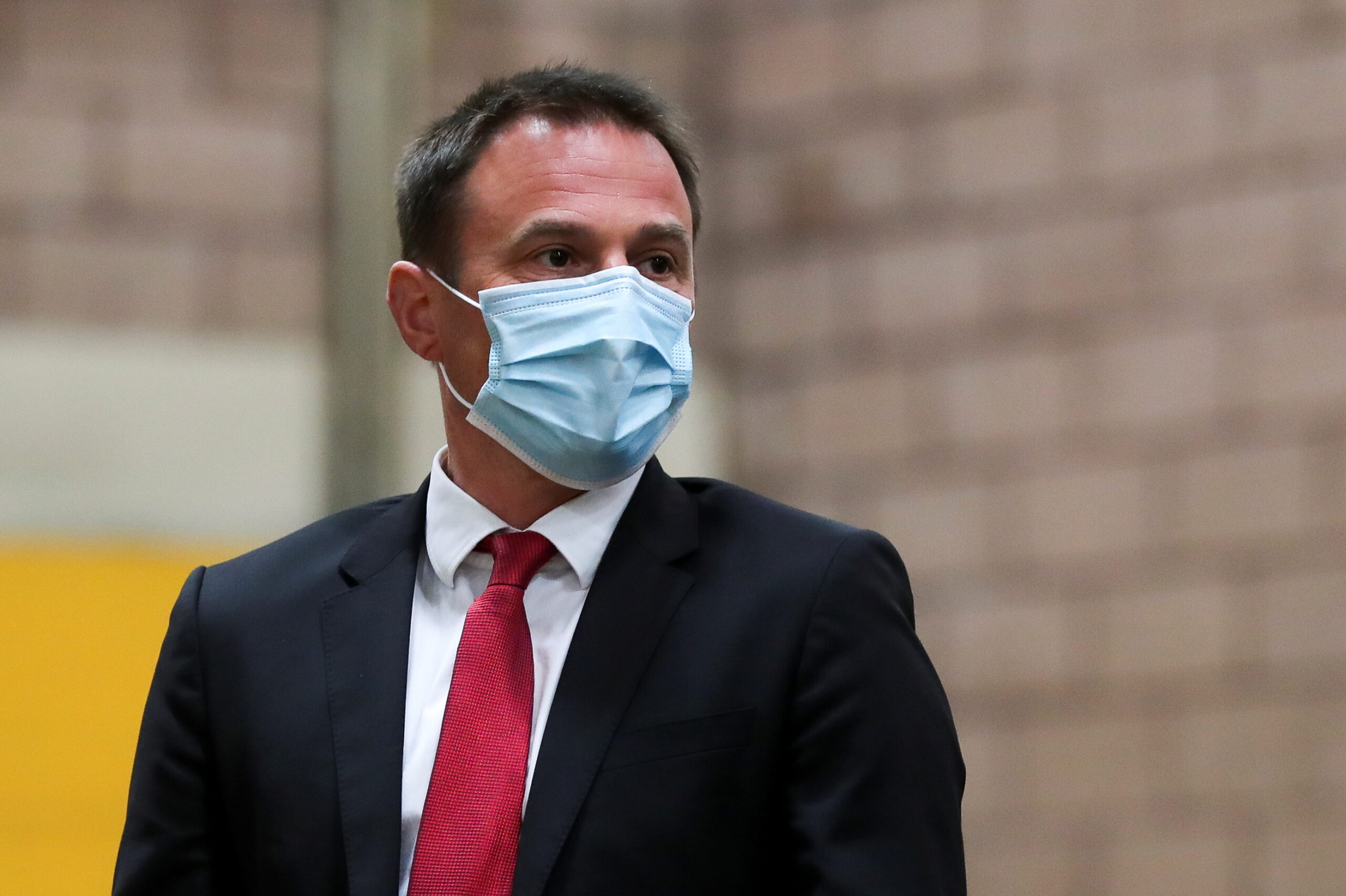 Labour's candidate in the 2021 Hartlepool by-election, Paul Williams. Lee Smith/Reuters
This week, Keir Starmer stepped up his authoritarian attacks on the Labour left by declaring that Jeremy Corbyn – the man he once described as "a colleague and a friend" – won't be allowed to stand as a Labour candidate in Islington North at the next election. This comes despite Corbyn winning election as the local MP ten times and, as Novara Media has found, enjoying huge support locally.
Sadly, Corbyn isn't alone in this experience. Across the country, socialists and trade unionists have been stopped from standing for selection as Labour parliamentary candidates by an out-of-control party bureaucracy. 
To carry out this purge, Starmerites need an excuse. After all, there are processes by which candidates are selected; rules guaranteeing candidates with trade union backing a place on the longlist, for example, need to be overridden. The excuse party bureaucrats have come up with is 'due diligence' – the claim that this is all about weeding out candidates with the potential to embarrass the party. Coincidentally, these candidates all happen to be on the left.
There are myriad ways to debunk this far-fetched claim. There are the admissions by senior Labour sources that they are prioritising "Keir's people" and excluding "undesirables". Or there are the absurd, McCarthyite examples cited to block leftwingers: once liking a tweet by Caroline Lucas or Nicola Sturgeon; liking a tweet calling on Labour to be bolder in its economic policy; "a history of protest"; or mentioning Palestinian refugees. But none illustrate Starmerites' hypocrisy more than the scandal-hit candidates from the Labour right who have made it through this "due diligence" process.
"Like watching a racist comedy show": Darren Rodwell.
If the Labour leadership were really worried about getting squeaky clean candidates selected, you'd think they would block someone who sparked outrage at a Black History Month event, right? Think again. In Barking, the Labour council leader Darren Rodwell was filmed at a Black Lives Matter event making jokes likened to "a racist comedy show" in the 1970s, provoking a hailstorm of outrage – and then got selected.
In the footage, which made national headlines last November, Rodwell – who is white – can be heard joking that he "has the worst possible tan for a black man" and that he has "the passion for the rhythm of the African and the Caribbean" while wearing a kufi, a traditional hat in parts of Africa.
In an act of hypocrisy so brazen it would make Boris Johnson blush, the Starmer-supporting Labour to Win reps on the party's national executive committee (NEC) received this evidence before it became public – and chose to ignore it. Only after it was plastered over the national press did they bother conducting an investigation, which proceeded to let Rodwell through to the final shortlist, which he won, after an apology. Rodwell remains a Labour parliamentary candidate. And who says Starmer's Labour has a problem with anti-black racism?
Sexist comments: Frank McAveety.
As if racism allegations weren't enough, Labour right candidates with a history of sexist remarks have been let through, too. Take the case of Frank McAveety, a former Labour MSP who was forced to resign after telling a colleague at a Holyrood committee hearing that a woman in the public benches was "very attractive", "dark and dusky" with "that Filipino look", and that he would "put a wee word out for her". The woman was, in fact, a schoolgirl. McAveety apologised for his remarks.

Yet McAveety – on the right of the party – was allowed all the way to the shortlist for a seat in Glasgow by the Scottish Labour Executive Committee (SEC, again dominated by the right). It was only after a public outcry, including from the Labour Women's Network, that the SEC intervened and McAveety withdrew.
Saudi fanboy: Paul Williams.
Sticking on theme, who could forget Paul Williams, the gaffe-prone remainer handpicked by Starmer for a heavily Brexit-leaning constituency? In a high-profile electoral test (one he failed), Starmer was forced to defend his chosen candidate after old posts of Williams's came to light in which he asked his followers the crucial question: "Do you have a favourite Tory MILF?"

Williams apologised for the post. He also came under fire for praising Saudi Arabia as a "modern, progressive country" following a trip sponsored by the authoritarian Saudi state, even as it continued to create a humanitarian catastrophe in Yemen. Principled guy, clearly. 
Rotherham abuse scandal: Dominic Beck.
In Rother Valley, the selection of Dominic Beck provoked immediate scandal. Beck, it turns out, was one of the councillors who resigned in the wake of the Casey Report into the local council's complicity in failing to tackle endemic sexual abuse of young girls in Rotherham. 
After weeks of negative headlines, Beck resigned as Labour's prospective parliamentary candidate (PPC). But if Labour's motivation is avoiding attacks in the press, how could the party have missed such an obvious issue?
–
The answer, of course, is simple. The 'due diligence', 'quality candidate' narrative peddled by Starmer & Co is, like his leadership campaign, complete bullshit. A propensity for scandal is apparently fine so long as you're a loyal Starmer ally on the Labour right, while the bar for scandal on the left seems to be whether or not you think Corbyn is the devil incarnate. The real rationale is Starmer's desire, reiterated this week, to drive out the Labour left.
Indeed, this focus on scandal risks obfuscating the wider dynamic of Labour's selections. Out are the socialists, trade unionists and working-class community activists, people like Lauren Townsend and Maurice McLeod. In are the professional political class – the lobbyists, housing developers, diplomats, political advisers and think-tank staffers, people dedicated not to transforming Britain in the interests of the many, but to propping up a failed status quo. These are "Keir's people": the returning governing class.
Angus Satow is head of communications at Momentum.