Keir Starmer is a Hypocrite. His Factional Response to the EHRC Proves It
This is about more than Jeremy Corbyn.
16 February 2023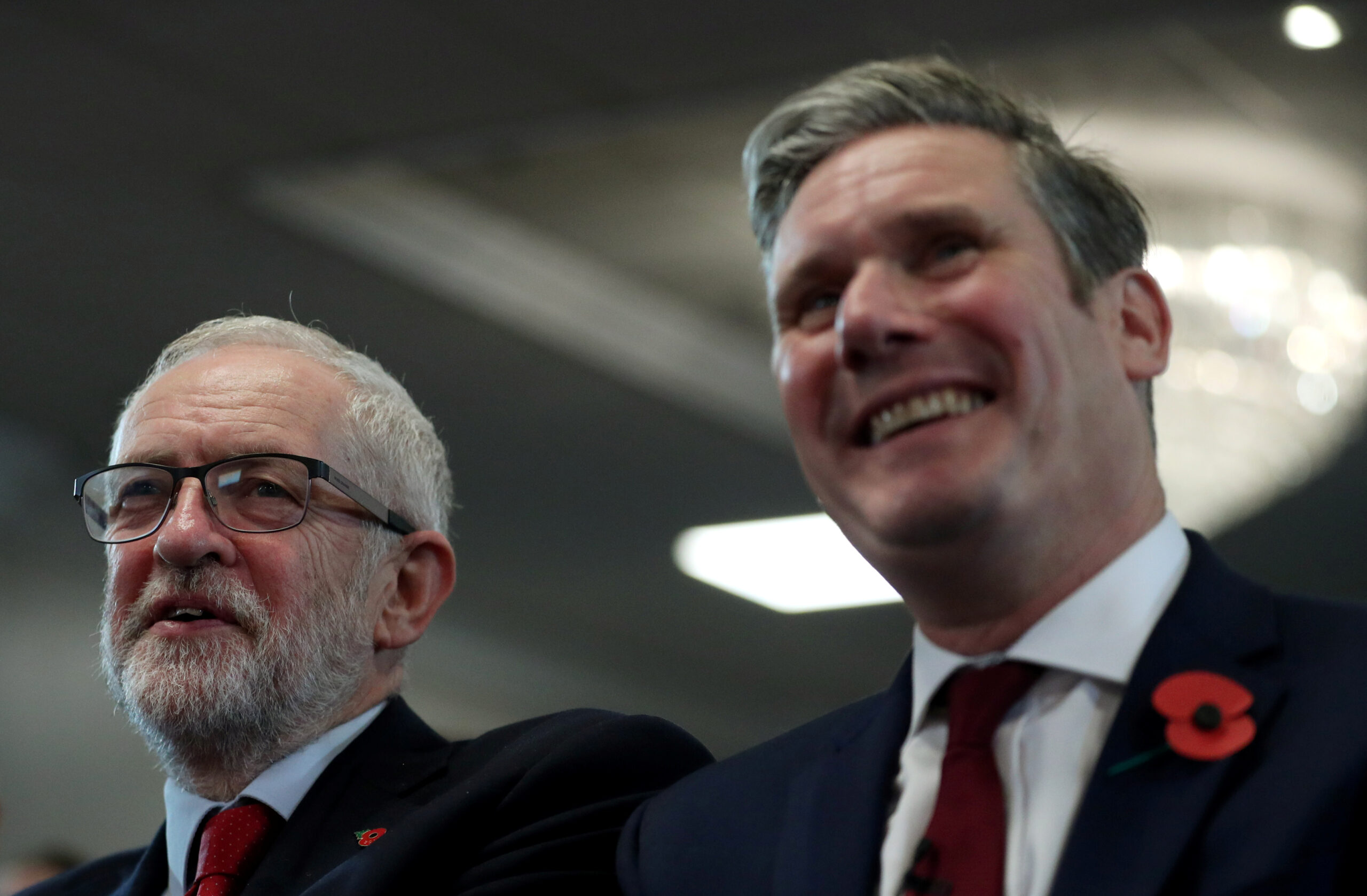 Jeremy Corbyn and Keir Starmer in 2019. Hannah McKay/Reuters
"What I said about the party changing meant that we are not going back and that is why Jeremy Corbyn will not stand as a Labour candidate at the next general election." With those words, Keir Starmer effectively barred Labour member Corbyn from continuing his 40-year run as the Labour MP for Islington North.
On a day when Starmer was lauding the party's fair and independent processes for tackling antisemitism, having finally emerged from the EHRC's supervision, he effectively sacked Corbyn by decree. What fair and independent process has been gone through there? Where is the right of appeal?
There has been no fair and independent process, no right of appeal. It is an outrage, but this is about more than the individual case of Corbyn.
Starmer also sought to smear socialism, suggesting some sort of link between the party's antisemitism crisis and the policy ideas of the Labour left. Starmer asserted the party had changed, "from a party of dogma to a party of patriotism […] And I understand that some people won't like the changes we've made. But I say this with all candour: the Labour party is unrecognisable from 2019 and it will never go back."
As others have pointed out – from The Guardian to the Jewish Leadership Council to Conservative MPs – Starmer served under Corbyn until 2020, wanted to make him prime minister in 2017 and 2019, described him as "a friend and a colleague", stood not only on a leftwing manifesto twice, but summarised many of its policies in his 10 pledges in 2020. In depicting as irredeemably bad both Corbyn and leftwing politics, he tarnishes himself.
When running for the Labour leadership in 2020, Starmer also said: "Local party members should select their candidates for every election." That clearly does not apply to local party members in Islington North, or indeed a myriad of other seats where Starmer or his minions have interfered in selections.
As Corbyn said yesterday, "Keir Starmer's statement about my future is a flagrant attack on the democratic rights of Islington North Labour party members. It is up to them – not party leaders – to decide who their candidate should be".
Corbyn had his party membership suspended in 2020 for his response to the EHRC report. Corbyn backed the implementation of the report's recommendations in full, but one sentence caused particular controversy: "the scale of the problem was also dramatically overstated for political reasons by our opponents inside and outside the party."
The report was sober and relatively objective: concluding there were "serious failings in the party leadership in addressing antisemitism and an inadequate process for handling antisemitism complaints."
This is uncontroversial – in 2019 Jennie Formby, having inherited the wreck of the party run by Iain McNicol, confirmed: "There was no consistent and comprehensive system for recording and processing cases of antisemitism" before she became general secretary in 2018.
The EHRC report recognised that progress had been made in improving Labour's disciplinary processes once there was a professional apparatus running the party HQ. "Since 2019, there have been improvements in the rate of determining cases", the report acknowledged.
Corbyn was investigated and then reinstated as a member by Labour's disciplinary process. In that period he clarified his previous remarks, to make clear his belief that concerns about antisemitism had been neither "exaggerated nor overstated".
While he was investigated the party whip was suspended – entirely in line with the rule book and normal party procedure. But then came the twist. Instead of the reinstatement of Corbyn's membership, after he was cleared, being the trigger for the return of the parliamentary whip, Starmer intervened to withdraw it and open up a legal black hole in which the only say belonged to him: judge, jury and executioner.
The Forde report, commissioned by Starmer in 2020, adjudged that the party's factional disciplinary staff, "prioritised 'hunting trots', ie suspending members who supported Jeremy Corbyn in 2015 and 2016, over dealing with complaints of antisemitism, Islamophobia or other types of complaints."
Dealing with complaints, and running a fair procedure to do so, is not the role of the Labour leader, but general secretary. Despite his manifest failings, identified in both the EHRC and Forde reports, McNicol continues to sit in the House of Lords as a Labour peer with Starmer's blessing.
Starmer told his audience yesterday, "[the Labour party] will never again be brought to its knees by racism or bigotry."
Serious anti-racists and fighters for equality know that challenge is ongoing. Starmer should know it too, because the Forde report he commissioned is clear that there remains a "hierarchy of racism" within the Labour party. This fits with both the evidence provided by the Labour Muslim Network, and the readmission of Trevor Phillips into the Labour party under Starmer, despite Phillips having said things about Muslims that if he'd said about Jews would have seen him (rightly) kept out.
The Forde report found that senior staff in the party insulted Diane Abbott, using "expressions of visceral disgust, drawing (consciously or otherwise) on racist tropes." The people who made those remarks remain party members. Similar comments were made about fellow Black Labour MPs Clive Lewis and Dawn Butler. Some of the people who made those remarks remain not only members, but senior party staff.
Starmer said yesterday, "with my leadership there will be zero tolerance of antisemitism, of racism, of discrimination of any kind." That simply isn't true – whether it's transphobia, anti-Black racism, Islamophobia or other forms of discrimination, they are tolerated in Starmer's Labour.
Even antisemitism will be tolerated if it is by MPs on the party's right – like Barry Sheerman who faced calls for disciplinary action after tweets in August 2020. Sheerman faced no investigation (let alone disciplinary action) for his allegedly antisemitic tweets and continues to sit as a Labour MP.
As the Forde report, commissioned by Starmer, said: there were those who weaponised the issue for factional reasons – and those who for factional reasons downplayed it too.
By using the EHRC's positive findings to launch an attack on the party's left, Starmer has shown that he is willing to weaponise the issue of antisemitism to fight a factional battle. It was a tawdry and divisive move, and displayed Starmer's hypocrisy.
Andrew Fisher is a freelance writer and policy consultant. From 2016 to 2019 he was the Labour party's executive director of policy.