Let's Stop Pretending London is a 24/7 City
The fate of its nightlife could be contagious.
22 February 2023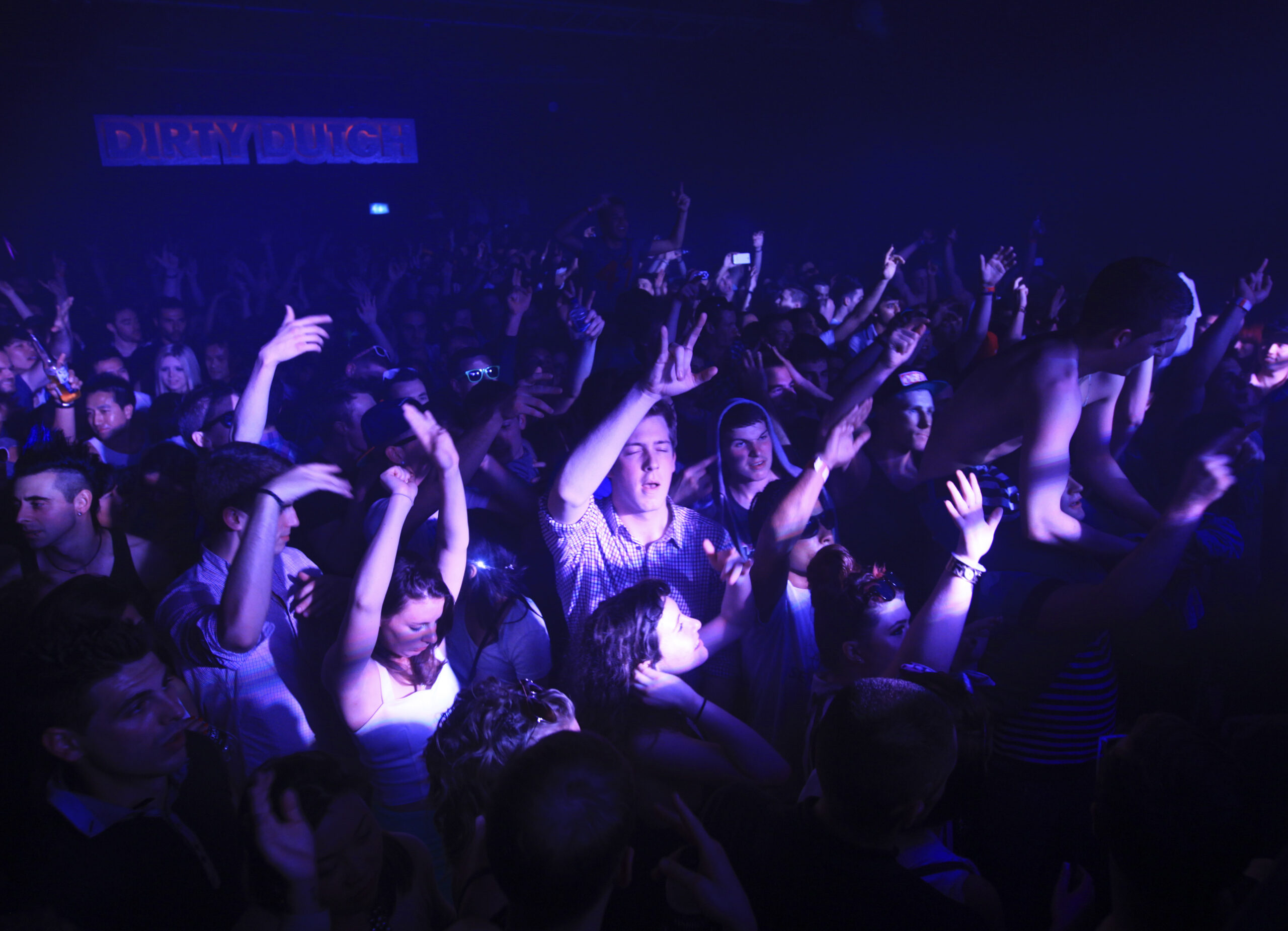 Clubbers dance at the Ministry of Sound in south London, April 2012. Olivia Harris/Reuters
I went out last weekend. Nothing out of the ordinary – bar the fact that this particular Saturday night excursion took place in Leeds instead of London, where I live.
The night started in a poky and smoky electronic club – free entry – where I spent two hours losing myself in the smog, before heading to Call Lane, a street packed with bars and revellers. There we weaved in and out of venues – a kitsch tiki spot, complete with a photobooth, a stuffed R&B/hip hop joint filled with gorgeous people and a DJ who could actually mix. When we left, at about 4.30am, people were still rolling in (re-entry was permitted). I spent the entire taxi journey home proclaiming I was moving to Leeds. But on waking up the next morning, the enormous amount of fun I'd had – on what was, for all intents and purposes, a very ordinary night out – had curdled into bittersweet yearning for a London that seems to be in terminal decline. 
London, we're constantly told, is a 24/7 city. This is a bold-faced lie. Over the last 30 years, nightlife in Britain's capital has been increasingly eroded. Even before the hammer blow of the pandemic, venues were closing at a rapid lick. From 2007 to 2018, half of London's nightclubs and 40% of its live music spaces were lost to the annals of history. Post-Covid, a further quarter of the city's nightclubs shut up shop for good – and that's before the cost of living crisis, which is closing clubs at a rate of 14 venues a month. 
London is far from the only metropolis to see its nightlife buckle under the combined weight of austerity, a pandemic and a steep rise in bills. But the landscape here seems particularly forlorn – and provides a warning to other urban areas of what can so swiftly happen if the nighttime economy is not protected via regular, innovative funding initiatives (take Berlin's €50 grant for would-be clubbers), or councils refusing to permit venue-threatening housing developments, such as in Liverpool.
Beyond the stats, there is a clear and marked depreciation of London nightlife for those of us who have regular interaction with it. Here's what I'm seeing: I've been going out in the city for ten years. I'm an equal opportunities clubber: I patronise everything from queer techno raves to cheesy indie nights. From the moment I touched down in London, I wanted to try it all. I went to clubs with friends, strangers, sometimes alone. I have pitched up in most corners of the capital to party, spilled out onto pavements, motorway verges and canal towpaths as the sun peeks over the horizon. London still remains a solid and dependable choice for what podcaster Riley Quinn calls "the high commitment" night, usually playing techno, often an approximation of a "Berlin shaped experience". Admittedly, these nights demand extensive planning ahead (being held in some venue that can only be reached by the DLR and a long walk), plus cover charges that average £25. But once you're there, you're there. Fine. 
However, for those more casual nights, where you wish to sample a delicious smorgasbord of spontaneity (and people!), London, it seems, is finished. This is a claim oft made; when I first arrived, I was regaled with tales of how much better London's club culture used to be ("you missed Cable," one ex mournfully informed me, referencing the iconic under-the-arches venue). And I don't doubt it. But it was still possible to find late-night pockets that combined a variety of bars or clubs in one locale, with free or affordable entry, and weren't so oversubscribed that you had to queue for an hour just to get a sniff at going inside. This has all but disappeared. 
In my early London years, you could easily bounce between 'standard issue' bars and clubs within walking distance of one another, well into the wee hours. Average kicking out time in London is now around 2am, maybe an hour later if you're lucky. Councils have gotten even more stringent with late licences, and buzzy areas that have been subject to gentrification and residential developments now find themselves under siege from a new generation of nightlife-specific NIMBYs. Closures also mean the venues that have stayed the course have capacity issues – rammed to the brim from 11pm onwards, entry after that a myth. Go home, latecomer.
Great party brands still exist, but usually have no permanent home, moving around the city with every new date. One side effect is disparate groups whose paths – contrary to the 'everyone welcome' vibe preached by clubbing – should probably not mix, are forced into the same spaces. A recent controversy in which a Fabric clubber in hotpants was social media shamed by another punter is testament to the uncomfortable friction that follows. As one person commented in the wake of the incident: "In any thriving city those two people do not end up in the same club ever. They should be like 12 clubs apart. But it really is Fabric/XOYO or bust."
The lack of choice also prompts a retreat to the home; if you belong to a social strata where people are broadly able to afford to rent or buy houses with space for socialising, you tend to end up throwing 'gatherings' with existing friends more often than going out-out – it's cheaper and more dependable for a decent enough Friday night. For those without the capital or space to plump for this, well, hard cheese.
According to the anecdotes I've heard, Bristol – once the stalwart destination for anyone wanting to experience the wavier side of electronic clubbing – has gone the same way as London. The question is, are these southern cities outliers, or predictors of a fate that may very well befall the northern powerhouses which, for now, still boast diverse and affordable options for wannabe-partiers? 
Authorities in the likes of Newcastle, Manchester, Leeds and Liverpool currently seem more willing than counterparts in the capital to protect nightlife (despite some attempts to 'Londonify' the scene). This is despite the presence of a London 'Night Czar', Amy Lamé, hired to revitalise and defend clubbing spaces, her role costing the taxpayer almost £120k a year. In 2020, Lamé was accused of "achiev[ing] little in the post" since 2016 by more than a dozen club owners, promoters and nightlife workers. 
But with developers – one of several horsemen of the nightlife apocalypse – looking beyond the M25 for land to grab, councils squeezed ever tighter and venue operators warning that financial pressures are becoming untenable, alarm bells should be ringing, even in affluent, developed cities like Leeds. Thriving nightlife is the backbone of our metropolitan areas, but the capital's vertebrae have been ripped out, with nothing but a chain of Simmons cocktail bars in its stead. Trust me; London is now a city of limited choice and 2am curfews – and for the first time, I can truly countenance upping sticks. Life, it seems, got tired of London.
Moya Lothian-McLean is a contributing editor at Novara Media.