Meet the German Health Workers Who Beat Overwork and Saved Lives
'Nothing works without us'
14 March 2023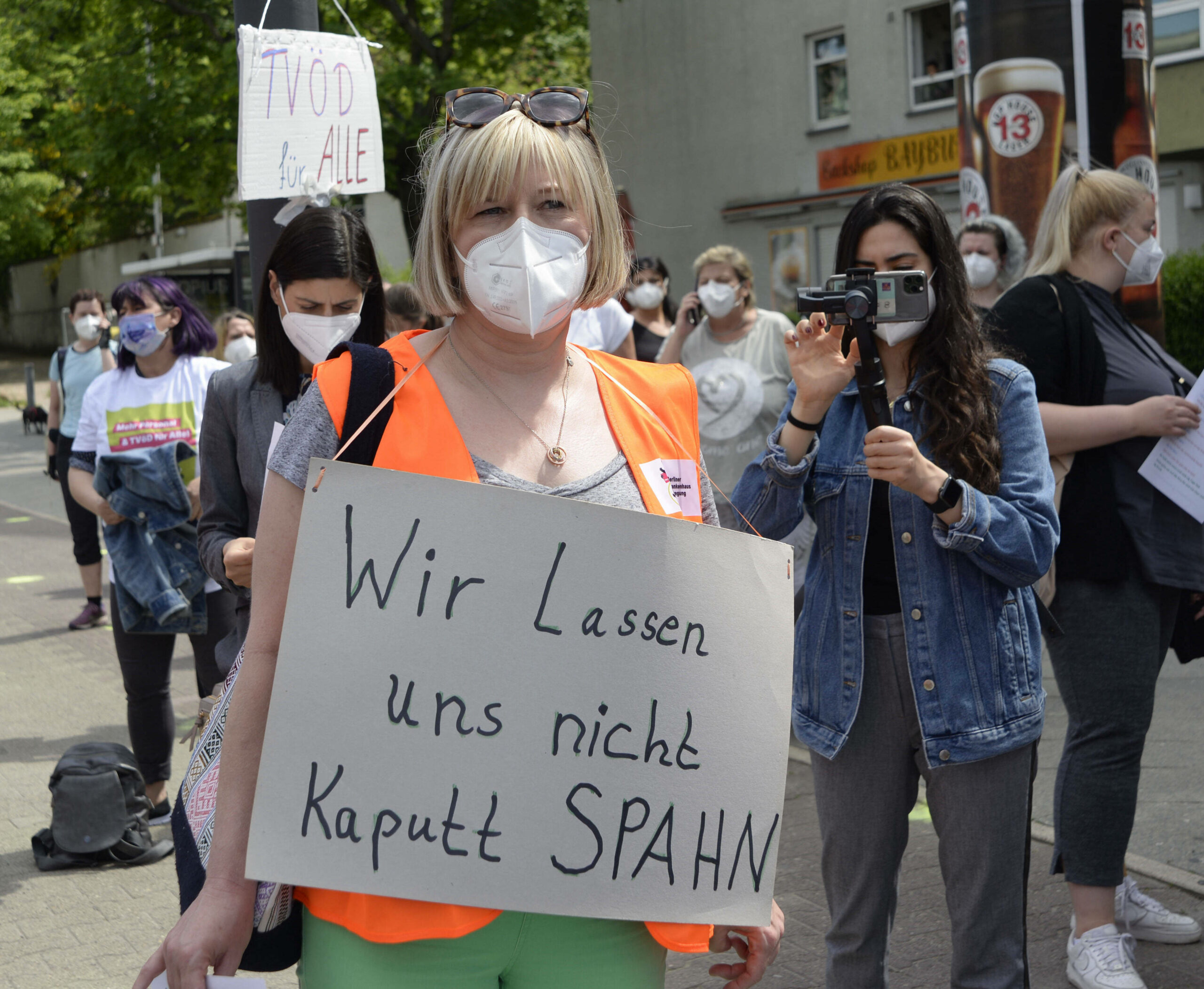 A 'Krankenhausbewegung' holds a sign reading, "We won't let ourselves be broken'. Bernd Friedel via Reuters Connect
In September 2021 thousands of healthcare workers launched an indefinite strike over chronic understaffing at two of Berlin's large municipal hospitals, Charité and Vivantes. Organised with trade union Verdi, their strike birthed the Krankenhausbewegung, or hospital movement. A month later, they won key concessions. Here's how they did it.
Since 2004, German hospitals have been financed through a funding system known as Diagnosis Related Groups (DRG), whereby a set amount of money is allocated to each medical treatment, regardless of how much a hospital spends on treatment. Under this price listing model, hospitals have sought to make profits by delivering treatments with the fewest staff possible. As a result, the number of nurses on wards has fallen. One study estimated that between 2003 to 2006, close to 18,000 nursing roles were cut. Those who worked in cleaning, kitchens, patient transport and laundries have found themselves outsourced to private companies which pay poorly.
The DRG's impact is felt daily on the wards. In a documentary produced by political education institution the Rosa Luxemburg Stiftung (RLS), nurses tell of  the discharging of patients before their wounds have healed, nurses without the time to sit at the bedsides of dying patients, and children who are born healthy ending up in intensive care because midwife understaffing doesn't allow time for frequent check-ups.
Lisa Schandal started at the Charité hospital in 2020. As a trainee nurse, she was struck by how many of her peers were dropping out. "They were the worst conditions to be trained in. There was no practical learning, and certainly no one to take your hand. It was tough, to constantly see people's frustration and their depression."
Then the pandemic hit. Initially, Schandal was heartened by her colleague's response: "There was a feeling that we can do it, if we stick together." But without adequate support, their heroic efforts became unsustainable. "We realised that we couldn't keep up with this level of sacrifice. We were only ever heroes for a tiny moment," she laughed. "We weren't being valued in the way we wanted to be valued."
Schandal learned another vital lesson from the pandemic: "We've always been told that in striking, we're endangering our patients. But during the pandemic, it was clear we weren't endangering anyone. In fact, us and the patients were endangered every single day by decisions made by politicians and our bosses."
The sentiment is one that will be familiar to UK health workers who are told that they are endangering patient safety when they strike by the same ministers who have been accused of underfunding the health service.
While the near-impossible conditions of the pandemic caused the workers to take action, the foundations for the strike had been laid a year previously.
In 2019, Verdi suggested Wetzel and a handful of other hospital workers attend a free online training programme with American union organiser and educator Jane McAlevey. McAlevey's training programme – Organising for Power – aims to give workers the "building blocks for change," by demonstrating tactics and techniques that incrementally build worker power through sustained organising.
Hosted by RLS, the course taught the nurses how to practically conduct organising conversations, identify leaders on the ward, and work towards an all-out strike.
"We were super convinced of these methods. We made the decision that next time we had a campaign, we would use them" Wetzel said.
Central to McAlevey's organising model is the idea that workplace unionism must be based in high worker participation, with strong member democracy. Part of the training was the concept of a "structure test" – a series of escalating public actions that both test and demonstrate workers' collective confidence in order to establish how strike-ready a workplace is. Small tests, like rallies, getting workers to wear stickers and t-shirts with the union emblem, or petitions, allowed organisers to measure worker participation while building worker confidence.
For two months, workers went from ward to ward to collect signatures for an agreement on minimum staffing numbers. At Vivantes they also collected signatures for the in-housing of outsourced workers. Workers who had the respect of other colleagues were consulted first, making it easier to bring others on board. In this way, the workplace was mapped, with the strength of each ward assessed.
Schandal was struck by her colleague's reaction to these one-to-one conversations. "They not only allowed people to get involved, they allowed people to get angry. When you spoke to people about what they'd been through, they were emotional."
Midwives spoke of supervising the labour of four women at a time. Outsourced cleaners were angry at the perception their job was unskilled. These frustrations then informed the union's demands.
"The people themselves could influence the demands," said Schandal. "We asked people what they needed to stay in the job and what they needed to make work good. How many nurses are needed on your ward on each shift?" From these conversations, each ward came up with a specific nurse-to-patient ratio
Two to three delegates from every ward were then elected to act as intermediaries between the workers on their ward and the negotiating committee, which was also made up mostly of hospital workers.
8,397 health care workers signed the petition. Handed over to local politicians, it came with an ultimatum: if hospital management didn't agree to a new contract that met the demands of hospital workers within 100 days, they would launch an indefinite strike.
This 100-day deadline coincided with the elections to the Berlin House of Representatives, which helped workers to put pressure on local government. "We said to the bosses and politicians: in 100 days, you can fulfil these demands. And if you're not going to, we're going on indefinite strike," said oncology nurse David Wetzel and Verdi union rep.
When the 100-day deadline passed, workers held a short warning strike at the end of August 2021. Management didn't budge, so Verdi balloted for indefinite strike, with 98 percent of workers voting for the action. On 9 September, amid banners reading "we'll save you – who'll save us?" and "nothing works without us" the Berlin hospital movement began its month-long strike.
Workers set minimum staffing levels on strike days to the lowest level of staffing they'd worked on a shift in the past six weeks. It meant when the bosses accused workers of putting patients in harm's way by striking, "we just told them that we worked with this level of staffing every day, so it must be enough for a strike", said Schandal. Bosses initially said they wouldn't negotiate while workers were striking, but quickly gave in.
In Germany union negotiations are normally conducted by a handful of full-time union negotiators. But at the hospitals, the ward delegates took part in the bargaining. Decisions were fed back to the elected ward delegates, who could pass on the wishes of their colleagues.
"We tried to involve everyone in everything," said Wetzel. "If a specific topic was coming up, we'd have cardiology in, or nurses in. That's because the people working on the wards, they're the experts. Each ward had proposals for the exact staff to patient ratio, backed up by research. If negotiations got stuck, the ward delegate would be brought in."
A month after the strike began, at five in the morning on 12 October, after more than 20 hours of negotiations, ward delegates voted to accept a new workload reduction agreement. Workers won new binding staffing patient ratios, with agreed paid time and set additional payments if these staffing ratios aren't met, and more time for practical training. Outsourced workers won pay rises to bring them closer to, although not fully in line with, those on public sector contracts. The fight for pay parity continues.
"At first when negotiations ended, we were all just super tired," said Wetzel. "It took us a couple of days to really realise what we'd done, and how much we'd changed, but also how striking had changed us."
Schandal said: "On the wards, you see the results of strike every single day."
Polly Smythe is Novara Media's labour movement correspondent.