Transport Police Are Campaigning Against Sexual Harassment, Despite Numerous Cases of Sexual Harassment by Officers
Campaigners dismissed it as 'window dressing'.
29 March 2023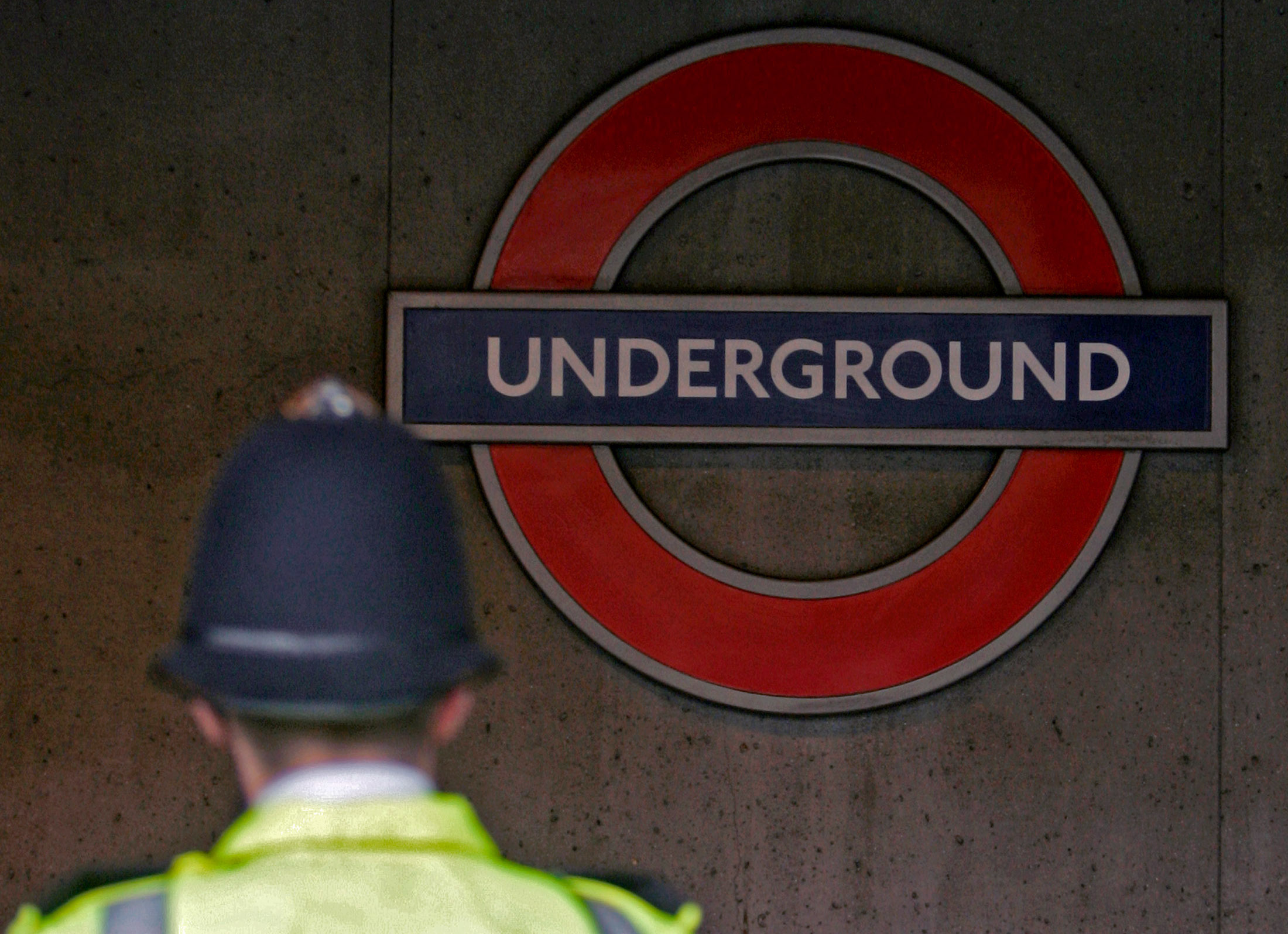 A police officer outside a tube station. REUTERS/Toby Melville TM/TC
A British Transport Police campaign calling on the public to be more "active" in its efforts to stop sexual harassment has been dismissed as "lip service" due to the number of sexual abuse cases in the force.
In January, Transport for London, in conjunction with the British Transport Police, launched a massive campaign to try and combat sexual harassment.
With adverts covering buses, trains, Tubes and stations it urged commuters to be "active bystanders" to help combat the skyrocketing rate of sexual harassment on public transport.
As the British Transport Police put it, we all need to "help make trains and stations safer for everyone".
But if it wants to tackle sexual harassment, the British Transport Police may want to take a look at itself.
Novara Media analysed every publicly available misconduct outcome at every UK police force between 1 December and 16 March and found the British Transport Police had one of the highest shares of sexual offences of any major police force in the country.
Just under half (44%) of all British Transport Police misconduct hearings listed in that period were related to sexual offences, much higher than most other comparable police forces across the country.
Even the Met had a lower proportion (35%), though it is a much larger force and had a much higher number of misconduct hearings, making a direct comparison difficult.
The same month it launched the campaign, three of the force's own officers were found guilty at misconduct hearings of a variety of sexual offences, including sexual assault and peadophilia.
According to one ruling, Temporary Detective Sergeant Peter Cosgrove grabbed the hand of a colleague at a social event and forced her to feel his penis. He was her superior at the time and knew that she was "vulnerable".
Earlier that same month, Temporary Police Sergeant (TPS) Connor Phillips was convicted after running a campaign of terror against a fellow officer that counted as sexual harassment.
Referring to the officer as his "bitch", he started a network of false social media accounts to send abusive and inappropriate messages to her.
After she blocked Phillips from contacting her when he asked for the two to meet up, he responded by removing safety equipment from her uniform and making multiple false claims of Covid breaches against her.
Police Sergeant Jams Chatfield, meanwhile, was found guilty of gross misconduct after targeting underage girls on Snapchat.
The British Transport Police officer, masquerading as a 17-year-old boy, messaged someone he thought was a 12-year-old girl asking her to "take your top off" and send him pictures, before later referring to her "cute bum" and asking: "Can I come and feel it?".
Chatfield was the only officer of the three who was criminally prosecuted for his actions. Cosgrove and Phillips quit before they could be fired.
They're far from the only cases at the force. In December TPS Tristan Davis was found guilty of gross misconduct after he sexually assaulted and repeatedly groped a female colleague while on a train.
All four of the officers had been promoted to senior positions – either police sergeants or detective sergeants – resembling a worrying pattern seen in other cases of serious police criminality.
The news comes as the Met faced "one of the darkest days" in its history after the release the Casey Report. The report found that the force was guilty of institutional racism, misogyny and homophobia and was suffering from a crisis of public trust.
Last month, Metropolitan Police officer and serial rapist David Carrick was sentenced to life in prison after facing 28 charges of rape against 12 different women. Despite repeated complaints from victims across his 20 years in the force, the Met repeatedly moved Carrick into positions of increasing authority – entrusting him to carry a firearm and join the elite Parliamentary and Diplomatic Protection branch.
In 2021, Met officer Wayne Couzens used his police ID and handcuffs to kidnap, rape and murder 33-year-old Sarah Everard. He too was promoted to work in the PDP branch and allowed to carry a firearm despite a litany of concerns being raised in his past.
The three British Transport Police cases covered here are likely to be the tip of the iceberg. Home Office data has previously revealed just 1% of complaints about police lead to formal proceedings. Scrutiny of misconduct cases is difficult, as many police forces simply delete the outcomes from their websites, despite being legally obliged to publicise them.
Campaigners said the revelations indicate a "systemic" problem.
"Women have known for years that the police aren't on our side when it comes to reporting sexual assault. Our claims haven't been taken seriously, perpetrators have gone unpunished, and a culture of victim blaming has been rife. Now we finally know the reason for this – one many of us long suspected – that so many police officers are themselves perpetrators," Emily Apple, coordinator of the Network of Police Monitoring (Netpol) told Novara Media.
"This is not a few isolated incidents, this is an institutional and systemic issue."
"Campaigns such as the one by British Transport Police will do nothing to restore our faith in a system that has let us down continually and consistently abused us and let us down. Advertising campaigns like this are nothing but a fancy window dressing, paying lip service to women's safety while so many officers feel safe to act as perpetrators in the organisation that is supposedly meant to protect us."
A British Transport Police spokesperson told Novara Media: "Alongside our external sexual harassment campaigns we also launched an internal campaign to encourage the confidential reporting of wrongdoing among the workforce – empowering our staff to come forward to us, knowing they will be taken seriously and believed. The success of this is clear from the 61% increase in internal reports of wrongdoing between 2021 and 2022, and the recent number of officers who have been dismissed from the force for sexual misconduct or offences."
They added: "Our commitment to tackling misconduct is evident. Just last week BTP successfully challenged the decision of an independent misconduct panel who let an officer keep his job after approaching a lone female jogger and abusing his warrant card to try and talk to her. BTP knew he should have been dismissed for such abhorrent behaviour, and immediately began legal proceedings which resulted in the sanction being overturned in the High Court of Justice and the officer being dismissed without notice… We and the public rightly demand the highest standards from our officers, and those who fall short of these standards do not represent the values of BTP. Our message is clear – these people will be rooted out of the force."
Andrew Kersley is a journalist.