Apple's 'Union-Busting' Tactics Have Come to the UK
But workers are unionising anyway.
3 May 2023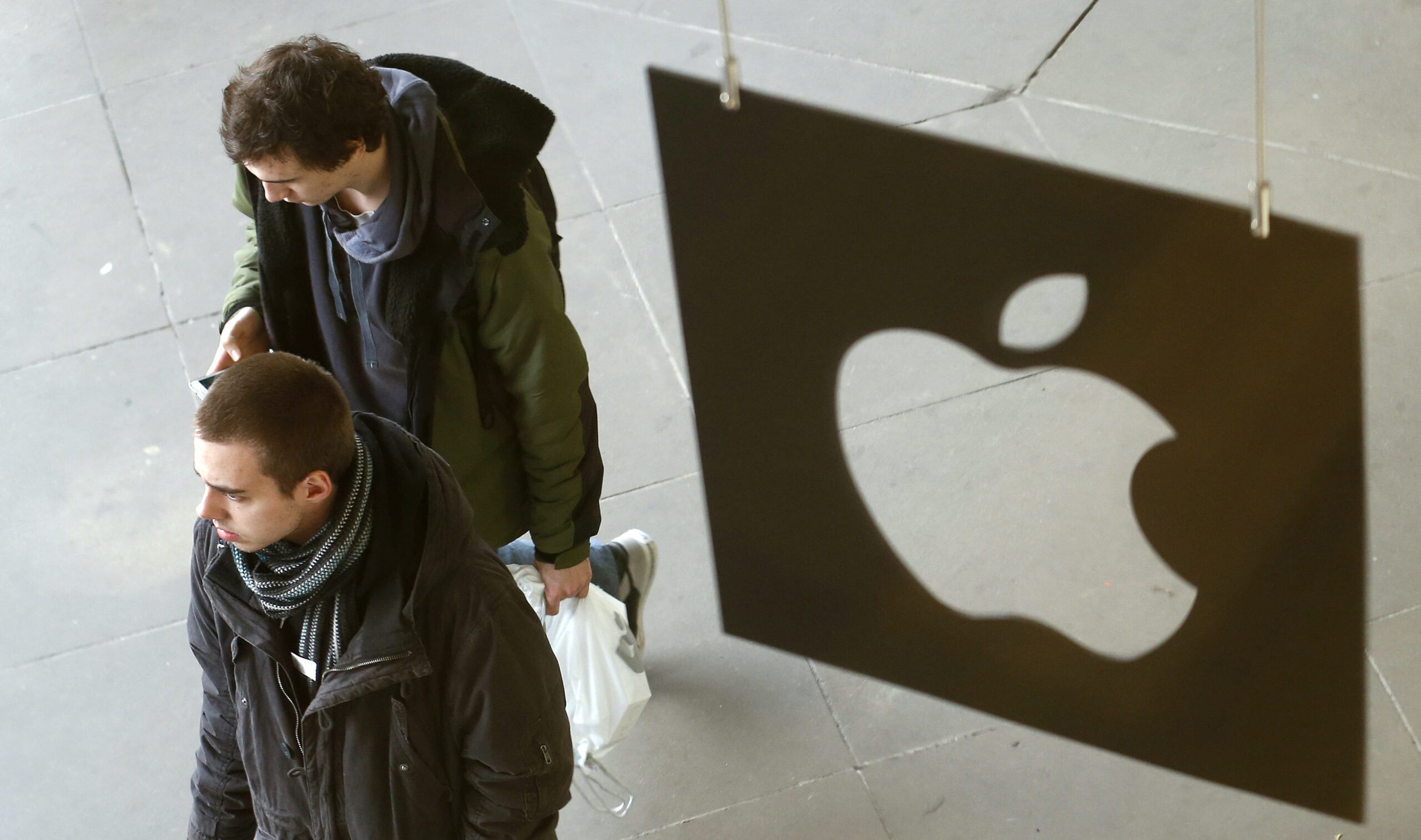 Customers leaving an Apple store in London. REUTERS/Suzanne Plunkett
Tom* began working for Apple in 2009, back before iPhones had front-facing cameras, and when emojis were still restricted to iPhone users in Japan. Having spent 14 years at the tech-giant as an Apple "Genius" at a London store, he's now one of the retail workers accusing Apple of bringing its union-busting tactics to UK stores.
Anti-union meetings have been held in at least 12 Apple stores across the United Kingdom, according to the United Tech and Allied Workers (UTAW), a branch of the Communications Workers Union committed to organising the tech sector.
Apple employees told Novara Media that Apple has prohibited workers discussing unions at work, held misleading and intimidating anti-union team meetings, implied workers might lose out on benefits and instructed managers to hold one-on-one meetings to spread the company's hostile position. All workers who spoke to Novara Media asked to do so anonymously, for fear of reprisals from Apple.
Apple retail store shifts begin with a daily meeting, known as a "download," where managers discuss company news and share the day's targets with staff. In recent months, these downloads have been repurposed as captive audience meetings where management deliver Apple's anti-union message in response to a wave of worker organising within the company.
Workers are organising for better pay and greater pay transparency, fairer scheduling, a say over long opening hours and short turnaround times between shifts, and protection against unfair disciplinaries. They're also demanding a bigger share of the immense profits their work generates for the company: in 2022, Apple became the first publicly traded company to reach $3 trillion market value.
"As a salesperson at an Apple shop, you can be bringing in £100,000 a year," says Tom. "It's terrifying when you start to examine how much money you bring in for the company. And our share of that is tiny." Starting retail salaries are around £12.50 an hour, or £14.50 in London.
In November 2022, an Apple store in Glasgow became the first in the UK to unionise. The following month, workers at Apple's White City store also made a request for voluntary recognition.
That December, managers at an Apple Store in London held a download meeting on the topic of trade unions. Jessica*, another Genius – the company's trademarked term for its in-store customer technicians – and UTAW member, said that in the download the two store leaders told workers how they "didn't think a union was right for Apple." She recalls the leaders saying that they "didn't want there to be a third party between you and us," and that they didn't "want the environment to get as toxic as it is in the other unionised stores."
The store leaders took pains to say that they don't personally dislike unions. "One of them was like, 'my parents are teachers, you know, so I don't hate unions'," said Jessica.
Jessica said that the store leaders then proposed a "what if" scenario, where unionisation could result in the loss of benefits: "what if everyone in the union voted to gain one thing, and because they wanted it, we had to get rid of something else that everybody else wanted?" she remembers them saying. As a result, she said her colleagues are now afraid that joining a union could lead to the removal of benefits.
At a store in the south-west of England, Genius Bar technical specialist and UTAW member Mark* heard a strikingly similar address. The download came shortly after the unionisation of the Glasgow store, and was run by his store leader and an external market leader – Apple speak for area manager. It was "framed as: 'we just want to give you all the information about unions, as we understand you might read about unions on the news,'" he said. "Apple knew that people would be talking about unions and wanted to get ahead of that."
The idea that unionisation could result in the loss of benefits was heavily suggested. The leaders said that workers' benefit plan would have to be negotiated upon, and that a set of new additional benefits, such as access to a new online training course and the extension of medical and dental cover – which Mark suspects were only given in response to union organising – might not have been achieved, as Apple would have been required to negotiate with the union before granting them.
All four Apple employees who spoke to Novara Media – including one who spoke off the record for fear of reprisals from management – said their download contained identical talking points: that management didn't think negatively of unions but were simply "presenting the facts," that unions were limited to negotiating on pay and conditions, that the union was an external third-party, and an implicit suggestion that workers could lose their existing benefits if they voted to unionise.
Additionally, management suggested that Apple employees don't need a union, given the existence of the Employee Resource Team (ERT), a workplace body that supposedly represents workers' views to management. Mark called the ERT "a toothless union clone."
Across different stores, individual managers have been putting variations on the central Apple anti-union message. After staff started talking about unions at his store, Tom said management spoke of their sadness at the "break of trust." As a Genius who has worked at the company for over ten-years, he's an Apple veteran. "Management likes to use the 'family' word. They said it was sad that it had to gotten to this stage, and that we couldn't just talk about our issues, but that we'd taken it to this drastic measure."
In all four stores, workers say that Apple has prohibited them from talking about unions at work, by arguing that to do so would put them in breach of the company's anti-solicitation and distribution policy. However, the policy makes no mention of unions, instead prohibiting solicitation "for your own hobbies or business (such as jewellery, makeup, personal training services), charitable campaigns or political causes – during work time."
In practice, this means workers are "not allowed to talk about trade unions or share union information or materials" within the store, said Tom.
Employees at all four stores said managers were pulling workers aside for one-on-one discussions, where they amplified Apple's negative impression of unions.
The company's pre-existing reliance on using "socialising" and "cascading" information – Apple corporate lingo for the passing of information through the company person to person, as opposed through mass communication like emails – has made it easier to target workers in this way. Plus, workers say, it allows Apple to avoid having to put anything in writing.
In this way, Tom explained that Apple can avoid relying exclusively "on company wide edicts, instead using one-on-one conversations where managers can use their personal experiences, so it feels natural."
"But the reality is that those 'natural conversations' are all the same, because they're just set talking points that we hear over and over again," he said. "I'll have a conversation with a manager who will use three weird expressions to me, and think, where did they come from? And then it turns out that 30 different people have had that exact conversation today, in another Apple Store at the other end of the country. So there's a pattern of tactics that we see everywhere."
Organising at Apple has been spearheaded by Geniuses, who specialise in repairs and are highly trained.
Remaining friendly while dealing with an endless queue of frazzled customers, each brandishing smashed iPhones and frozen MacBooks, requires not only impeccable customer service skills, but constantly up-dated technical know-how.
Yet Geniuses argue that these skills and qualifications aren't reflected in their pay, or in Apple's attitude towards them. They also say that, with their level of expertise, Apple can't easily replace them.
Sharing notes with Apple workers across the country, and the globe, has helped prevent workers from being blindsided by the company's tactics. UK Genuises have spoken to Apple union members everywhere from France and Spain to Japan and America. "We've found out that we all have the same problems," said Tom.
In America, Apple retain the notorious leading "union avoidance" law firm Littler Mendelson. Last May, a list of anti-union talking points that had been sent to Apple managers across America was leaked to Vice. Managers were instructed to say unionisation could result in workers facing "fewer opportunities," losing merit-based promotions, and having less "flexibility."
Later that same month, a six-minute internal video of Apple's vice president of retail and people Deirdre O'Brien explicitly dissuading employees from joining a union was leaked to The Verge.
Last October, Apple withheld a new set of health and education benefits from staff at the Townsend store, Maryland, then the sole unionised retail store in America. Since then, Oklahoma City, Oklahoma, has also unionised.
Last December, the National Labor Relations Board (NLRB) upheld the Communication Workers of America's complaint that Apple's union-busting tactics – like interrogating workers and requiring them to attend daily mandatory anti-union meetings – were illegal. The Communication Workers of America are now alleging Apple fired five workers in Kansas City in retaliation for organising.
This is all despite the fact that Apple's own Supplier Code of Conduct stipulates that that suppliers "shall not discriminate against any worker based on union membership," with any violation of the code "may jeopardize the supplier's business relationship with Apple, up to and including termination."
Apple's alleged union-busting is taking place alongside widespread job cuts in the tech sector.
While recent months have seen hundreds of thousands of workers at tech companies like Meta, Tesla,Microsoft, Amazon, Twitter, and Google laid off, Apple has publicly maintained the impression that they've avoided staffing cutbacks.
But on the shopfloor, workers say Apple is covertly laying staff off, through a new strict stance over hours and attendance. "Apple will say, 'we're financially responsible and not doing any layoffs,'" Tom said. "But they take time and attendance way more seriously than they used to.
"If you're sick a couple of times now," he said, "you're going to be in major trouble. It has really upset a lot of people. We've seen a huge uptick in disciplinary action across the board."
Even if not fired outright, workers claimed that the company's harsh attitude was making workers so unhappy that they were quitting, without being replaced.
"Apple doesn't want to be publicly making redundancies when they are so profitable," said Jessica. "But then, simultaneously all the stores started upping the amount of disciplinaries." "Apple says 'our soul is our people.' Where is that being reflected? Because all I'm seeing is managers trying to take people out like snipers."
Jessica suspects increasing the number of disciplinaries provides Apple a convenient way of working out who is a union member, by tracking who brings a rep to meetings.
UTAW organiser Eran Cohen said: "Apple has been increasing the number of conduct and performance disciplinaries it carries out, and intensifying these by giving the strongest penalties in every case they can.
"We believe they are doing this for three reasons: shaving off staff numbers ahead of formal redundancies, creating an atmosphere of fear to discourage people from unionising, and to approximate existing union numbers by seeing who brings a rep along to their disciplinary meetings."
Professor Phil Taylor, Professor of Work and Employment Studies at the University of Strathclyde, said: "Despite Apple's US union-busting tactics, workers in Glasgow successfully grew union membership and passed the power test, having a majority membership base prior to requesting, and winning, this agreement.
"As Apple strives to generalise its methods across UK stores, workers and unions can also generalise, to share and apply the lessons of recruitment and organising successes."
At White City, workers are now in talks with Apple through conciliation service Acas. They're hoping to become the second store in the UK to reach a collective agreement with Apple, after workers at the Glasgow store – who are members of GMB, who are also organising the tech company – became the first to do so in February.
Mark believes that Apple's underhand efforts to disrupt worker organising has backfired.
"When I started to talk to people in my store about unionisation, they'd say 'I don't think that could ever happen at Apple.' Now they've had leadership tell them that a union isn't going to work, they've started to think 'why is leadership so resistant to this?' Now they think a union could work."
Apple declined to comment.
*Names have been changed to protect identities.
Polly Smythe is Novara Media's labour movement correspondent.