'I Felt My Rib Give': People Attacked By Police While Protesting Anti-Drag Demo Speak Out
'They were really trying to hurt us.'
18 May 2023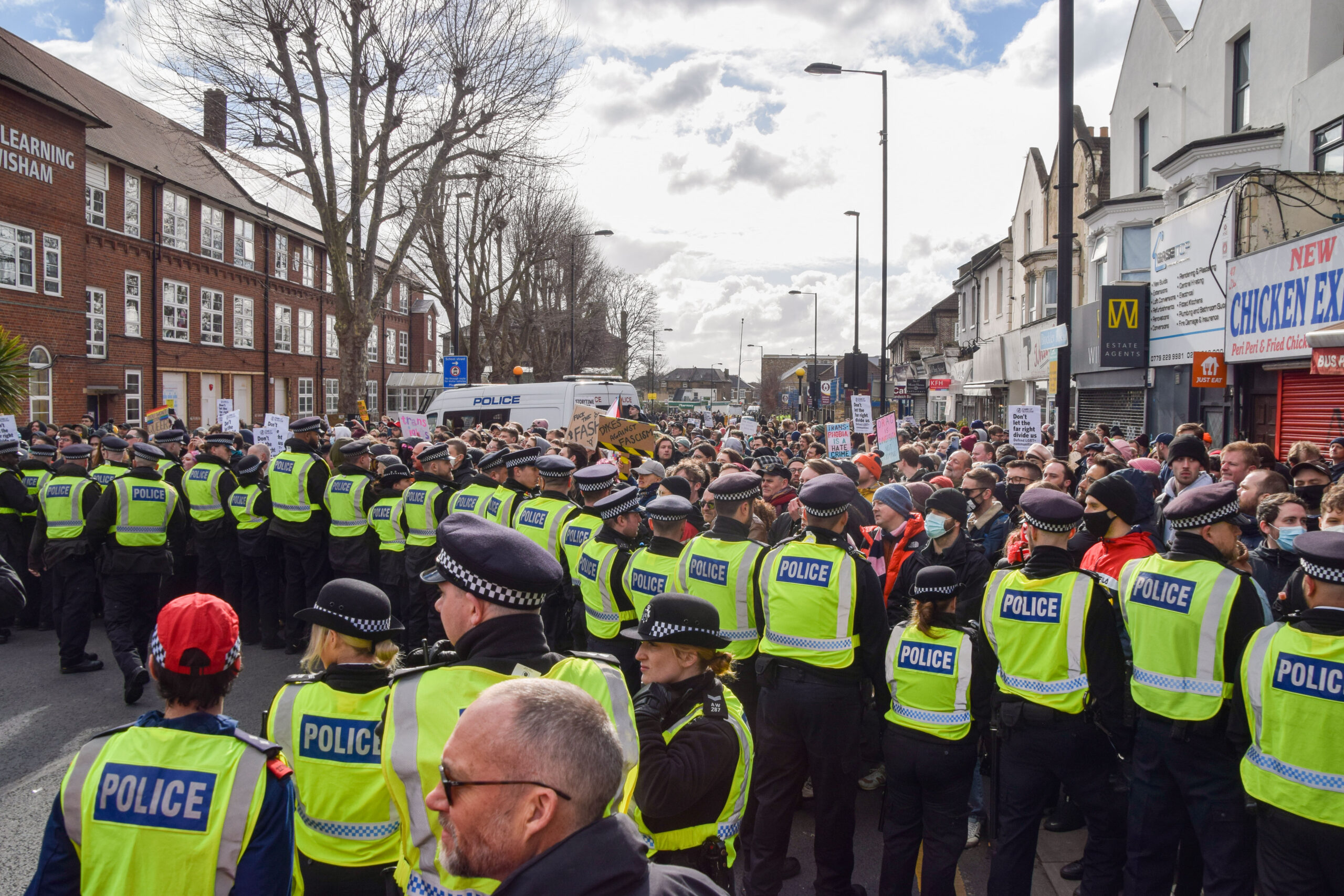 Huge crowds oppose anti-drag protest by Turning Point UK in Honor Oak, London, February 2023. Vuk Valcic/Reuters
"The police were pushing us back extremely forcefully, and kicking us pretty heavily. I have a big bruise on the back of my legs and on my shins. It was at that point that I felt my rib give, basically."
Jessica Walsh, a 32-year-old south Londoner who turned up to oppose a rightwing demo against a drag story-telling event at the Honor Oak Pub in Lewisham, didn't expect to come away with a fractured rib – and at the hands of the Met. 
"There was one of them who was literally pushing into my back with his elbow, digging into my ribs. They were really trying to hurt us, I think to make sure we weren't going to try and do this again."
Walsh is just one of a number of people who faced extreme violence from the police while protesting against homophobic culture war group Turning Point UK (TPUK).
Speaking to Novara Media, counter-protesters reported being kicked, beaten and threatened by officers, with one even being "picked up by the throat and thrown".
The violence by officers, including those from territorial support group units, came after local teachers, National Education Union (NEU) members and antifascists tried to stand on the pavement in front of a primary school opposite the pub in order to stop TPUK from occupying the spot, as they had previously.
"The police didn't want us to be there," Eleanor Davies, a local teacher and NEU member, told Novara Media. "One police officer, she was really harassing me, saying things like: 'If you don't ask them [the counter-protesters] to move, then I might have to drag them all into the street."
The most extreme incidents occurred when counter-protesters on the other side of the road attempted to move forward into the street.
One south London local, who wished to remain anonymous, reported being "elbowed in the head three times" and kicked repeatedly. "It seemed like they were trying to break our legs," he said. "I've not really experienced something like that before." 
Another reported being "picked up by the throat and thrown", as well as witnessing a child of around 13 or 14 "being hit and kicked".
The local NEU branch has made an official complaint to the borough commander for moving them from outside the school yet allowing TPUK to gather there, accusing the Met of "siding" with TPUK.
Local councillors have also called on London's deputy mayor for policing to look into allegations that counter-protesters faced police violence while being threatened and intimidated by TPUK.
TPUK has been targeting family-friendly drag storytimes at the Honor Oak Pub since February 2023, calling the performers "groomers". Drag artists dismiss the claims ("it's literally just somebody reading a story in fancy dress," one told Novara Media in March), arguing that they're a cover for queerphobia.
The trend is imported to the UK from the US, where drag storytime events have been a popular target of far-right groups such as the Proud Boys, by those including Patriotic Alternative – a British fascist group which last month underwent a messy split. At the first demo in Honor Oak in February, one protester was filmed doing a Nazi salute.
TPUK has said it will return to the Honor Oak Pub to protest the next drag storytime event on Saturday 27 May. Despite the recent police aggression, locals will oppose TPUK again.
"It's more important than ever that local people – and particularly local queer people – keep coming to these things," one said. "The more of us there are, the safer all of us are."
"It's about our collective liberation, and that happens together on the streets."
The Met has been contacted for comment.
Clare Hymer is a commissioning editor at Novara Media.