Berlusconi Didn't Pave the Way for Italian Fascism – Liberal Technocrats Did
Bunga to bunga, dust to dust.
13 June 2023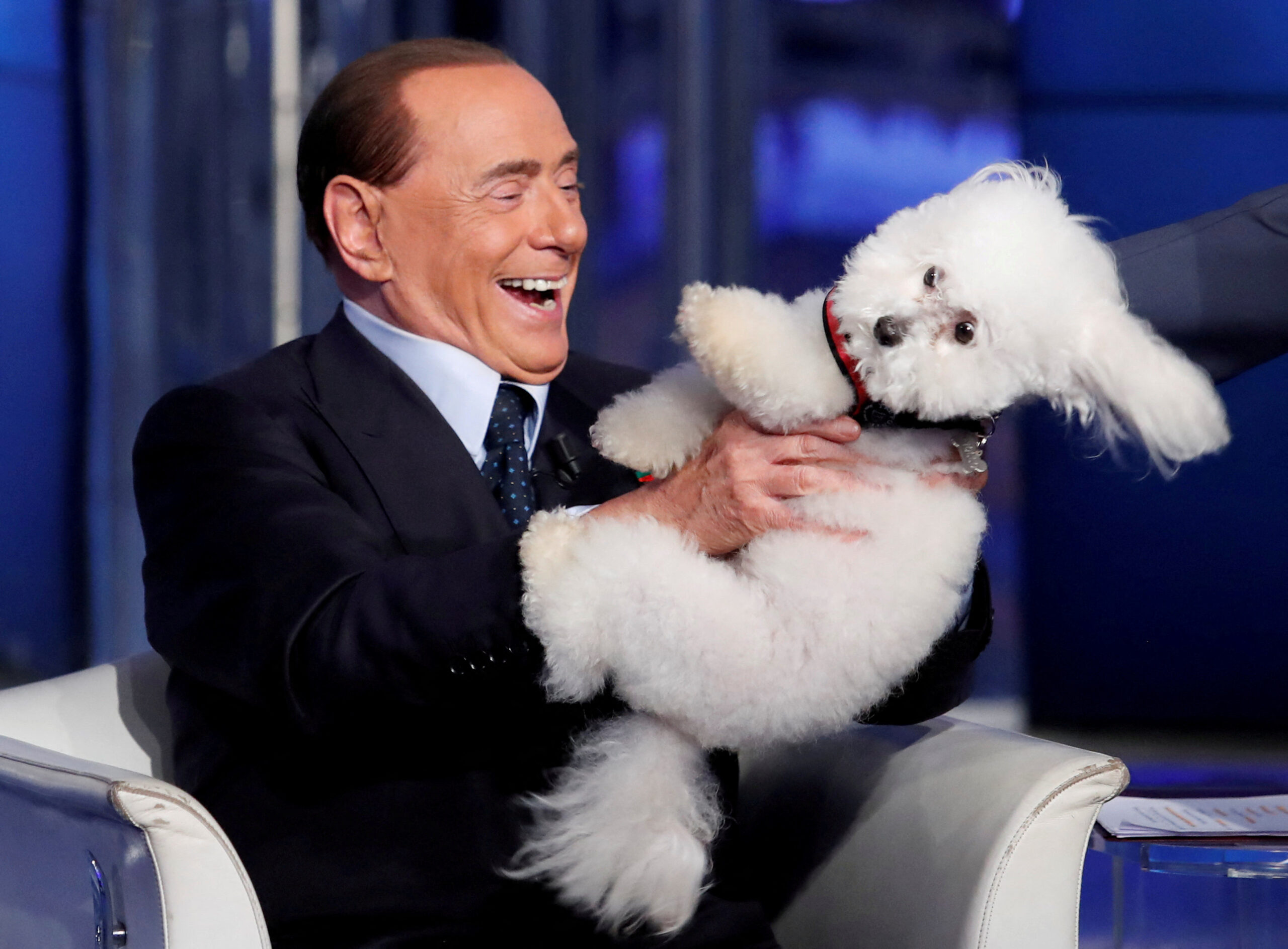 Italy's former Prime Minister Silvio Berlusconi, who died in hospital on Monday, plays with a dog during the television talk show Porta a Porta (Door to Door) in Rome, June 2017. Remo Casilli/Reuters
In the circus of Italian politics, Silvio Berlusconi – cruise ship crooner, billionaire media tycoon, convicted tax evader and Italy's longest-serving prime minister – was the ringmaster.
Berlusconi, who died on Monday aged 86, cut through the moralism and pretended innocence of the rest of Italy's political class by appealing to people's worst instincts. He told the Italian bourgeoisie that it was okay to be self-interested; to lie; to hire workers off the books; to move your money to Switzerland. He told Italian men that it was okay to indulge in public misogyny; to "screw around" with very young women; to always see yourself as the victim. He told a generation of global leaders that it was okay to use offices of state for personal gain – in fact, that you could win elections by doing so.
He's at the big bunga-bunga party in the sky now 🙏🏾

— Ash Sarkar (@AyoCaesar) June 12, 2023
As with most populists, Berlusconi's flamboyance masked a certain vacuity. First elected in 1994 on a platform of nostalgic anti-communism, Berlusconi's coalition, which combined neo-fascists with regional separatists, achieved very little and collapsed after nine months. His second term, which began in 2001, broke the record for the longest continuous government in post-war Italy, lasting 4 years and 340 days. But his neoliberal reforms were far more anodyne than those pursued by nearby social democrats like Tony Blair and former German chancellor Gerhard Schröder. Elected again in 2008, Berlusconi struggled to deal with the fallout from the financial crash and was then forced out of office in 2011 because the EU and the global bond traders felt he was unable to implement the required level of austerity.
The only real constant throughout Berlusconi's career was self-interest. Born to a middle-class Milanese family, Berlusconi's big break was helping to build a model town, dubbed Milano 2, on the outskirts of Milan in the early 1970s, using money that may have come from the mafia. In 1973, he bought his first TV channel; in 1978 he joined the rightwing Masonic lodge, Propaganda Due or P2; and by the early 1980s, he had the makings of a media empire. But he quickly ran into legal trouble, with Italy's supreme court ruling that only the state-owned Radiotelevisione italiana had the rights to national distribution. Unperturbed, Berlusconi kept broadcasting and asked his close friend, the prime minister and leader of the Italian Socialist party (PSI) Bettino Craxi, to intervene – which he did, with an emergency decree in October 1984 that legalised Berlusconi's network and unleashed a commercial revolution in Italian television.
Over the next ten years, Berlusconi expanded his media empire, buying Mondadori, Italy's largest publishing house, and several influential newspapers. But he was soon pulled back into politics. In the early 1990s, a series of corruption scandals decimated Italy's political class; Craxi fled to Tunis to escape the judges and other leading political figures were arrested. The coalition of five major parties, the "pentapartito" that had ruled Italy since 1981, collapsed. Meanwhile, the inheritors of Italian communism, the newly formed Democratic party, seemed set to win the 1994 general election.
In that election, Berlusconi cut a paradoxical figure. He campaigned as an old-fashioned anti-communist but also as a moderniser whose only interest was material success. He described himself as an outsider – despite his billions, his ties to Craxi and his reliance on Christian Democrat politicians to bulk out his new party. He depicted himself as a martyr "persecuted by the judges", but also as a winner who could get things done. Somehow, it worked.
A parliament of fools.
Berlusconi's victorious coalition included the rightwing northern separatists, Lega Nord (Northern League), and the neo-fascist National Alliance. Although the government lasted less than a year, it was a unique opening for the far right and one which laid the foundation for their return to government 30 years later. As Berlusconi himself said of the fascists: "We brought them in: it was us who legitimised them, who constitutionalised them." In a sop to those forces, one of his 1994 government's few legislative achievements was to set up a commission to purge "leftwing history" from school textbooks, a move we're seeing repeated in the United States today.
Berlusconi was then out of power until 2001, when he rebuilt his rightwing coalition around a new "contract with the Italians" which promised economic rejuvenation and deregulation. Although he described himself as performing "continuous miracles", Berlusconi's only real achievements in the early 2000s were a series of laws which made him harder to prosecute. He also forged new friendships with Vladimir Putin and Benjamin Netanyahu; called for both Russia and Israel to join the EU; and trolled the mainstream media with an alarming series of gaffes. In 2003 he told traders at the New York stock exchange to invest in Italy because "we have the most beautiful secretaries in the world". In 2005 he spoke about "dusting off his playboy charms" to woo Finnish president Tarja Halonen. In 2008, he described Barack Obama as "young, handsome and even tanned".
Berlusconi's next election victory came in April 2008 and any plans for governance were swiftly overtaken by the collapse of Lehman Brothers a few months later. But he did manage one significant political achievement: an agreement with Muammar Gaddafi in which Italy paid $5bn to Libya as compensation for colonialism in exchange for the vicious enforcement of Europe's southern border.
Forced out of office in 2011, Berlusconi spent most of the 2010s fighting more than 30 trials for tax evasion, bunga bunga bribery, misuse of public office and having sex with a 17-year-old sex worker). Only one stuck: a 2013 conviction for tax fraud which saw him banned from holding political office for six years. As always, Berlusconi fought hard against what he called "political show trials"; Italian newspaper Corriere della Sera and the Daily Mail have both reported that Keir Starmer was part of Berlusconi's legal team during his appeal at the European Court of Human Rights. In the end, Berlusconi lived long enough to serve out his ban and return to government as a junior partner in the most rightwing Italian government since the fall of fascism.
The new anti-politics.
If Berlusconi teaches us anything about today's politics, it is less about the dangers of populism than of the liberal response to it. One side of this is co-option. Berlusconi's agreement with Libya was hugely controversial at the time but is now EU policy. We've seen a similar pattern in the US, where Trump's trade war with China and his militarisation of the Mexican border continue apace under Biden. There is a dangerous kind of lesser evil thinking here, where the best way for the sensible liberals to mitigate the unpredictable, demagogic impulses of the unwashed masses is to have a centrist organise a professional version of the same thing.
The other side of the coin is the dream of the procedural fix. Berlusconi is probably the only modern leader to have been forced out by unelected technocrats twice in his career. This kneejerk impulse to return to technocracy in a crisis represents an infantile rejection of politics, a hope that by deferring to experts you will neutralise the political and social forces which brought populists to power. When British liberals cheered as judges forced Boris Johnson to recall parliament in 2019, they were dreaming the same dream: a clever legal manoeuvre that would prevent Brexit and dethrone the Brexiteers. Look how that worked out.
In its quest to defeat Berlusconi, Italian left abandoned politics and in so doing, left Italy open to something much more disturbing than a bombastic narcissist: the return of fascism.
Matteo Tiratelli teaches sociology at University College London.