Polls Show Even Tories Hate Landlords
Sorry, chaps.
27 June 2023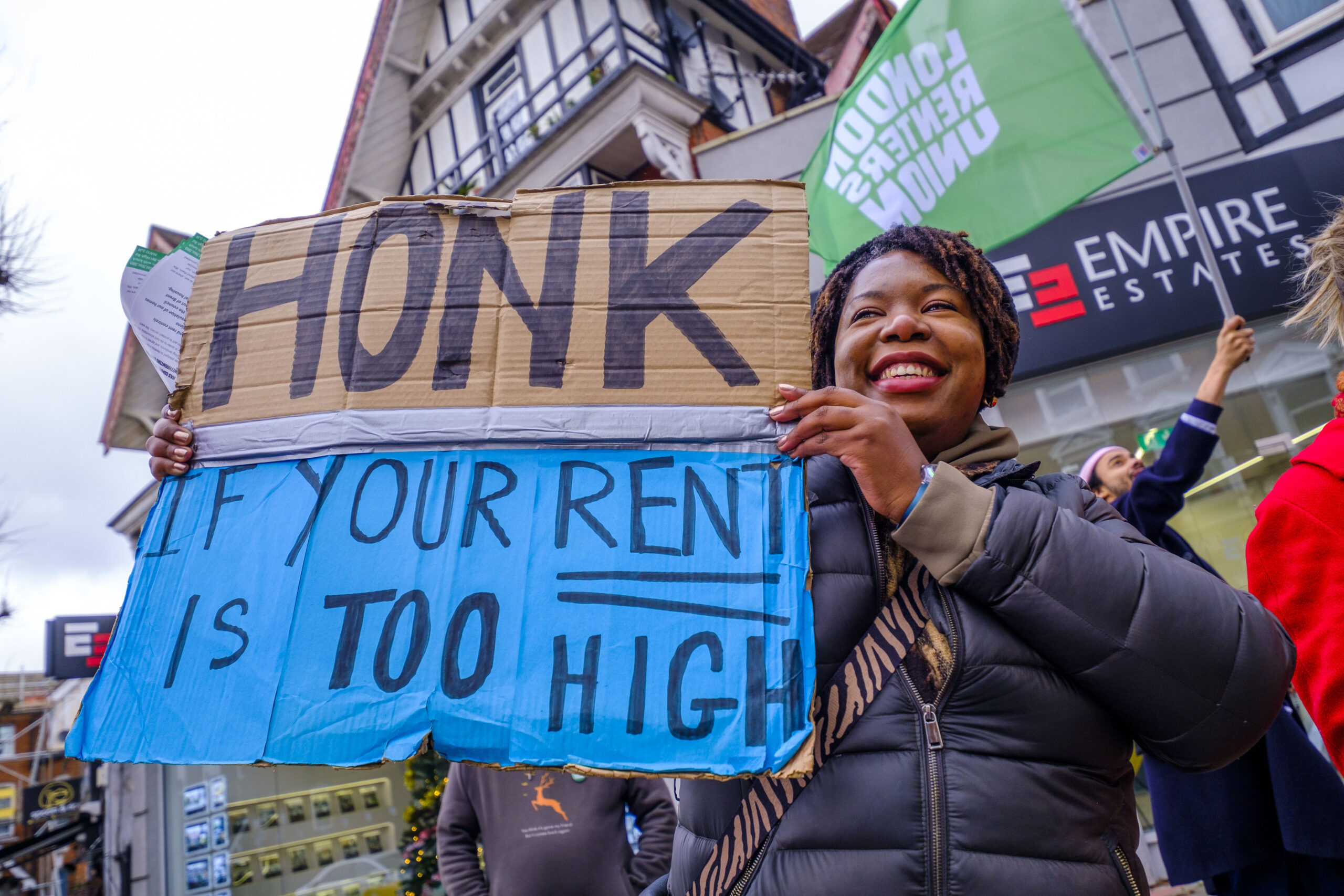 A protester holds a placard outside an estate agent in Brent, December 2022. Credit: Jess Hurd/London Renters Union
Earlier this month, the Daily Telegraph reported bad news for the landlords in its audience: one in five will soon face huge inheritance tax bills due to a freeze on allowances. Its readers were not shy about expressing their sadness and frustration to the newspaper, with the head of the Landlords' Association calling the tax regime "not suitable for landlords". Yet if they were expecting sympathy, they won't find it among the British public.
Polling shows that Brits despise landlords. What's more, this antipathy cuts across all demographic and political divides. It's no surprise: rents are soaring; renters are living in squalor; and all the while, landlords are fattening their wallets. With a cost of living crisis deepened by people that 50% of the public think are greedy, landlords may have to get used to being hated.
British public opinion on landlords is harsh across the board. Their net approval rating is -25, with less than a quarter feeling favourable towards them. Even Conservative voters expressed disdain for landlords, with 41% disapproving versus 30% approving.
Hatred for landlords cuts across not only politics but also age. At least 45% in every age group feel hostile towards landlords; whilst this is predictably most intense amongst the young, there is little statistical difference across the ages: even the over-65s, who are more likely to be landlords than any other age group, view landlords unfavourably by a margin of 20 points.
The picture is even more grim up close. In 2017, YouGov polled voters to find out what word came to mind when they thought of landlords: the top answer, with 50% of the poll, was "greedy". The second most common was "difficult" (36%), followed closely by "wealthy" (35%). Young people had the most negative opinions, with 54% labelling landlords as "difficult" and 29% calling them "slimy".
In fact, Brits want bad landlords locked up. Polling in 2015 found that 71% of voters think that landlords who commit housing offences should be jailed – a very tough stance considering that only 44% of Brits think that prison sentences are effective at reducing crime.
The widespread antipathy towards landlords is predictable when you look at the context of the current private rented sector. Tenants currently face huge challenges in renting, the biggest of which is the cost of rent; the annual rental inflation rate for new lets has risen from 1.2% in June 2021 to 10.4% in June 2023. Rent inflation has remained above 10% for the past 15 months, the worst figures for renters on record.
These massive increases have collided with a real-terms decline in wages that's been impeding wage growth since the 2007 financial crisis. The result is that rent inflation now outpaces wage growth and has done for the past two years.
The cost-of-living crisis has squeezed incomes further: on average, private renters now spend a quarter of their income on rent, the highest proportion in 10 years. In London, this rises to 40% of gross earnings. Bear in mind that affordable rent is defined as no more than a third of one's income.
The cost of housing is not the only challenge renters face, however – the supply of housing has also dwindled: the average number of new rental properties per letting agent in 2023 is now a third of what it was in September 2021. The consequence has been that demand for housing now outstrips supply by a significant margin: in April, Foxtons reported that 97,000 prospective tenants were seeking to rent just 2,000 properties.
Part of the issue is that the number of privately rented homes has remained largely flat since 2015: after rising by 75% between 2005 and 2015 (+1.8m), the total number of rented households has risen by a mere 8% since 2015 (+0.3m).
Another reason for the public's antipathy may be the day-to-day encounters renters have with their landlords. 54% of renters in Britain have been ignored by their landlord, despite nearly eight in 10 having lived in homes that are in a state of disrepair. Those who do complain are twice as likely to be evicted. Worse still, 45% have experienced illegal behaviour from their landlord or letting agent.
more recent data shows that an overwhelming majority of Brits (77%) think that landlords taking advantage of tenants is a serious problem. All of this may help explain why big majorities of voters back policies that would curtail landlords' economic power.
In 2014, six in 10 private renters told YouGov that the private rented sector was unaffordable and needed to be regulated. In 2015, even though no major party was offering rent controls, 60% of the population supported the idea. Four years later, in 2019, polling showed that not only did two-thirds of Brits still favour rent controls, six in 10 Tory voters backed them, and seven in 10 retirees.
Rent control is not the only thing Brits favour, however. There is also strong demand for a ban on no-fault section 21 evictions, which allow landlords to evict tenants with a few weeks' notice without any reason. The government has been promising a ban since April 2019 and has tabled a Renters' Reform Bill that would fulfil this promise. Despite endless delays, there is enormous public support for ending section 21: 65% of Brits want it banned, with just 17% supporting it.
By a sizable margin, Brits also want to end the practice of "No DSS", which allows landlords to refuse a tenant if they're on benefits. This would significantly curtail landlords' power over tenants, and offer more freedom and housing mobility to poorer tenants. All in all, every policy being considered for inclusion in the Renters' Reform Bill is backed by significant majorities of Brits, and most of them would impose stronger regulation on private landlords.
Given all this, it's easy to understand why Brits have little sympathy for landlords' plight. New renters find themselves unable to find a home, while existing renters are scared to ask for repairs or indeed to even pay their rent (half a million private renters were in arrears in January 2021, and that was before the cost-of-living crisis hit).
The fact that the Conservatives are proposing a Renters' Reform Bill is a demonstration of how widely landlords are disliked; with even clear majorities of Tory voters wanting landlords' economic power curtailed, it seems like the balance of power may finally be shifting towards renters.
Ell Folan is the founder of Stats for Lefties and a columnist for Novara Media.