Stop Sexing Up the Spy Cops Scandal, Say Victims
This is class war, not a cop drama.
3 July 2023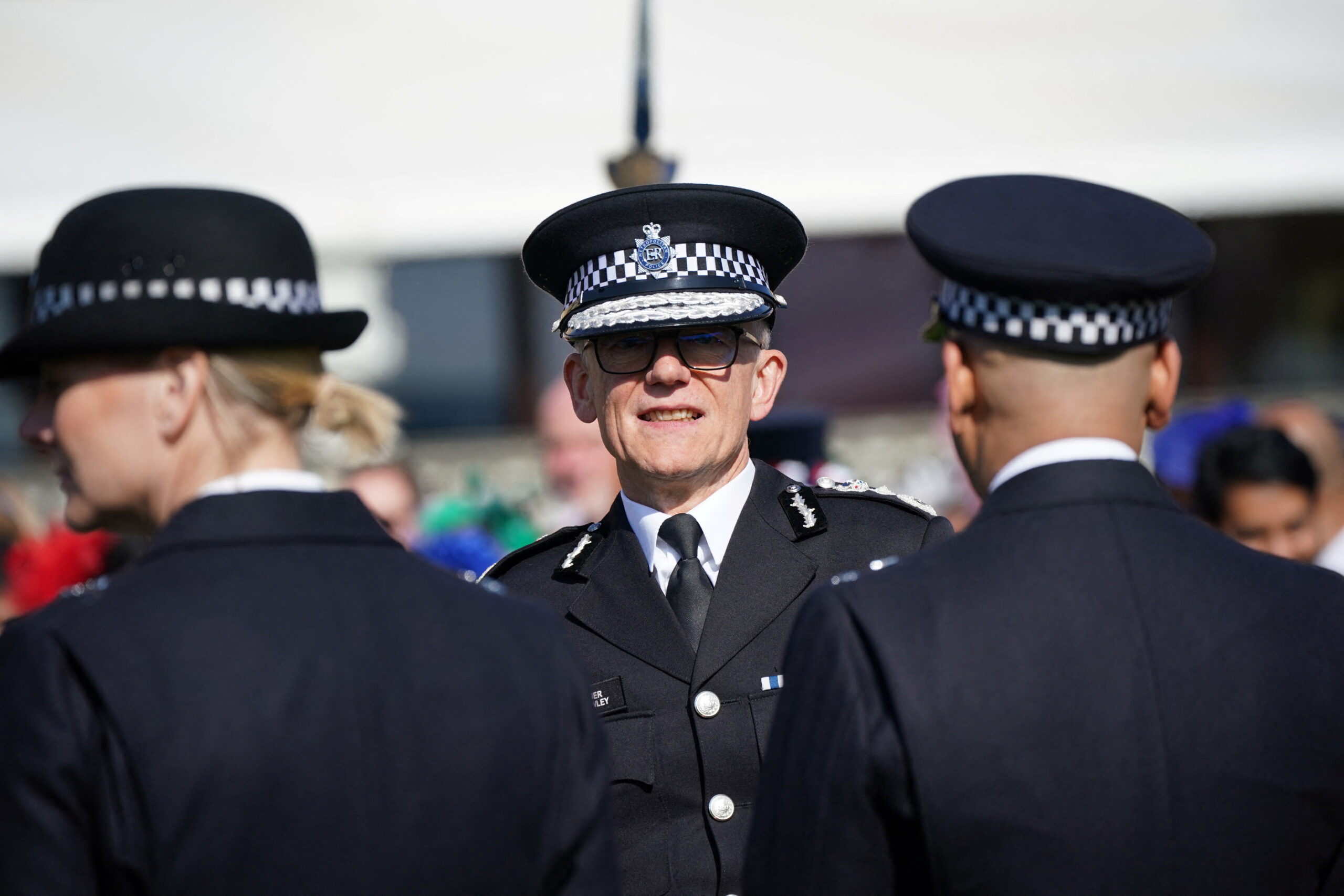 Metropolitan Police commissioner Mark Rowley attends a garden party in celebration of King Charles' coronation, May 2023. Yui Mok/Pool via Reuters
It took over eight years and £60m for Sir John Mitting, chair of the undercover policing inquiry, to reach the conclusion that to most people seemed obvious from the outset: that the use of the tactic was, in the vast majority of cases, unjustified.
Mitting's interim report on the spy cops' first 14 years was published on Thursday, though you probably missed it. Whereas Baroness Casey's review of the culture and standards of the Met, commissioned after PC Wayne Couzens' murder of Sarah Everard, made the front pages of the Times, Telegraph, Mail and Express, Mitting's barely flickered on the media radar.
The obvious reason, suggests Adam Elliott-Cooper, author of Black Resistance to British Policing, is that not only does this part of the inquiry relate to events of half a century ago, but its interim findings have also taken almost a decade to surface. "I think part of the intention of state actors," says Elliott-Cooper, "is that … affected parties end up suffering exhaustion … and the public become disinterested." Yet there may be another, less obvious reason for the muted response Mitting received.
When Everard was murdered, groups like Sisters Uncut forced a connection between her murder and the misogynistic, racist institution of policing. This connection, and a sense that police power was spiralling out of control, were reinforced by the tabling of the Police, Crime, Sentencing and Courts bill just days before the news broke about Everard. The spy cops scandal, on the other hand, has been framed as discontinuous with the Met's politics and past – an unexpectedly compelling episode of an otherwise two-star cop drama.
Indeed, the media's centering of the grim salaciousness of undercover cops impregnating unsuspecting young women and stealing dead children's identities to do it – think of Donna McLean's memoir Small Town Girl: Love, Lies and the Undercover Police, or the Telegraph's Bed of Lies podcast – has eclipsed the story of the state trying to annihilate the organised left.
Over 1,000 groups were spied on by police between 1968 and at least 2010, and almost all of these were leftwing. In the interim report, Mitting explains that no undercover officer was deployed into far-right groups between 1977 and 1982, because "Special Branch already had excellent sources within the extreme right", and because they were worried the fash would beat them up.
"excellent sources within the extreme right" – my friends the call was coming from inside the house pic.twitter.com/YGRZ3kjQX9

— Rivkah Brown (@RivkahBrown) June 30, 2023
Despite the police's explicit pursuit of large swathes of the British left, the media has continually revisited a small cluster of victims in its quest for the truth: women who were tricked into sexual relationships, sometimes long-term romantic relationships, with undercover cops. Many of these women are tired of being the story.
"Infiltration was not just a personal betrayal," wrote Kate Wilson, an environmental activist who last year was compensated £229,471 for being lured into a relationship with spy cop Mark Kennedy, in a message to Novara Media. "It was a form of systematic sexist abuse in the context of unlawful operations that undermine our political rights." Too bad for her: Sex, Lies and Police Spies was how Sky News titled its interview with Wilson.
Bea (not her real name) is another victim of the spy cops and former guest of Novara FM. Speaking to Novara Media, she says that "as a survivor, I'm quite uncomfortable … about the salaciousness of it and the focus on the women."
"To me, it's always been something much deeper: the revelation about the priorities of capitalism … It isn't a personal story, it is a totally political story."
"Yes, there is … the fact that some women's lives were absolutely ruined by this … that women were seen as obviously expendable," Bea adds, but this was always in service of "a political choice made by the British state to undermine organisations campaigning for social justice." The police didn't set out to target women – though they considered this an acceptable tactic – but rather the left.
"Can you guarantee people that this kind of thing isnt still going on?"

Met Police Commander Jon Savell doesnt gurantee that

"Do police officers infiltrate groups that are not a threat to public protection in order to perhaps stop demonstrations?"

Savell doesn't say #Spycops pic.twitter.com/5yv6ZVDQsV

— Saul Staniforth (@SaulStaniforth) June 29, 2023
While it's easier to understand individuals as victims, and certainly easier to generate traffic from their stories, one of the primary targets of the spy cops were the trade unions – from the Fire Brigades Union to the National Union of Teachers and the Communication Workers Union – of which deceived women were members. Curiously, much evidence of police infiltration of unions has been excluded from the inquiry.
In an article for Tribune magazine, blacklisted union activist Dave Smith and researcher Eveline Lubbers dig out cabinet papers which indicate that Tim Powell, chairman of the agricultural manufacturing company Massey Ferguson, was privately briefed by the permanent secretary about potential troublemakers at his factory using intelligence from "unofficial sources". They also note that "John Mitting … decided not to add this file to the evidence bundle, missing a crucial opportunity to investigate the hidden links between corporate power and the UK's secret state."
Mitting's decision calls into question whether it is not only the media but the state apparatus that has attempted to divert the scandal and resulting inquiry away from its political effects.
"It's very common for the liberal centre, or even sections of the liberal right, to attempt to individualise and therefore depoliticise campaigns against police power by treating it … as the result of bad apples, the misapplication of police policies," says Elliott-Cooper.
"I think it's therefore incumbent on us to ensure that the politics, the history and wider context of these individual cases remain front and centre."
In a statement responding to Mitting's interim report on Thursday, Met commander Jon Savell apologised "to women deceived by officers into sexual relationships, to the families of deceased children whose identities were used by officers, and to those who suffered a miscarriage of justice because of the actions of SDS officers", highlighting two groups whose plight has become synonymous with the spy cops. It's unlikely we'll ever hear an apology to the one group almost all of their victims belonged to: the left.
Rivkah Brown is a commissioning editor and reporter at Novara Media.