Yolanda Díaz Is Showing How You Fight the Far Right
Stop playing catch-up, for a start.
11 July 2023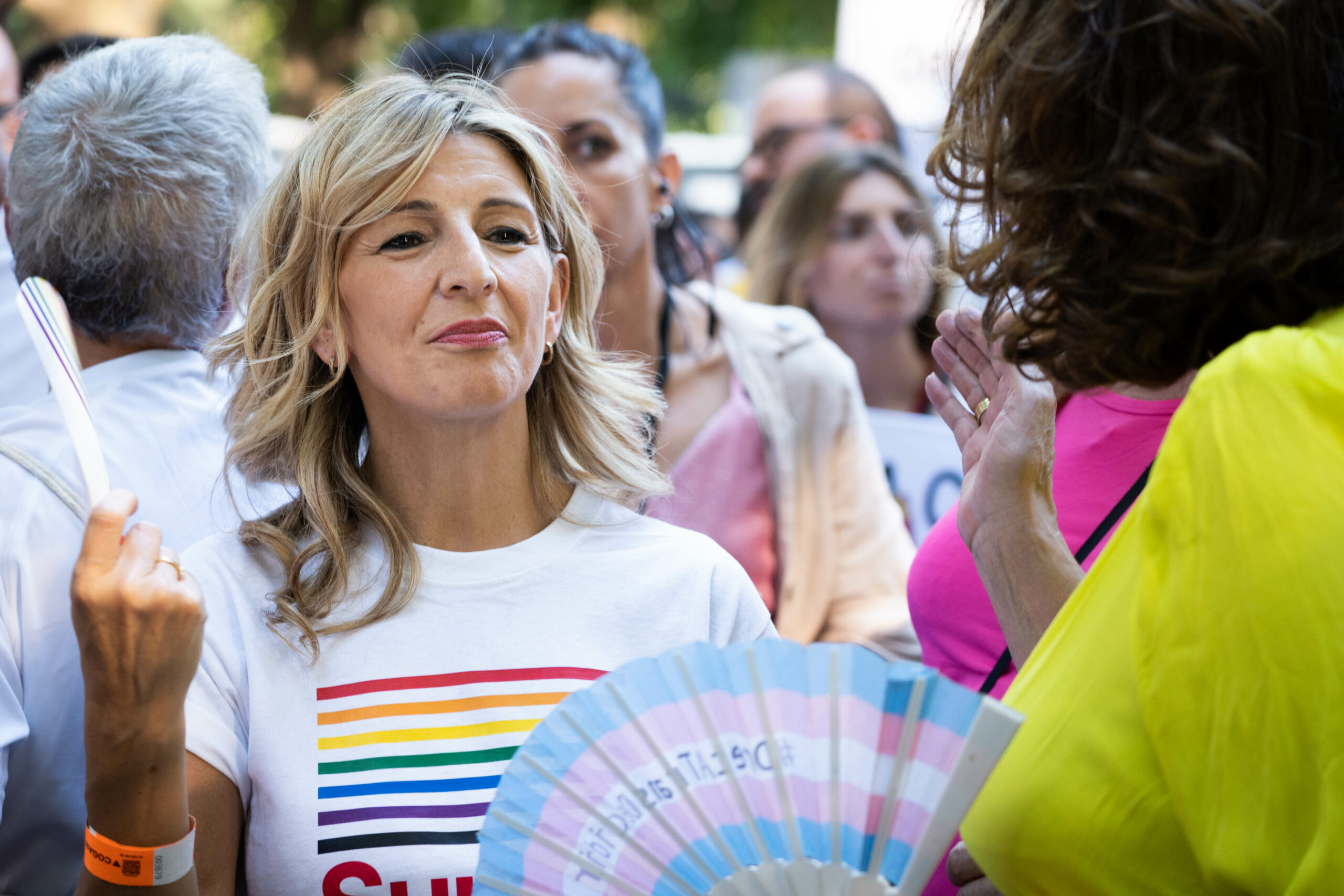 Yolanda Diaz, Spain's deputy prime minister and the leader of new leftwing alliance Sumar, speaks to trans activist Carla Antonelli during the LGTBI Pride rally in Madrid, July 2023. David Cruz Sanz/Alter Photos
"You mobilise the left vote by offering a positive agenda … Our programme is based on redistributive policies that can improve people's lives."
So insisted Spain's deputy prime minister Yolanda Díaz last week as her new left unity platform Sumar unveiled plans for a "universal inheritance" scheme ahead of the 23 July election – a poll which could see an openly extreme-right party enter government for the first time since the country's 1970's transition to democracy.
The ambitious policy, funded by making permanent the country's current emergency wealth tax, would see all 18-year-olds in Spain receive €20,000 to "kickstart a life project" of their choosing, whether study, training or starting a business.
"This is about guaranteeing equality of opportunity," Díaz argued. "Young people's ability to pursue their life goals cannot depend on who their parents are and what their last name is."
In an election campaign dominated by the threat of post-fascist Vox advancing from parliament to cabinet, Sumar's universal inheritance proposal finally moved the debate onto the left's terms. Speaking to Novara Media, Sumar spokesperson Carlos Corrochano said that offering a positive vision is the only way the left can win.
"Like elsewhere in Europe, Spain is suffering a reactionary wave but this is not some unstoppable natural force as such a metaphor might suggest," Corrochano says. "It can be countered by going on the offensive … [by] guaranteeing new rights and social protections."
A coalition of 15 left and green parties, Sumar replaces the previous democratic socialist Unidas Podemos (Together We Can) alliance, currently a junior partner in the coalition government with Pedro Sánchez's centre-left Socialist party (PSOE). The new coalition may also hold the key to avoiding a coalition between the rightwing People's party (PP) and far-right Vox.
A month ago, this looked like a foregone conclusion but now, while the latest YouGov polling puts the PP on 31%, three points ahead of the PSOE, it also shows Sumar having drawn level with Vox on 14%.
Which of these two parties finishes third on 23 July will likely be decisive in determining the balance of power in the next parliament – with either Díaz, a lifelong member of the Spanish Communist party, or Vox's Santiago Absacal likely to be kingmaker.
Yet while the left appears to be closing the gap, many think they ought to be polling far better.
Junior partner flex.
Taking office two months before the pandemic in January 2020, Spain's first left-wing coalition since the 1930s was a baptism of fire for Spain's five Unidas Podemos ministers.
With PSOE dominating the major ministries, they have had to accept a series of unpalatable decisions in foreign policy, defence and security but their presence has ensured a more substantive social reform agenda – from legislation protecting gig economy workers and strengthening collective bargaining rights to new trans rights and euthanasia laws.
Marga Ferré, president of the leftwing thinktank Transform Europe, says that the fact that leftwing coalition government parties are now trailing the right in the polls is confusing, given that "the measures they have implemented during the pandemic and cost of living crisis have been met with very high levels of public approval."
Spain currently has the lowest inflation rate in the European Union (1.9% in June), largely due to the coalition's implementation of a partial price cap in the electricity market, limits on rent increases and its slashing of transport fares (including making commuter and medium-distance trains free for at least 18 months).
What's more, says Ferré, Unidas Podemoshas flexed its muscles as a junior partner in the coalition rather impressively: "Particularly given its limited weight at cabinet," she says, "it [has] managed to push a series of important legislative advances in areas such workers' rights and gender equality."
In her role as labour minister, Díaz has spearheaded a 47% increase in the minimum wage over the last five years, as well as major reforms to the country's labour laws; it's no wonder she polls repeatedly as Spain's most popular politician. A former labour lawyer with close ties to the country's trade unions, Díaz has developed a reputation not only as an effective policymaker but also as an impressive parliamentarian capable of demolishing Vox's arguments in debates. It hasn't all been rosy, however.
While PSOE and Unidas Podemos may have gone further than most of their European counterparts in protecting citizens during the cost of living crisis, Spain's low-wage economic model has meant the initial inflationary spike in the wake of the Ukraine war, as well as continued high food prices and the eurozone's punishing interest rate hikes, have translated into a steep fall in living standards for millions.
"The current social mood is defined by anger," Ferré tells Novara Media. "Many people feel worse off and in this atmosphere, the left has struggled to counter the centrality of the right's apocalyptic discourse in the public arena."
Playing the game.
Iago Moreno is a political analyst for the Spanish radio network Cadena Ser. Speaking to Novara Media, he notes that "PSOE's campaign has not escaped simply responding to the provocations of the right, whether that is around the removal of pride flags [from public buildings] or Vox's denial of gender violence."
If the left has struggled to counter the far-right's discourse, says Ferré, the right has embraced it entirely: "You have the PP competing with Vox by imitating its exaggerated and paranoid narrative of the 'enemy within'," she says, pointing to the PP's demonisation of Sánchez as in bed with Basque terrorists, due his parliamentary alliance with Basque and Catalan nationalists. Yet if the PP wants to play that game, Vox is ready and willing.
According to Moreno, Vox has operated as "the right's ideological cavalry breaking through the previously hegemonic consensus in Spanish society around issues such as feminist and LGBTQ+ rights," while also infecting the public domain with anti-globalist conspiracy theories, climate denialism and moral panic about squatting. "This has shifted the national political agenda rightward and given the PP the necessary cover to take a harder line on such issues," he explains.
While not denying the threat of the far right, Sumar wants to distinguish itself from the PSOE by moving beyond the reactive logic of straightforward anti-fascism. "The task of mobilising the full spectrum of the progressive vote requires offering people a clear response to their economic and social insecurities, not just defensive anti-right appeals that Sánchez is pursuing," says Corrochano.
Sumar's program concentrates on guaranteeing a series of tangible new rights around work, housing and healthcare – betting that it has the potential to grow its vote by connecting with a new "common sense" about what's economically possible. Its universal inheritance scheme is just the start.
Besides the groundbreaking scheme, the alliance proposes an expansion of public services to include free dental and eye care; a gradual reduction of the working week to 32 hours over the course of the next legislature; and a massive program of public housing construction, funded through the establishment of a state development bank. It also lays out plans for a green reindustrialisation, focusing on reshoring renewable energy and a mass retrofitting program, alongside a raft of progressive tax reforms.
"All of this is possible," Díaz asserted at a rally in Seville last Sunday. "Remember when they told us you could not intervene to regulate the price of electricity?"
Despite public infighting, her alliance's position looks relatively solid: most polls have Sumar at least level with where Unidas Podemos was in 2019 (13%), no mean feat for an incumbent. The alliance is also within a few hundred votes of taking seats from PP or Vox in six constituencies that could decide the election.
Still, two weeks out, the election remains too close to call. Having alienated smaller regionalist and separatist parties with their aggressive Spanish nationalism, anything short of an absolute majority for the right will leave it unable to govern. Sumar insists that its uptick in the polls is just the start of its remontada (comeback). It remains to be seen whether this will be sufficient to counter the rightwing surge, which if successful will see deep democratic backsliding.
Eoghan Gilmartin is a writer and translator covering Spanish politics.