Brits Have Fallen Out of Love With the BBC
Just 38% of voters trust the corporation to tell the truth.
2 August 2023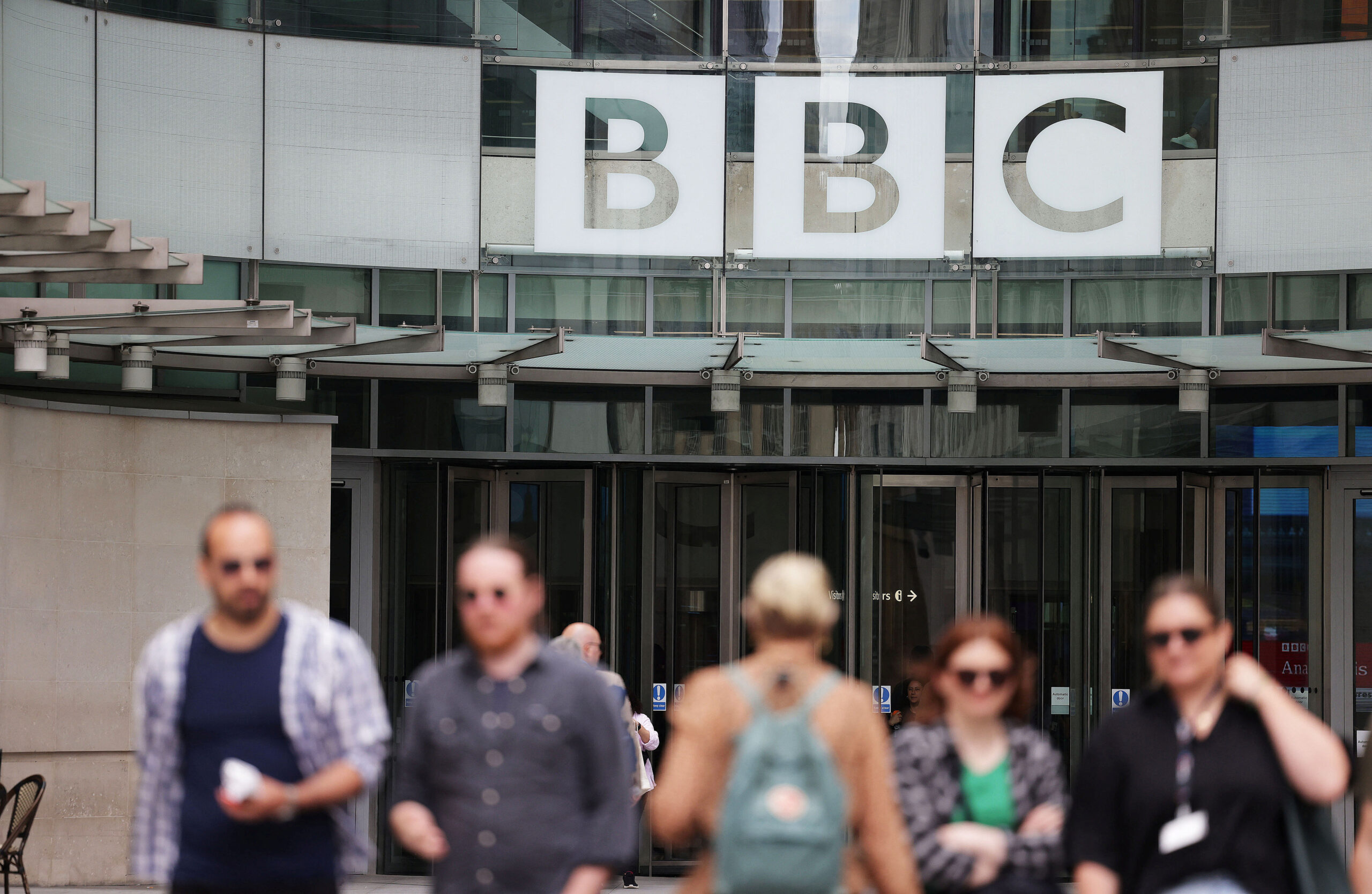 The BBC headquarters in London, July 2023. Anna Gordon/Reuters
In 2022, the BBC celebrated its 100th anniversary. The occasion saw many centre-left commentators heap praise on the corporation, with The Guardian calling it "more important than ever" and Labour's Lucy Powell labelling it "a great national institution at the heart of British life". 
Once upon a time, the British electorate would have agreed with them. Brits used to love the BBC: they favoured the licence fee model of funding, and they trusted BBC journalists. Yet in 2023, these things are no longer true. 
The corporation has experienced a steep decline in public favourability over the past few years. Brits now want the licence fee scrapped, and trust in the BBC to report the truth has plunged dramatically. What's more, this decline shows no sign of slowing down.
Back at the turn of the millennium, trust in the BBC was extraordinarily high. In 2003, eight in ten Brits trusted BBC journalists to tell the truth. In the two decades since, however, things have changed dramatically. Just 38% of voters told YouGov in July 2023 that they trust the BBC to tell the truth – a decline of 43pts since 2003. This puts trust in the BBC at similar levels to trust in trade union leaders: a 3pt lead over unions in 2023 compared to 49pts in 2003.
At least some of this shift has occurred within the past few years. Three years ago, the BBC had a positive net favourability rating of +6 (48% favourable, 42% unfavourable), with wide support across various demographics. By 2023, this had been reversed, with the BBC now holding a net rating of -4 (44% favourable, 48% unfavourable).
This shift in perceptions is also demonstrated by attitudes towards the BBC Licence Fee. Back in 2011, voters were evenly split on whether the fee was good value for money – 39% said yes, 39% no. Yet within a decade, this aspect of public opinion has shifted dramatically in the direction of 'no'. In 2023, six in ten Brits say the licence fee isn't good value for money (+20pts), while only 30% say it is (-9pts). What's more, a massive 61% say the licence fee is unfair.
When given a free choice between different methods of funding the BBC, a mere 21% would opt for the licence fee, with more favouring commercials (35%). These aren't the responses of a public that values the BBC and regards it as "a great national institution". So what's changed?
Looking at the data, the number one factor driving the change in attitudes is that voters on the left and right have become frustrated with how the BBC covers politics. In 2012, the BBC had strong net trust ratings amongst supporters of all major parties: +3 amongst Tory voters, +23 with Labour voters and +19 with Lib Dem voters. Yet by 2023, this relative consensus had been shattered, with rightwing and leftwing voters turning against the corporation, while centrist voters continue to trust it.
Between 2012 and 2023, the BBC's net rating amongst Tories fell from +3 to -38 (a 41pt decline). Amongst Labour voters, it fell similarly(from +23 to +2). Yet amongst Lib Dems, it actually rose. 
These results may seem confusing until you consider perceptions of BBC bias. In May 2023, 45% of Brits told YouGov they see the BBC as being biased towards one of the two major parties, with 22% viewing it as neutral and unbiased. Perhaps unsurprisingly, Conservative and Labour supporters both view the BBC as being biased in favour of their opponents.
Supporters of the BBC might say that this is a good thing, as being disliked by both sides suggests that the corporation favours neither side. But this didn't used to be the case – the BBC was trusted by all sides as recently as 2012, and now it's only trusted by centrist voters who back a small liberal party. For an organisation dependent upon public support to defend it from Tory privatisation plans, that's pretty damn worrying.
Ell Folan is the founder of Stats for Lefties and a columnist for Novara Media.