'It's a Scandal': How Property Developers Failed to Sell a Single Flat in Balfron Tower
139 homes now sit empty.
4 August 2023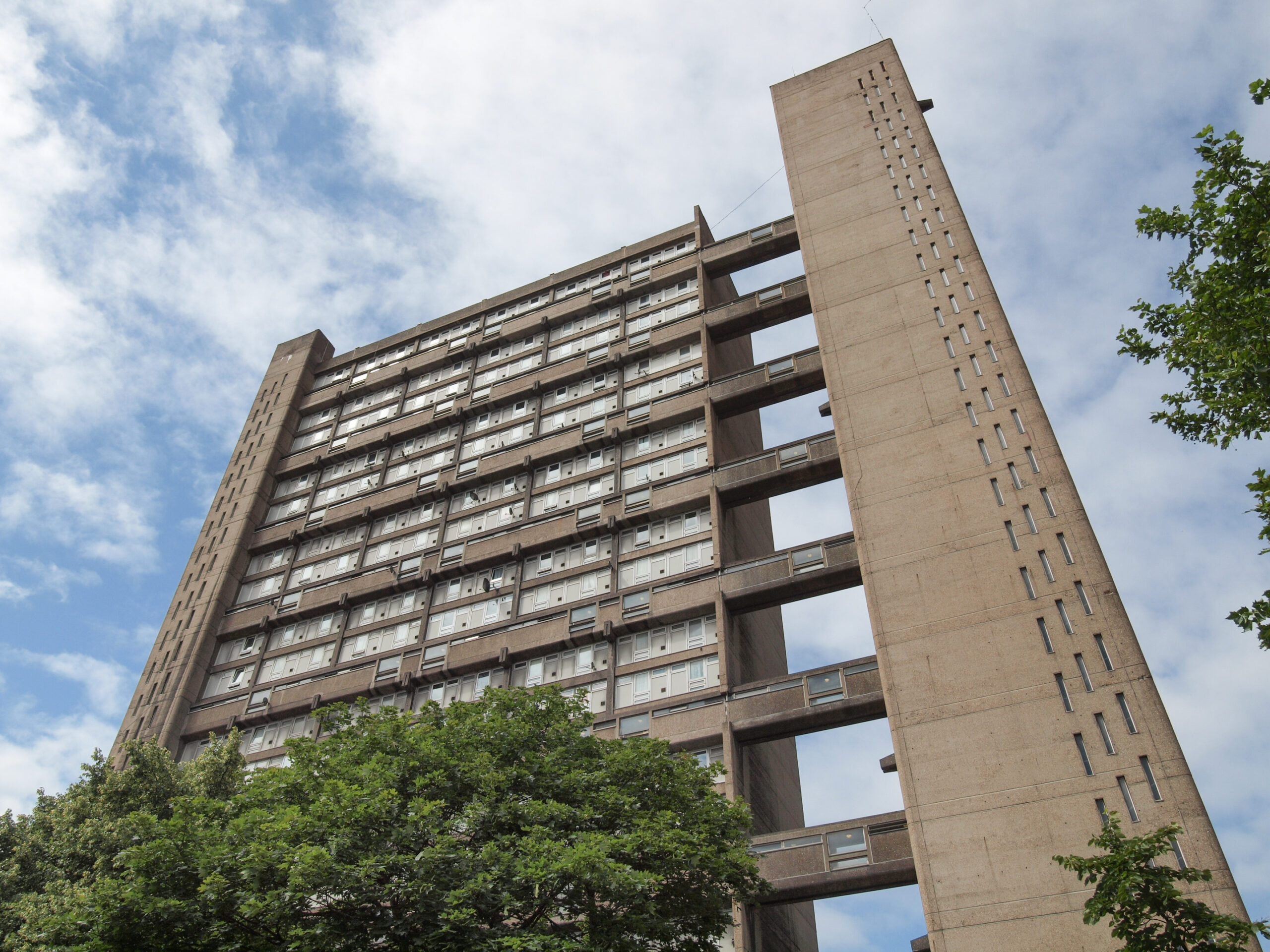 Developers spent £57m and more than a decade fixing up Balfron Tower. Photo: Adobe Stock
Property developers have failed to sell a single flat in east London's brutalist landmark Balfron Tower, forcing them to withdraw 139 properties from the market and reconsider the future of the building.
The 27-storey tower's painfully long journey towards privatisation finally seemed complete last summer, when, over a decade after council tenants were "decanted", and six years later than planned, it finally hit the market. But despite a £57m upgrade and multiple high-profile marketing campaigns, nobody bought a single property.  
In March, the Balfron Social Club blog revealed the tower will now be converted into "professionally managed rented homes", raising questions over the developer's promise to use revenue from sales to provide new affordable housing on the wider estate. 
Flipping Balfron's flats to private rentals would be an underwhelming end for a tower with such radical foundations. It was born of the utopian vision of the Hungarian architect, and committed Marxist, Ernő Goldfinger in the 1960s to house people displaced by the construction of the Blackwall Tunnel. 
While architects claimed to be "creating the ghost of Goldfinger" with their restoration of the building, many felt the spirit of the building died when its tenants were forced to move out in 2010, after they voted in favour of a transfer of ownership from Tower Hamlets to local housing association Poplar Harca. Residents were told that if they voted for the transfer, Harca would refurbish their flats.
Even after they were rehoused, many residents still believed they would be able to return to their homes after improvements had been made. But it later emerged only leaseholders would be allowed back, with Harca citing the impacts of the global financial downturn as a reason social tenants could not return. 
It's understood the tower's handful of remaining leaseholders have been given a return date of September, but in the heart of a borough suffering an acute housing shortage, 139 of the building's 146 flats remain empty. So what went wrong?
Contentious makeover.
Balfron Tower has always been divisive. Over the years, it has been both celebrated as an exemplar of post-war social housing and vilified as a symbol of the "failed" high-rise experiment. Its vast slab form, with hammered concrete façade, rising up on the edge of the A12, has regularly seen it voted Britain's "ugliest tower block". 
Yet behind its chunky silhouette are thoughtful human touches. Its separate service tower keeps noisy lifts and rubbish chutes away from apartments and houses communal rooms for games and drying laundry. It has a rich history. But attempts to upgrade the block and provide what the architects described as "21st-century living in a 20th-century icon", appear to have fallen flat. 
The timing was particularly inauspicious. Flats hit the London market when sales were already slow even prior to the chaos unleashed by Liz Truss's mini-budget. Cautious lenders made a hard-to-mortgage building even harder. According to one industry source, agreed sales with buyers fell through as they were denied mortgages for flats in the tower's "non-standard" concrete frame. 
But it's not a full explanation. Jacob Zaccharia, an estate agent in Notting Hill, has sold flats in west London's Trellick Tower – Balfron's taller "twin". He says Trellick Tower attracts a certain type of artistic or creative buyer because it retained its architectural authenticity.
"The first thing they will ask: does it have its original steel skirting boards and parquet floor? Does it have original light switches?" Zaccharia says. Balfron's "deep retrofit" may have put off a similarly purist clientele – despite the developers' attempts to market the building to architecture fans, reportedly even turning the marketing suite into a "shrine to Brutalism".
Just six "heritage collection" flats in Balfron were left as Goldfinger designed them, architects hired by Harca chose to modernise the rest, remodelling their "old-fashioned" layouts into open-plan apartments to "maximise the sense of openness". The facade's new brown windows caused particular outrage. 
When approached for comment, the Balfron Tower Partnership, a joint venture with Poplar Harca and developers Telford Homes and Londonnewcastle, would not be drawn on why the flats didn't sell. A spokesperson said: "In the unpredictable current economic climate, the LLP are continuing to explore a number of options for the occupation of Balfron Tower".
Decent homes.
When Poplar Harca, a registered social landlord, took over Balfron from Tower Hamlets in 2008, it was in a state of disrepair. It had corroded concrete, leaks, and asbestos. According to Paul Watt, a professor at Birkbeck and author of a recent book on estate regeneration, this was a problem across London councils. 
"When the New Labour government came into power in 1997, councils were told to bring homes up to a decent standard but given no funding to do it", explains Watt. This forced many to transfer stock to housing associations or do deals with developers. 
Balfron's listed status meant fixing it up was expensive. The total cost of refurbishing Balfron and next-door block Carradale was estimated at £38m in 2012. Recent company documents, however, show build costs for Balfron alone spiralling to £57m. 
Schemes like Balfron often involve a trade-off: a high-value asset is sold, or private homes are built on public land and then sold, to "cross-subsidise" building affordable homes elsewhere. 
But in an uncertain market, the cross-subsidy model is coming under strain. Housing associations had 7,407 new affordable homes unsold in the first three months of this year, according to data from the Regulator of Social Housing (RSH), a 19% increase on the previous quarter. 
The wider Brownfield project, to redevelop the estate Balfron sits on, has delivered some benefits, replacing older blocks with new homes and a community centre in a scheme that completed in 2014. According to academic David Roberts, however, there has been a net loss of between 42 and 83 social homes on the estate once Balfron's 99 social homes are taken into account. 
Poplar Harca disputes these figures and says the Brownfield Estate redevelopment has created more affordable housing and provided an extra "45 habitable rooms".
One of the most galling aspects of Balfron's privatisation, according to Alex Wakefield, secretary of London Renters Union's Tower Hamlets branch, was that it showed "good" architecture was not considered acceptable for those on lower incomes. "[Balfron] was not realising some sort of economic value by staying in the hands of the working classes," he says.
The issue came into sharp focus during the mid-2010s when, as Balfron's residents were being moved out, property guardians and artists moved in. The tower hosted an overnight production of Macbeth and a "pop-up" run by the National Trust. One Turner Prize-nominated artist even attempted to throw a piano off the block, before being stopped by residents on the estate below.
These temporary "residencies" were accused of being complicit in the gentrification process displacing local people from east London, and fetishising social housing (see also, the V&A's acquisition of a three-storey chunk of Robin Hood Gardens, another Poplar housing estate). 
By contrast, Goldfinger, who said the success of any scheme "depends on the human factor", went to great lengths to keep original communities together, famously moving residents in road by road to create "streets in the sky". 
While it's too late for the original residents, there are now calls for the building to be turned back into social housing to meet London's intense demand for this type of housing tenure. Apsana Begum, Labour MP for Poplar and Limehouse, said it was "simply unacceptable" that buildings like Balfron remained empty amid a scarcity of social housing and the growing use of hotels and B&Bs for temporary accommodation.
"We need ambitious solutions that put local people ahead of private profit – such as rent controls to protect private renters all the time, requisitioning empty homes by Compulsory Purchase Orders if needed and large-scale council house building," she said. 
As Wakefield says: "If something can be salvaged, it will be in respecting the original spirit of Balfron and making it serve the community it was it was built to sustain."
Correction 18/09/2023: This article was amended to change the line 'nobody wanted to buy the properties' to 'nobody bought a single property' in response to an email from a reader providing additional background information. 
Ella Jessel is a journalist interested in the housing crisis and urban development.