University Docks Pay From Lecturer for Strike While He Was Having Heart Surgery
Dozens of academic staff have lost pay for strikes they didn't take part in.
18 August 2023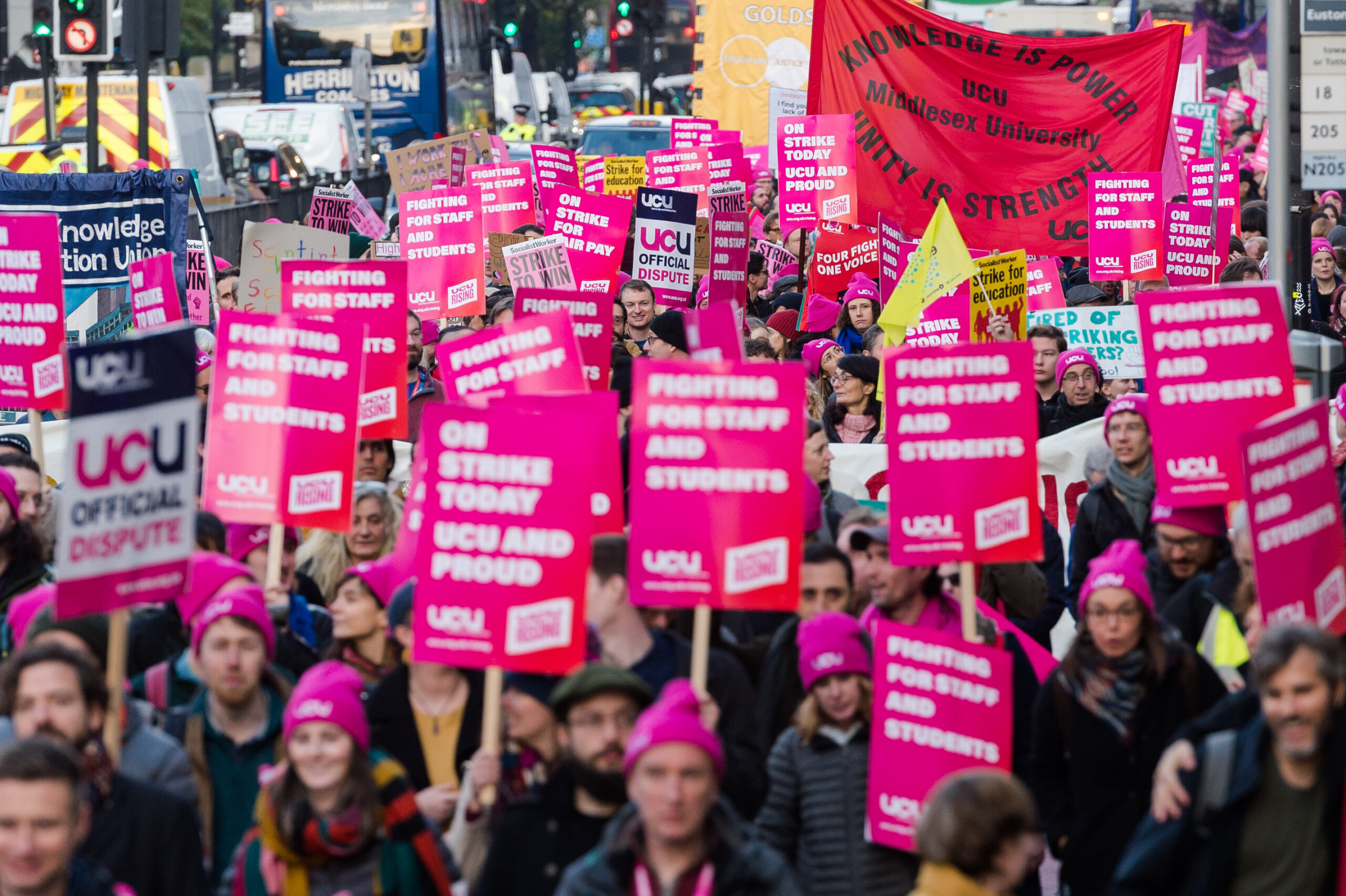 What lecturers look like when they're actually on strike. WIktor Szymanowicz/NurPhoto
A university has docked pay from academic staff for a strike that they didn't even take part in, including from a lecturer who was in hospital recovering from open-heart surgery and a former staff member who no longer worked at the university.
In April, SOAS, University of London told staff it would refuse to pay any staff who took part in a boycott of marking, as part of a long-running, nationwide dispute over pay and conditions.
But now the university has gone one step further in its dealings with the UCU trade union – confiscating pay for a strike by a different union.
On 31st July, union members getting their monthly pay packet noticed that they were hundreds or even thousands of pounds short, as a result of strike action taken in June. While losing pay can be a difficult but inevitable part of taking strike action, in this case lecturers had lost pay for strikes that they weren't part of.
Dozens of confused lecturers have been told that they have had pay deducted for days when a different union, Unison, which represents support staff at the university and is in a separate dispute, went on strike.
That included Dr Simon Leppington, a lecturer at the university's Foundation College, who was docked several thousand pounds for strike action, even though he was on long-term sick leave in hospital undergoing open heart surgery during the strikes.
Email correspondence seen by Novara Media between the lecturer and SOAS shows HR staff acknowledge the error, but offer no apology and then ignore pleas to actually pay back the money owed.
Six weeks after the error was first made, SOAS has failed to repay the money, despite multiple emails and a formal complaint.
"I filled in the form to say 'I am taking part in this action so you can deduct the salary from me these days, but from then on I'm going to be off sick'," Leppington told Novara Media.
"I was sitting in intensive care, then hospital, then was at home recovering, and didn't hear anything for a few weeks [when I complained]."
"My other income is working freelance as an engineer in TV which has gone out the window as I'm ill. So all the income I should be getting I'm not getting because of SOAS," he said.
"I'm just dismayed. I love the students, and I love my colleagues. But it's the management and the HR. When I make a mistake, I seek to rectify it promptly. When you make mistakes in people's salary it's even more serious, not to mention when you have been forewarned and reminded."
Novara Media has also seen testimony from a staffer who no longer works for the university, but claims that the university deducted historic pay that was owed, even though they weren't there to take strike action.
Another lecturer told Novara Media that the university had deducted six days' pay from him after taking just two days of strike action – the other four days they had been in work as normal.
"For some of my colleagues, it's been really disastrous," the lecturer said. "This is grossly incompetent… When you strike, you know you're not going to get paid a little bit, but when they take most of your money, including money that they're not supposed to, you just can't quite believe it."
"My colleagues and I are speaking on condition of anonymity because this whole affair has involved some pretty shocking and unprofessional levels of cynicism, defensiveness and aggression in our dealings with HR, and we are concerned that exposing their errors will lead to retribution against us," they added.
When Novara Media asked SOAS what was going on, a spokesperson said the university had deducted pay from staff for both UCU and Unison strike days as "non-member employees may participate in properly constituted strike action days".
"As is standard practice, when UCU and Unison notified us of strike days that would take place in June, we asked staff to let us know whether they would participate in order to plan services for students and to make sure staff received the correct amount of pay," the spokesperson said.
"We asked all staff to self-declare for both UCU and Unison strike days because trade union members and non-member employees may participate in properly constituted strike action days."
In other words, as part of "standard practice", to avoid pay deductions, lecturers had to directly tell the university that they were not taking part in the strike of a union that they're not a member of. This is despite the fact that lots of members of one union walking out as part of a different union's dispute is almost unheard of and in this case could be legally risky.
Adding to the confusion, some of the forms UCU members were asked to fill out were labelled "Unison only".
But in any case, SOAS UCU branch says that many of the lecturers who had pay deducted say that they did in fact fill out the forms issued by managers, meaning the university should have known exactly when they would be striking.
In a letter to the university's COO, the university's UCU branch expressed concerns about trade union members being specially targeted with deductions and alleged that some of the deductions "are breaches of contract". Some £250 daily deductions, it said, were more than the staff in question would be paid for a day's work.
Novara Media understands union members are now considering taking legal action over the failure. "It just seems that our employers have gone to war with us," said one academic.
A spokesperson for the university said it recognised how the extent of industrial action gave the "potential for confusion" and that it had sent "several emails" to remind staff to fill in self-declaration forms. They added that only "a minority of staff did not self-declare" (something contested by the UCU, who gave evidence of at least 47 cases of incorrect deductions to Novara Media).
The spokesperson added that SOAS will try to quickly remunerate employees who wrongly lost money, though many of those defaulting on rent, unable to pay bills or living in overdrafts as a result of the mistake this month have not had it rectified weeks later.
Novara Media has seen dozens of cases where either the wrong amount has been paid back, nothing has been paid back or staff had emails asking for help ignored by HR.
"If we made a similar mistake in our teaching or other operations, they would crucify and make us apologise in public," one lecturer said.
Andrew Kersley is a journalist.