Universities Are Docking Lecturers' Entire Pay for Not Marking a Few Exams
Some are striking over it.
11 May 2023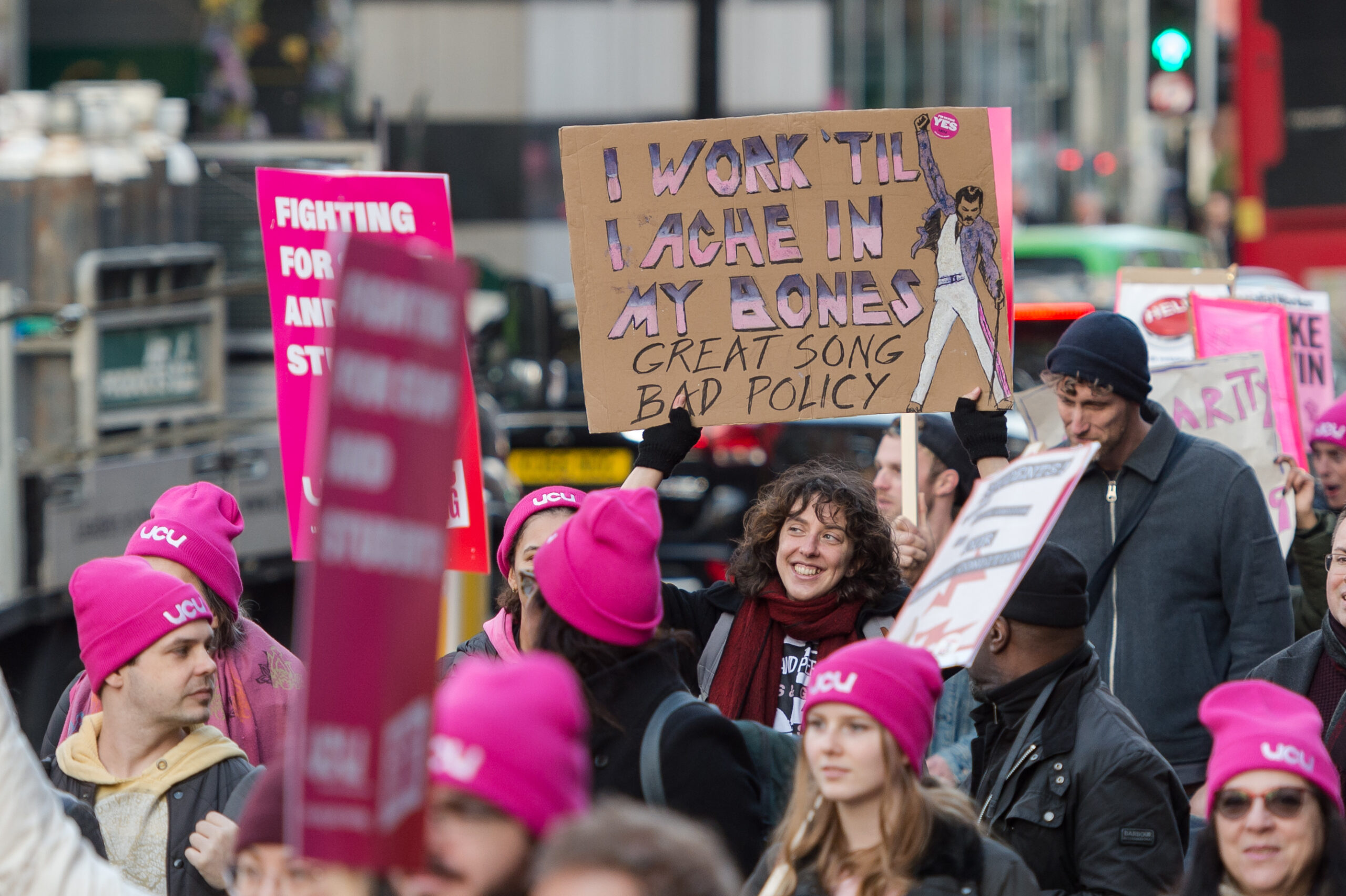 UCU members march during a strike in London in November 2022. WIktor Szymanowicz via Reuters Connect
Universities have been accused of "disgraceful and vindictive behaviour" for threatening to deduct 100% of the wages of staff partaking in a national marking and assessment boycott, which in some cases will involve missing out on only a few hours of work.
Academic staff told Novara Media how they are sick with worry over losing out on pay, while others have announced fresh strike action in response to the draconian move.
On 20 April, a national marking and assessment boycott began at 145 universities as part of a long running dispute over pay and conditions. The University and College Union (UCU) action will see staff cease all exam invigilation, the setting and marking of exams and essays, and processing of grades.
The indefinite boycott comes after considerable debate within the UCU over the direction of industrial strategy. The targeting of summer final exams and assessments can delay degree results, and university staff believe it is a powerful tool in a marketised university sector driven by results. Last May, a marking and boycott assessment across 19 universities resulted in significant concessions including the cancellation of planned compulsory redundancies, the renegotiation of staff contracts, and one-off payments of £1,000.
University staff taking part in this year's marking and assessment boycott will still carry out the rest of their duties, which usually include teaching, research, supervision, and administration. Nevertheless at least 60 universities have threatened to deduct between 50 and 100% of the wages of staff taking part in the boycott.
The University of Bristol is threatening to deduct 50% of the wages of staff taking part in the boycott, while reserving the right to escalate deductions to 100% should the boycott "significantly impact student experience", a term staff believe is purposefully vague.
Marianna Dudley, a Senior Lecturer in Environmental Humanities at the University of Bristol, has two dissertations and four essays to mark. She faces losing months of pay over the summer term for the equivalent of around nine hours of work. "I feel physically sick when I think about how I'm going to pay my bills this summer. I'll probably be buying food and paying my bills on credit card," she said.
"If you have come into academia in the last few years, you've probably already got a lot of debt, because you've been precariously employed over the years, and you're paying back your student loans."
A senior lecturer at the University of Bristol, who requested not to be named, said: "I work full time, so 35 hours a week. During the current marking and assessment boycott, I will have 34 third year essays to mark, and am paid to mark each essay in 30 minutes. That is a total of 17 hours of work, or 1% of my hours this year.
"We are talking about months of salary reduction. I have a three-year-old daughter who is in nursery full time. I am genuinely worried about paying my mortgage, nursery fees, bills, food, etc. with only half or none of my income."
At Queen Margaret University in Edinburgh, UCU branch has announced 18 days of local strike action, in response to university management's decision to withhold 100% of the pay of staff participating in the marking and assessment boycott.
Ross Walker, co-president of the Queen Margaret University UCU branch and chemistry technician, said that the threat of deductions meant "there's a lot of anxiety around how people will pay bills. It's had a quite significant effect on mental health.
"The university bosses say they care about students. They don't. They care about their own wages, they care about paying their stakeholders, and not rocking the boat amongst powerful politicians and banks."
In Queen Margaret University's correspondence to students about the marking and assessment boycott, senior management "notably made no mention of deductions," said Walker. "So apart from our staff student solidarity network, students don't officially know about deductions."
SOAS University, Middlesex University, University of Suffolk, Liverpool John Moores, University of Sheffield, University of Leeds, and University of Cardiff are among some of the universities threatening to deduct 100% of staff wages.
Other universities, such as the University of Edinburgh, York St John University, Strathclyde University, University of Leicester, and University of Lancaster have threatened to withhold 50% of pay from staff.
With most marking done by early career university staff, often employed on short-term contracts, the threat of deductions disproportionately impacts those on precarious contracts.
Molly Farrell, a graduate teaching assistant, lecturer, and PhD student at Glasgow University, said: "I will be facing 50-100% deductions in pay for joining the UCU marking boycott as a graduate teaching assistant (GTA) staff member. GTA work has always been regarded as fundamental experience for future and more secure employment in the Academy.
"Our precarious working standards perpetuate the growing gap between those who can do the work and those who simply can't afford to."
While the University of East Anglia initially threatened to deduct 100%, pay will now be withheld at the rate of 30%.
David Mead, a Professor of UK Human Rights Law at the University of East Anglia, said, "I could lose 30% of my salary for maybe seven weeks for not carrying out work that would have taken less than an afternoon.
"It is 'strange' that university managers allocate so much time to marking when deducting pay, and so little when creating a workload model that's meant to represent how much time we need."
In response to the deductions, UCU have allocated an initial £250,000 from the fighting fund to support members who are backing the marking and assessment boycott.
UCU general secretary Jo Grady said: "Staff have been crystal clear that they are worth more than what has been put on the table and now bosses need to wake up and prevent widespread disruption hitting graduations.
"Those who run our universities only have themselves to blame, but rather than resolve the disputes they are instead threatening to take 100% of wages from staff who are still performing the majority of their duties. It is disgraceful and vindictive behaviour."
Not all universities are threatening to deduct the pay of staff taking action short of a strike. At the University of Ulster, management have stated that they won't make pay deductions from staff partaking in the boycott. The University of Hertfordshire's UCU branch is currently negotiating deductions that reflect the amount of contractual time staff would have spent marking during the boycott.
Queen Mary University of London, which has been notable for its extreme anti-union stance during the dispute, senior management backed down after lecturers threatened to strike over the proposed deductions.
Raj Jethwa, the chief executive of the Universities and Colleges Employers Association, said: "Higher education institutions respect employees' right to take lawful industrial action and, in turn, UCU needs to respect the employers' right to withhold pay for not fulfilling contracts."
Polly Smythe is Novara Media's labour movement correspondent.