Sharon Graham's Strategy Shows Unions Can Win Without the Labour Party
Her 'back to the workplace' platform is paying off.
29 August 2023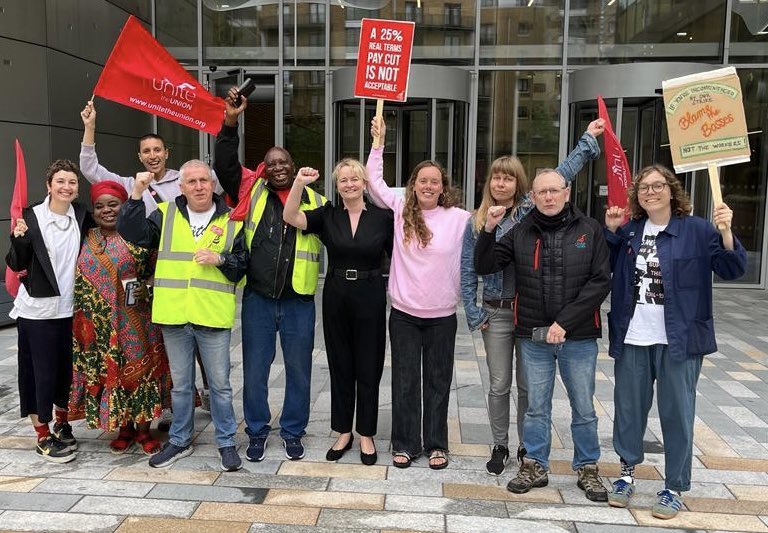 Sharon Graham (centre) with striking St Mungo's workers. @UniteSharon on Twitter/X
Last Friday, 25 August, was the second anniversary of Sharon Graham being elected general secretary of the Unite union. Unite is the second largest union in Britain, with over one million members in thousands if individual bargaining groups spread across both the private and public sectors.
On a platform of "back to the workplace" after years of what Graham believed was an undue concentration upon internal Labour party affairs by her predecessor, Len McCluskey, she beat both the continuity left-wing candidate, Steve Turner, and the right-wing candidate, Gerard Coyne, taking 38% of the vote on an 11% turnout.
She took up office the day after her election. Since then she has led Unite into 890 disputes involving 170,000 members, of which 80 per cent were won, thereby, putting £400m more into members' wage packets.
Her concentration upon members' disputes has been highlighted visiting their picket lines rather than attending Labour Party conferences. Indeed, in the run up to the 2021 Labour Party conference she stated: "We can't keep hoping for the election of a Labour government to solve our members' problems. Putting all our eggs in the Westminster basket will not deliver. When did the parliamentary Labour party win a collective bargaining agreement for workers at a workplace? We cannot have the political tail wagging Unite's industrial dog any longer."
Some of the pay deals gained by Unite have been not only eye-watering but the envy, no doubt, of many other unions.
In air transport, ground crew have routinely secured 15% or higher pay rises – as in the case of Gatwick airport. In road transport, delivery drivers have secured inflation-busting rises at the contractor for Morrison's petrol stations, Suckling Transport and the company transporting components for BMW.
Meanwhile, in the bus sector, battles have been harder but often still successful as the case of Arriva Newcastle and Northumbria (a 12% pay rise) and National Express West Midlands (16.2%) showed. Outside of transport, there have been similar deals in the likes of electricity supply – electricity grid workers at UK Power Networks won an 18% pay rise.
Even though she has not had the public profile of the likes of Mick Lynch, general secretary of the RMT union, all this marks out Sharon Graham as the most successful of the current crop of union leaders and Unite as the most successful of the current unions. With her strategy and "down to earth" personality, she has helped support, inspire and sustain her members in struggle.
The reason for this is the much greater implementation of the "leverage" strategy which Graham originally pioneered as Unite's executive officer when she headed up its organising and leverage department. After conducting intensive research, the strategy targets not just the employer in question but buyers and suppliers upstream and downstream from it, as well as its investors and shareholders.
At the core of the strategy is the ability to undertake sustained industrial action. With a strike fund of between £25m-£35m, striking members receive £70 a day strike pay. This level of strike pay is higher and more available than that of the few other unions – like PCS and Unison – that pay strike pay.
But not all battles have been won easily, as the ending of a three-month strike on the second anniversary of Graham's election showed. Unite members at the charity for the homeless, St Mungo's, won a hugely increased but, overall, still sub-inflation wage rise of just under 11%. A few days earlier, Unite refuse members in Cumbria who have been on an all-out strike since April, won a rise of between 8.3% and 13.6%. Even with £70 per day strike pay, these gains would be hard-pressed to see the strikers come out on top after lost wages are set against the value of the pay rises they won.
The long-running refuse strike in Cumbria has its parallels elsewhere. In Coventry in 2022, Unite members struck from January to July of that year and another refuse strike by Unite members in South Gloucestershire is still on-going from June this year. And, in manufacturing, long, all-out strikes have also taken place at the likes of Trelleborg and VistaTherm without great success.
What this suggests is that the "leverage" strategy works best in certain circumstances and not in others.
It works well firstly in workplaces where Unite is the sole union, with high levels of union membership so that it has associational power.
Secondly, where the service – rather than product – members provide is one which is time critical and there are no obvious and easy substitutes for it, so that members have high levels of structural or strategic power.
Thirdly, where employers are private sector organisations who are profit-seeking and are, therefore, concerned about the impact of disruption to their operations and, thus, their profits and shareholder value.
Put another way around, this means Unite has found the going harder in local government, the NHS and universities, for example, where it is not the lead union and does not necessarily have high levels of union density.
It also means Unite has found it harder going where non-profit seeking employers can draw upon the resources of the public purse and are willing to use them to withstand the impact of strike action at no cost to themselves.
It also means that where the demand for products or services is not time critical, bargaining leverage is a lot less.
Nonetheless, the application of Unite's "leverage" strategy under Graham provides the rest of the union movement with significant insights into how to turn "power to disrupt" into "power over" bargaining opponents. This requires a forensic analysis of where, when, how and why the bargaining opponent has strengths and weaknesses in the production of goods and services as well as in relation to buyers and suppliers.
It is to be hoped that as the likelihood of a Starmer-led Labour victory at the next general election strengthens, other unions will learn from Unite's experience that they can fight and win their own battles without relying upon the unreliable ally that is Labour.
Gregor Gall is a visiting professor of industrial relations at the University of Leeds.