Finnish Trains Are What the UK Could Have If It Gave a Shit
Crisps from the snack trolley? Try an omelette from the pub carriage.
12 September 2023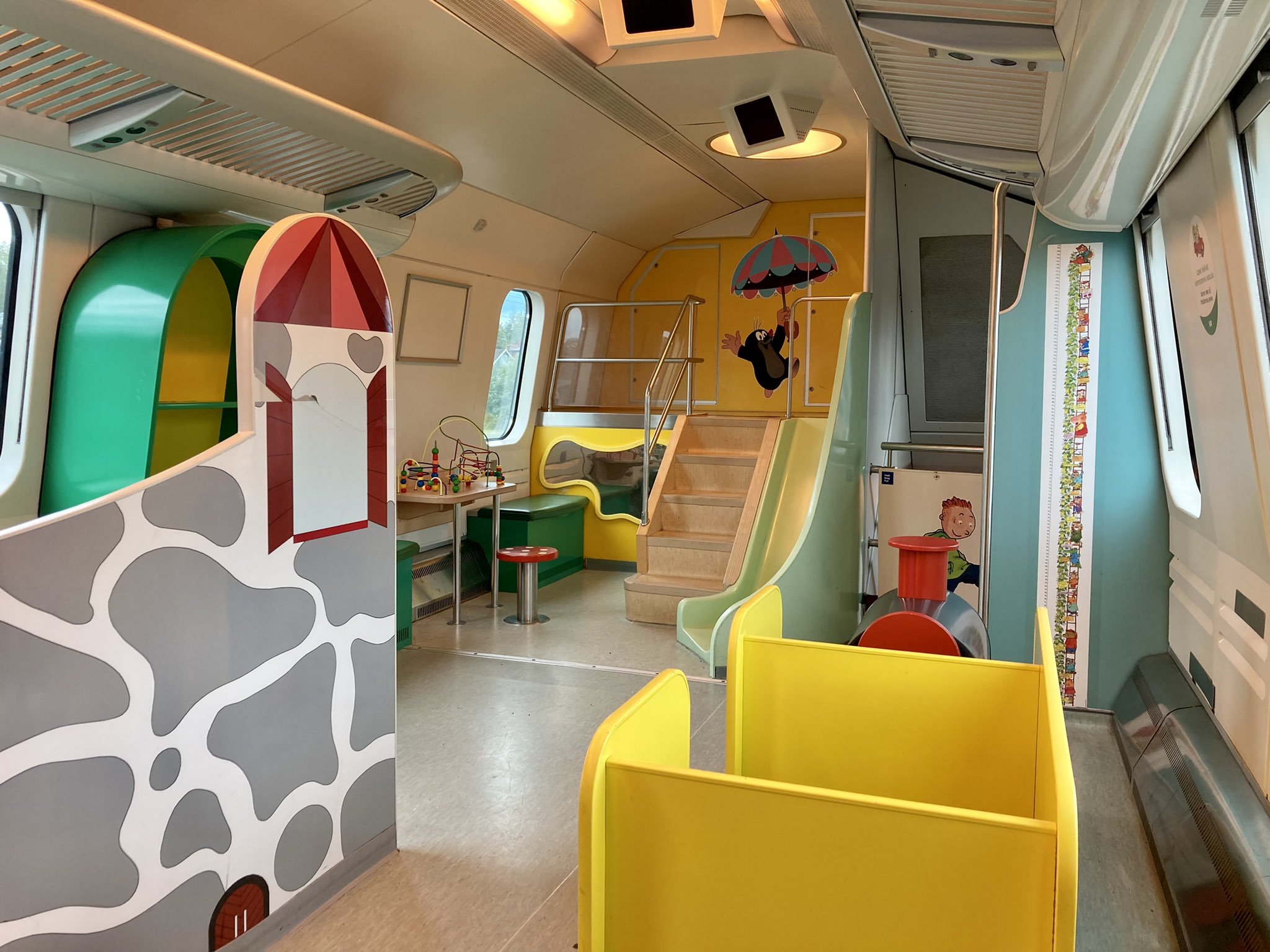 A children's carriage aboard a Finnish intercity train. Photo: Hayden Clarkin/Twitter
Picture this. You arrive at the train station, bags packed, ready for a six-and-a-half-hour journey across the country. Oops! You've forgotten to buy a ticket. Not to worry, you can get one at the station for the same day. It's £42.
You haul your bag into the carriage only to realise you're seated on the top deck, and you don't want to leave your luggage downstairs in case someone nicks your books and underwear. No problem, you can leave your luggage in the handy lockers, which come in three sizes. Nice!
You settle into your seat but within a few minutes, misfortune strikes again – you're receiving an important work call. You need to take it but you're too British to even contemplate whispering in the quiet carriage. It's your lucky day: there's a soundproof, air-conditioned booth between each carriage exclusively for taking phone calls.
Having smashed your work call, you find that the warm glow of professional success has made you peckish. You venture down the train to see whether you might forage some crisps from the snacks trolley.
Bonk! As you make your way down the car, a furry missile launches through the air and smacks you on the head. You look up the stairs ready to give the offender a piece of your mind to find a gurgling one-year-old gazing down at you, laughing hysterically. You mount the stairs to find an adult to tell off but instead, find an Eden.
Occupying the entire upper deck of the carriage is a full-on playground: a slide; bookshelves flanked by mushroom-shaped stools on which to read; a child-size train for the train-driver-to-be. Adults sit on the open floor of the carriage playing with the children, who roam freely between baby gates that bookend. The soundtrack to the scene is not high-pitched screaming but the low hum of amused gurgling and adults doing baby voices. Not forced into Victorian silence, children are, amazingly, happy.
Finally, you make it to the snacks trolley – except it isn't a trolley, it's an entire carriage, and they aren't serving snacks, they're serving things like meatballs with lingonberry jam. You take a pew on the ten-foot bench that runs along one side of the car and dig into your freshly prepared cheese omelette, which is £8.
The scenes I'm describing aren't drawn from some feminist utopia dreamed up by radical theorists. They're lightly dramatised reality (no child assaulted me). Belinda Carlisle was right, heaven is a place on Earth. It's Finland.
Dear @LNER @nationalrailenq @AvantiWestCoast I love you but look at Finland's trains. All parents who've sat on the floor with buggy's you can't fit in, LOOK AT THIS TRAIN. Just normal in Finland. pic.twitter.com/XrXaxYromM

— Hollie McNish (@holliepoetry) December 3, 2022

While the recent spate of Quran burnings may have put to bed any lingering myths of Nordic progressivism, when it comes to trains, nobody does it like the Finns. Effectively an archipelago, the country doesn't lend itself to rail travel – but its leaders have long had the forethought to invest in it. As early as the mid-1800s, the country began importing rolling stock from England, at the time the global leader in rail technology. Two centuries later, we're practically still riding steam trains – while Finns are steaming straight into the future.
For millennials like me who don't remember the days of British Rail, Finland is a lesson in what happens to rail travel when you remove the profit motive.
Rather than sardining passengers into cramped carriages built to maximise ticket sales, Finnish trains are built for living. Childrearing, work calls, hot meals, having a pint with your mates – all are possible on the Finnish train. The result is that while Brits endure countless hours of mute suffering, Finns actually enjoy travelling by train. One I met recently told me that some of her fondest childhood memories are from the train – imagine! Meanwhile, four in 10 Brits polled in 2018 hadn't stepped foot on a train in the past year – and frankly, who can blame them?
Granted, Finnish trains aren't a money-spinner: the state-owned train company VR made only €5.4m (£4.6m) in profit in 2021-22. Yet 100% of that is ploughed back into the railways to make even faster trains and tastier omelettes. By contrast, UK train companies invested just 1% of their total expenditure on the railways between 2006 and 2022, a fraction (1.8%) of what the government spent on them during that time.
Like spoiled children, private train companies have been allowed to make ever more unreasonable demands – ticket fares have increased by an average of 66% since the end of British Rail – while expecting the public to pay for everything they don't want to.
So where is all of this money going, if not back into the railways? Into shareholders' pockets, of course. 65% of the UK train operating companies' profits were taken out of the sector as dividends, among them foreign state-owned train companies to fund their own excellent nationalised rail sectors.
70% of UK train lines are now wholly or partly owned by foreign states: the German Deutsche Bahn owns the London Overground; the French state-owned Keolis owns the DLR; Trenitalia owns Essex Thameside, and Dutch state rail company Abellio did until recently own Scotrail. In 2017, the UK train union TSSA ran a campaign featuring Europeans thanking the UK for subsidising their travel.
This year for the sixth consecutive year, Finland was ranked the world's happiest country. This is no frivolous measure: happier countries are healthier countries and more productive ones, too. Taking the train in Finland, it's clear that the state's decision to prioritise joy in a sector that immiserates most Britons is just smart economics. It's also a really nice experience.
So while UK rail companies are busy squabbling with workers over ticket office closures and slashing what small luxuries remain (Finland's recent train strikes ended in just two days, by the way), Finnish children are literally laughing at us. We're being taken for a ride – and it's time we got off the train.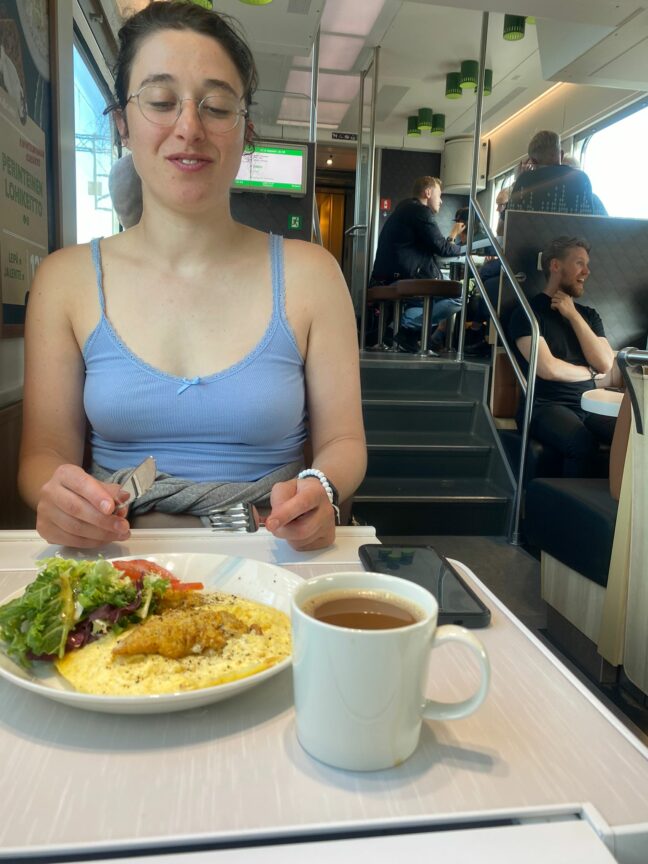 Rivkah Brown is a commissioning editor and reporter at Novara Media.