How Trade Unions Are Preparing for a Labour Government
Unions want a 'full fat' set of workplace reforms.
14 September 2023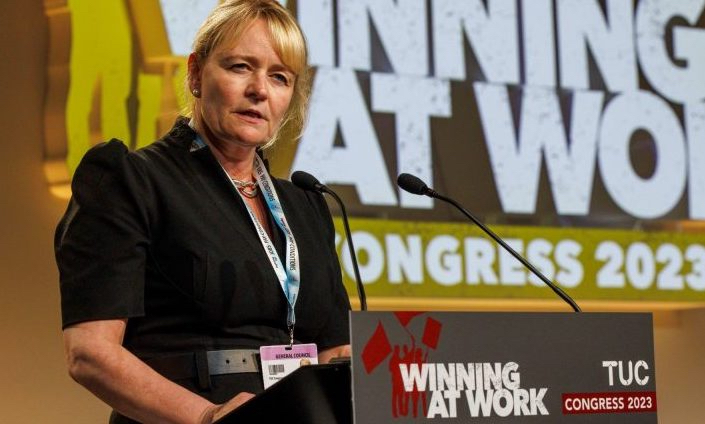 Unite General Secretary Sharon Graham. Unite
Novara Media's labour union correspondent has been at the Trades Union Congress in Liverpool this week. Here's what she found:
Trade unions are preparing for Labour in power.
As delegates and journalists alike gathered this week for the Trade Union Congress in Liverpool, likely to be the last one before the next general election, the expectation that Labour will form the next government gave the gathering an upbeat, if cautious, mood.
As Labour's proximity to power grows, trade unions are grappling with how best to position themselves as a countervailing force to the formidable behind-the-scenes corporate lobbying tasked with getting Starmer to dilute the New Deal for Working People, the party's promised package of trade union and workers' rights reforms.
Despite the aspirations of the Labour right, the influence of trade unions can still be felt in the party, with discussions at congress raising the question of how best unions could shore up that influence. Some general secretaries argued that the movement needed to support shadow minister for employment rights and protections Justin Madders, and Angela Rayner, Starmer's deputy and strategic lead on the New Deal for Working People – both of whom managed to hang on to their roles in last weeks' reshuffle.
At a fringe meeting on Monday, RMT general secretary Mick Lynch said: "This side of the labour movement has to put a shoulder to the wheel and support the people who are committed to supporting us. We cannot allow the people that we trust, Angela and the whole team, to be forced out of their positions."
While the RMT is not affiliated to Labour, Lynch instructed people "on the side-lines carping and bickering" to "make up their minds," adding, "there's only one choice, you only get one X to put in one of the boxes.
"What we need is the full fat package. The New Deal for Working People has to be undiluted, unfiltered, unstrained. Of course it's not going to be perfect, nothing's perfect. That's why they call it a struggle."
The night before Rayner gave the keynote speech to congress, she told delegates gathered at a fringe event, "If I get to be the deputy prime minister of this country, I will not let you down."
Addressing the hall on Tuesday morning, Rayner gave a "cast-iron guarantee" that Labour will ban zero-hours contracts, repeal all anti-union laws passed since 2015, give trade unions access to workplaces, end blacklisting, end to fire and rehire, improve family-friendly working, strengthen sick pay, and update trade union laws "to make them fit for the 21st century."
Despite receiving a standing ovation for her speech, unions' enthusiasm at the transformation promised by this package is qualified by their awareness of the danger that the promises Labour make in opposition may not be the promises they deliver once in Westminster.
Starmer's message at a private dinner of general secretaries on Monday evening was "eyes on the prize," while Harriet Harman told congress on Wednesday morning that her deceased husband – a former MP and deputy general secretary of the Transport and General Workers' Union – would have said, "we are so close now – don't mess it up."
The memory of how unions enabled Blair is one factor determining the levels of support unions afford Starmer. During a motion on public ownership of energy, the general secretary of Unite, Sharon Graham, said: "Some say that we should not push Labour now, that we should trust them, that it'll be alright on the night, don't make any waves, just keep going. But congress, we've been down this road before."
Graham's public distance from Starmer is in-keeping with the electoral pitch she made in her bid for general secretary, arguing that Unite's political operation in Labour had failed.
While Graham will attend the Labour party conference this October, which she publicly chose not to do last year, she did not attend the congress dinner with Starmer.
"This is the time to be bold," she said addressing congress. "It's not 1997. There's no point grasping for a policy mix stuffed down the back of a 1990 sofa. Too timid to talk of hope, too conservative to make change, you're watering down your own promises to give workers a real voice."
One thing we can all agree on.
Despite the nation's looming trip to the polls, there was still time for jokes. When Unison delegate Glen Williams took to the stage during Sunday's pay restoration motion, he said: "It may be a coincidence that the name Rishi Sunak is an anagram of 'hi risk anus.' But it's definitely not a coincidence that he's putting our communities at real risk."
Roger Wilko.
Wilko bosses – extracted £77m in dividends over the last decade

Wilko workers – 12,500 people worrying how they'll pay their bills

Watch Wilko worker Carol address #TUC23 pic.twitter.com/o4LFwRApfa

— GMB Union (@GMB_union) September 13, 2023
On the conference floor, workers from a variety of disputes shared their experiences, with the warmest applause of congress reserved for a speech by Carol, a Wilko employee. She and 12,500 others face redundancy with the chain in administration, and are "asking themselves how they will make ends meet".
"The blame lies at one door", she said: senior management who "ran the company into the ground" and "let shareholders take dividends of £77 million" over ten years.
A harmonious movement?
Congress motions tended to pass in harmony, with even more controversial debates over Ukraine and extending the role of trades councils within the TUC conducted affably.
This appearance of consensus is the product of behind-the-scenes work to iron out disputes ahead of time, and a forthcoming TUC special congress to agree on what non-compliance in the face of the government's new minimum service levels agreement could bring to light tensions within the movement over how to respond to the legislation.
The media suddenly cares about trade unions.
At last years' TUC congress in Brighton, hastily rescheduled following the death of Queen Elizabeth and interrupted by the resignation of Liz Truss, there was no designated room for media. One year later, it proved difficult to get a seat on the press bench in Liverpool's vast ACC conference centre.
Seasoned Press Association industrial correspondent Alan Jones, long used to filing copy that the national papers then rely on, found himself instead joined by journalists from the Guardian, Daily Mail, GB News, Telegraph, New Statesman. Apparently seeing "culture war" wherever they look, journalists from right-wing outlets took a particular interest in a session about protecting trans workers.
Upon hearing that a Sun journalist was given accreditation for congress, the Communication Workers Union said they were "bitterly disappointed" and that "they have no place in our movement and no place in this great City."
The TUC said that Sun journalists are accredited on advice from the NUJ, but the journalist did not attend, and that neither Nowak nor the TUC provide interviews or content to the Sun.
Polly Smythe is Novara Media's labour movement correspondent.